These stunning lamb noisettes are definitely for those who are, as the French would call them, 'gourmands'. This noisettes recipe not only turns heads, but gets you salivating once you take a single glance at the end result. It's definitely a dish if you want to cook to impress. If you serve them in an elegant fashion, people might even suspect you of living a double life, being a closet chef at a restaurant.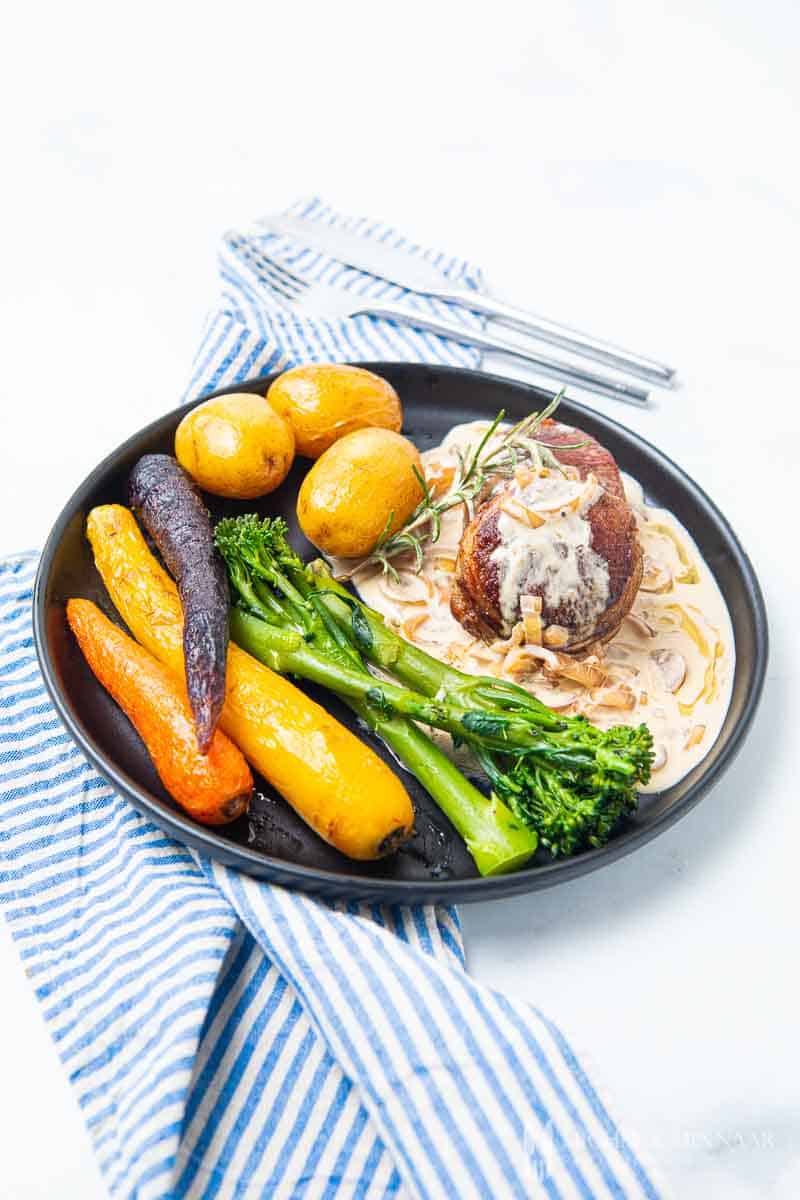 Although they look elegant and sophisticated, this dish is in fact really easy to master. All you need to do is purchase the proper ingredients and follow the instructions carefully. Overall, this dish can be completed in under an hour. Hence, the level of difficulty is indeed very low. So, don't be afraid to take on this lamb noisettes recipe. In addition, there is nothing expensive about this dish. It is an affordable, festive and elegant dish, that anyone can make at home, even the most inexperienced of cooks.
Remember to serve the lamb noisettes immediately for best results. Pair them with beautiful roasted vegetables and a glass of full-bodied red wine or an older white wine. Together, it's a combination of flavours to remember.
top things you'll need to make a lamb noisettes recipe
Here's a list of the top products you definitely need to know about in order to replicate this lamb noisettes recipe. Some of these will make your life in the kitchen much easier, while some products will make your noisettes recipe stand out. Check these out below:
Don't underestimate the impact of some of these products. They can make or break your lamb noisettes recipe!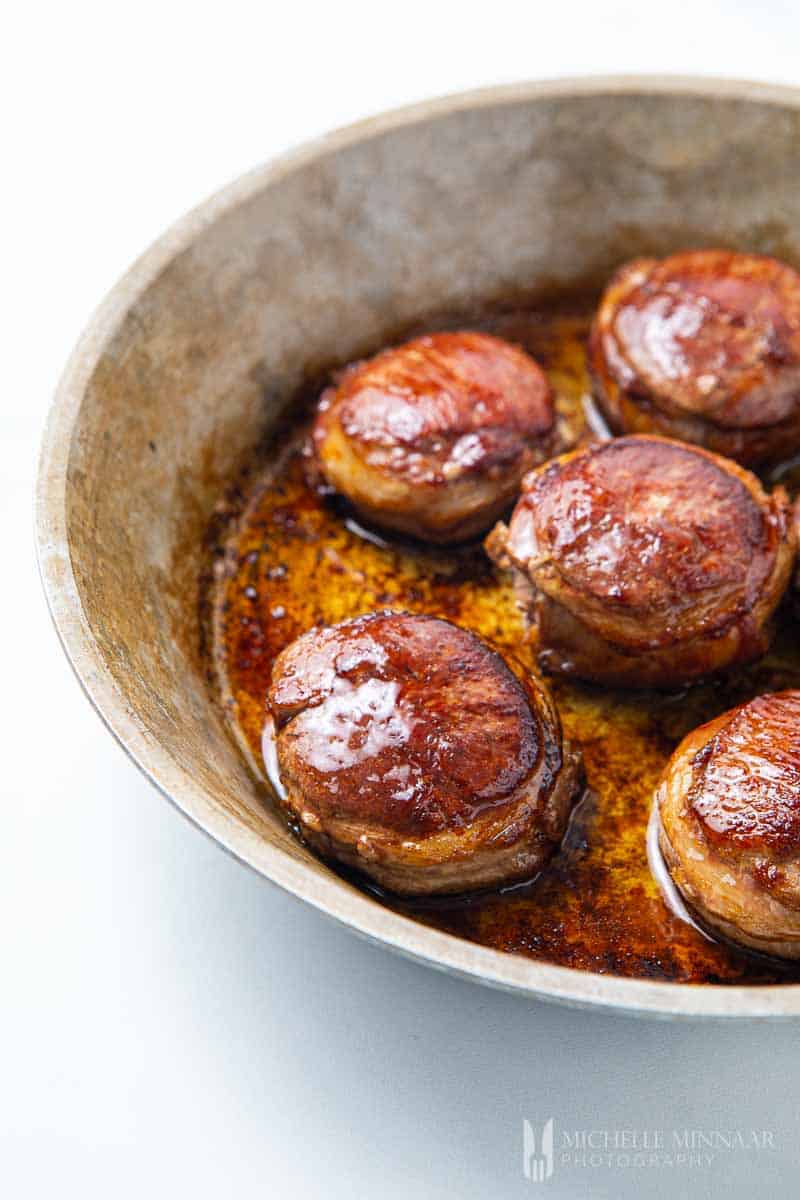 lamb noisettes with roasted vegetables
My lamb noisettes recipe is absolutely irresistible. Served with shiny roasted vegetables, it is a dish that awakens the taste buds of even the biggest lamb sceptics. The ingredients in the dish are brought together by a creamy sauce. Naturally, the creamy sauce can be substituted with other types of sauce, especially if you are lactose-intolerant. Either use a dairy-free / lactose-free substitute in your sauce or just pair the noisettes with a completely different sauce. For instance, check out these ideas below:
If you are also looking for more elegant dishes like this lamb noisettes recipe, then check out these amazing dishes: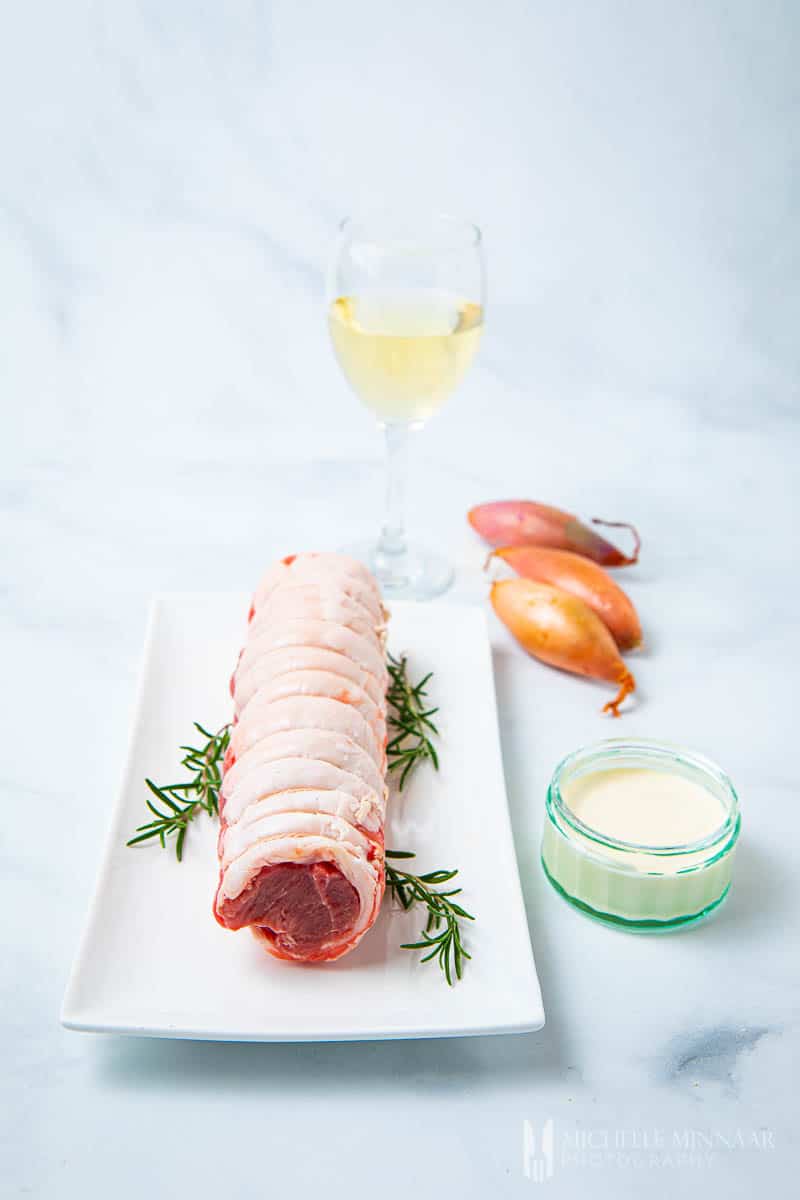 lamb noisette definition
By definition, lamb noisettes are boneless lamb chops / lamb loin. It is a term used in the UK as well as in North America. Then the lamb chops are rolled and strung together to hold a circular shape, so that when you cut it, you'll end up with lovely lamb medallions. They're actually very similar to pork medallions. In essence, you can think of the noisettes as an elegant cut of T-bone chops, without the T-bone inside. Noisettes are easy to grill, pan-fry and oven cook.
lamb noisette price
In general, noisettes are a very tender and lean cut. Therefore, it's not the most inexpensive cut. Generally speaking, in a kilo, you'll end up with 5 or 6 noisettes. In terms of price, 1 kg of lamb noisettes can go up to £30 or more. Respectively, 1 pound of lamb noisettes is therefore around £12.50.
Prices may of course vary from butcher to butcher. However, the taste is worth it! In comparison to other cuts of meat, like the fillet mignon, lamb noisettes are still in the affordable range of elegant cuts of meat. Don't you agree?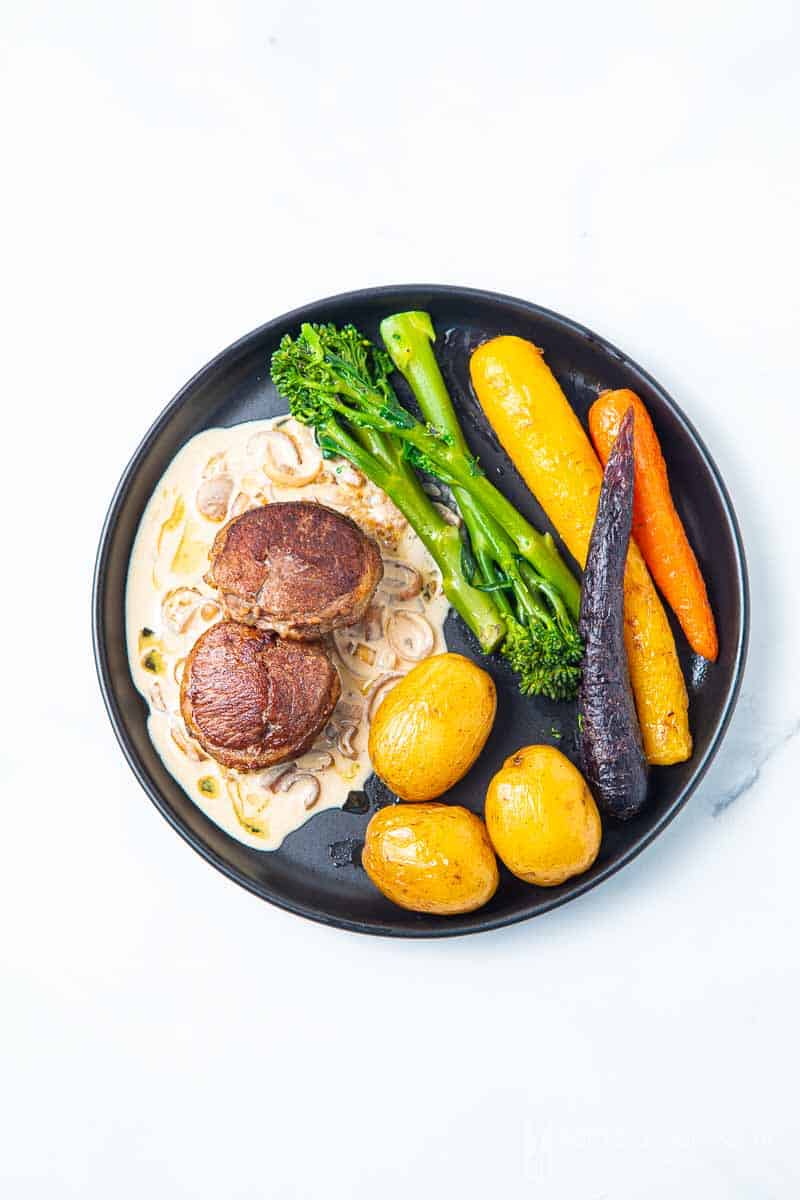 lamb noisette sous vide
As mentioned above, you can use the sous vide machine to cook these incredible lamb noisettes. A sous vide machine will make the noisettes perfectly tender.
In fact, I've made sous vide shoulder of lamb before. The end result was more than I could ever ask for. Tender, soft and juicy lamb! Same goes for my sous vide salmon recipe.
If you would like to learn more about the sous vide technique, check out these articles below:
how to serve lamb noisettes
You can opt to serve the lamb noisettes according to my recipe, which is with roasted carrots. However, you can try these side dishes as well:
Remember to serve the lamb noisettes with a full-bodied rich red wine. Preferably from the southern regions of France, Chile, South Africa, Israel, Spain, Italy or California / Oregon in the USA. The more sunny the wine region, the more rich it will be. However, it also works with a heavier / older white wine.
How would you serve your lamb noisettes? Let me know.
Print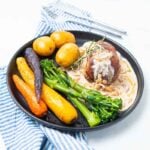 Lamb Noisettes with Rosemary Sauce
---
Author:

Michelle Minnaar

Prep Time:

10 minutes

Cook Time:

40 minutes

Total Time:

50 minutes

Yield:

4

portions

1

x
Description
Click here to make the most beautiful and elegant lamb dish you've ever made. These lamb noisettes are tender, stunning and easy to make.
---
30

ml (2 tbsp) vegetable oil

8

lamb noisettes

2

shallots, peeled and finely sliced

150

ml (5fl oz) white wine

15

ml (1 tbsp) white wine vinegar

300

ml (10fl oz) lamb or vegetable stock

15

ml (1 tbsp) fresh rosemary, finely chopped

150

ml (5fl oz) double cream
---
Instructions
Preheat oven to 200°C / fan 180°C / 390°F / gas 6.
Heat the oil in a large frying pan and brown the lamb noisettes over a high heat for 2 minutes on each side.
Place the meat in a roasting tin and cook for 10 minutes, which will yield medium doneness. Set aside to rest.
Meanwhile, using the same frying pan with the oil, gently fry the shallots for 10 minutes until soft.
Turn up the heat then pour in the wine and vinegar. Let it sizzle for 2 minutes.
Add the stock and rosemary and let it simmer for 8 minutes.
Pour in the cream, stir and let it bubble for 3 minutes.
Season the meat and sauce accordingly to taste and serve with seasonal vegetables.
Notes
Lamb noisettes are available at butchers and may need to be ordered.

The meat can be available already sliced or can come in one long chunk of meat, called lamb loin. Aim to have about 200g (7oz) of lamb per person.

If you want the lamb to be fully cooked, give it an extra 5 minutes in the oven.
Category:

Dinner

Method:

Pan Fry

Cuisine:

French
Keywords: lamb noisettes recipe, lamb loin recipe, rosemary sauce, lamb noisettes with with white wine sauce