So, what should you do with leftover roasted lamb? Don't even dare to consider throwing out such a beautiful and nutritious ingredient. You can easily reuse leftover lamb to make this delicious and healthy lamb wrap! Making a lamb wrap from scratch is really a piece of cake. Plus it gives you tons of room for inspiration and creativity in the kitchen. You can choose to follow my lamb wrap recipe, which involves a Lebanese and a Mediterranean twist. However, you can spin this lamb wrap recipe in any direction you want. For example, you can take it in a Middle Eastern direction by adding ingredients like hummus and sumac. You can also opt for sticking to the lamb roast theme and add vegetables and mint sauce – an excellent choice, if I may say so!
Enjoy this lamb wrap as a snack, a light and healthy lunch or dinner. Plus, it's an excellent way to get your kids to start eating a very healthy ingredient like lamb. Hence, this lamb wrap recipe neatly demonstrates that lamb is really not just a one-roast wonder. It's a very versatile ingredient that you can use for making easy-to-prepare homemade lamb recipes – not least a flavourful lamb sandwich or this yummy leftover-lamb wrap.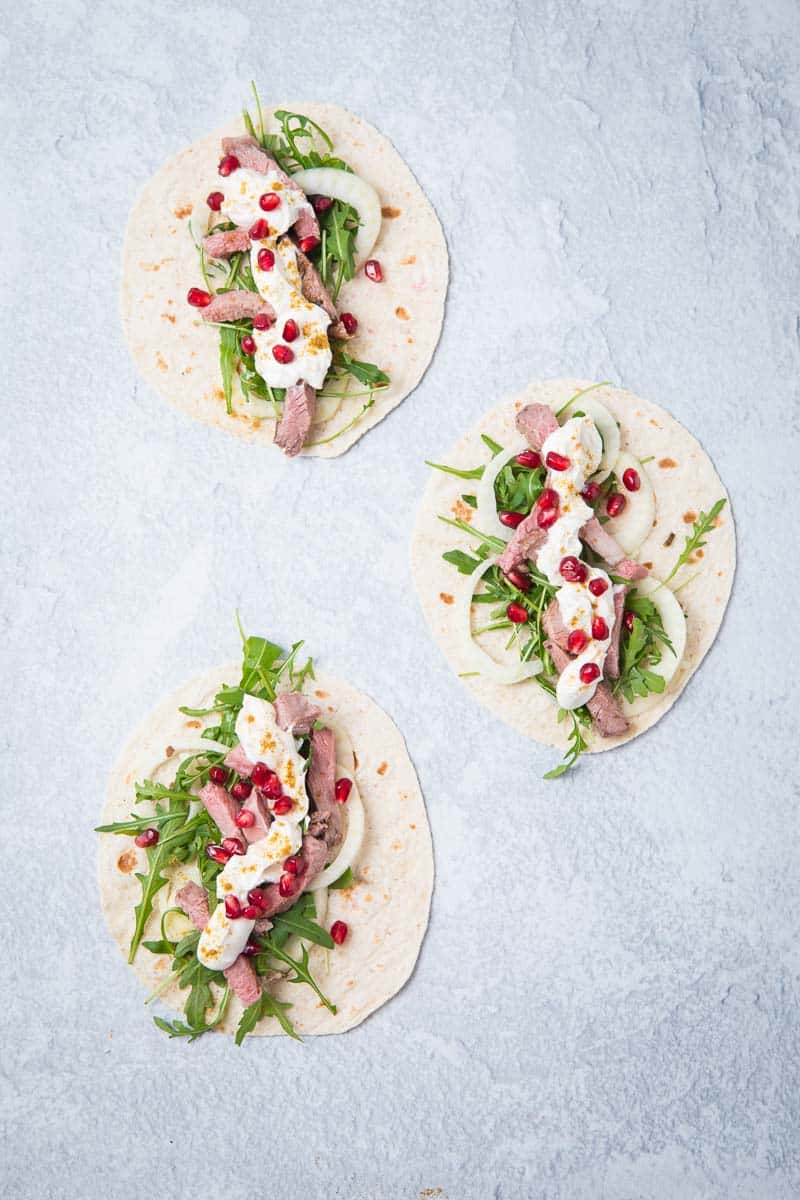 Lebanese & Mediterranean lamb wrap recipe
My lamb wrap recipe is really easy to follow. All you need is fresh fennel, rocket salad, Greek yogurt, ground cumin, leftover lamb and a tortilla wrap. Of course, for a zesty and fruity bite, include some fresh pomegranate seeds for a taste of the Mediterranean. I just love cooking with lamb because it's so versatile!
You can make all types of recipes from different cuts of lamb. Of course, my personal favourites are this delicious 7-hour slow-roast shoulder of lamb or this Indian roast leg of lamb. In both, the lamb just falls apart in your mouth because the meat is so tender! However, you can also try making this sophisticated sous vide lamb shoulder or the elegant bbq rack of lamb.
If I haven't awakened the urge for you to try an incredible lamb recipe, then keep reading to find out more of the amazing qualities of lamb.
lamb – try it, love it
Lamb, in my opinion, is the most underrated, superb type of meat there is. This meat should be enjoyed by all sorts of consumers across all ages! In fact, there is an EU-funded lamb campaign called Lamb Try It, Love It that's dedicated to raising awareness about lamb. This campaign intends to put lamb firmly back on the dinner table and on your weekly menu.
Many people are of the opinion that lamb is expensive and difficult to cook. This couldn't be further from the truth! You can cook with cheap and easy-to-cook cuts of lamb and make outstanding recipes during the week. For example, you can use lamb mince and make these minted lamb burgers. Otherwise, use the lamb shoulder cut or neck fillets to make this rich lamb bhuna, lamb tikka or lamb madras at home. Understandably, lamb is not for everyone, but when was the last time you tried something other than the usual chicken and beef recipes?
Besides, did you know that lamb is extremely nutritious and has many health benefits? It is high-quality meat that's rich in niacin, vitamin B12, zinc as well as protein. All of these vitamins contribute to good health and wellbeing! In addition, lamb is low on sodium which supports healthy blood pressure.
Start cooking with lamb today and see just how easy and tasty it is! You can start with this easy lamb wrap recipe!
easy Greek lamb wrap recipe
Since my lamb wrap recipe already includes Greek yoghurt, why not take it all the way and go Greek? For a Greek version of the lamb wrap, you might want to consider adding dried oregano to the Greek yoghurt, hints of feta cheese, tomatoes, and lots of lemon juice. Also, keep the pomegranate seeds as they balance out the ingredients overall. You can also include tzatziki instead of the Greek yoghurt for a more cooling and savoury flavour.
For an even more refined Greek lamb wrap recipe, opt for making a souvlaki lamb wrap recipe. Souvlaki is very common in Greece, and it is basically grilled meat enjoyed with lemon juice. Hence, pre-grill the leftover lamb before adding it into the wrap. Otherwise, just follow a souvlaki recipe for your lamb and use the entire quantity of grilled lamb souvlaki instead of using leftover lamb. Both choices are delicious!
Mexican lamb wrap with homemade guacamole
Again, lamb is such a versatile ingredient. You can pair it with almost anything. Therefore, if you feel like eating Mexican, just combine your lamb wrap with an avocado dip called guacamole which is super creamy and enjoyable. In addition to the guacamole, add a tomato salsa called pico de gallo for a certain freshness! Top with fresh coriander leaves and some chillies for a kick!
Middle Eastern lamb wrap and lamb shawarma
At first, when I hear the word lamb wrap, I immediately think of Middle Eastern lamb shawarma. Shawarma is a wrap that's traditionally made with the meat of lamb or mutton. Today, you can find many types of shawarmas that include chicken, turkey or beef. In fact, I am sure that you've heard of shawarma, as it is one of the most common and popular street foods in the Middle East, Northern Africa, Israel as well as many traditional markets in Europe. If you want to get the gist of what true lamb shawarma or Middle Eastern lamb wrap tastes like, I highly recommend you visit a local market near you and request a piece.
In either case, to make this a true Middle Eastern lamb recipe, add fresh parsley, tomatoes, cucumbers, sumac spice, hummus, labneh, and red onions. Of course, don't forget the lamb! Actually, a Middle Eastern lamb wrap recipe works best with lamb mince meatballs or lamb kebabs!
Indian tandoori lamb wrap recipe
Since lamb is common in Indian cuisine, there is no reason why you can't turn this recipe in an Indian direction. First, add traditional Indian spices into the yogurt such as turmeric, garam masala, cinnamon, cardamom and fenugreek seeds. I also love using hot madras spice for extra flavour, but this is only for those who enjoy spices that bring high heat! Next, you can add a fabulous coriander chutney or reuse any curry sauce that you have from the curry you've made the night before. Lastly, add fresh coriander! If you are having a hard time with some of those classic Indian spices, then check out these cardamom substitutes as well as coriander substitutes.
Print
Lamb Wrap with Fennel, Yogurt and Pomegranate
---
Description
Why waste incredible leftover roasted lamb pieces when you can reuse them in this easy homemade lamb wrap recipe? Explore this Lebanese lamb wrap recipe.
---
4

tortilla wraps

1

fennel bulbs, washed and finely sliced

60g

(2oz) rocket/arugula, washed

4

slices leftover roast lamb

2.5

ml (½ tsp) ground cumin

125

ml (½ cup) Greek yogurt

½

pomegranate, seeds only
---
Instructions
Divide the rocket and fennel slices between the tortilla wraps.

Add a slice of lamb to each.

Mix the yogurt and cumin in a cup and drizzle equally between the wraps.

Sprinkle with pomegranate seeds.

Wrap the contents and enjoy!
Prep Time:

10 minutes

Category:

Main Course

Cuisine:

Lebanese
Nutrition
Serving Size:

1

Calories:

261

Sugar:

5.5g

Sodium:

343mg

Fat:

8.5g

Saturated Fat:

3.1g

Carbohydrates:

25.2g

Fiber:

4.2g

Protein:

21.7g

Cholesterol:

45mg
save the recipe to your pinterest board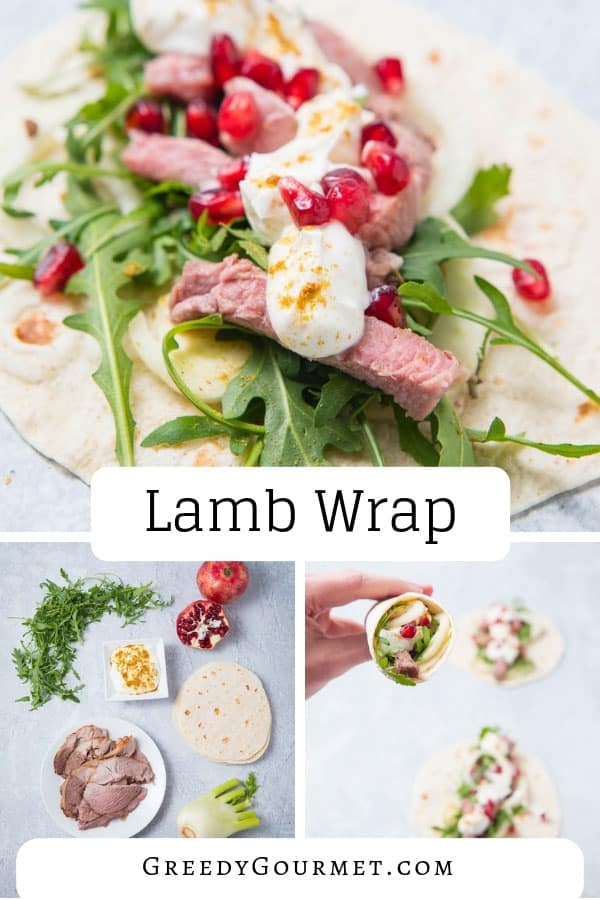 P.S. This is a sponsored post.