I'm sure I'm not the only one longing for warmer temperatures but since nothing can be done about the weather, I decided to brighten up the atmosphere of my kitchen by cooking these vibrant venison kebabs. It's a recipe you can keep in mind for the summer as well, but it also works as an "indoor" dish. The spice level of the venison kebabs can be adjust and makes for a great family meal. There is a mysterious allure to food on sticks that kids and adults alike simply can't resist.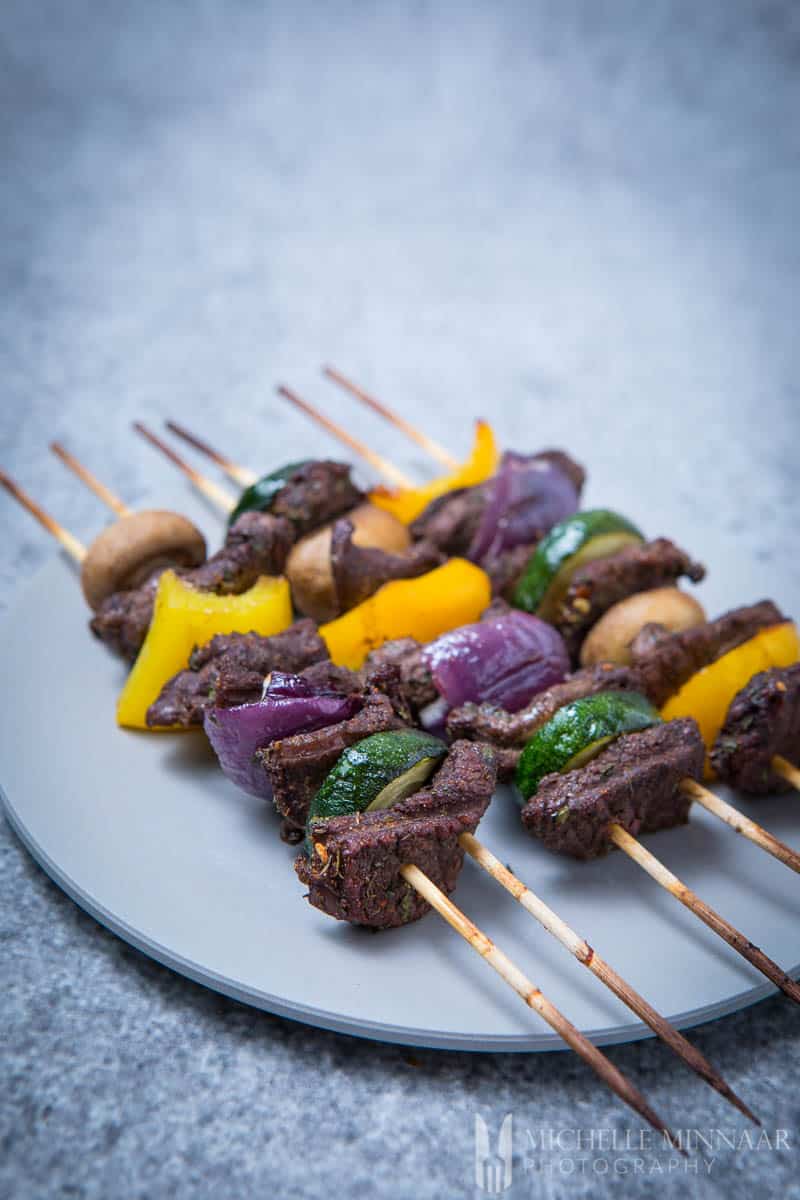 spice rubs
Venison has a delicate, yet unique, flavour. You don't have to marinate the venison kebabs with lots of spice and can opt for a simple seasoning of salt and pepper instead. That said, there's no reason why you can't add your own spin on the kebabs.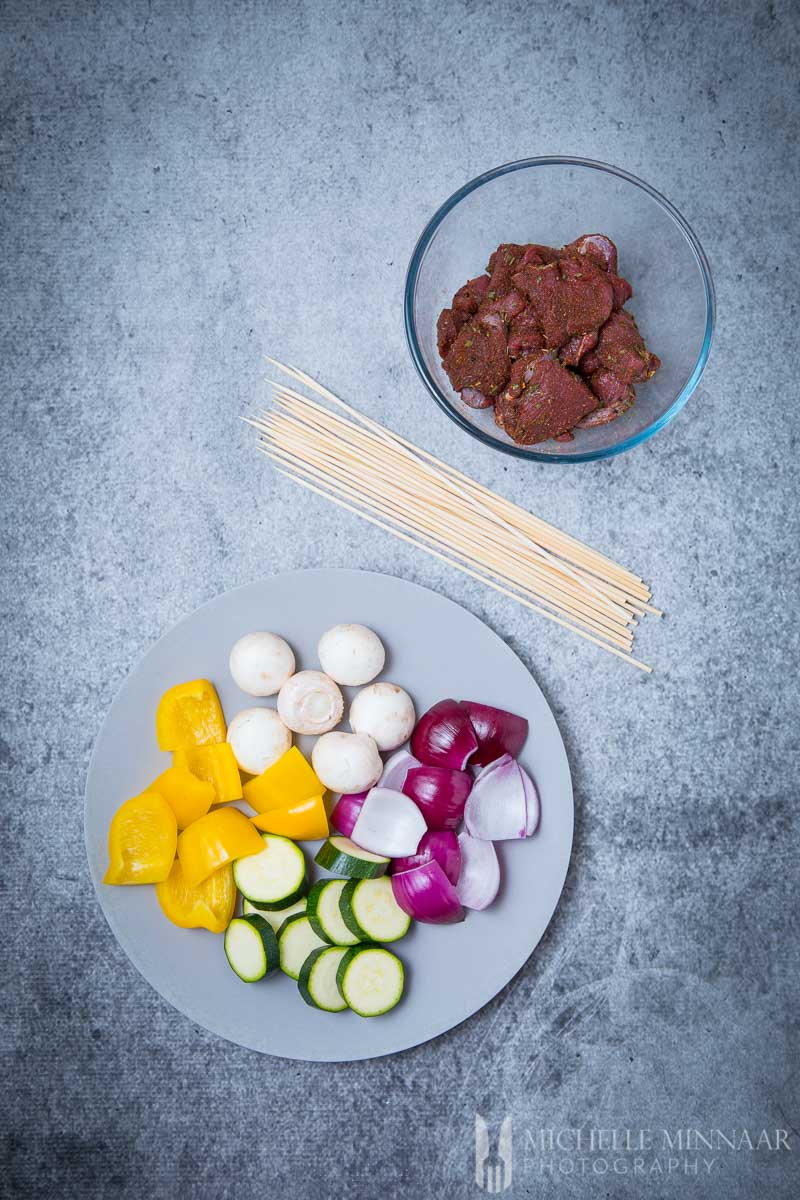 There are plenty of ready-made spice mixes and rubs that can be bought at the shops. Sometimes, the decision for selecting the "right" one can be quite the challenge. In this case, I have prepared my own blend for the venison kebabs. A while back, I published a jerk spice recipe which you can find here. This was the perfect occasion to use up the spice mix! Jerk spice is a mixture of various dried spices and herbs that can be used for a number of different purposes. It is especially good for grilling meat but you can also use it for seafood as well. Check out my jerk spiced prawns.
Alternatively, you can use other spice mixes or you can attempt your own blend. The jerk spice is a dry rub which is the most commonly used for barbecue purposes. You can use marinade Do keep in mind that you don't want to overpower the unique venison flavour I recommend sticking to a dry rub, not spiced up too hot.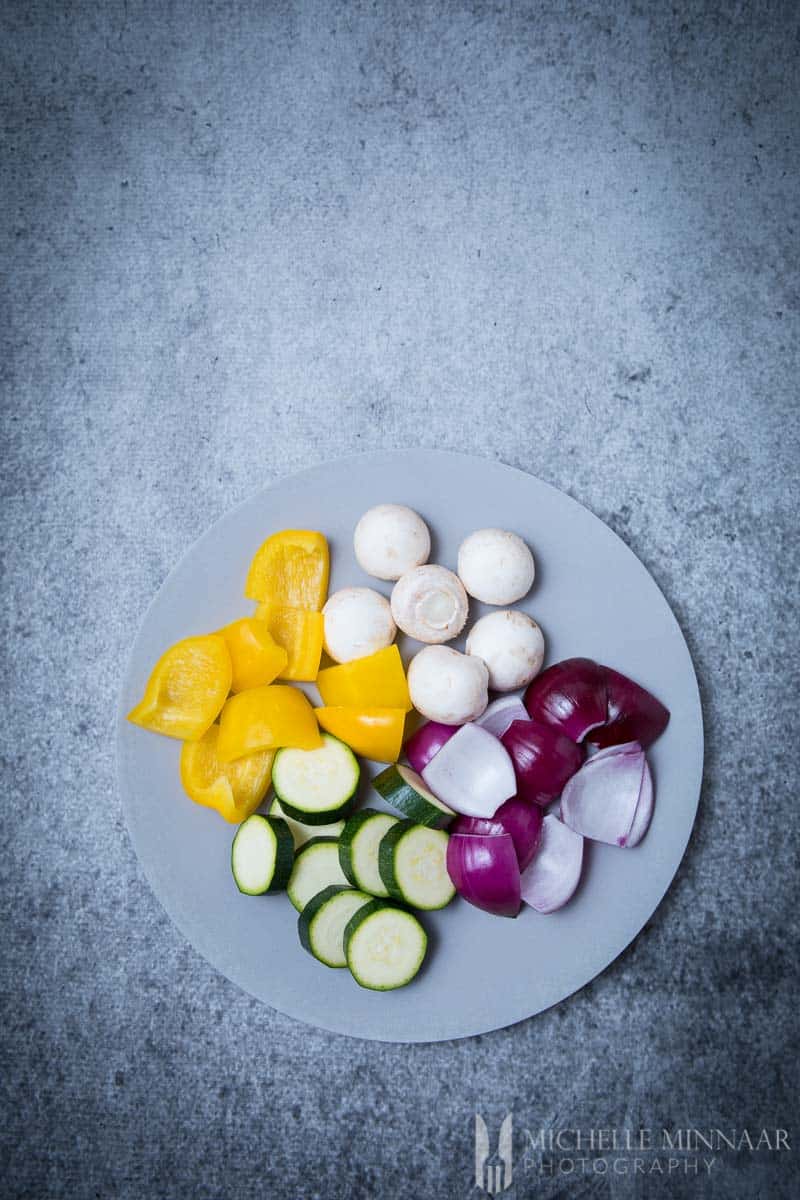 venison and other types of meat
Venison is a general term referring to meat from antlered animals such as deer or stag. It has an intense deep red colour and a flavour profile often referred to as "gamey". This flavour primarily comes from the animal's diet, meaning a farmed animal will have a milder taste than a wild one. Venison is most similar to beef but with a lower fat content. Consequently, it is very important not to overcook venison, as it will become dry and tough if cooked to well-done. You should aim medium, which would render a rosy pink colour inside after cooking. It is also important to serve the venison kebabs hot, directly out of the oven or from the grill. When the meat cools off it can get slightly grainy and liverish in taste.
If you can't get your hands on any venison, you can use this same recipe for other types of meat too. Beef or lamb is best suited for substitutes, although pork, chicken or turkey will also work well. Remember that if you use any of the white meat it must be completely cooked through. Again the critical point is to cook it through without the meat ending up dry.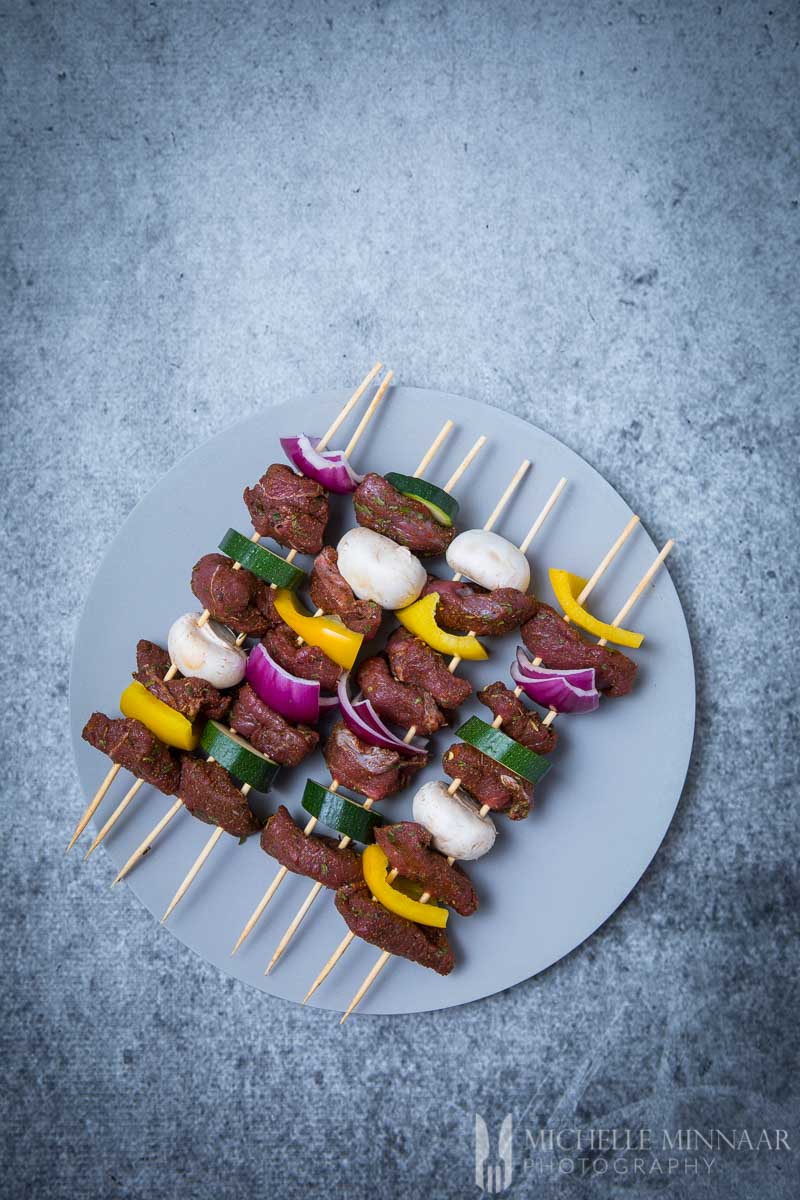 You can even combine different kinds of meat, but keep in mind the different cooking time. The best is to make skewers with only one type of meat on it. If you want more variation make half of them with venison and the other half with another type of meat.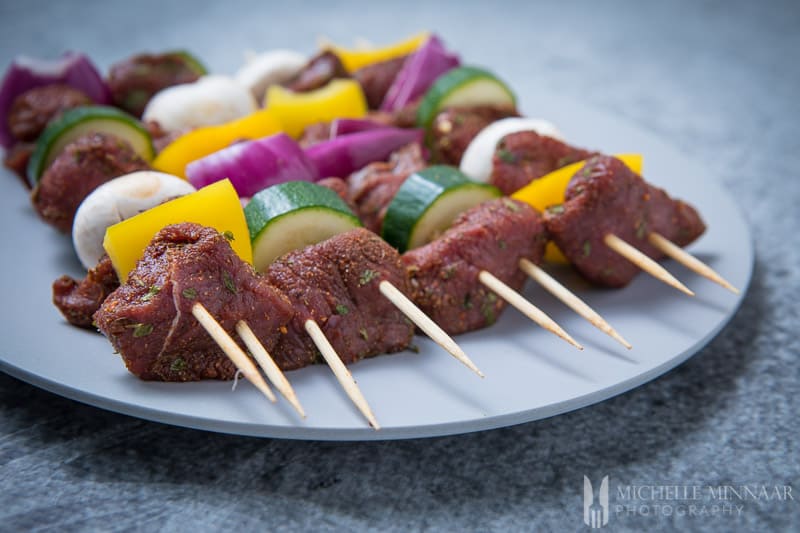 variation of vegetables
For my venison kebabs, I have used peppers, red onions, courgette and mushrooms. To me these are the ideal vegetables to barbecue and the combination of colours are pleasing for the eyes as well. I especially enjoy the flavour of a grilled mushroom, and the sweetness of the grilled onion alongside the juicy meat. Although, you can of course choose any vegetable you like for this purpose. Baby sweet corn or eggplant could be worth a try. If you don't have red onions, just use normal white ones instead. Even parboiled carrots cut into smaller pieces are surprisingly good on the grill. A tip is to let your kids join in on the cooking. Let them select their own combination of vegetables and threading the ingredients onto the skewers themselves. Trust me, they will enjoy this.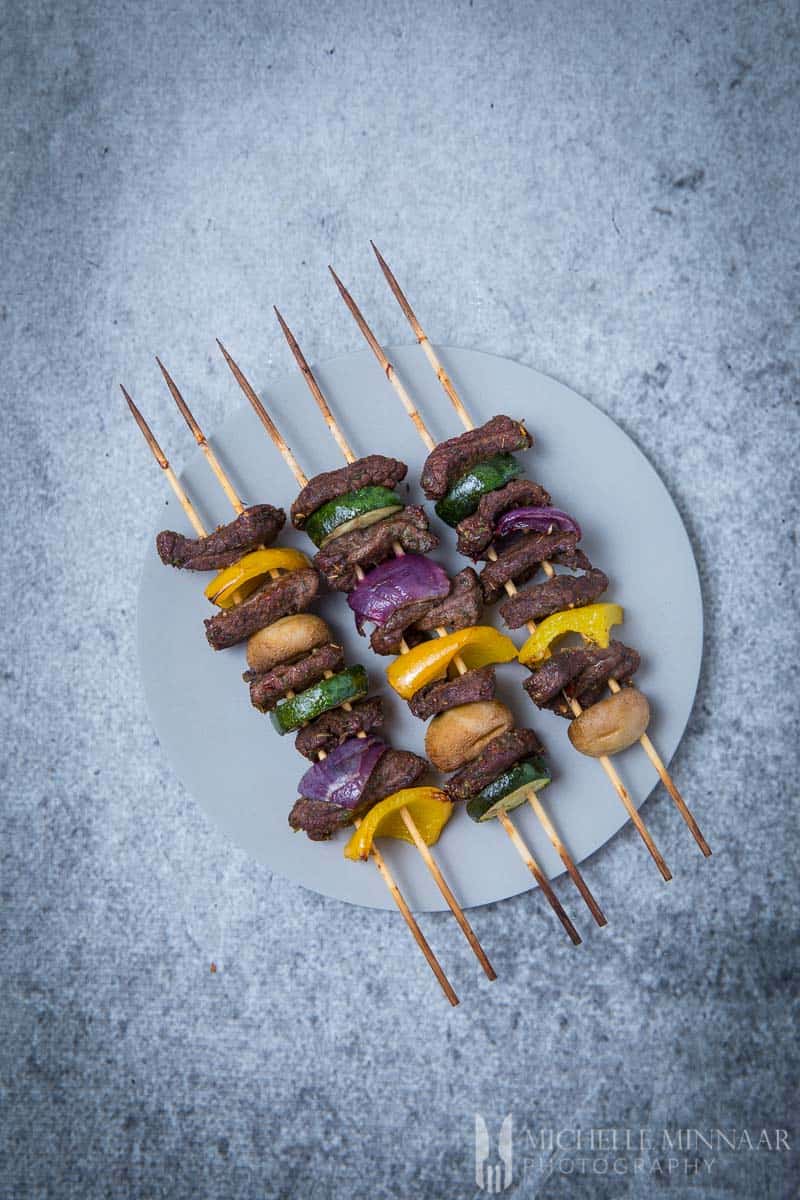 best sides for venison kebabs
For myself I actually made a Persian version by serving the venison kebabs with a side of saffron rice and a grilled tomato. Very simple but also very tasty, with that distinct note of oriental perfume from the saffron rice. Another thing that immediately springs to mind is geelrys, a much loved South African classic that owes its distinct yellow colour to turmeric rather than saffron.
Of course if you want to go more old school barbecue style, you can serve the venison kebabs with a baked potato and garlic butter.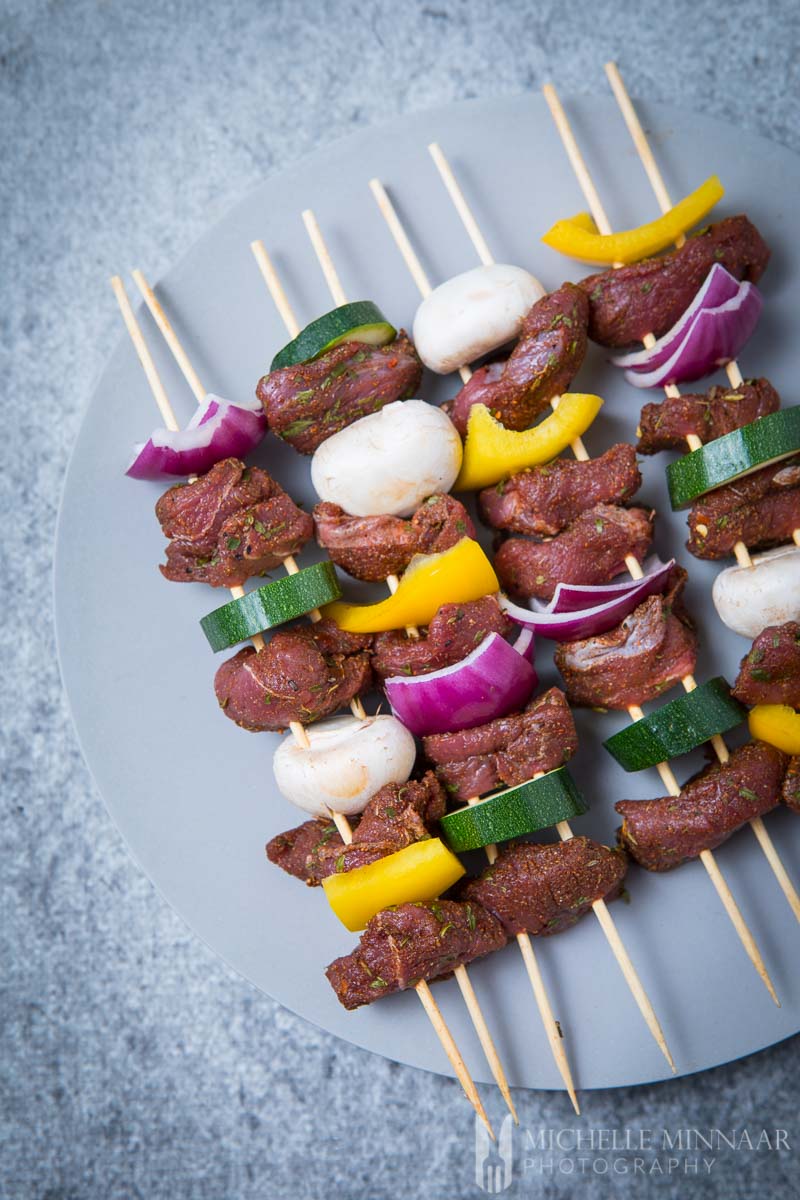 go green
In my opinion, the best side dish for venison kebabs is a salad. Even though there are vegetables on the skewers too, the grilled meat can be a little bit heavy without anything freshness to counter it. So what could be better than a lush green salad? Furthermore, you can make the salad in advance and have it on the table waiting for the sizzling hot kebabs, rather than preparing other sides simultaneously.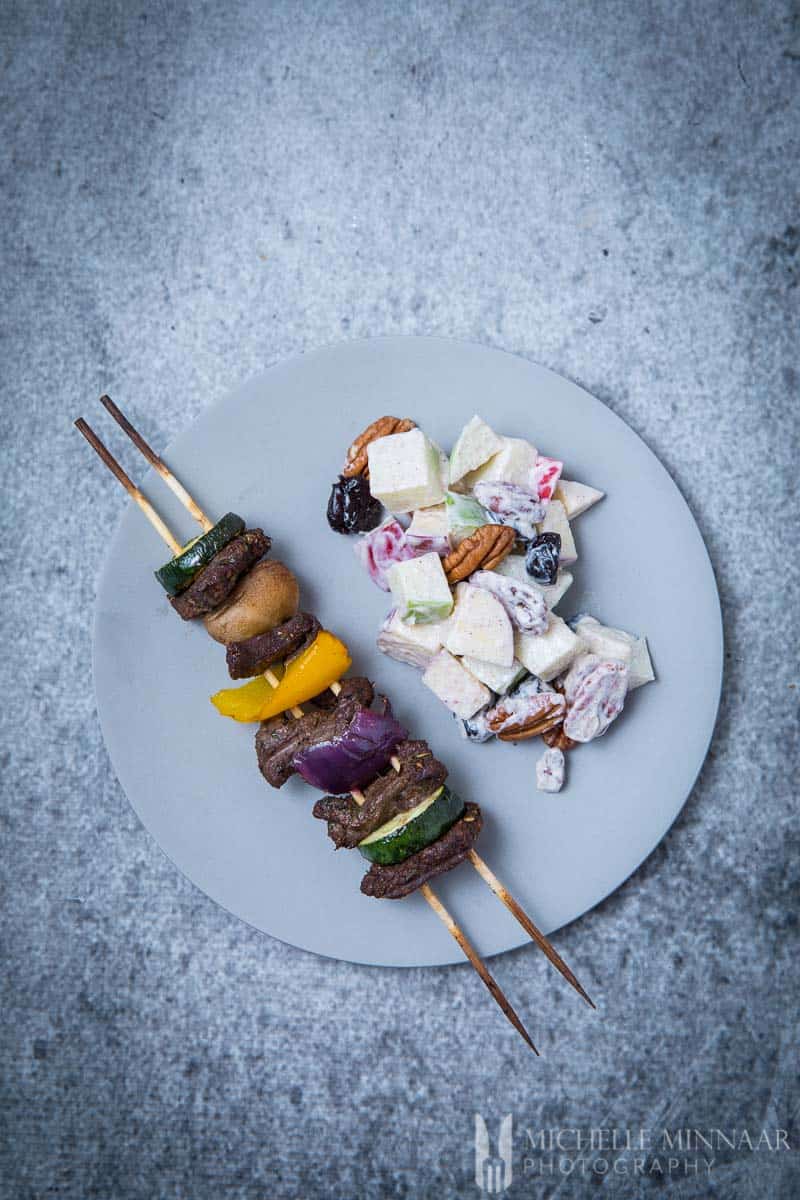 For something a bit more offbeat, serve it with an apple salad, as pictured above. I would recommend my cucumber and avocado salad. The freshness of the juicy cucumbers combined with the spring onion, avocado and herbs, makes up a perfect side for any grilled meat. Another amazing salad for barbecues is the pico de gallo, which is strictly speaking more of a salsa than a salad. The freshly cut tomatoes are perfect for lightening up the plate and bringing some freshness to the heavy meat.
Print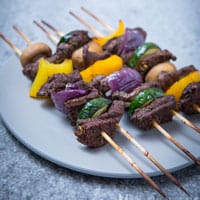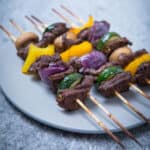 Venison Kebabs
---
Author:

Michelle Minnaar

Prep Time:

30 minutes

Cook Time:

15 minutes

Total Time:

45 minutes

Yield:

4

1

x
Scale
Ingredients
500g

(1lb) venison steak, cut into 2.5cm (1in) cubes

30

ml (2 tbsp) jerk spice

30

ml (2 tbsp) olive oil

8

mushrooms, cleaned

1

courgette, washed and cut into 1.5cm (½in) slices

1

red onion, peeled and cut into wedges

1

yellow pepper, washed and cut into bite-sized chunks
Salt and pepper, to taste
---
Instructions
Place the venison cubes in a large mixing bowl and mix in the jerk spice and so that all surfaces are adequately covered. (Optional: leave to marinate in the fridge overnight.)
Thread the meat and the various vegetables onto the wooden skewers.
Slather the kebabs with oil and season to taste.
Grill the kebabs for about 7 minutes on each side or cooked until desired doneness.
Serve with a salad and the usual barbecue side dishes.
---
Notes
Tip: Soak the wooden skewers in water for an hour first to prevent them from burning on the barbecue.
Tip: Prevent the pieces from spinning on the skewers by using two skewers per kebab.
Substitute the vegetables with your favourites!
Category:

Main

Cuisine:

Scottish
Nutrition
Serving Size:

1 serving

Calories:

213

Sugar:

2.6 g

Sodium:

9 mg

Fat:

8.5 g

Saturated Fat:

1 g

Carbohydrates:

8.4 g

Fiber:

1.9 g

Protein:

25.6 g
save the recipe to your pinterest board