Make this vegan, Indian-spiced beetroot curry and enjoy both the taste as well as the health benefits! A beetroot curry involves the use of the underestimated beetroot, which makes any dish super-vibrant because of its distinct red colour. Besides the fact that this Indian beetroot curry is visually appealing, it is low on calories and low on carbs. Plus, it is completely different from the traditional heavy and rich curries that one usually comes across (which are also equally delicious). However, this vegan beetroot curry is so nutritious and healthy, you can eat away guilt-free!
The best part is, you can make this beetroot curry mild or quite spicy. You can control the amount of Indian spices you put in. However for maximum flavour, I suggest you include the recommended amount from the recipe. Lastly, you can serve this beetroot curry as a side dish, as a starter or double-up and serve as a main course. I recommend serving it alongside saag aloo or Bombay aloo.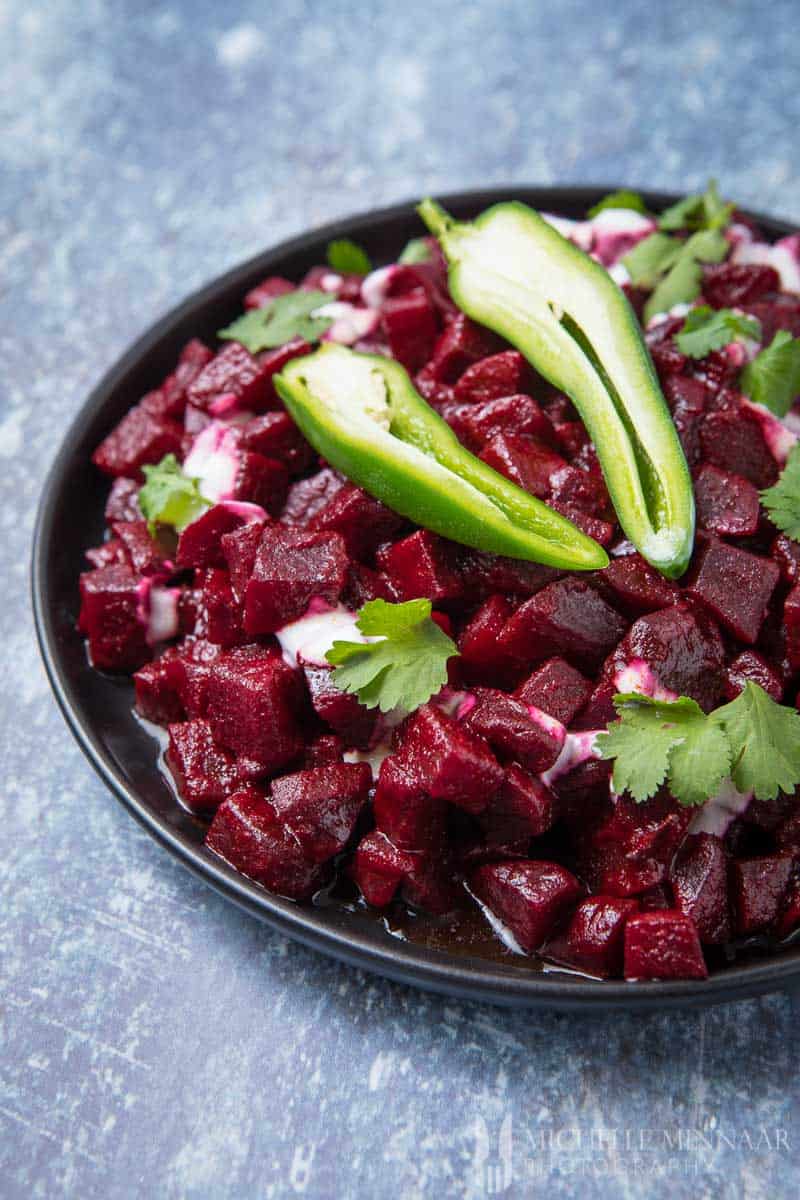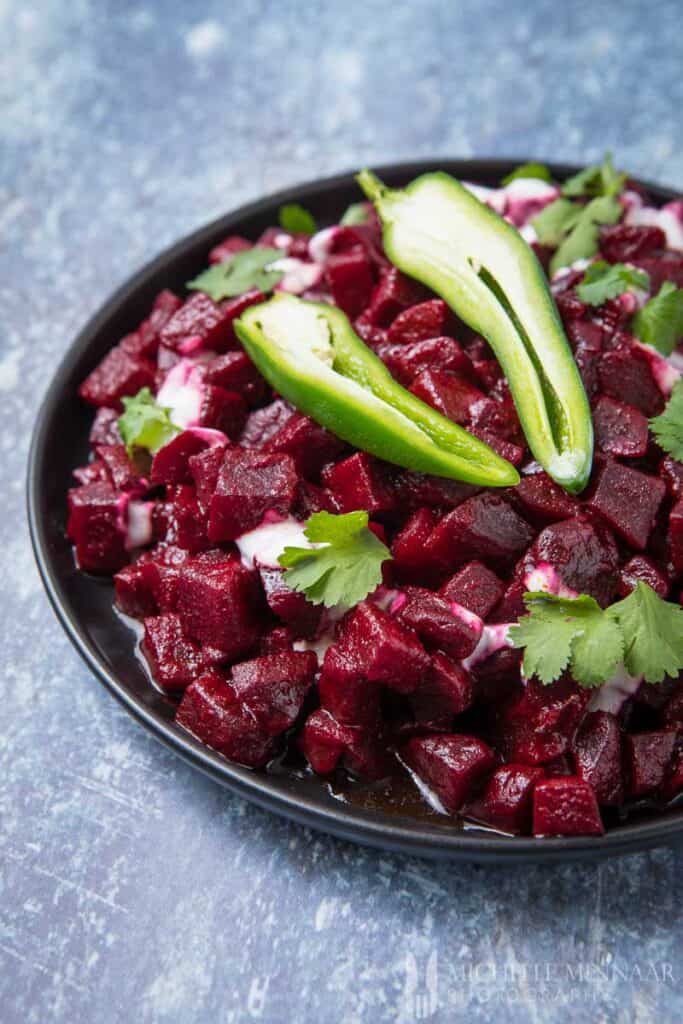 vegan recipe for beetroot curry
This vegan beetroot curry involves raw cubes of beetroot, traditional Indian spices, tomato puree and coconut milk. Can you imagine that you can make this easy beetroot recipe in just over an hour? To be more specific, the preparation time is roughly 30 minutes and the cooking time is 45 minutes. Remember, this specific recipe calls for raw cubes of beetroot, without cooking them in advance. So they will need extra cooking time to make sure that they soften up.
You can opt to pre-cook the beetroot prior to cubing them. However, even though they will be easier to manipulate and they will cook quicker, they might lose on flavour. The spices won't infuse as well into the beetroot cubes because they won't need a long cooking time and they won't get a chance to simmer for so long in the spicy sauce. Plus, you might overcook them so they start to fall apart completely. To ensure that the beetroot cubes hold their shape and have a nice firm crunch to them, don't pre-cook them in advance.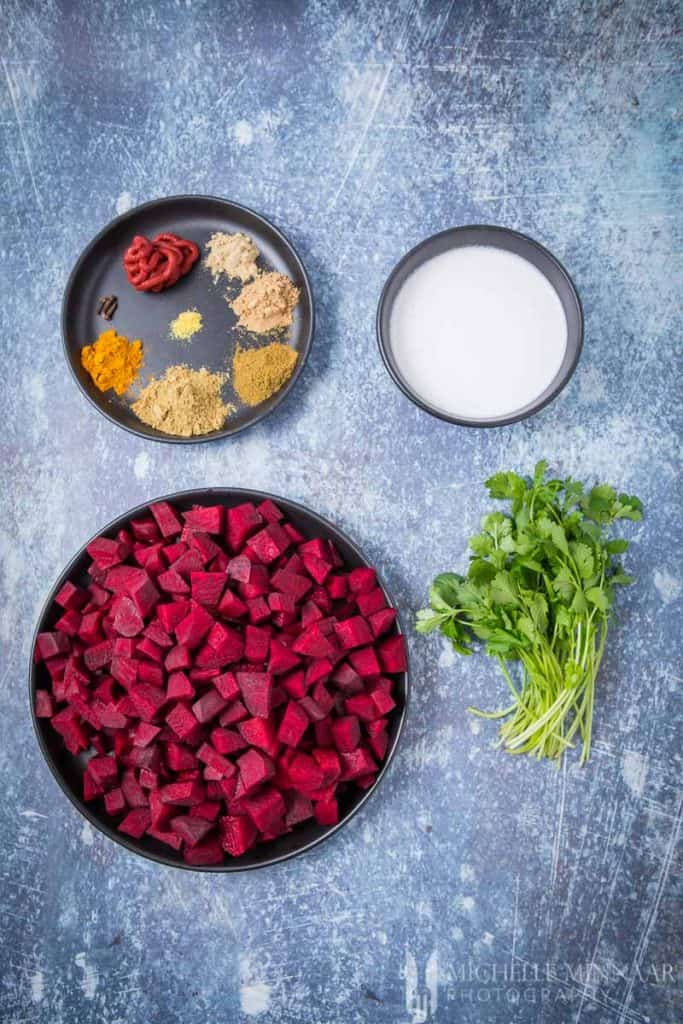 how to make beetroot curry
Beetroot is a very humble and ancient ingredient which dates back to the Middle Ages. The beetroot is just one part of the entire beet plant. Yes, you can cook and eat the entire beet plant (you might know the leaves as beet greens, which are common addition in salads). In addition, you might also see the beetroot in supermarkets as garden beet, red beet, table beet or golden beet. You can eat beetroot raw, boil it, roast it or pickle it.
which type of beetroot to use
There are approximately 12 different cultivars of beetroot. However to keep things simple, here's a list of the most popular types of beetroot:
red beetroot – the classic red beetroot that's often used to make roasted beetroot or traditional Russian borscht
golden beetroot – yellow/golden in colour and less earthy and less sweet compared to the red beetroot
baby beets – extremely tender, just like their edible greens (perfect for salads)
chioggia beets – yellow and orangish in colour and striped, however you might find these also with red and white stripes. Careful though, the stripes usually disappear when you cook this type of beetroot.
Guess what? You can substitute with any of these types of beetroot. However, I recommend sticking to the red beetroot as it is the most flavourful one.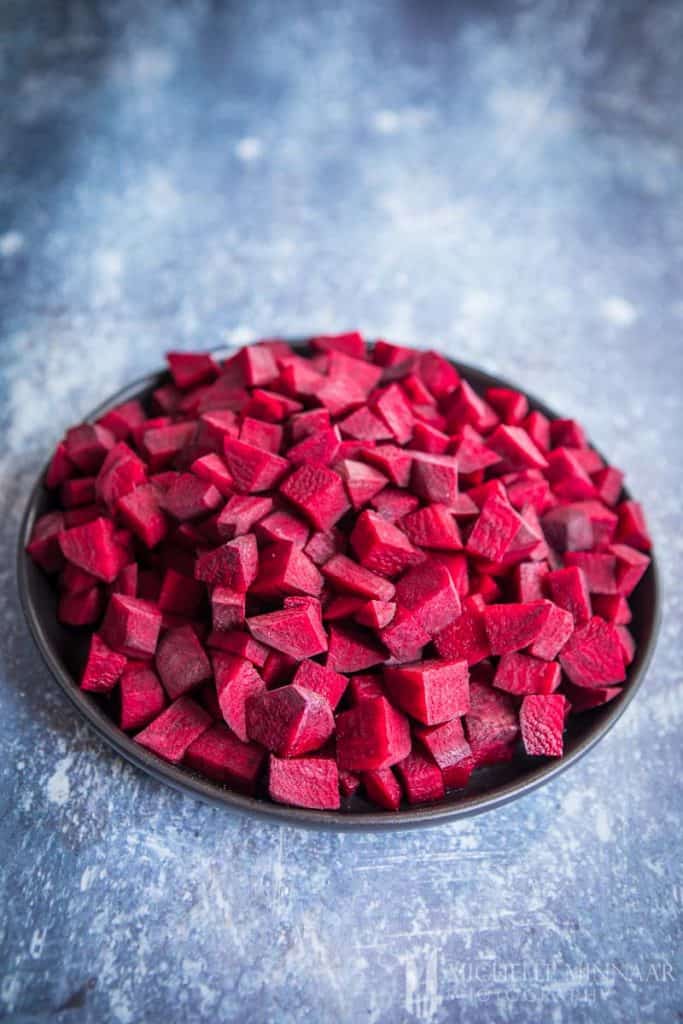 what else can you use beetroot for?
In addition, you can use beetroot in many recipes as a colouring agent as well as an earthy flavour enhancer. For example, check out this stunning beetroot rice. Often, professional kitchens keep beetroot powder as a colouring agent for dips, purees, rice, you name it. However, back in the day, beetroot was also used for medicinal purposes. For example, during the Medieval period, the beetroot was used to treat diseases that relate to digestion and blood. Also, here's a fun fact! Did you know that the juice of beetroot was added to wines to make them redder and richer in colour?
how to prepare beetroot
For this beetroot curry recipe, cut them into raw, even-sized cubes. For example, I've already used raw beetroot cubes to make Indian beetroot poriyal. However, you can also cut them up in to long, thin strips. You might know this technique as the julienne technique. Plus, if you julienne the beetroot, you might increase the preparation time, but also decrease the cooking time.
ayurvedic beetroot curry recipe
My favourite part of this beetroot curry is that it uses ayurvedic spices. The ayurvedic spices in this recipe are asafoetida, ground ginger, fennel, ground coriander, ground cumin and more. Another ayurvedic spice you can include is turmeric, which is very healthy for you and is rich in anti-oxidants. Ayurvedic spices are known to enhance your digestion and are very beneficial towards your metabolism. As this beetroot curry contains a bunch of ayurvedic spices, you can easily refer to this beetroot curry as an ayurvedic curry.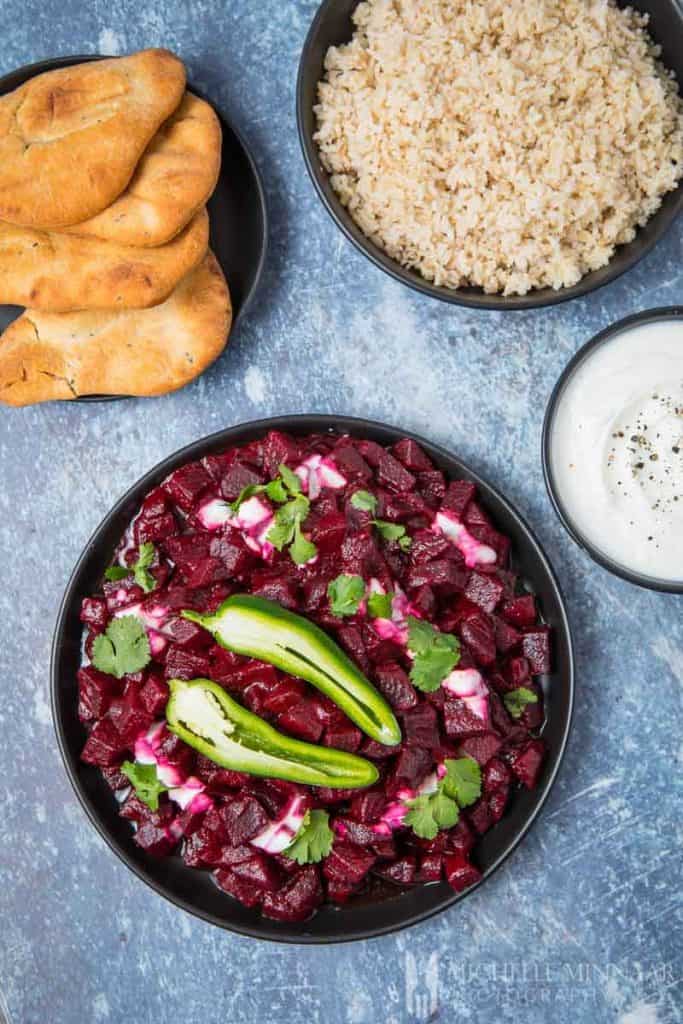 creamy beetroot curry recipe
What ties this beetroot curry together and makes it creamy is the addition of coconut milk. However, if you wish to enhance the flavour of the beetroot curry even more, then I recommend juicing a single beetroot for extra earthy flavour. For a more spicy flavour, juice fresh ginger and turmeric (although turmeric is not a part of the recipe, it works very well). This is a handy trick when cooking Indian meal and if you wish to add even more flavour. Raw juice is always more effective than the ground, dried spices because it is fresh!
what to serve beetroot curry with
This beetroot curry wouldn't be complete without the essential Indian sides. First of all, pair this beetroot curry with a classic naan, garlic naan or peshwari naan. Perhaps accompany with another filling side dish such as plain white basmati or jasmine rice. This way, you don't have to make a large batch of the beetroot curry and the portion results in additional servings. Top with fresh chillies for a bit of heat and don't forget to pair with a cooling cucumber raita.
Print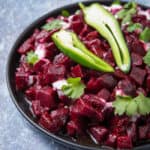 Beetroot Curry
---
Author:

Michelle Minnaar

Prep Time:

30 minutes

Cook Time:

45 minutes

Total Time:

1 hours 15 minutes

Yield:

6

1

x
Description
Make this tasty vegan beetroot curry with simple easy-to-follow directions. The best part is the beetroot curry uses ayurvedic spices and coconut milk.
---
15

ml (1 tbsp) vegetable oil

2.5

ml (½ tsp) fenugreek seeds

1

kg (2 lbs) beetroot, scrubbed and cubed

3

garlic cloves, peeled and crushed

5

ml (1 tsp) ground cumin

5

ml (1 tsp) ground ginger

10

ml (2 tsp) ground coriander

5

ml (1 tsp) chilli powder

Pinch of asafoetida

400

ml (1 can) coconut milk

30

ml (2 tbsp) tomato puree

Salt and pepper, to taste

Coriander leaves
---
Instructions
Fry the fenugreek seeds in the oil on a medium heat for 2 minutes or until their aroma is released.

Add the beetroot cubes to the mix and fry for 5 minutes until slightly softened, stirring constantly.

Sprinkle in the garlic, cumin, ginger, coriander and asafoetida.

Pour in the coconut milk and tomato puree then stir until all ingredients are well incorporated.

Simmer the curry gently for about 30 minutes or until the beetroot is tender.

Season to taste then serve with yogurt and coriander.
Category:

Side Dish

Cuisine:

Indian
Nutrition
Serving Size:

1 serving

Calories:

260

Sugar:

15.8 g

Sodium:

141 mg

Fat:

19 g

Saturated Fat:

14.8 g

Carbohydrates:

22.3 g

Fiber:

5.4 g

Protein:

4.8 g
save the recipe to your pinterest board