Ever wanted to make your own dairy free milk? This homemade cashew milk recipe is the one for you!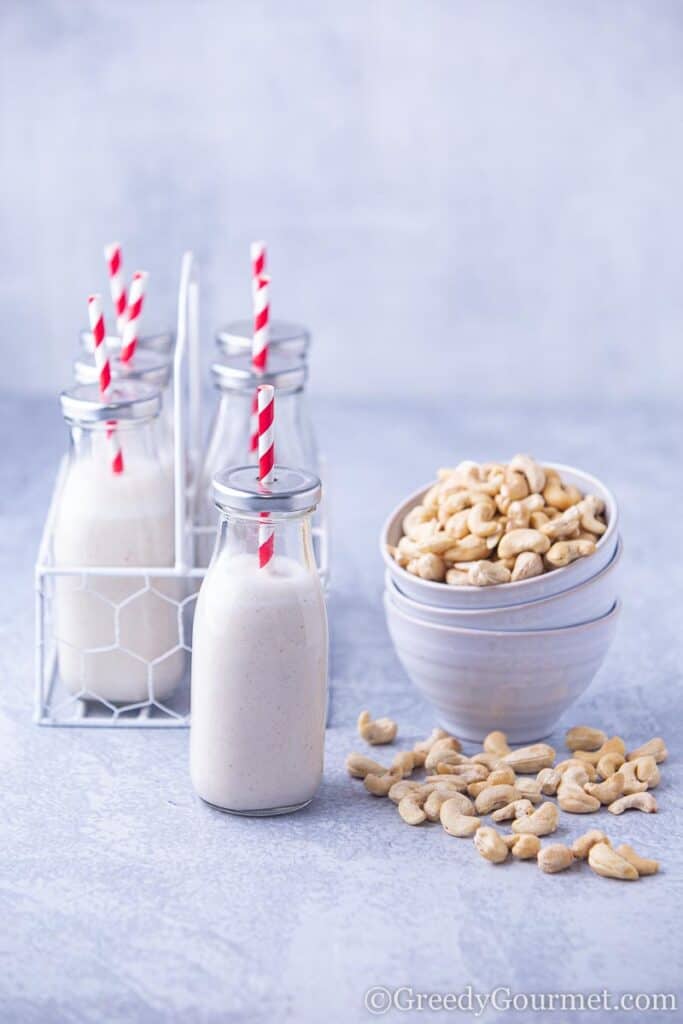 It's simple, fast, healthy and, most importantly, tastes wonderful. So, what are you waiting for? Let's make some cashew milk!
K-Mojo Digimaster
While it's true that there's a primitive thrill to getting hands-on in the kitchen, us foodies need all the help we can get.
When it comes to making cashew milk, the K-Mojo DigiMaster is an absolute godsend. It makes everything so incredibly easy to make – you can have this nut milk recipe done in minutes!
After you've soaked your cashews, simply blitz them up with the other ingredients until smooth. That's all there is to it!
Don't stop there though. This space-saving, sleek gizmo comes with 10 different settings, giving the chance to get super creative in the kitchen. You can chop, slice, emulsify, knead, blend, grind, juice or whisk with ease.
Stunning style and high-speed quality performance blend to create a blender that'll change the way you cook. With this quality piece of kit, you'll be dishing out amazing recipes one after the other. Feel free to let me know what you'll be making next in the comments below!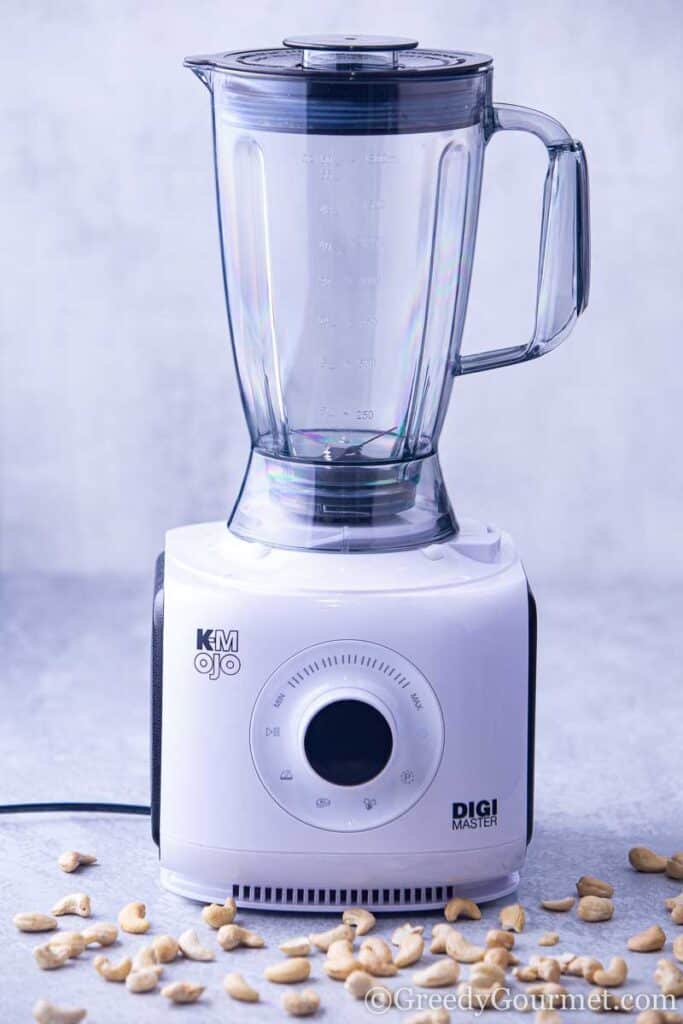 How to make cashew milk
This recipe is so easy to make, you'll be wondering why you've been guzzling down dairy milk for so many years.
All you have to do is soak the cashews, then place them in the K-Mojo DigiMaster blender along with some dates, vanilla bean paste, a pinch of sea salt and three cups of water. This nut milk recipe is as simple as that!
Once you've made this recipe, you'll realize how delicious it is. You'll be adding it to your morning coffee, serving with your favorite breakfast cereal and using it to make creamy sauces and all kinds of savory delights.
That's the joy of making your own homemade nut milk. It's a super simple process, it's much healthier than regular dairy milk, tastes great and has no added sugars. As non-dairy milks go, it's one of the best.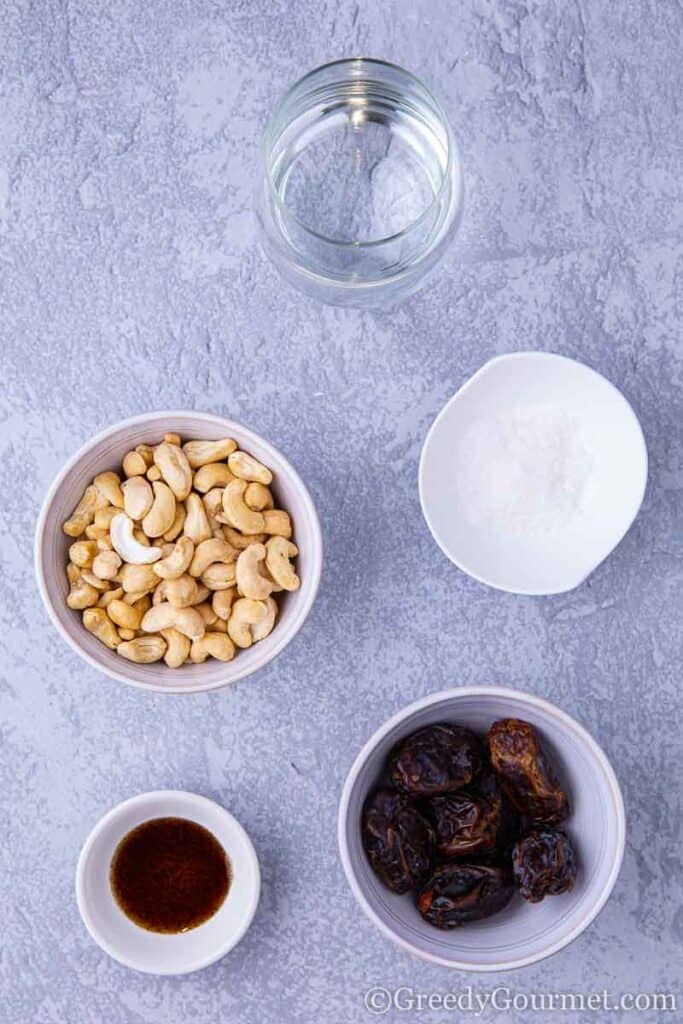 Is homemade cashew milk good for you?
It's packed full of essential vitamins and minerals. It's also lactose-free, making it a great alternative to cow's milk for people that are lactose intolerant.
The vitamins and minerals it contains include vitamin K, vitamin D, calcium, magnesium, iron and potassium. It's also high in healthy unsaturated fats, which are good for heart health. It also contains antioxidant compounds that are very beneficial for eye health.
It may also improve your blood sugar control and health of your skin, as well as help to prevent serious diseases like cancer.
Is cashew milk good for weight loss?
Unsweetened cashew milk contains just 25 calories per cup, compared to 83 calories per cup of skimmed milk. So, yes, it's great for weight loss.
It does contain a certain amount of fat, but these are unsaturated fatty acids that contain lots of health benefits.
What does cashew milk taste like?
Surprise, surprise… it tastes nutty!
Actually, it only has a mild nuttiness. With a hint of saltiness and a little bit of sweetness, cashew milk has a very plain, inoffensive taste. This makes it great for those who balk at the heavy 'milkiness' of milk and for those who want a mild, dairy free alternative.
Some store-bought cashew milks taste a little sweeter than your average. With homemade, you can play with the taste until your heart's content. That's the beauty of this recipe – it all comes down to personal taste.
Is cashew milk sweet?
Store bought stuff can sometimes be sweet. You can get both sweetened and unsweetened versions. Still, it's naturally sweeter than other dairy free nut milks like almond milk and other plant-based milks like soy milk.
Homemade cashew milk can be tailored to your taste. If you prefer it sweet, add extra maple syrup to the mix. If you're sweet enough, add just a subtle amount.
Is cashew milk good in coffee?
It's great when added to coffee. It can bring a creamy thickness that works really well, particularly with lattes, and its slight nutty flavor works in harmony with the flavor of coffee.
How long does cashew milk last?
When stored in the fridge, it will last 3-4 days.
How do you know when cashew milk has gone bad?
When it starts hurling insults at you.
But seriously, when it starts to take a more yellowy color, it's probably a sign that it's starting to go bad. A big indication will be the smell – it'll take on a slightly off odor.
Does cashew milk have calcium?
Yes! Cashew milk actually contains more calcium than cow's milk. 
Calcium is crucial to maintaining healthy bones, which makes cashew milk a great healthy alternative to cow's milk and one of the healthiest nut milks around.
Is cashew milk vegan?
Yes, it's 100% vegan and plant-based. Cashew milk is dairy free and completely free of any animal products.
How many calories in cashew milk?
With just 25 calories per cup, compared to 83 calories per cup of skimmed, it's one of the lowest calorie nut milks around.
How long should you soak cashews?
This recipe calls for you to soak your cashews overnight.
If you don't have time, you can soak them the fast way. Place in a pot of water, bring the water to the boil, then remove from the heat and cover. Then wait for 15 minutes and drain.
Be careful not to soak your cashews for too long. They'll become unusable if you do.
How do I know if I've soaked my cashews for too long?
When you soak cashews for too long, they will start to smell and taste bad. You'll also be able to tell if you've soaked them for too long if the soaking water turns slightly slimy, with a gel-like appearance. 
When soaking cashews overnight, be sure to rinse them off as soon as you get up. Any longer than 8 hours and you risk over soaking them.
If you do over soak them, throw them away and start soaking from scratch.
Is cashew milk gluten free?
Yes! As well as being 100% vegan, it's completely gluten free.
How much protein is in cashew milk?
Do you need to refrigerate cashew milk?
Yes. Once you've made it, you'll need to keep it in the fridge. It'll keep for about 3-4 days.
Can you bake with cashew milk?
It's a great ingredient to use when baking. It has a mild nutty flavor, which makes it very flexible, as it won't overpower other flavors.
Can you freeze cashew milk?
Yes, you can. In fact, using ice trays to freeze cashew milk is a great way to keep individual portions fresh for longer. Each time you want some, you can pop a portion out and heat it up accordingly.
Is cashew milk healthier than cow's milk?
In many ways it's healthier than cow's milk. Although it contains less protein, cashew milk has higher levels of healthy unsaturated fats, iron and magnesium.
For those who have trouble digesting lactose, cashew milk is a lot healthier than cow's milk.
How do you make cashew milk smooth?
Homemade cashew milk has a delicious creamy texture that you'll love if you want something to serve in coffee or with your breakfast cereal. Still, the creamy texture isn't for everyone. 
If you prefer a smoother blend to your nut milk, you can strain it by pouring it through a muslin into a separate bowl or container. This will filter out the cashew pulp, leaving you with a thinner texture.
What are the other types of dairy-free milk?
Nowadays, there are so many amazing options available for vegan milk lovers, those who are lactose intolerant or those who dislike cow's milk.
For me, homemade cashew milk is one of the best, so you should definitely try out this recipe. 
You should also try to make oat milk too, especially if you're looking to make a vegan alternative that's creamy in texture. Oat milk goes perfectly with breakfast cereals and as part of dessert recipes.
Another good option is almond milk. Another one delicious nut milks, it's healthy, easy and quick to make and tastes fantastic.
Rice, soy and coconut milk are all delicious and relatively easy to make. If you don't want to make them at home, all of these dairy-free milks are available from good supermarkets and health food stores.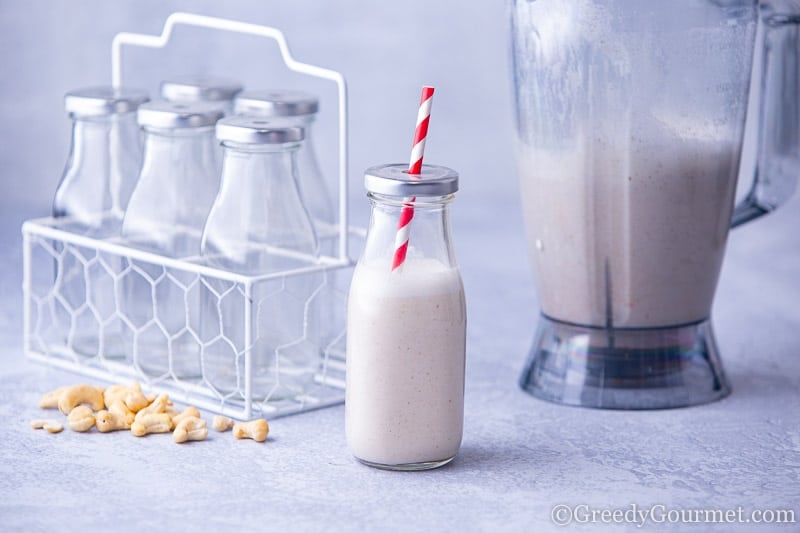 What can you make with cashew milk?
So, you've made this cashew recipe, you've poured yourself a glass and it tastes delicious. What now?
Well, here are a few recipes that you can make with this delicious nut-based alternative. Simply follow the recipes and swap in your delicious cashew milk for the dairy kind. You can also add it to your favorite breakfast cereal, with porridge, or in tea or coffee.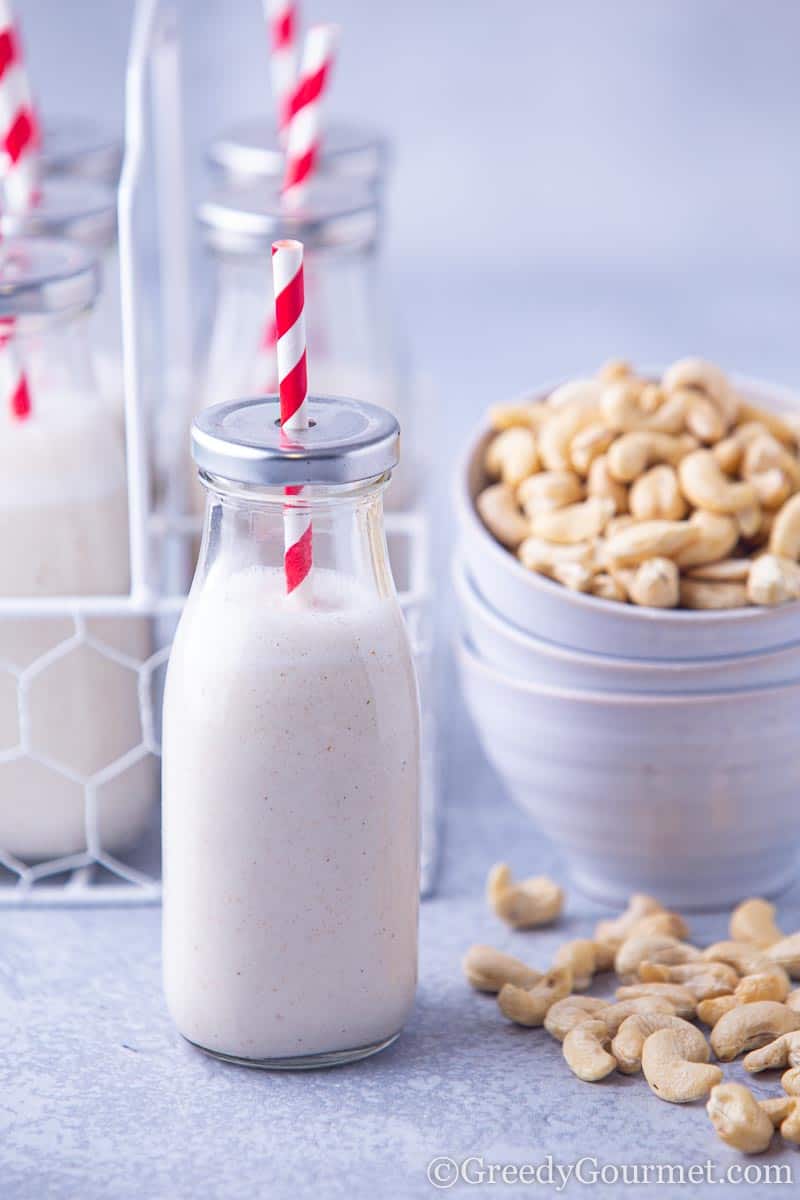 Other nut-based delights
Nuts about nuts? Check out these truly mouth watering recipes, each of which is sure to become a firm favorite in your home:
GIVEAWAY
One winner this week will receive a 34cm carbon steel wok, with superior non-stick coating and heat resistant handles, including a helper handle.
Fry, stir fry and sauté for perfect cooking results with ease using this outstanding Ultimate Carbon Steel non-stick wok. The exceptional non-stick coating allows you to cook healthy meals using little to no oil, and the washing up becomes a breeze as the food simply slides off.
The robust yet lightweight construction of the Ultimate wok enables it to quickly heat up and allows effective even distribution of the heat to all the ingredients.
The wok's durable and long-lasting design delivers outstanding performance and practicality, making it a reliable every-day kitchen essential.
a Rafflecopter giveaway
Entering is easy, just follow the instructions below.
HELP
Check the K-Mojo DigiMaster page
Here you can find a tutorial on how to enter with Rafflecopter.
If your form is not showing, try refreshing the page.
Complete the form, otherwise your entries will not count.
Make sure the mandatory entries (e.g. leave a blog comment) are completed first.
Don't forget to come back daily for extra entries via Twitter.
If you're viewing this post by email, please come to the actual webpage to enter.
Competition Question: What would you use the K-mojo DigiMaster food processor for?
Print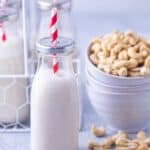 Cashew Milk
---
Author:

Michelle Minnaar

Total Time:

5 minutes

Yield:

Makes

1

litre (

4 cups

)

1

x

Diet:

Vegan
Description
Making your own cashew milk is easier than you think. Soak some cashew nuts first before blending them with dates, water and vanilla. Use as you would do normal milk, it really is that versatile!
---
160g

(

1 cup

) raw cashews

2

Medjool dates, pitted

750

ml (3 cups) water

5

ml (1 tsp) vanilla bean paste
pinch of salt
---
Instructions
Soak the cashews overnight in water. 

Place all the ingredients in the K-Mojo DigiMaster's blender and blitz until smooth. 

This is suitable to serve as is, in the shape of a drink, with cereal or in cooking. Enjoy!
Notes
If you're in a hurry or simply forgot, you can cover the cashews in boiled water for 15 minutes then you can proceed with the recipe, as noted above.
For a smoother finish and if you have some muslin at hand, pour the cashew milk through the muslin to get rid of the cashew slurry. It's entirely up to you – both taste delicious and my son gives the rustic version a big thumbs up!
Prep Time:

5 minutes

Cook Time:

0 minutes

Category:

Drink

Method:

Blend

Cuisine:

American
Keywords: cashew milk, nut milk, cashew recipe, vegan milk, how to make cashew milk, blender recipe
P.S. This is a sponsored post.