This vegan chickpea soup is rich in flavour, nutritious and vibrantly colourful with the right garnishes. It's heart healthy and freezable too!
Garbanzo Bean
The Chickpea is also known as a Garbanzo Bean. It seems to be one of the foremost cultivated beans in the history of civilisation. Remains have been found in the Middle East which date back 7 500 years.
Garbanzos possibly stem from Turkey and were then cultivated by the ancient Egyptians. They travelled through the entire Mediterranean area with the Phoenicians and the Romans armed their legions with this nutritious little bean.
Chickpea
The name "chickpea" comes from the French "chiche" or "cicer" which is the Latin name for 'chickpea'. This is also where the Roman moniker Cicero originates from.
The Old Spanish word "arvanço" is where "garbanzo" comes from . This then became "calavance" in American English referring to a variety of beans.
The name we use today "garbanzo" is the modern Spanish language and widely used in geographic areas with heavy Spanish influences and cultures.
Chickpea Coffee
There is reference made to chickpeas being used as a European substitute for coffee by a German writer in 1793. During the 1st World War, chickpeas were grown expansively in some areas in Germany for this purpose
Chickpeas add nitrogen to the soil they are grown in and production is rapidly growing across the globe. Cultivation has increased 4 times in West Asia over the last 30 years with India being the biggest exporter and producer.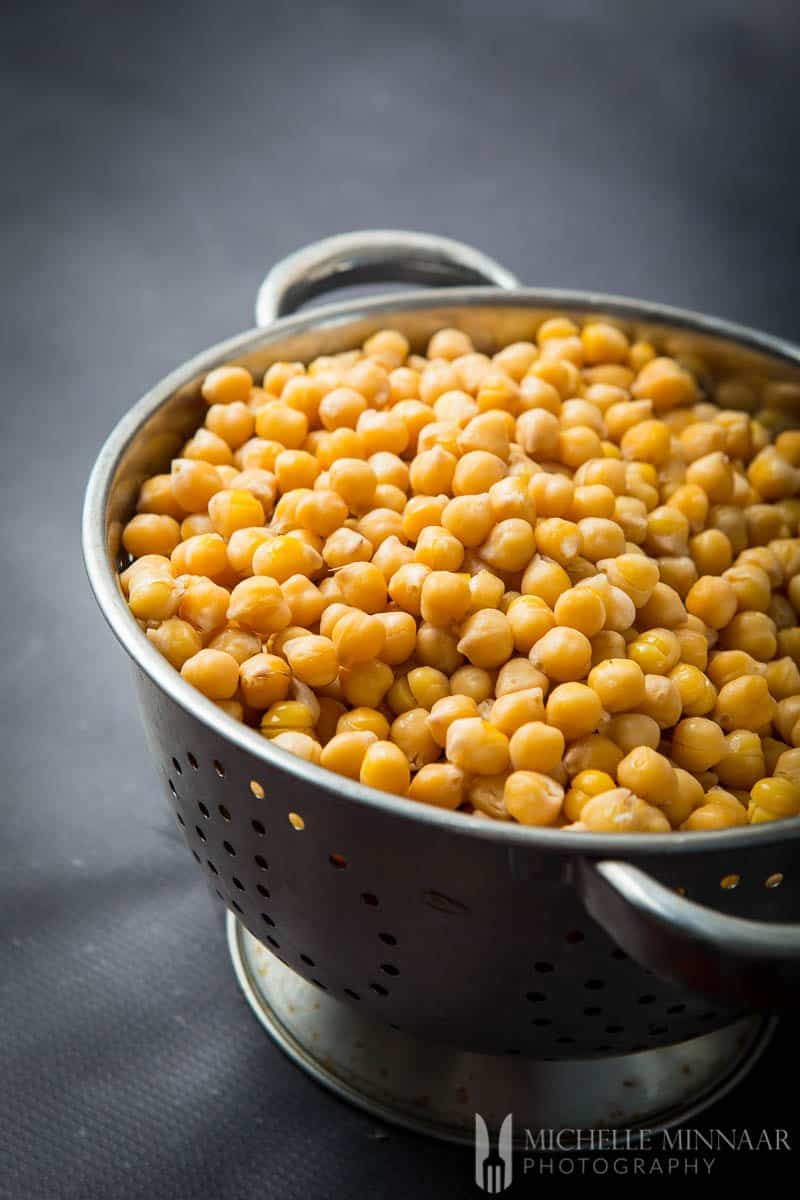 No Pots
For a moment I was dumbfounded when writing this article due to my assumptions of the way certain civilisations lived in the past.
I imagined when starting this article that ancient cultures, being as backwards as they were compared to our futuristic advancement of modern life, had soups that were common place and that they ate them every day.
What could be simpler than picking wild veggies from just outside my gaping cave entrance?
Throwing them in a pot of pure, unpolluted water, from the stream down in the valley and leaving it to boil, while I go back to tanning my bear skin winter blanket? I was quite horrified when I realised they didn't have pots!
Modern Boiling
Only when waterproof containers were created, probably with clay, was boiling an option to the masses. Before this fantastic invention soups were made in animal hides or watertight baskets made from reeds or the bark of trees.
Hot rocks were placed in the water to warm the water and the all the ingredients were thrown in together.
The German "sop" and Latin "suppa" origination of "soup" generally means bread soaked in broth. The true origination is the French "soupe" meaning soup.
"Restaurant" is Named After Soup
The word restaurant means "restoring" and can also claim its fame from "soupe". In the 16th century, France street vendors sold a concentrated cheap soup which was advertised to soothe the soul and the weary body.
A restauranteur in Paris saw this profitable opportunity to open a shop specialising in these soups for the working class in 1765, forming the origins of restaurants being called exactly that today.
The first official cookbooks in western cultures boast extensive recipes and discussions on bisques and soups.  In 1772, The Frugal Housewife cookbook dedicated an entire chapter to soups.
German immigrants introduced potato soups to the Americas in Pennsylvania.
One of the most famous immigrants being Jean Baptiste Gilbert Payplat dis Julien. He was a French Revolution refugee who opened "The Restorator" in Boston. He was fondly referred to as "Prince of Soups".
"Portable Soup"
In the 18th century, "portable" soup became possible, created by boiling spiced meat into a thick resin that was then dried out and stored for many months.
The invention of canning was the start of commercial soups, from there even more varieties and flavours exploded into the market.
Spaniards and Garbanzos
Spaniards are mad about chickpeas, an everyday ingredient for almost every meal. The preparation and cooking of these little legumes are the cause of many great discussions and family arguments, from who grows the best garbanzos to who cooks the best chickpea recipes in the country.
"Cocidos" (one pot meals) and "potatoes" (thick soups) all have chickpeas in them every day in Spain. Chickpeas attract the very strong flavours of Spanish cuisine like pimento and cumin or sausage, garlic and onions.
Chickpea Soup Recipe
Dry chickpeas are much healthier than canned chickpeas, their health benefits and nutrition values are expounded in my article on roasted carrot hummus.
Otherwise, if you have leftover chickpeas, it's very worthwhile to check out my masala chana chaat recipe.
The slow process of preparing chickpeas is worth the wait and an absolute must for your health. Properly cooked chickpeas are soft but never mushy.
Once I have prepared them for this soup I keep some leftovers to throw in a standard garden salad for lunch the next day.
More smooth vegetable soup recipes
Need some more soup for the soul? Check out these divine recipes.
Print
Chickpea Soup
---
Author:

Michelle Minnaar

Prep Time:

15 minutes

Cook Time:

15 minutes

Total Time:

30 minutes

Yield:

4

1

x
30

ml (2 tbsp) vegetable oil

1

onion, peeled and chopped

6

cloves garlic, peeled and chopped

2

red chillies, halved, deseeded and chopped

15

ml (1tbsp) ground coriander

15

ml (1tbsp) ground cumin

225g

(½lb) cooked chickpeas

750

ml (2 cups) vegetable stock
Coriander leaves, for garnishing
---
Instructions
Fry the onion with the oil in a large saucepan until it's softened.
Add the garlic, chillies, coriander and cumin and stir everything around until you smell the spices cooking.
Add the chickpeas along with the stock.
Let the soup cook for about 10 minutes.
Remove from the heat and blend until smooth.
Sprinkle with roasted chickpeas and coriander.
Notes
Non-vegans can add a splash of cream when serving.
Serve with your favourite bread.
This soup freezes well.
Nutrition
Serving Size:

1 serving

Calories:

168

Sugar:

4.4 g

Sodium:

550 mg

Fat:

9.5 g

Saturated Fat:

1.7 g

Carbohydrates:

18.3 g

Fiber:

4.7 g

Protein:

5.3 g
save the recipe to your pinterest board