If you've not fallen off the dieting bandwagon yet, you'll love this versatile marinade recipe.
As a single mother, over the course of the past year, I've found myself turning more and more to ready-made food. Not necessarily junk, just cooked, easy to eat when on the run kind of food. One excellent example is the beautiful rotisserie chickens you can buy at large grocery stores. Eat them warm and you'll enjoy succulent meat that is fork tender. Cold leftovers, after picking all the meat off the bones, can be tossed in salads and my favourite way is to eat them with a splotch of mayonnaise, a dash of cajun seasoning and sliced apple.
As much I enjoyed devouring one chicken a week, the novelty wore off after a few months and I started looking elsewhere for alternative chicken meals. I discovered marinated chicken breasts that have been spiced, grilled, cooled down and cut into thin slices. The marinades vary from peri-peri to tikka. Everything tasted awesome but I had to listen to the niggling voice at the back of my head telling me that I should read the labels that would tell me how many chemical nasties have been used in the production process. I also knew it wasn't the most effective way of eating. Hmmmm.
Truth be told, you'll be hard pushed to find a marinade recipe that would take longer then 10 minutes to prepare. In this case, it took me five, which included washing and peeling the ingredients. Everything was placed in my Froothie Optimum 9400 which made short work of mincing everything up. It's up to you how smooth you would like your marinade to be. A food processor, such as Magimix Food Processor, would work just as well.
As for this marinade, it's got a Far Eastern zing to it. Chop and change the recipe to your liking. With a love-or-hate ingredient such as coriander, you can use basil instead. For extra bite, add more chillies to the mix. By the way, I simply topped the chills and threw in the whole fruit. Use more garlic and ginger to up its pungency. If your marinade gets too thick, add more Sesame Oil to it. You can use other oils, but sesame oil has such a lovely, nutty flavour and aroma that it will be a shame to miss out on this element of the marinade. Leave out the salt and sugar if your diet dictates it.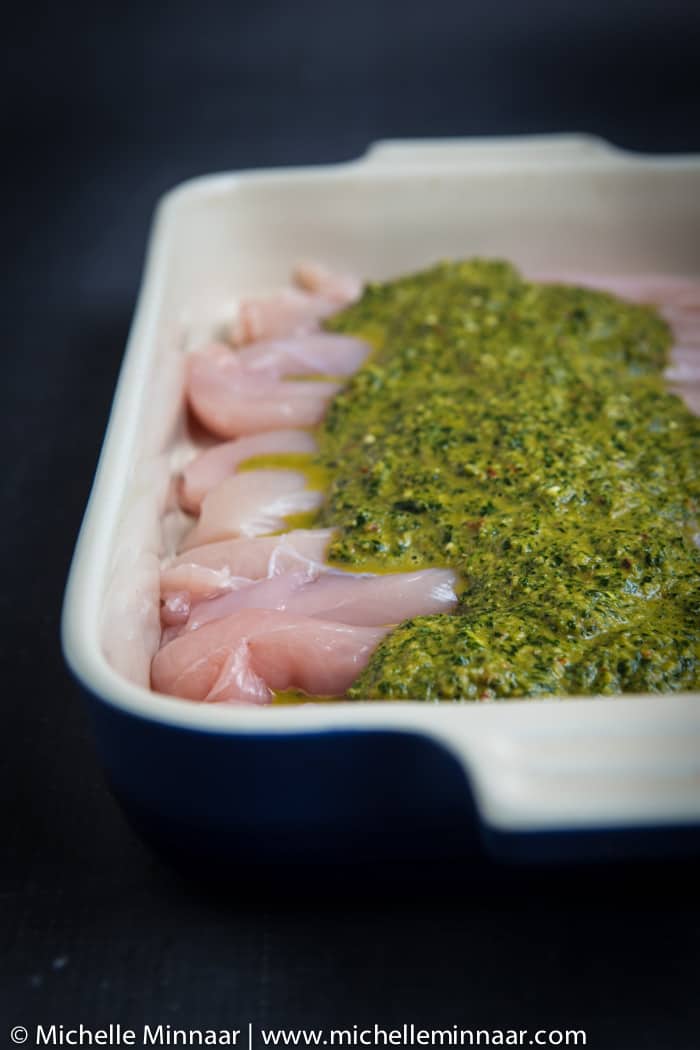 In this case I used mini-chicken fillets. You can use standard chicken breasts as well but with the portions being slightly smaller, more surfaces will be covered with the marinade which equals more flavour. You can marinate other white meats such as pork with it and don't forget about seafood. Salmon, tuna, cod and prawns come to mind.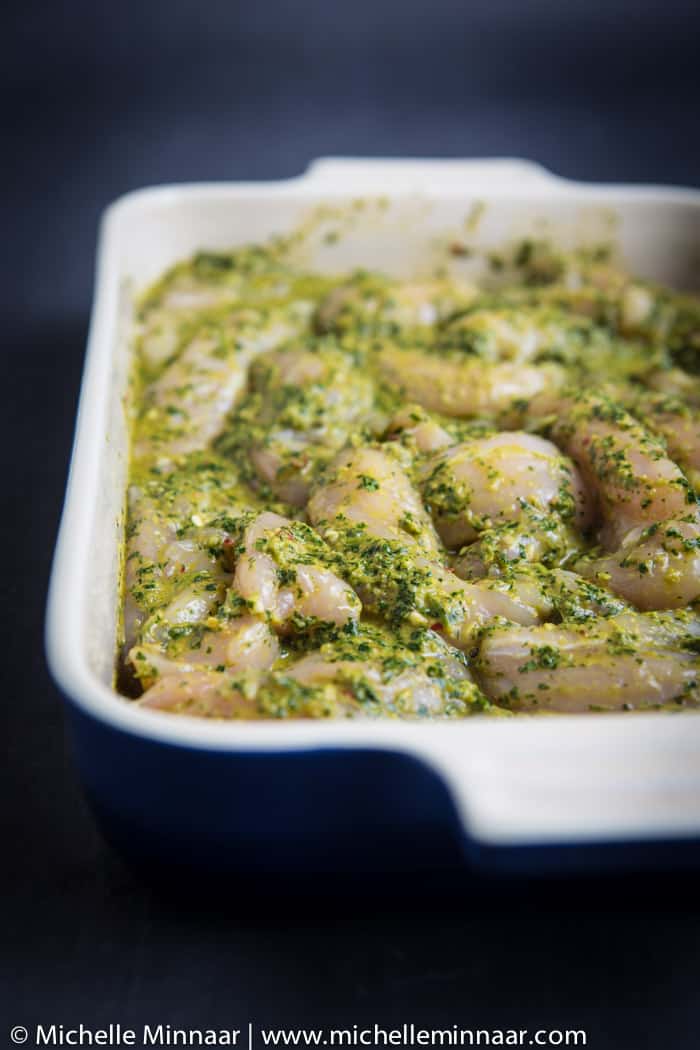 Simply place all the meat in a large container, pour the marinade over it and mix thoroughly until the marinade got into every nook and cranny. Cover with cling film and leave in the fridge overnight to marinate. Once, I even left it for two days and the worst thing that happened was that the flavours were more intense... which in this case wasn't a bad thing.
Mind you, meats are more robust whereas seafood isn't. If you do decide to marinate fish or prawns, do so for 4 hours maximum. The problem is that seafood has a much more delicate flavour and over-marinating will lead to its natural taste being lost in the process.
Recently, I was sent a shiny new Tefal OptiGrill to play with. Be sure to read the manual first because I skimmed it and started to wing it. What threw me was the beeping. After 2 minutes it made a noise and I thought it cooked the chicken super quick only to discover that the machine actually signalled that the meat has now reached its "rare" stage. In other words, every time it reaches a different cooked setting (medium, well done etc.) it would beep and after it reached the program setting you requested (steak = medium) it would beep a tune. After a few attempts, in the space of 15 minutes, I got to grips with it and from then on it was smooth sailing. You definitely don't need to worry about giving yourself food poisoning because the clever Tefal OptiGrill measures the meat and cooks it accordingly.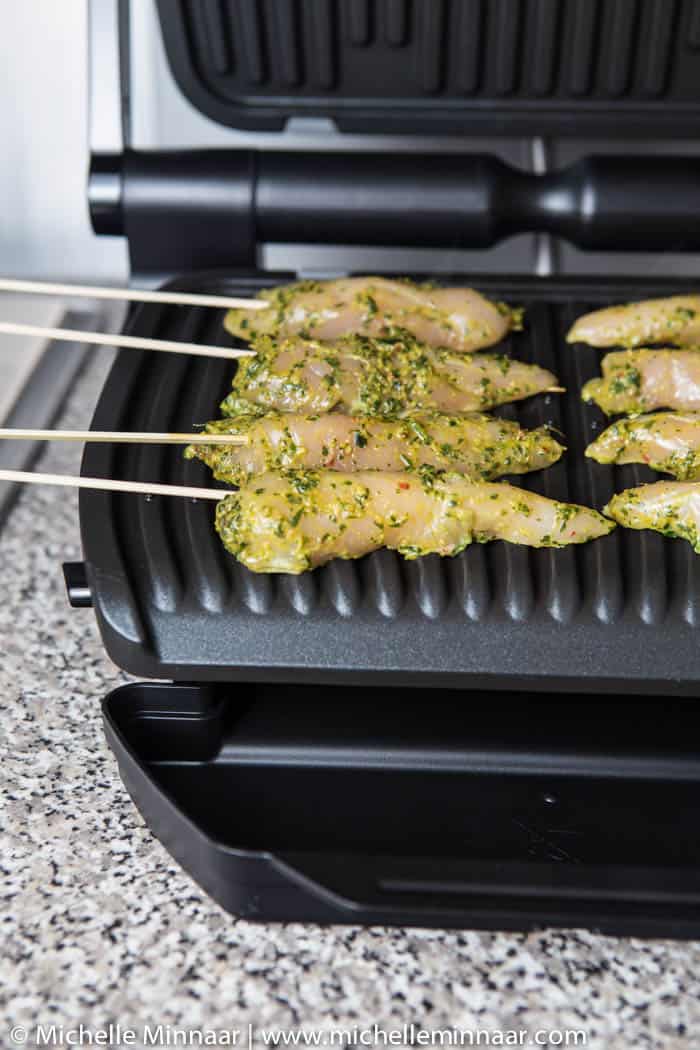 Alternatively, you can grill the chicken on the barbecue or bake it in the oven. Don't forget to baste it in between - an option that's not available when you're cooking with the Tefal OptiGrill. I served my chicken on skewers with a rocket, chili and peanut salad.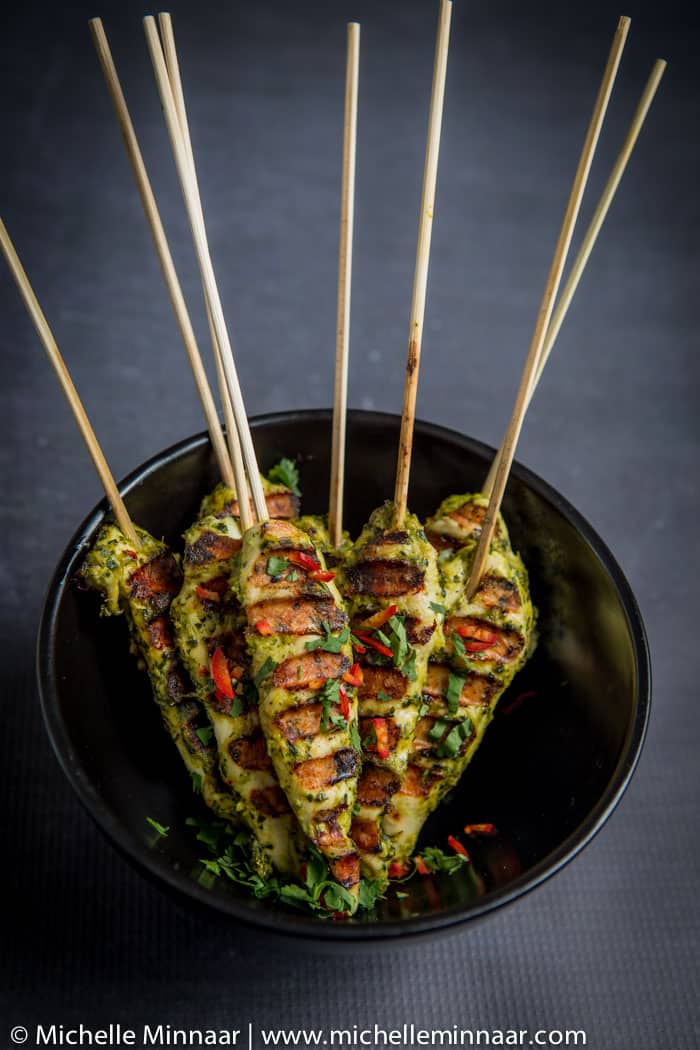 Inevitably, you will end up with some marinade left over. If you're using it for basting, you can use it in a sauce. Don't forget that since raw food was originally placed in the marinade you need to cook the sauce completely before it is safe for eating. In my case, I panfried a fillet of salmon along with some mango and tossed the marinade in as well. The result was stunning.
Problem solved. With a little effort and time I have solved my problem. I get a lot more bang for my buck and it's healthier too because there are no additives. I marinated a big batch of chicken at once, cooked it and froze it in sensible portions. When I fancy some chicken, I can simply leave it to thaw in the fridge to enjoy the next day. I can't wait to experiment with more marinades! Check out these handy cookbooks below for more inspiration.
How do you solve your food problems or try to save money?
---
Books on Marinating and Eating Healthy
---
Print
Coriander and Chili Marinade
---
125

ml

(1/2 cup) sesame oil

6

cloves garlic

2

big knobs fresh ginger root, peeled

2

red chilis

2

cups

coriander, washed

30

ml

(2 tbsp) brown sugar [optional]

5

ml

(1 tsp) salt [optional]

1.5

kg (3 lbs) mini chicken fillets
---
Instructions
Place the oil, garlic, ginger, chili, coriander, sugar and salt in a food processor and blend.
Arrange the chicken in a container and pour the marinade over. Mix thoroughly ensuring that all surfaces of the chicken are covered with marinade.
Leave to marinate overnight.
Grill the chicken on the barbecue or bake in the oven.
Prep Time:

10 minutes

Cook Time:

0 minutes

Category:

Marinade

Method:

Blend

Cuisine:

Thai
Nutrition
Calories:

360

Sugar:

Sugars

Sodium:

389 mg

Fat:

18.4 g

Carbohydrates:

5.2 g

Fiber:

Dietary Fiber

Protein:

40.7 g

Cholesterol:

120 mg
More Marinades
save the recipe to your pinterest board