As the old saying goes, breakfast is the most important meal of the day. That said, sometimes there simply isn't enough time in the mornings and I skip it altogether. While fasting has many health benefits, on days you do eat breakfast there is not better start to the day than with a smoothie. This cranberry smoothie barely takes 5 minutes to prepare and will kickstart your day, leaving you more energised and pumped full of nutrients.
cranberry smoothie with Ocean Spray Whole Berry
I'm a big believer in using quality ingredients. Go big or go home! Cranberry juice forms the base of this smoothie and what could be better than Ocean Spray Whole Berry?
The unique feature of this particular juice is that it is made with crushed whole cranberries. Every 200ml (7fl oz), contains as many as 40 berries. That means the drink doesn't only include the juice of the berries but also the skin, flesh and seeds. The finished product comprise apple, grape and cranberry juice.
I found the unique flavour and texture of the Ocean Spray Whole Berry drink perfect for making this smoothie. The cranberry juice is thick and velvety on the tongue, fantastically tasty, and it doesn't even have any added sugar, preservatives or artificial additives either. A recent survey of 10,637 shoppers by Product of the Year rated the Ocean Spray Whole Berry the best and most innovative product to be introduced on the market in the past twelve months. Apart from the straight cranberry version, you can also get a mixed berry and a tropical berry version, respectively. What they all have in common though is the healthy base of cranberries. Apple, banana, berries and cinnamon pair especially well with cranberries, which is why they were included.
If you want to try out Ocean Spray Whole Berry for yourself, you can find it in supermarkets all over the country.
Health benefits of cranberry
Did you know that the cranberry is one of the most nutrient dense fruit in the world? Cranberries are rich in vitamin C, which makes perfect to give you a boost first thing every day. After all, winter still hasn't quite left us, so Vitamin C will help you steer clear of a cold.
More interestingly though, cranberries are very rich in antioxidants which potentially can have vast health benefits. The antioxidants found in cranberries can strengthen your body's own self-defense, the immune system. Not only that, but it can also help to prevent a build up of cholesterol. Studies show that the antioxidants can help to protect against cancer, breast cancer in particular. Furthermore, cranberries have been shown to have an anti-inflammatory effect, protecting us from stomach ulcers and infections of the urinary tract.
Variation on cranberry smoothie
For my cranberry smoothie I used apple, banana, berries and ground cinnamon to expand the flavour profile. One of the best things though about making a smoothie is that you don't have rigidly stick to the recipe. For example, if you don't like bananas, just leave them out. I like the apple for a bit of acidity and freshness, but you could also use any other fruit you like. This is your opportunity to be creative.
For the berries I used blueberries and strawberries. Luckily, you can get good quality frozen berries nowadays so that you don't need to stock of fresh blueberries and strawberries. Personally, I like this combination, but you can actually use any type of berries when making a smoothie. You could also add raspberries, red currant, blackberries or lingonberries to the cranberry smoothie for that matter. Lingonberries are rare but every now and again you might stumble upon them. Their taste is not unlike that of cranberries.
Add nuts
Protein powders are all the rage these days and there's nothing stopping you from adding it to the smoothie. If you want to take the more natural route, add nuts! Use a handful of walnuts and blend them in until you have a smooth consistency. Almond is another great alternative and with this additional step, you add more complexity and nutritional value to your liquid meal.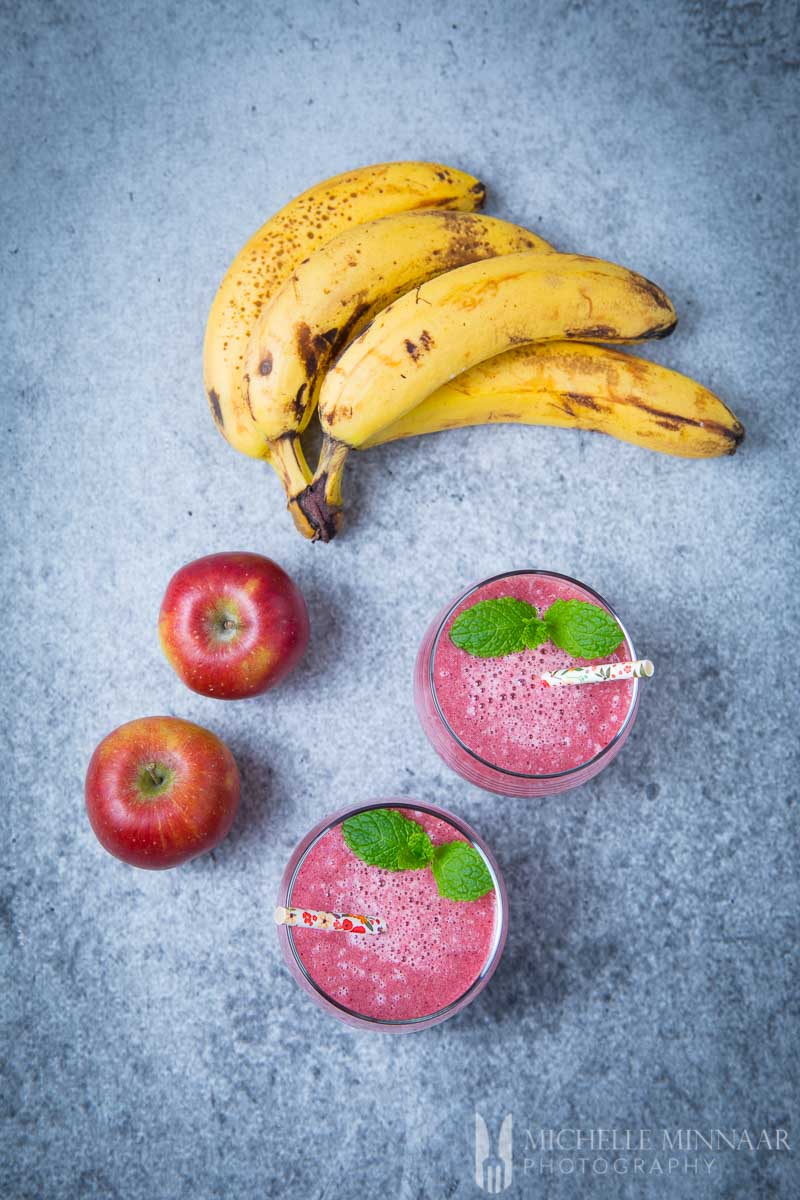 Other types of smoothies
Looking for more inspiration? Don't forget to check out my pomegranate smoothie here. For something that contains kale, check out my super green smoothie.
Serve immediately
The golden rule when preparing a cranberry smoothie, or any other smoothie for that matter, is speed. A smoothie is meant to be enjoyed immediately and should not be stored in the fridge, which if why takeaway smoothies have become increasingly popular. Prep the ingredients, blend, and drink up stat!
Print
Cranberry Smoothie with Apple, Banana, Berries and Cinnamon
---
500

ml (2 cups) OceanSpray's Wholeberry™ cranberry juice

1

frozen banana, weighing about 130g (

4oz

)

1

apple, washed and cored

125

ml (75g/3oz) frozen berries, such as strawberry and blueberries

2.5

ml (½ tsp) ground cinnamon
---
Instructions
Place all the ingredients in a high powered blender and give it a whizz until the smoothie's texture becomes like velvet. Serve immediately.
Notes
Orange juice pairs wonderfully with this fruit combination, so if you like your smoothie runnier, add a splash of the orange stuff.
Prep Time:

5 minutes

Category:

Breakfast

Cuisine:

International
Nutrition
Serving Size:

1 serving

Calories:

281

Sugar:

47.3 g

Sodium:

146 mg

Fat:

1.8 g

Saturated Fat:

1.5 g

Carbohydrates:

65.8 g

Fiber:

4.8 g

Protein:

1.6 g
save the recipe to your pinterest board
P.S. This is a sponsored post.