Cumin roast carrots are one of those light recipes, which you can enjoy easily with little hassle. This recipe is extremely practical for those who like to get in and out of the kitchen as quickly as possible.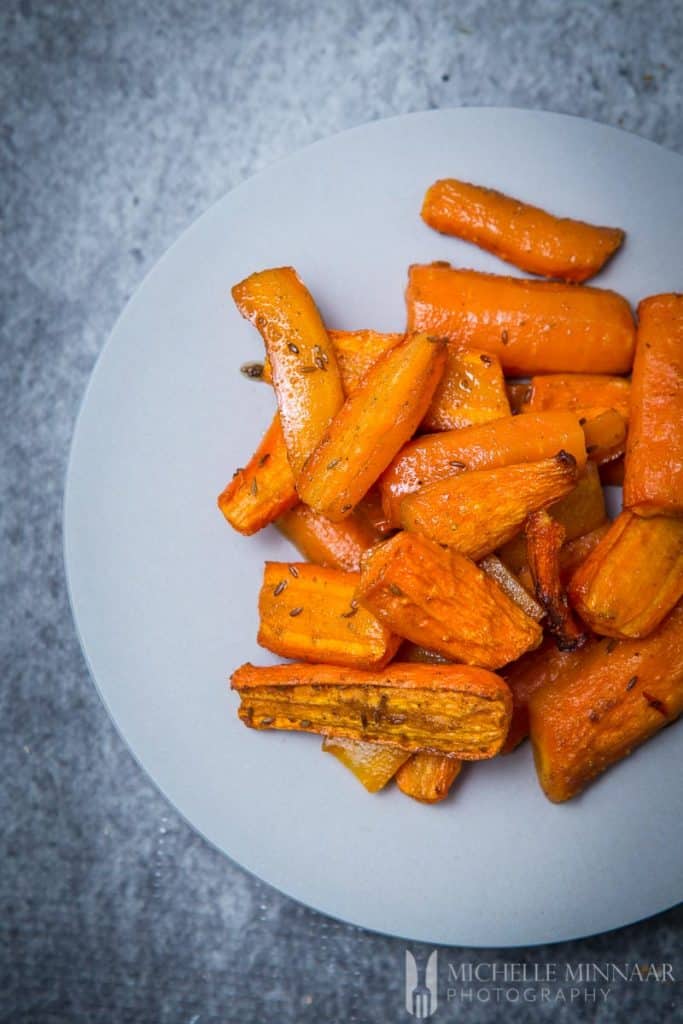 All you need are a few of carrots, cumin seeds or cumin powder, and a functioning oven. You can also grill the cumin roast carrots for extra sweetness and a rich smoky flavour.
Even more, it is a fantastic vegan side dish which you can pair with practically anything! Whether it be one of the with other delicious 34 vegan main course recipes or a whole smoked turkey.
The choice is yours when it comes to the flavour direction you want to take your dinner. All in all, you can also enjoy the cumin roast carrots as they are and snack on them to boost brain power if you want to focus more at work.
Always works for me! Plus, it's a relatively low calorie and healthy snack that you can eat guilt-free. Enjoy!
cumin roast carrots for veganuary
How many of you are still managing to eat vegan this Veganuary? If you are still going strong you deserve an award or a medal.
Making this transition is definitely not the easiest one. If you are a reader who has made the transition for good, I would love for you to comment below on how you feel in general.
Has becoming vegan affected your mood at all? I've managed two weeks and I felt fantastic and much more energized.
I must say, these cumin roast carrots were one of my favourite meals this month that kept me going. They are just one of my delicious 41 vegan side dishes that I could choose from.
types of carrots
Most people differentiate between three types of carrots: orange, yellow and purple. Today, I am going to go into a bit more detail than that.
There are four main types of orange carrots that are commonly found and cultivated. Probably, the most common type are the Chantenay carrots which are widely used in supermarkets.
They are short, fat and pale orange – basically a classic carrot. The Danvers carrot is longer than the Chantenay carrot with a specific cone-like shape.
However, the Imperator carrot might be the most suitable classic carrot for this recipe. It is long, slender and has a high sugar content.
Equally, the Nantes carrot also has a high sugar content, but is not as long and doesn't store as well as the other types of carrots.
Next time, when I make the cumin roast carrots, I would like to add a bit more colour and variety to this recipe.
I would add purple carrots, which are also called 'Beta -Sweet'. Apparently, they are much sweeter than normal carrots.
The yellow carrots are more earthy and resemble the taste of parsley. You can also add white carrots, which are generally mild in taste.
Combine these gorgeous carrots to create a beautifully vibrant and luxurious vegan side dish that will impress anyone at the dinner table.
do not parboil carrots
You heard me! I don't recommend parboiling the cumin roast carrots in advance. A lot of people tend to think that this will make the carrots more tender.
Although, that may be true and you might also cut the cooking time in half, you will lose a lot of flavour and texture.
Parboiling will cause the carrots to have an unpleasant mushy texture that won't taste great once you take a bite. If it came to it, I would only parboil carrots for soups or making a delicious carrot and potato mash.
When I prepare cumin roast carrots, I look for that sweet intense flavor along with a delicious firm texture. In either case, don't parboil the carrots.
You will miss out on the amazing flavours and texture of the carrot.
roast them or grill them
As these are cumin roast carrots, the obvious cooking method is to roast them in the oven. I know that this may take a while, but the wait is definitely worth it.
If you are serving these cumin roast carrots as a side dish, then it's perfect. Once these babies are in the oven you can use your time effectively on preparing the main course while monitoring the carrots in the oven.
Very effective and efficient! I like to roast my carrots on low heat as this tend to keep those delicious juices inside the carrots.
When the juices are conserved, it basically makes them sweeter. Plus, they'll have that nice crunch that I love.
If you have an oven with advanced features such as the grill function, don't hesitate to use it. You can turn on the grill function towards the end of the cooking time to bring out extra sweetness.
I like to char mine a little. Charring with the grill function gives the cumin roast carrots a bit of character. If you don't have such a function, simply pan-fry them.
However, the result might not be identical to charring in the oven.
cumin alternatives
A fantastic alternative for cumin is paprika or coriander powder. Garlic granules work too. However, I like to keep things fresh and I'd rather throw in fresh garlic cloves into the tray bake.
My favourite substitute is the coriander because it works very well with the sweetness of the carrot. In comparison to the cumin, it doesn't have that distinct fragrant flavor.
Don't hesitate to use other dry herbs as substitutes. For example, you sprinkle over some oregano, basil or herbes de provence.
You can also use sesame seeds! Consequently, if you don't wish to use any spices or herbs, you can keep it simple and stick to the traditional roasted carrots.
Then, you can use the left overs for a delicious roasted carrot hummus.
substitutes for carrots
You can substitute carrots with practically any root vegetable. My recommendation would be to stick to the sweeter ones such as the sweet potatoes or beetroot.
In the past, I've made really tasty spicy sesame roasted sweet potatoes in my oven. They were finger-licking good! You can also try my roasted beetroot recipe.
Parsnips are earthy and sweet.  Plus, they are an inexpensive ingredient which you can use in making soups as well.
More side dish recipes
Print
Cumin Roast Carrots
---
Author:

Michelle Minnaar

Prep Time:

15 minutes

Cook Time:

40 minutes

Total Time:

55 minutes

Yield:

6

1

x
Scale
Ingredients
1

kg (2lbs) carrots

30

ml (2 tbsp) oil

10

ml (2 tsp) cumin seeds

10

ml (2 tsp) sea salt flakes
---
Instructions
Preheat oven to 200°C/180°C fan/390°F/gas 6.
Either scrub the carrots thoroughly or peel them.
Top and tail the vegetables, then halve or quarter them lengthways.
Mix the oil, seeds and salt in a large bowl then toss the carrots in the mixture and coat evenly.
Arrange the carrots in a single layer on a baking sheet.
Roast for 30-40 minutes until the carrots are tender and sweet.
Serve immediately as a side dish.
---
Category:

Side DIsh

Cuisine:

Indian
Nutrition
Serving Size:

1 serving

Calories:

112

Sugar:

8.2 g

Sodium:

1083 mg

Fat:

4.8 g

Carbohydrates:

16.7 g

Fiber:

4.2 g

Protein:

1.5 g
save the recipe to your pinterest board