This dairy free pesto is a lifesaver for those who suffer from lactose intolerance and dairy allergies. It doesn't contain a single trace of parmesan cheese, which makes it vegetarian, ketogenic diet and vegan-friendly too! So, make sure that you save this easy vegan pesto recipe for later.
You can use it for all sorts of pasta recipes and more. In short, it's made with fresh basil, pine nuts, lemon juice, garlic, olive oil and nutritional yeast. It's really simple and above all it's super healthy. There is also a nut-free option for this dairy free pesto, so keep reading to find out more.
I recommend making a large batch of this simple dairy free pesto because this pesto recipe stores very well. That being said, you can refrigerate it for a couple of days or stick it in the freezer. Pssst, freeze it in an ice cube tray, which will split it for you in cute-sized portions and you won't have to thaw the whole batch at once!
Since it doesn't contain a dairy element, you can keep it in the freezer for up to six months. Once you try this basil pesto, you'll keep coming back to the recipe again and again. Perhaps you'll even make your own version!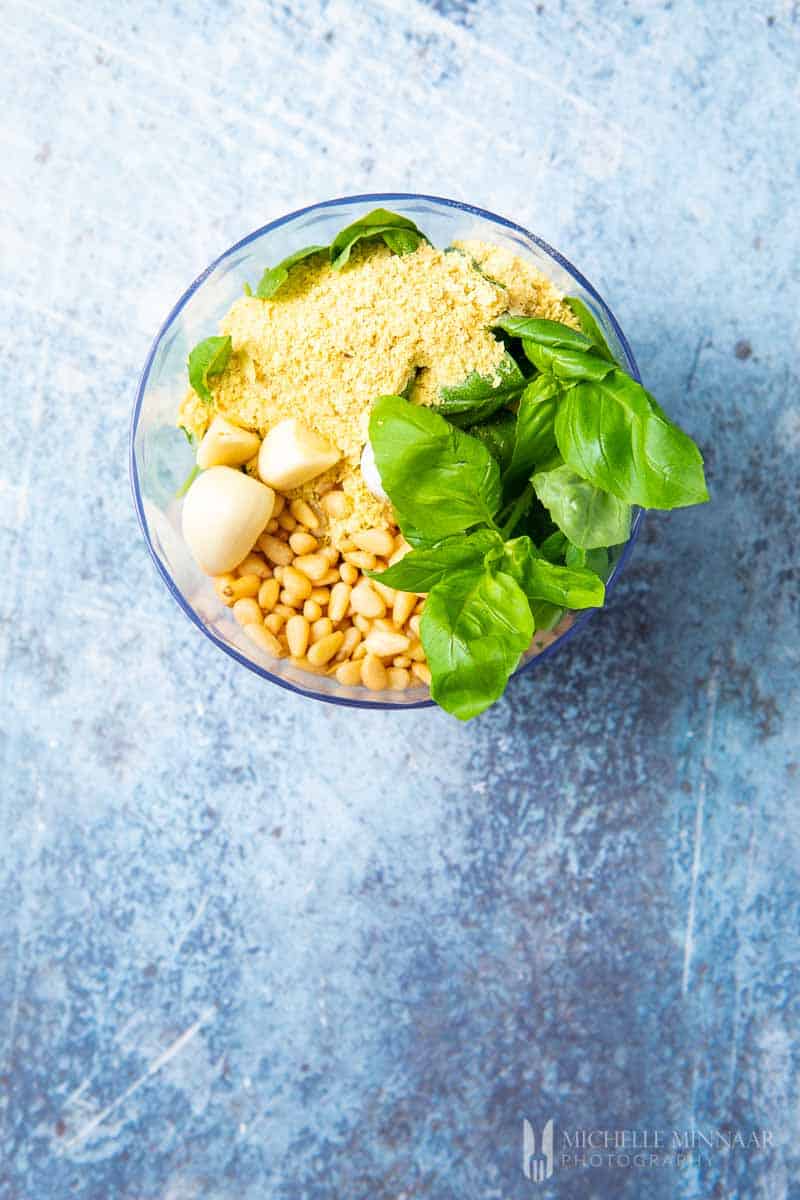 pesto essentials
Here are a few things you might need when you are making a pesto recipe:
dairy free pesto recipe
This dairy free pesto recipe is a deliciously green and flavourful recipe. It is based on the original Italian pesto alla Genovese, which is a typical sauce from Genoa. If you visit the capital city of Liguria, you have to try the pesto there! That's where it comes from. A traditional pesto recipe also calls for crushed garlic, pine nuts, basil leaves, olive oil and Parmigiano-Reggiano or pecorino cheese.
The origin of the word "pesto" comes from the the Genoesean verb "pesta", which translates to 'to crush' or 'to pound'. Basically, it is the reference to the pesto's preparation method in a marble mortar. Apparently, the predecessor of a traditional pesto recipe was called a "moretum". The latter was invented in ancient Roman times, and consisted of crushed garlic, herbs, olive oil, salt and vinegar.
Therefore, to respect the centuries old moretum recipe, I've decided to put my own spin on this dairy free pesto. In comparison to the original pesto recipe, I also added a hint of lemon juice instead of the vinegar.
Ultimately, I would call this dairy free pesto recipe as the recipe for the modern times. It's gluten-free, dairy free, sugar-free, keto-friendly, vegetarian as well as vegan. Wait for it – you can also make it nut-free! Did I miss anything out?
dairy free pesto using nutritional yeast
Before I got serious about becoming a vegan, I've never cooked with nutritional yeast before. Now that I am fully committed towards becoming a vegan, I find myself cooking more and more vegan recipes. Hence, I am starting to use nutritional yeast a lot more.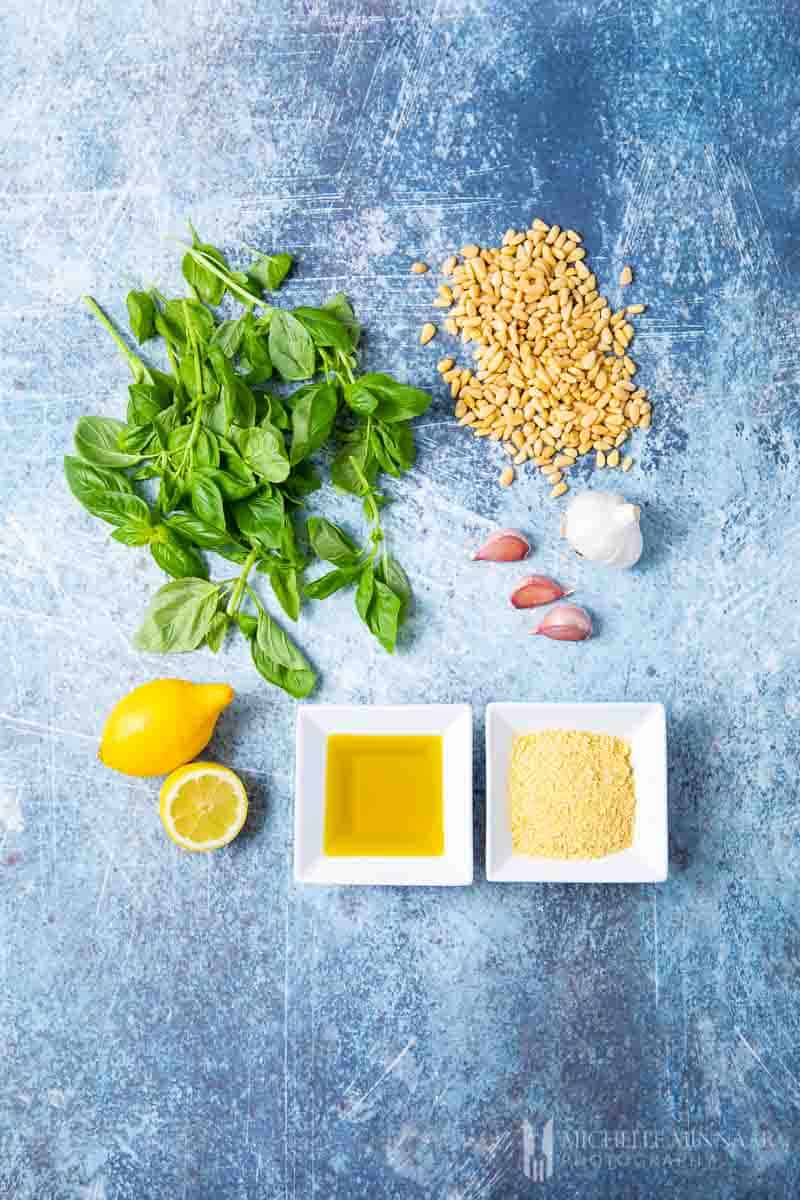 what is nutritional yeast?
Nutritional yeast is a type of deactivated and edible yeast. Ordinarily, it is sold as a yellow nutritional yeast powder or flakes. You can easily find this condiment in vegan stores, heath shop and some pharmacies.
There is a reason why it's called nutritional yeast. It's because it's rich in B-complex vitamins. Sometimes, it's also available in a fortified state, meaning that it contains even more minerals and vitamins.
In terms of flavour, it carries a nutty taste but also a cheesy ones which vegans crave. You can use it as a topping in a delicious popcorn recipe, mashed potatoes and much more. For instance, I've recently used nutritional yeast in this vegan butter bean mash recipe. The result? Creamy with depth of flavour! Keep some nutritional yeast in the kitchen if you ever find yourself doubting the creaminess of your vegan recipe.
substitutes for pine nuts in pesto
There are plenty of substitutes for pine nuts. For instance, you can consider the following: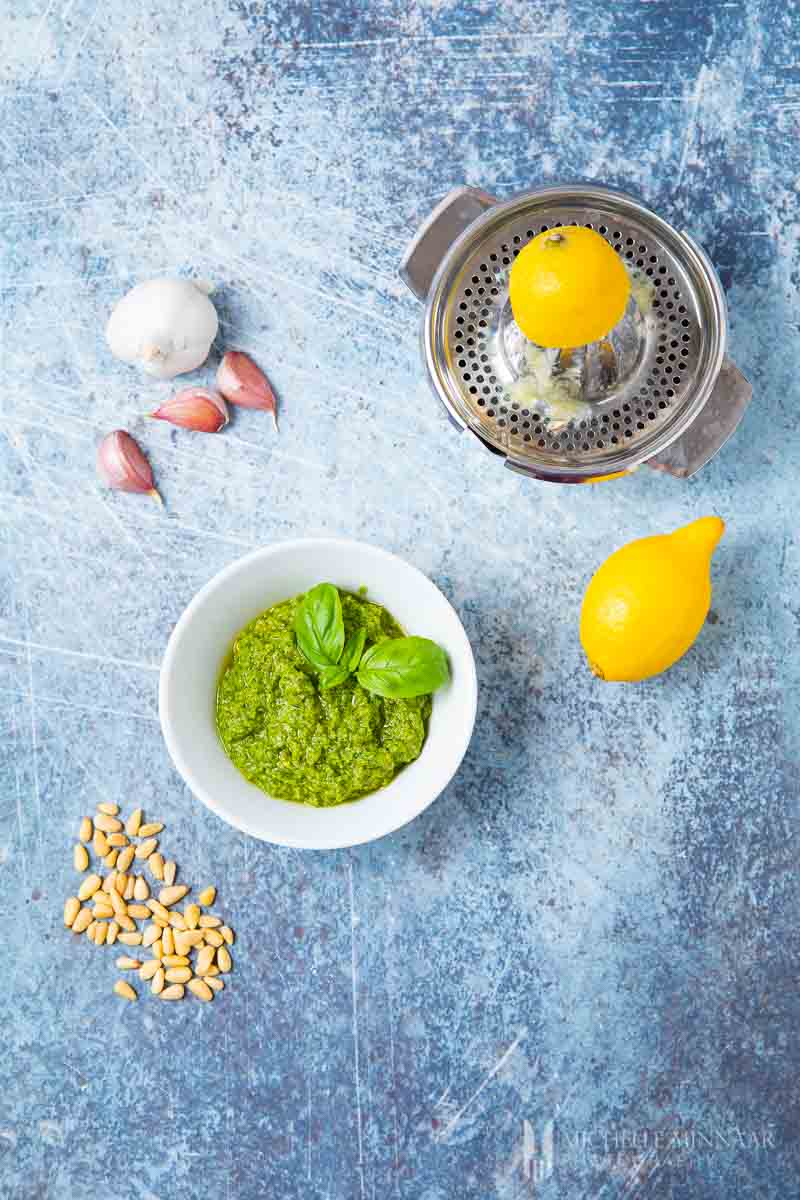 dairy free nut free pesto
If you've got nut allergies, you can easily make this a nut free dairy free pesto. Simply omit the pine nuts. Here's an idea. If you don't want to use nuts, you can make the dairy free pesto even greener and creamier. All you need is an ripe avocado. It will add a lovely creamy texture to your dairy free pesto. For inspiration, check out this delicious avocado pesto recipe. Without a doubt, it's one of my favourites.
dairy free pesto pasta salad
Now, if you want total freshness, learn how to make your own fusilli pasta. It cooks in just a couple of minutes. Before you toss it into a salad, let the pasta cool down. Otherwise, the heat might make your salad wilt and it's going to become soggy.
If you want to keep this recipe low on carbs, then take out the pasta element in the salad. Simple stock up on veggies and add a few butter beans. Then, you're left with a butter bean salad with avocado, pesto and pumpkin seeds. Sundried tomato pesto makes a great addition!
pesto recipes
Did you make a large batch of dairy free pesto? No problem! Here are a few simple pesto recipes which might interest you: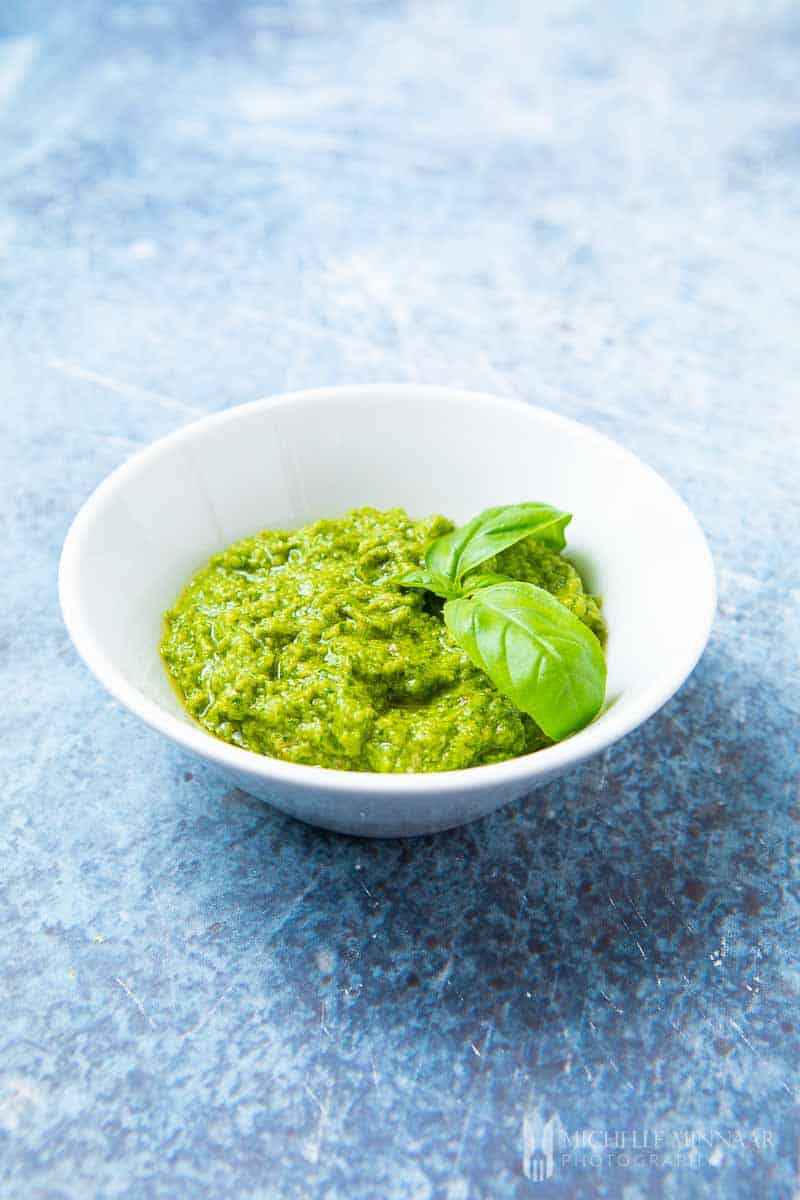 Do you have a favourite pesto recipe? How would you put your own twist on this dairy free pesto? Remember to leave a comment below.
Print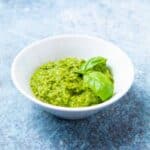 Dairy Free Pesto
---
Author:

Michelle Minnaar

Prep Time:

15 minutes

Cook Time:

0 minutes

Total Time:

15 minutes

Yield:

1 cup

1

x
40g

(

2 cups

) fresh basil, washed

70g

(

½ cup

) pine nuts

3

garlic cloves, peeled

30

ml (2 tbsp) lemon juice [optional]

20g

(

⅓ cup

) nutritional yeast

125

ml (½ cup) olive oil
---
Instructions
Pulse the basil, pine nuts and garlic in a food processor until finely chopped. You might have to scrape the sides off with a rubber spatula.
Add the lemon juice and nutritional yeast to the mix and blend until the ingredients are well incorporated.
Keep the processor running, slowly pour in the olive oil. Scrape the sides if necessary.
Enjoy with pasta, bread or fish – whatever your heart desires!
Category:

Sauces

Method:

No Cook

Cuisine:

Italian