Make this easy mixed vegetable curry recipe, and enjoy your own Indian fakeaway. There's no need to be grabbing your purse and spending tons of money on expensive takeouts, especially since you can replicate this recipe and give it your own twist in the comfort of your own kitchen.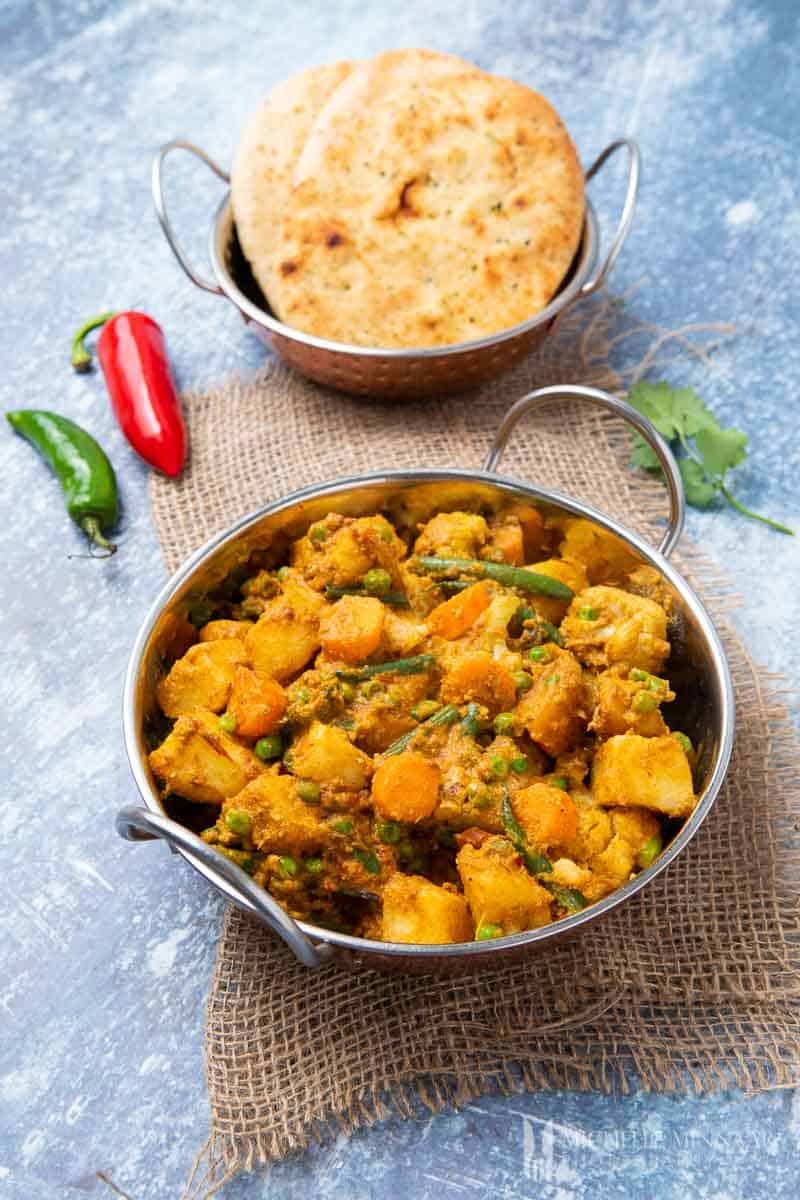 In essence, a mixed vegetable curry combines all sorts of vegetables. However, if you have someone in your family who generally prefers more meaty curries, then no need to worry.
Just toss any type of meat into the curry recipe and simmer the sauce separately. Generally speaking, you can put your own twist on this mixed vegetable curry in many different ways.
Simply add your favourite vegetables, spices or herbs. Moreover, you can also opt to add a dairy element and make this vegetable curry North-Indian-style.
Don't forget to serve this vegetable curry with the traditional Indian side dishes. For instance, white basmati rice, rotis, naans, chapatis, kerala parathas and loads more.
Of course, if you are watching your waistline, simply omit the side dishes and double up on the mixed vegetable curry.
mixed vegetable curry recipe
This mixed vegetable curry calls for potatoes, carrots, onions, green beans, cauliflower, peas, and tomatoes along with other ingredients that make up the sauce.
Of course, you can always add more vegetables into your vegetable curry. For instance, you can add broccoli instead of cauliflower.
Plus, you can also consider adding courgettes / zucchini, bell peppers, beets, sweet potatoes, butternut squash, pumpkin, eggplant / aubergine, leeks and more.
For the sauce, you'll need fresh ginger, garlic, onions and all sorts of spices. However, if you want to speed things up with your mixed vegetable curry, you can prepare a curry base sauce in advance.
It stores very well in the fridge (up to 5 days). In addition, you can freeze it in small portions and take them out whenever necessary to complete your dinner.
Hence, you can actually use the curry base sauce for other types of Indian curries. For example, you can consider making:
You can also use a splash of the curry sauce in Indian starter recipes such as aloo ki sabji or a tawa paneer tikka recipe. If you only add a pinch of it, it will flavour your recipes in the right direction.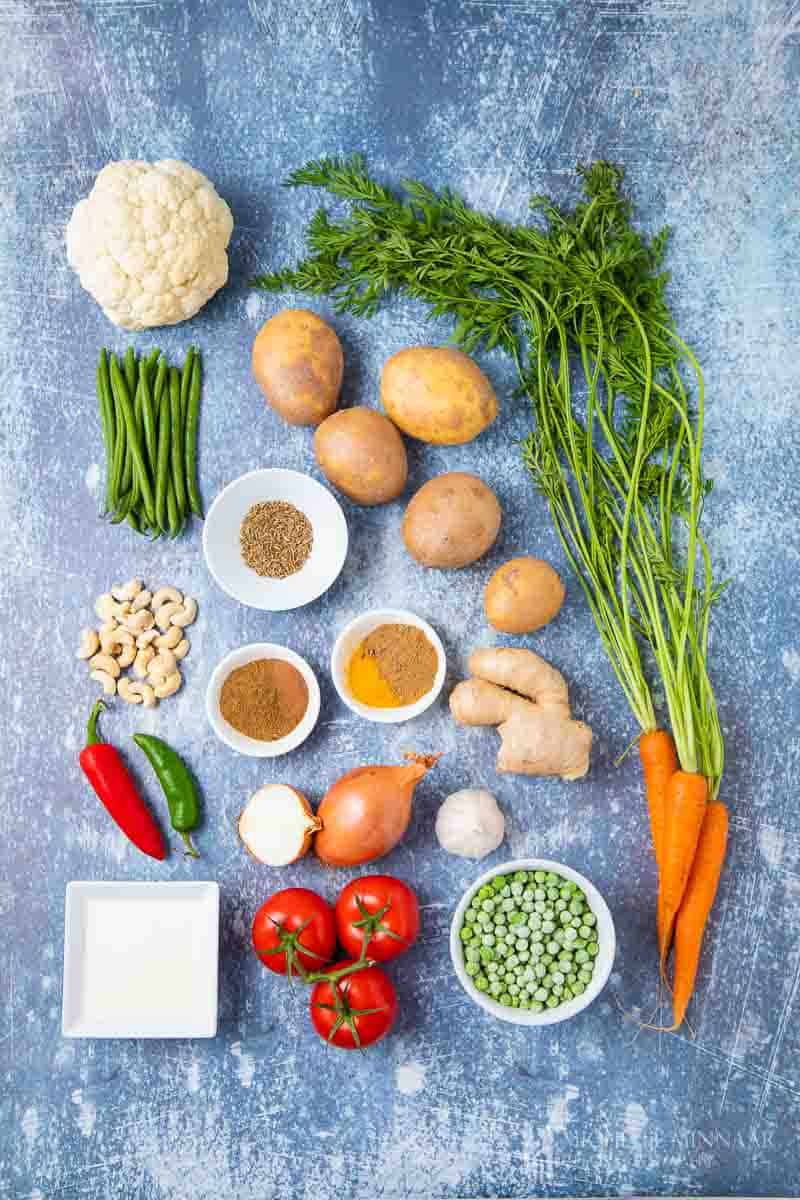 how to make mixed vegetable curry
Here's what you need to make a delicious mixed vegetable curry, Indian-style:
mixed vegetable curry, North-Indian-style
There are plenty of ways you can make this mixed vegetable curry in a Northern Indian fashion. Food in North India is mainly popular for its spices as well as for the use of dairy products.
Therefore, if you would like to make this curry North-Indian-style, you can add a dash of yoghurt.
To keep the vegetable curry vegan, you can add coconut milk or coconut cream instead. Also, you can use vegan cream.

frozen mixed vegetable curry
Naturally, I will always recommend that you use fresh vegetables in your mixed vegetable curry recipe. When you use fresh vegetables, they release more flavour, which in turn will make your curry all the more delicious.
In addition, fresh vegetables have a better crunch to them. This means that your vegetable curry will have a better texture.
Of course, if you are low on time or just want to cut down on peeling the root vegetables, you can use frozen vegetables. However, before you consider adding frozen vegetables, you should know the following facts:
Frozen vegetables will not be as flavourful as the fresh ones
They might even have a soggy texture
Lastly, they might release lots of water once you add them into the mixed vegetable curry, which could affect the consistency.
The added value of using frozen vegetables is that it saves you lots of time in terms of preparation. Moreover, you can use them to make other quick Indian recipes. For instance, you can make:
So, will you use fresh vegetables or frozen vegetables? The choice is yours.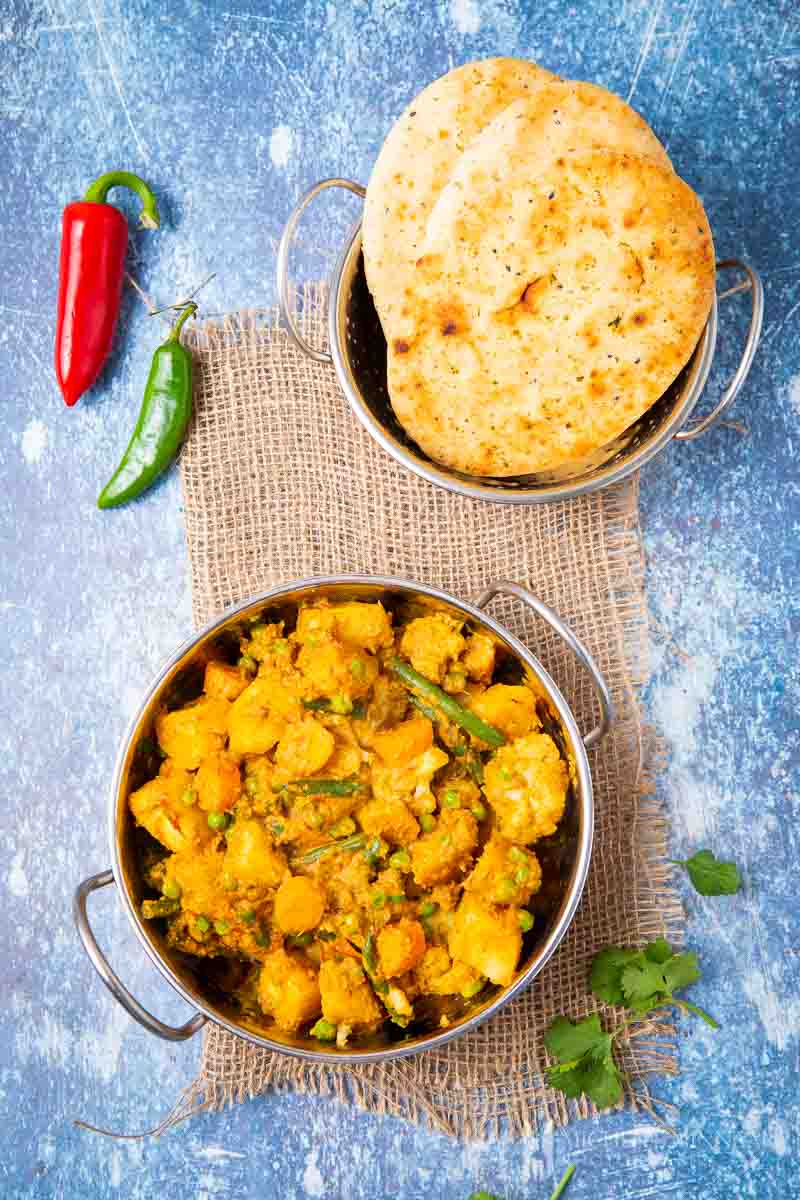 mixed vegetable curry without tomato
You can make this curry without the use of tomatoes or tomato paste. Just go heavy on the ginger, onions and the spices. Next, you can consider simmering these elements in vegetable stock or coconut cream.
best toppings for curry
There are a few toppings which you can consider for your mixed vegetable curry. These include:
coriander or parsley
spinach
fresh red or green Indian chillis
jalapenos
lemon or lime juice
Do you have any favourite curry toppings that you can't live without?
what to serve with an Indian curry
You should serve your mixed vegetable curry with:
Here's some amazing sauces and chutneys you should consider as well:
I suggest that you pick out your favourite Indian starters and prepare them while your vegetable curry simmers. Then sit back and enjoy your fabulous Indian feast.
What would you put into your mixed vegetable curry? How would you serve it? Let me know in the comments section below.
Print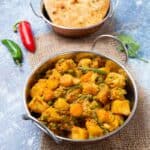 Mixed Vegetable Curry
---
Description
Make this simple Indian-inspired mixed vegetable curry. It's perfect for vegetarians, vegans, and those on a low-calorie diet.
---
30

g

(1oz) cashew nuts

30

ml

(2 tbsp) vegetable oil

2

onions, peeled and finely chopped

3

garlic cloves, peeled and crushed

5

cm (2 in) fresh ginger root, peeled and grated

1

green chilli, washed and finely chopped

3

tomatoes, washed and chopped

15

ml

(1 tbsp) ground coriander

15

ml

(1 tbsp) ground cumin

5

ml

(1 tsp) ground turmeric

5

ml

(1 tsp) ground cinnamon

300

g

(3/4lb) potatoes, peeled and cubed

1

small cauliflower, washed and cut into florets

150

g

(5oz) carrots, peeled and sliced

150

g

(5 oz) green beans, washed and chopped

150

g

(1 cup) peas

15

ml

(1 tbsp) garam masala

125

ml

(1/2 cup) coconut cream

60

ml

(4 tbsp) cilantro, washed and chopped
---
Instructions
Cover the cashew nuts with water and let them soak while you cook the dish.
Heat the oil in a large saucepan.
Gently fry the onions for 5 minutes until softened.
Add the garlic, ginger, chilli and tomatoes and continue to cook for another 5 minutes, or until the tomato has melted.
Add the coriander, cumin, turmeric and cinnamon. Stir the gravy.
Please the potato, cauliflower, carrots and green beans in the gravy. Give it a stir, place the lid on pot and let the curry gently cook for 15 minutes. Check on the curry and add a splash of water if it gets too dry.
Blend the cashew nuts, along with the water, in a food processor until smooth.
Add the peas, garam masala, cream and cashew paste to the vegetables. Stir and cover again, letting it slowly cook for another 10 minutes or until vegetables are cooked.
Serve with your favourite Indian accompaniments such as basmati rice and roti. Enjoy!
Notes
In this recipe I used frozen peas, which I thawed first.
If you're not vegan, you can use single cream instead of coconut cream.
Prep Time:

30 minutes

Cook Time:

30 minutes

Category:

Curry

Method:

Pan Fry

Cuisine:

Indian
Keywords: mixed vegetable curry, indian mixed vegetable curry recipe,