Peperonata is a classic Italian dish made of red bell peppers. It is ideal as a side dish, sauce for pastas, rice and potatoes and even toppings for bruschetta and crostini.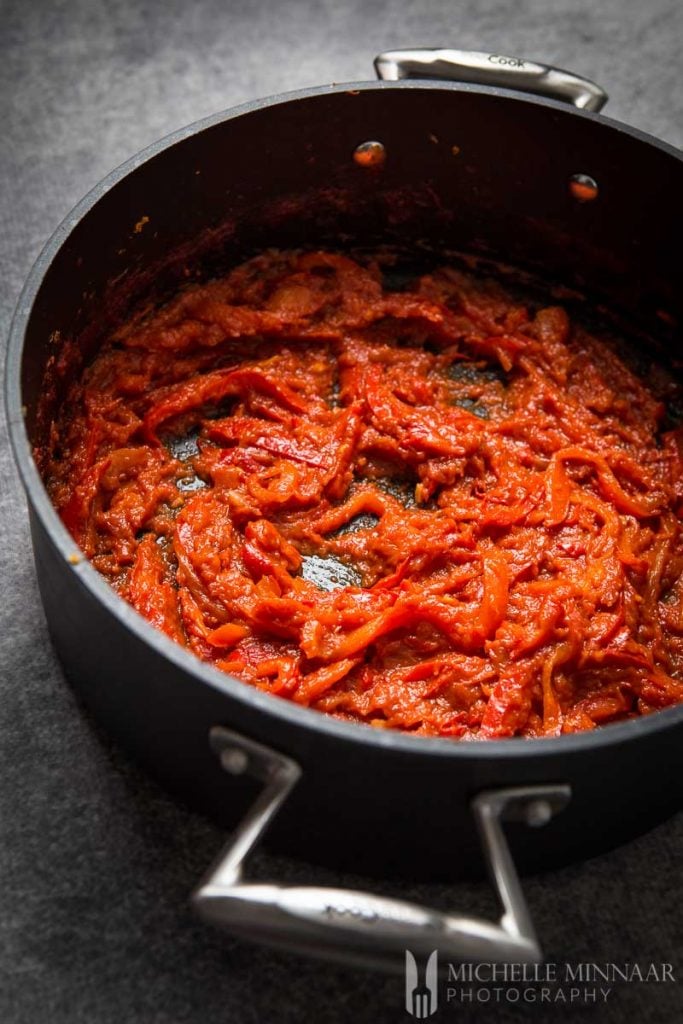 Sweet Peppers
The word pepper is so versatile and ranges from the spice black or white pepper to the name of a type of vegetable broadly known as peppers.
Bell Peppers
Various countries and cultures have derivatives of this name for the same vegetable. They are called bell peppers in the USA, UK, Ireland and Canada. Funnily enough, they are known as capsicum in Singapore, Pakistan, Australia, Bangladesh, India and New Zealand.
Parts of the American Midwest refer to peppers as "mangoes". I would be so confused if I were to visit and someone offered me a mango and gave me a pepper instead. In South Africa and the UK they are classified by their colour, so we would go out to buy red peppers or yellow peppers or even mixed peppers…
Paprika
The Dutch use an interesting derivative of the name, based on the spice "paprika". The name "paprika" originates from the word "pepper" and some languages interchange the name for both the spice and the fruit. Using the colour as the differentiating factor, paprika can be referred to as "groene" (green) paprika or a "gele" (yellow) paprika.
The Japanese name, "papurika" or "piiman", for peppers originates from the Portuguese name "pimentão". In Switzerland, they use the same name for the fruit as the Italians "pepperoni", not to be confused with the cured meat "pepperoni".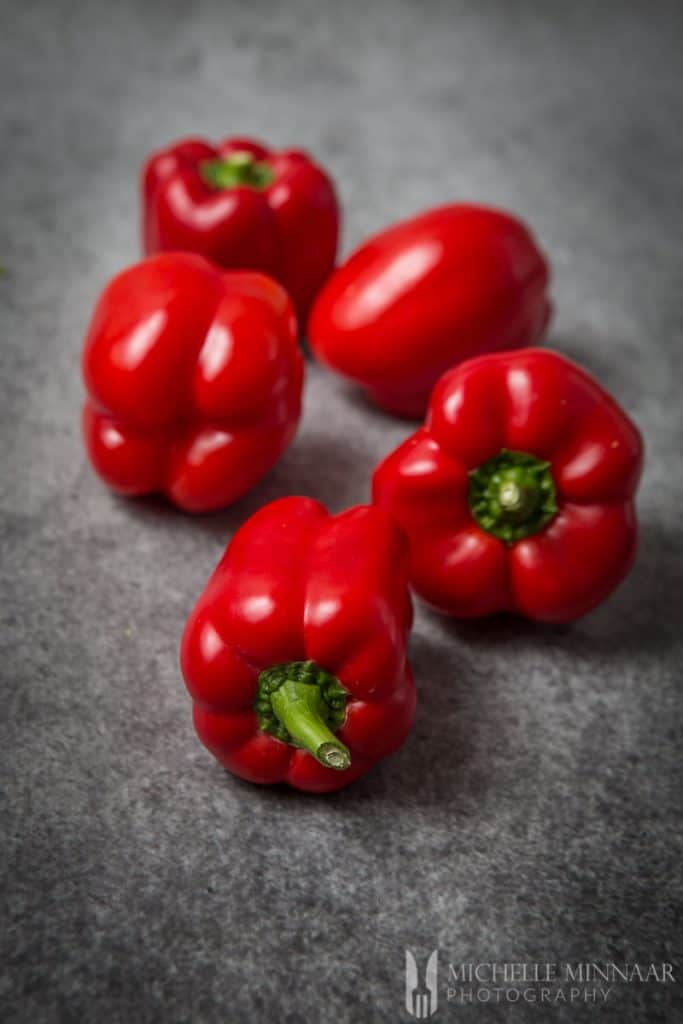 Traffic Light Colours
Under cultivation, this plant produces fruit the most striking colours. Examples are chocolate brown to deep purple, vanilla white, tangerine orange, fire engine, sunflower yellow, red and a slightly more boring un-ripened green which a lot of people eat.
Only the Permagreen variety are green in colour and maintain that colour their whole life span.
Internally, this family of peppers has whitened ribs and seeds which some people like to eat. Personally, I find them very bitter and do not enjoy them at all and thus scrape the seeds out and cut the ribs off.
Origins
Native to South American regions, these peppers were shipped to Spain in 1493 and then spread further afield into Europe, Asia and African regions.
China is now the world's largest producer of these cultivars, then Mexico followed by Indonesia.
Hot and Spicy
These peppers were originally hot and spicy when Christopher Columbus brought the pepper to Europe. At the time the black peppercorn was being imported from India. In this time period, any foods with a hot and spicy taste were classified as "pepper" (capsicum genus) in Europe and I suspect this is how this vegetable received its name.
In botanical circles the "pepper" is considered a fruit, only the culinary arts call it a vegetable.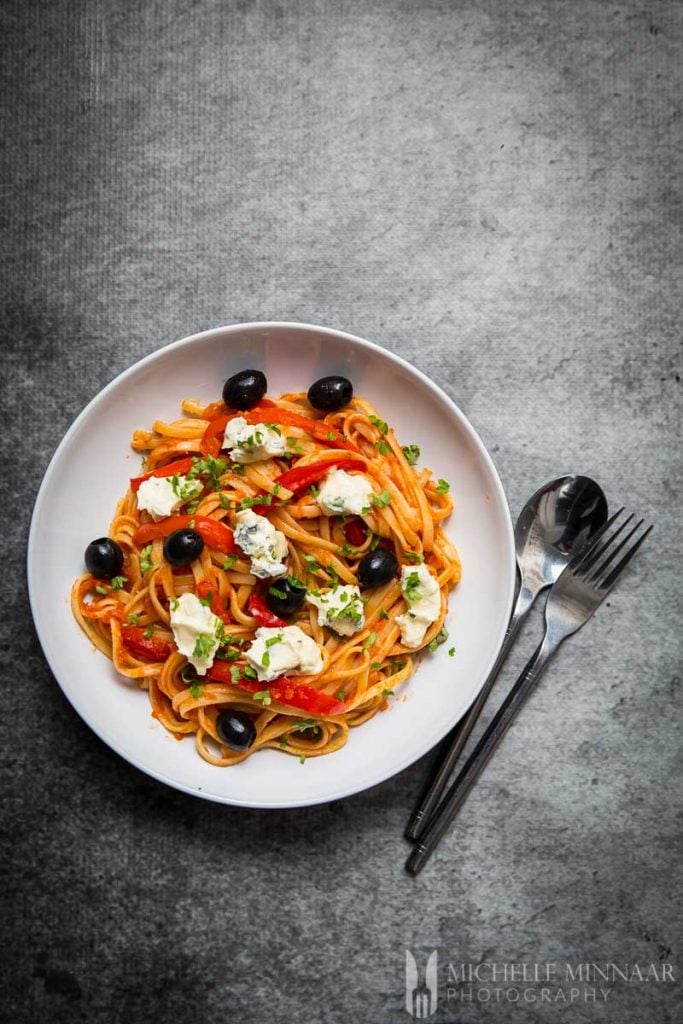 Chillies
You may be asking then why do chillies have a resemblance to peppers? Well, there is a gene in peppers that is recessive; it eliminates the "capsaicin". Capsaicin produces burning sensations when it comes into contact with mucous membranes.
This recessive lipophilic chemical is the difference in classification between sweet peppers and hot peppers. In between extremely "hot" peppers and extremely "sweet" peppers, we have variants like the Mexibelle pepper which has a small amount of capsaicin making it more pungent than a sweet pepper but not as hot as a true chilli.
Bland Tastes
Growing conditions and storage after harvesting can affect the taste of the peppers, especially the red peppers. The longer the fruit is left on the plant to ripen the sweeter and juicier it is. Unfortunately, due to most farmers falling prey to production and harvesting deadlines, many peppers are plucked while green and left to ripen in storage. This leaves the fruit being less flavourful and unsweet.
Cabernet Sauvignon
Green peppers have a distinct aroma which is created by a chemical called 3-isobutyl-2-methoxypyrazine (IBMP). This is the same compound used to create the characteristic green note in a Cabernet Sauvignon.
Nutrition Values
Peppers are very rich in Vitamin C and antioxidants. Red peppers have a level of carotene that is nine times higher than their counterparts. They also have twice the amount of vitamin C content than green peppers.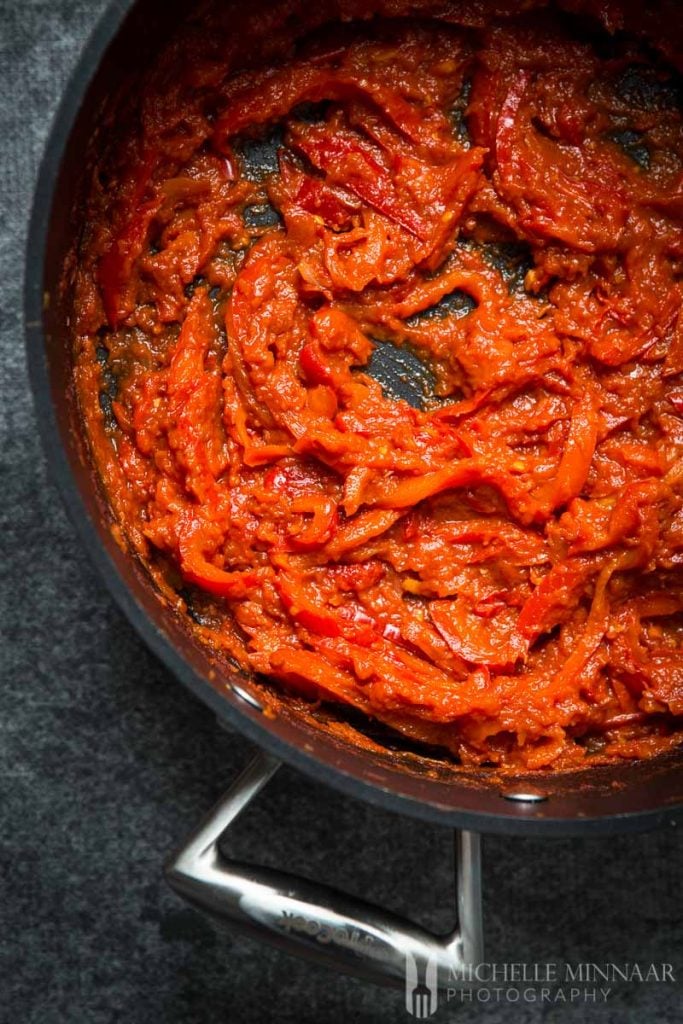 How many Red Pepper Dishes?
I think we could probably count on one hand how many dishes there are that only contain peppers or only red peppers for that matter. That is one of the many unique attractions of this Italian recipe.
Sweet red peppers, or bell peppers, whichever you prefer to call them, are the star attraction of this stew. Slow cooking these delectable peppers breaks all the compounds down and extracts a concentration of pure and perfect flavour.
If you have unfortunately bought a batch of peppers that are not very sweet, which can easily happen, add a tiny bit of sugar one pinch at a time to balance the flavour.
Peperonata Recipe
This dish is so versatile and suits any occasion and any meal, from start to finish and back again. You can cook it for a long time or a short time. Some are cooked with or without tomatoes, others are cooked with potatoes. Only your imagination is the limit on what you can do with this sauce.
This peperonata recipe can be adapted any way you wish, it is a smooth silky dish between a stew or a salsa. I think it tastes even better when it has been left to stand for a while, like the day after cooking.
In this case I mixed the sauce in with linguine and topped it with creamy blue cheese and olives. A lush vegetarian dinner!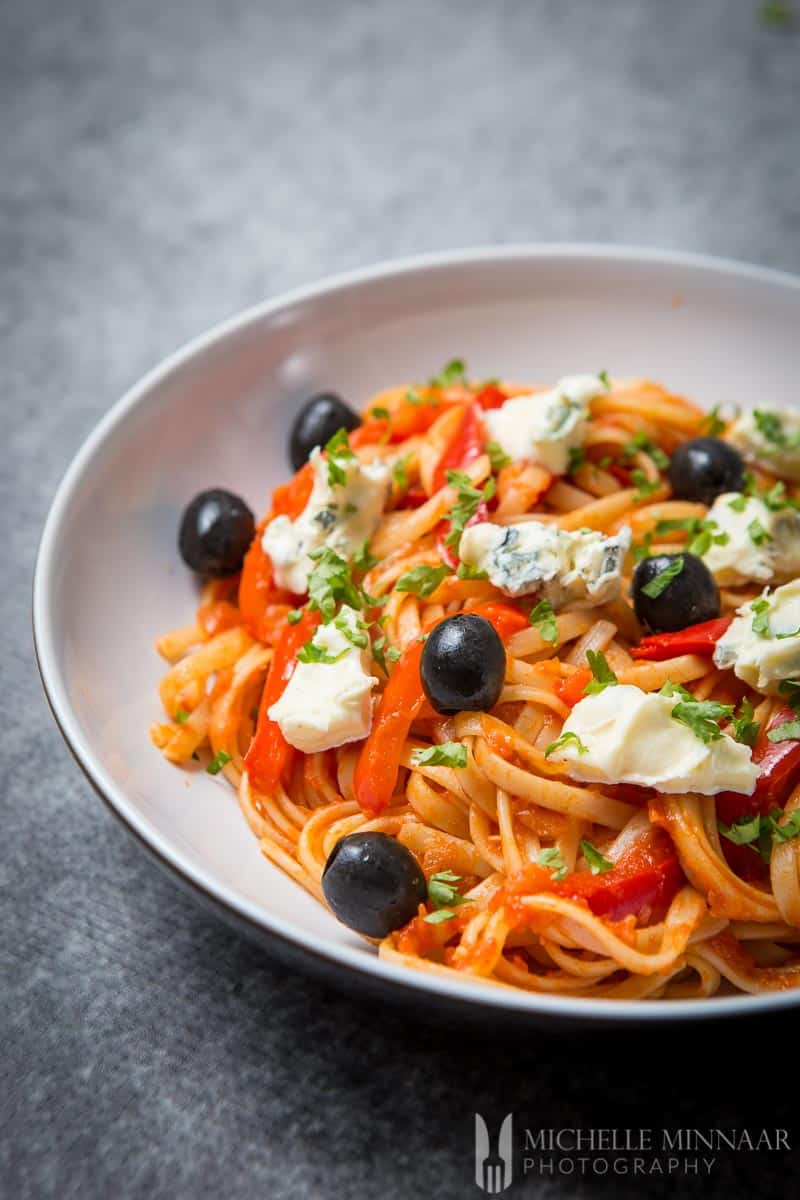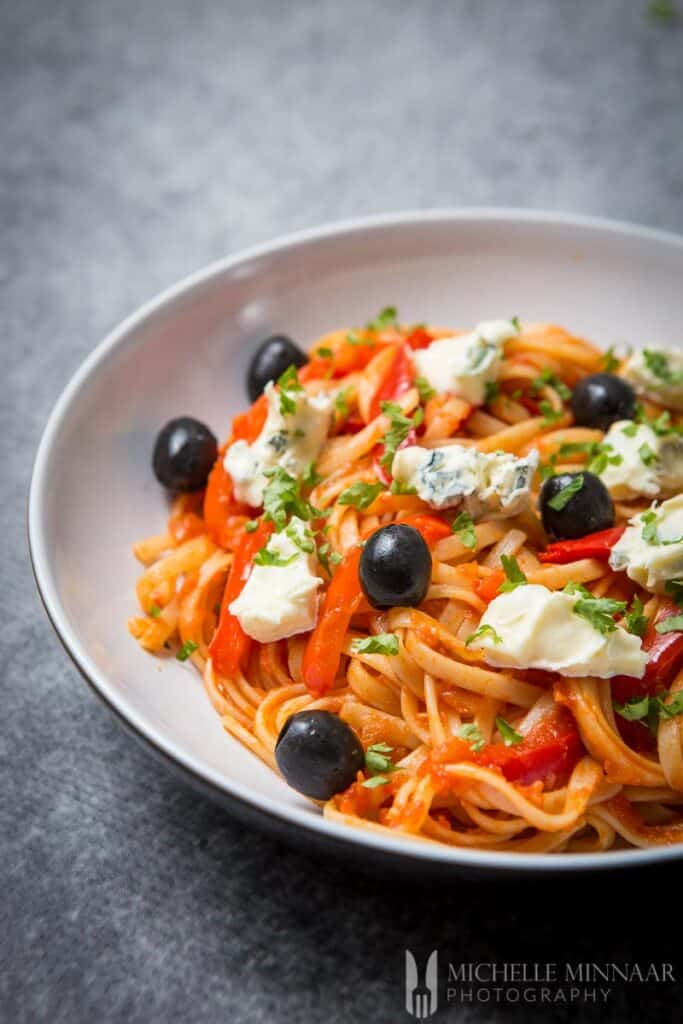 Italian and Sardinian
The Sardinian version is made with yellow peppers only and in true Italian style you can add some freshly chopped basil.
Preserving
It can be preserved with an extra layer of olive oil in a sealed bottle. It keeps for days in the fridge.
Serving Suggestions
On slices of warm country bread or served with roasted and fried meats.
It is delightful on its own as a vegan meal.
A sauce on top of a fat frittata slice.
Stirred into a pasta or served with rice, delectable as a risotto.
Accompanied with boiled potatoes or eggs.
I enjoy cracking an egg over a simmering mixture for breakfast.
Bruschetta or crostini with huge spoonful's of peperonata served on top.
Serve over Polenta or mashed potato.
Absolutely fabulous as an omelette filling.
Add other vegetables like mushrooms, celery or eggplant.
Add a few chillies if you want an extra zing.
I love this meal and use it with everything, give it a try!
Print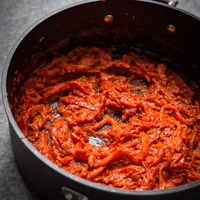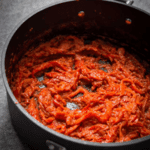 Peperonata
---
2

onions, peeled and finely chopped

2

garlic cloves, peeled and crushed

6

red peppers

60

ml (¼ cup) olive oil

800

ml (2 cans) chopped tomatoes

30

ml (2 tbsp) red wine vinegar

30

ml (2 tbsp) sugar
Salt and pepper, to taste
---
Instructions
Fry the onions and garlic gently in the oil until softened.
Stir in peppers and cook, stirring occasionally, until starting to soften, about 20 minutes.
Add the tomatoes, stir and then leave, uncovered, at a lively simmer for 30-40 minutes.
You can tell the dish is ready if it resembles a thick stew and the peppers are soft.  
Season to taste and serve as you desire, hot or cold.
Notes
The recipe above is quite saucy and ideal for serving in a pasta dish. If you plan on serving it as an antipasti, use only one can of tomatoes.
The vinegar and sugar are options. It depends on the tanginess and sweetness of the dish and you taste, of course!
Prep Time:

60 minutes

Cook Time:

15 minutes
Nutrition
Serving Size:

1 serving

Calories:

100

Sugar:

3.9 g

Sodium:

185 mg

Fat:

7.4 g

Saturated Fat:

1 g

Carbohydrates:

9.3 g

Fiber:

1.4 g

Protein:

1 g
save the recipe to your pinterest board