This pickled daikon recipe is very similar to my Japanese takuan. In comparison to pickled or pickled mooli, takuan is a yellow pickled Japanese white radish. White radish and daikon are practically the same thing. Both of these recipes are a type of Japanese tsukemono (pickled things) which are very popular alongside main courses. This pickled daikon recipe however is more versatile and is not specific to Asian cuisine. In fact, you can tweak this pickled daikon recipe in any way you see fit. For example, if you would like to make it Chinese, then add black fermented bean sauce. If you'd like to make it a Japanese pickled daikon recipe, follow my takuan recipe. Keep reading to learn more about variations of this pickled recipe.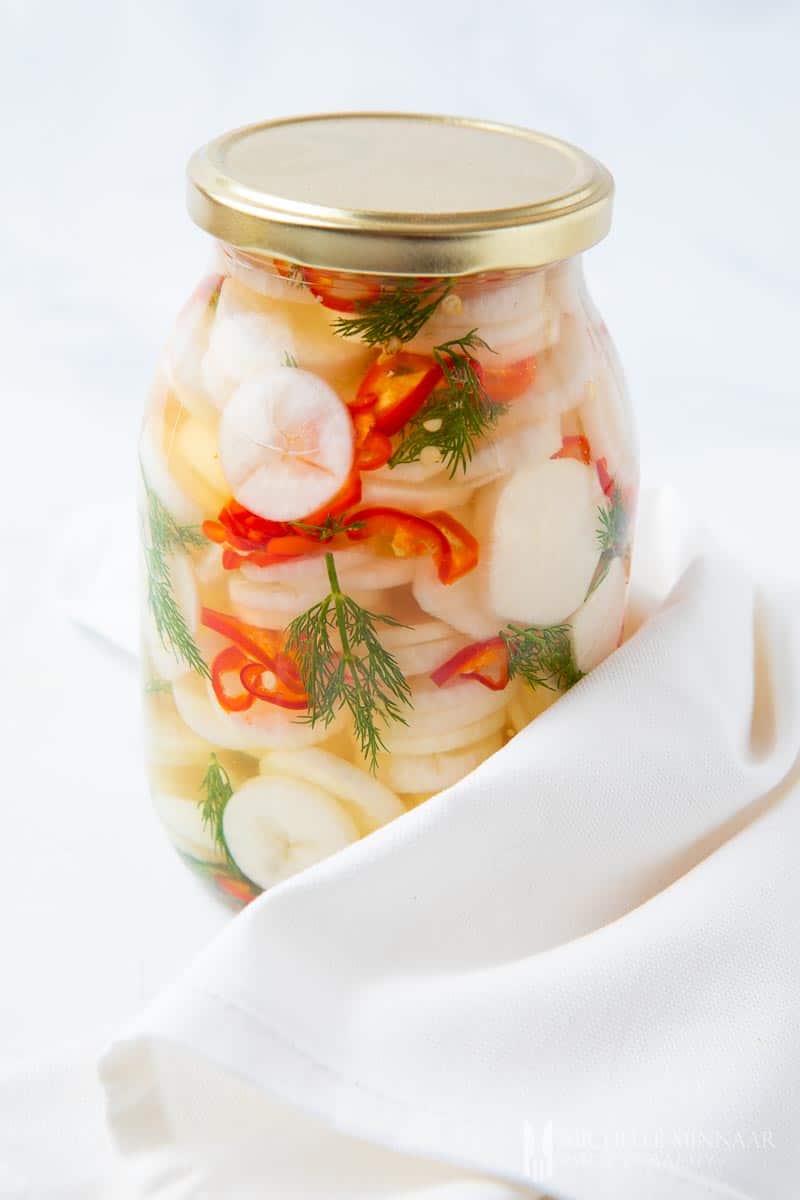 spicy pickled daikon
As you may have noticed, this pickled daikon recipe calls for two main ingredients. Firstly, the daikon or Japanese white radish. Secondly, the red chilli peppers, which is where the spiciness comes from. When you pickle chillies or add then into a pickle recipe, the chilli will infuse its flavours into the pickling solution. Therefore, if you suffer from an intolerance to spicy food, just omit the chillies or add a milder type. It's completely up to you whether or not you'll make spicy pickled daikon or not.
If you didn't know already, daikon is a long white Japanese radish and has a crunchy texture. In terms of taste, if has a light peppery flavour and a sweet aftertaste. As its appearance suggests, daikon in Japanese means 'big root'. You might also know it under these names:
mooli – in Hindi/Punjabi
white radish
Oriental radish
winter radish
white carrot – in China and Singapore
chai tow or chai tau – in Taiwan
In contrast to the standard red radish, it is much lighter in colour and the former has a sharper and more peppery taste. Hence, the two ingredients are not good substitutes for each other.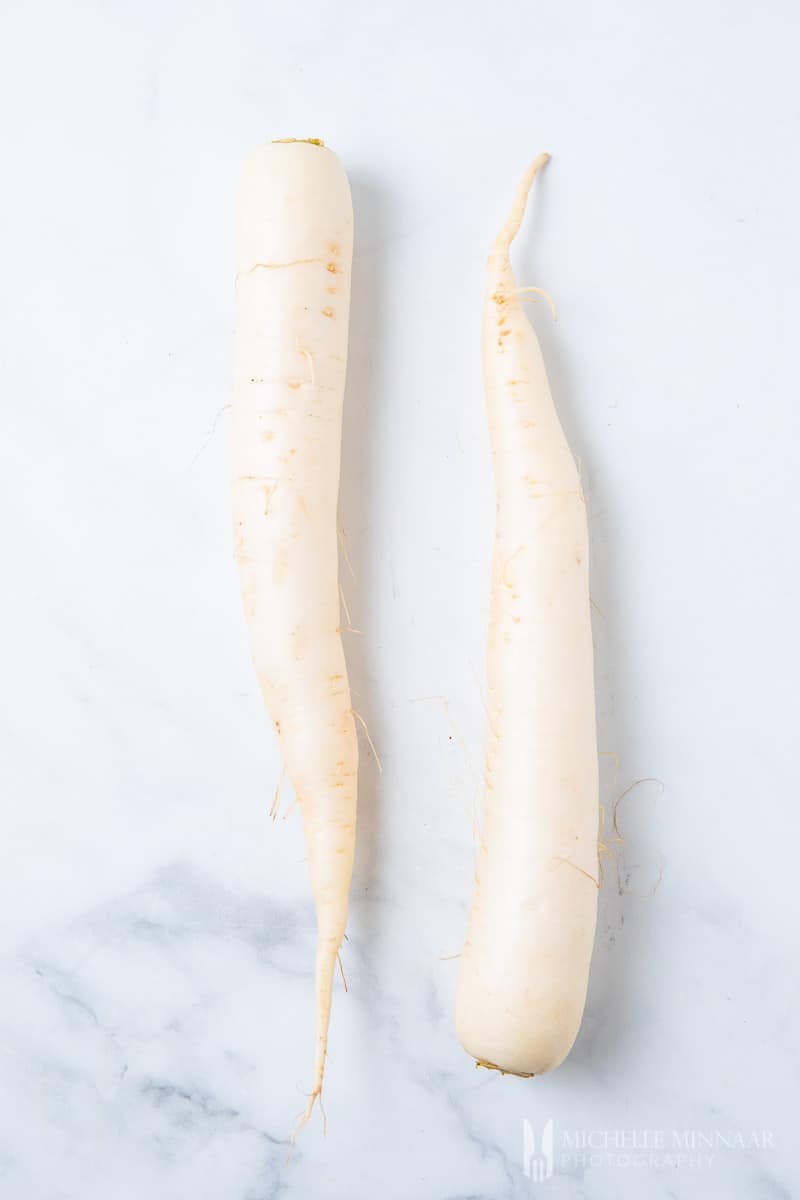 what to cook with daikon
Most of the times, daikon is used for pickled recipes, soups and salad. In Japan, it's always served with sushi. That being said, you can also make these amazing recipes if you've got leftover daikon:
korean pickled daikon
You can easily turn this pickled dikon recipe into a kimchi-style recipe. All you need to make this a kimchi pickled daikon recipe is the chilli paste kimchi is made with. This includes the Sunchang Gochujang hot pepper paste. You can find it in the items below. Just mix as much hot pepper paste as you see fit. For this step, you can also use my sambal oelek recipe which is an Indonesian spicy paste. Here you can learn how to make sambal oelek from scratch and use it in curries, salads and more.
mild fresh chillies
First and foremost, you can substitute fresh chillies with chilli paste. This way, you can control the level of heat with each spoonful.
Here's a list of fresh mild chillies which you can consider:
Aji Panca (approx. 500 units on the Scoville heat scale)
Ancho peppers (approx. 1,000 units on the Scoville heat scale)
Poblano peppers (approx. 1,000 units on the Scoville heat scale)
Peppadew peppers (approx. 1,000 units on the Scoville heat scale)
Anaheim peppers (approx. 1,500 units on the Scoville scale)
Carmen Italian sweet chilli peppers (approx. 500 units onf the Scoville heat scale)
For a more extensive list of mild chilli peppers for this pickled daikon recipe, click here.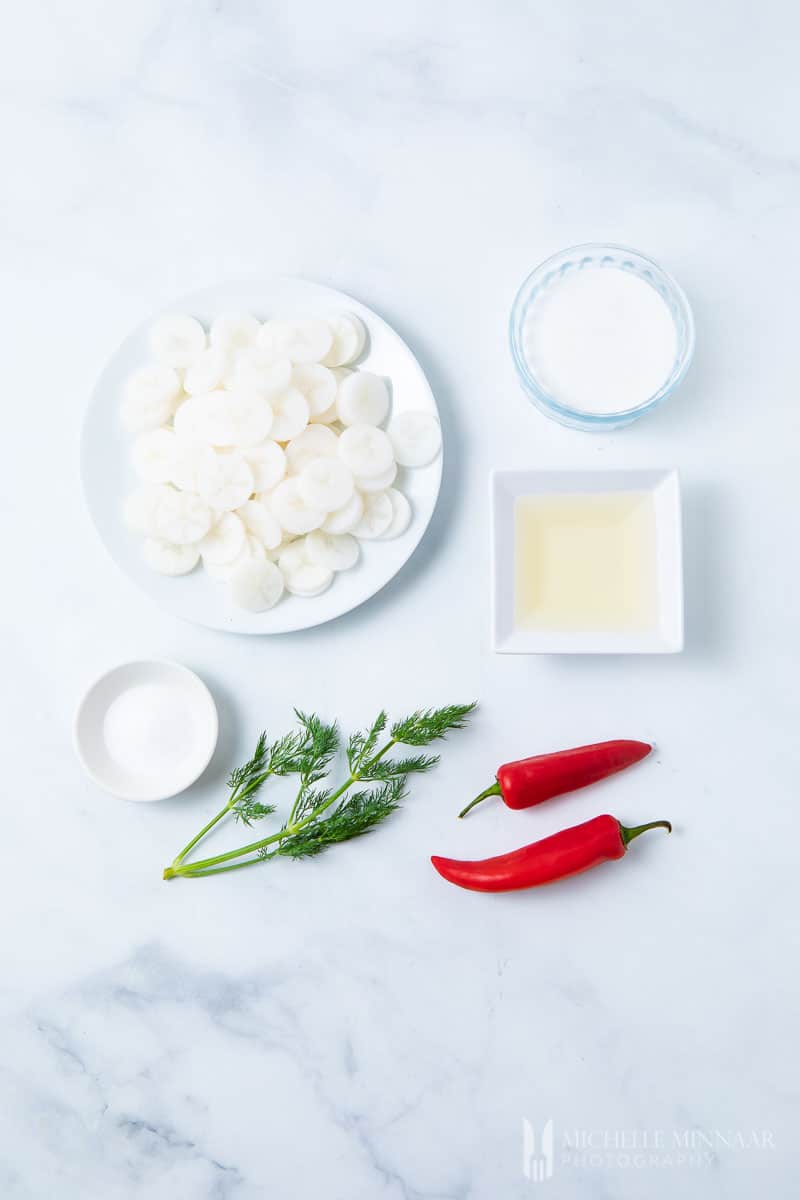 chinese pickled daikon
You can easily make a Chinese-style pickled daikon. Simply add the following traditional Chinese ingredients and spices below, such as:
star anise
cloves
cassia or Chinese cinnamon
sesame seed oil
fennel seeds
However, you can also consider these additional ingredients:
pickled mooli
You can also make this an Indian-style recipe. Just add some turmeric powder or these turmeric substitutes. Next add ginger, curry powder, garam masala mix and fresh chillies or chilli paste. This way you can incorporate as much Indian flavour as possible. Serve it along other Indian side dishes like:
how long does pickled daikon last?
If you store it correctly, any pickle will last for ages.
If you don't open it straight away and it is properly sealed, sometimes it can last from months up to a year. In this case, store it in a cool place in your kitchen.
Next, if you open it and have some leftover, it can last you up to a week in the fridge, depending on your fridge settings.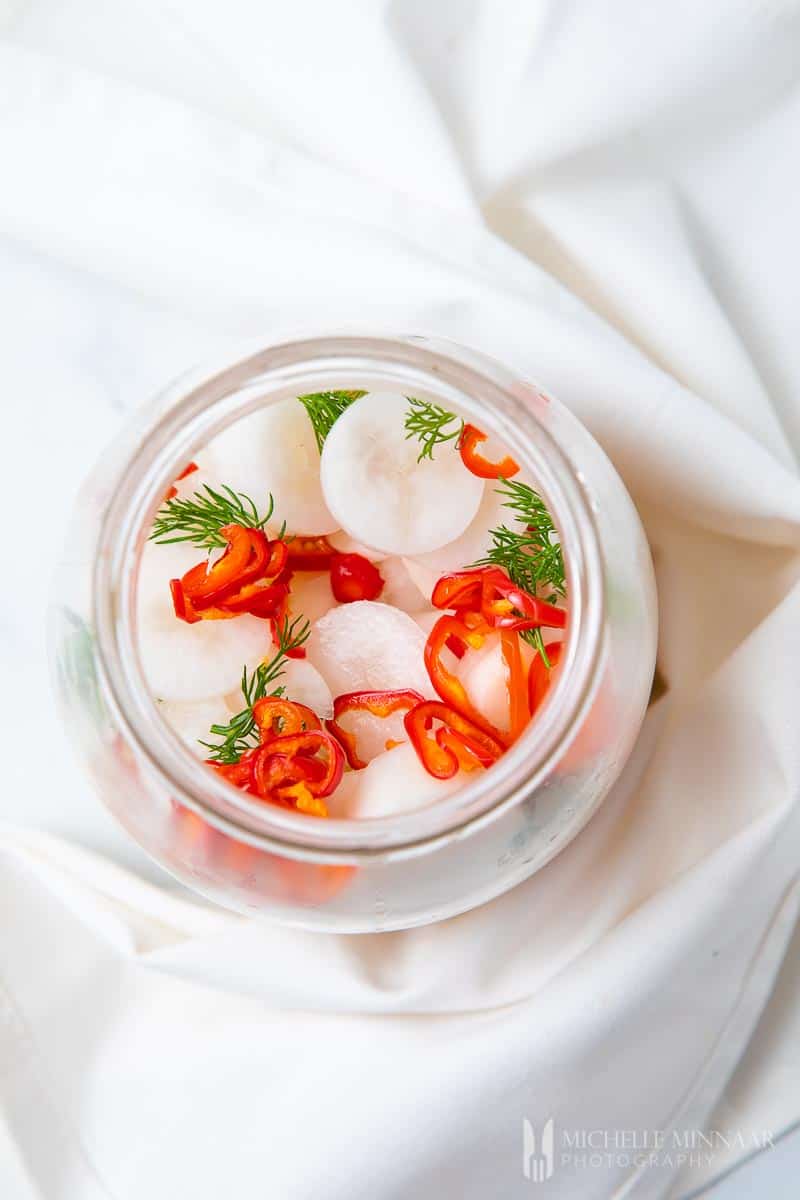 All in all, pickled daikon is a fantastic idea. Just think of it as an investment. White radish or Japanese daikon is quite inexpensive. You can make a few batches of pickled daikon which can last you for a couple of meals throughout the year. Plus, you can make all sorts of variations which reflect your taste.
What is your favourite pickle recipe? Have you ever had pickled daikon before? Don't forget to leave a comment below!
Print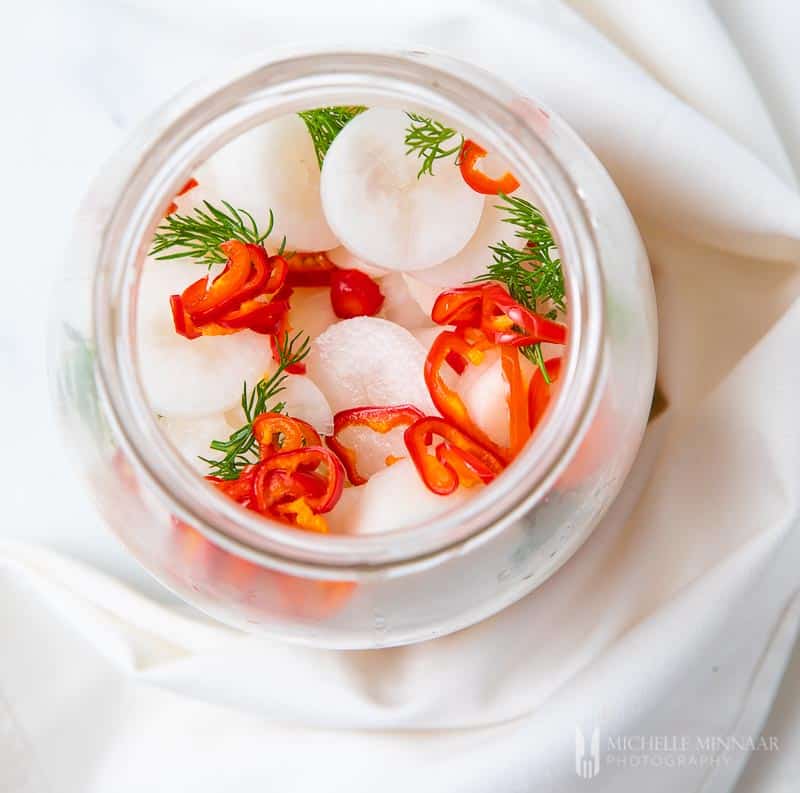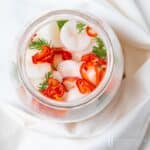 Pickled Daikon
---
Author:

Michelle Minnaar

Prep Time:

30 minutes

Cook Time:

10 minutes

Total Time:

40 minutes

Yield:

40

portions

1

x
Description
This pickled daikon recipe is sweet & spicy at the same time. You'll need Japanese white daikon radish as well as fresh chillies. Serve as a side dish.
---
450g

(1lb) daikon radish

15

ml (1 tbsp) table salt

125

ml (1/2 cup) sugar

125

ml (1/2 cup) apple cider vinegar

125

ml (1/2 cup) water

30

ml (2 tbsp) sea salt

2

red chillies, washed and finely sliced

60

ml (4 tbsp) dill, washed and chopped
---
Instructions
Peel the radish and then slice it thinly as desired.
Sprinkle with salt and leave for 2 hours in order to draw out moisture.
Place the salt, sugar, vinegar, water and chillies in a saucepan and bring to a boil.
Continue stirring the pickling mixture until all the salt and sugar have dissolved. Set aside to cool down.
Squeeze the excess moisture out of the radish.
Layer the vegetable along with sprinklings of dill in a sterilised, airtight storage container.
Pour in the pickling liquid, ensuring all surfaces of the radish are covered.
Wait for at least 2 days, but preferably 1 month, for the flavours to develop.
Serve with a bowl of rice or miso soup.
Category:

Side Dish

Method:

Boil

Cuisine:

Japanese
Keywords: pickled daikon radish, japanese daikon recipe, pickled radish recipe