This swede soup is exactly what you need when the weather turns bad. It's full of vitamins, nutrients and it's one of those soups that you can eat buckets of without having to worry about your waistline.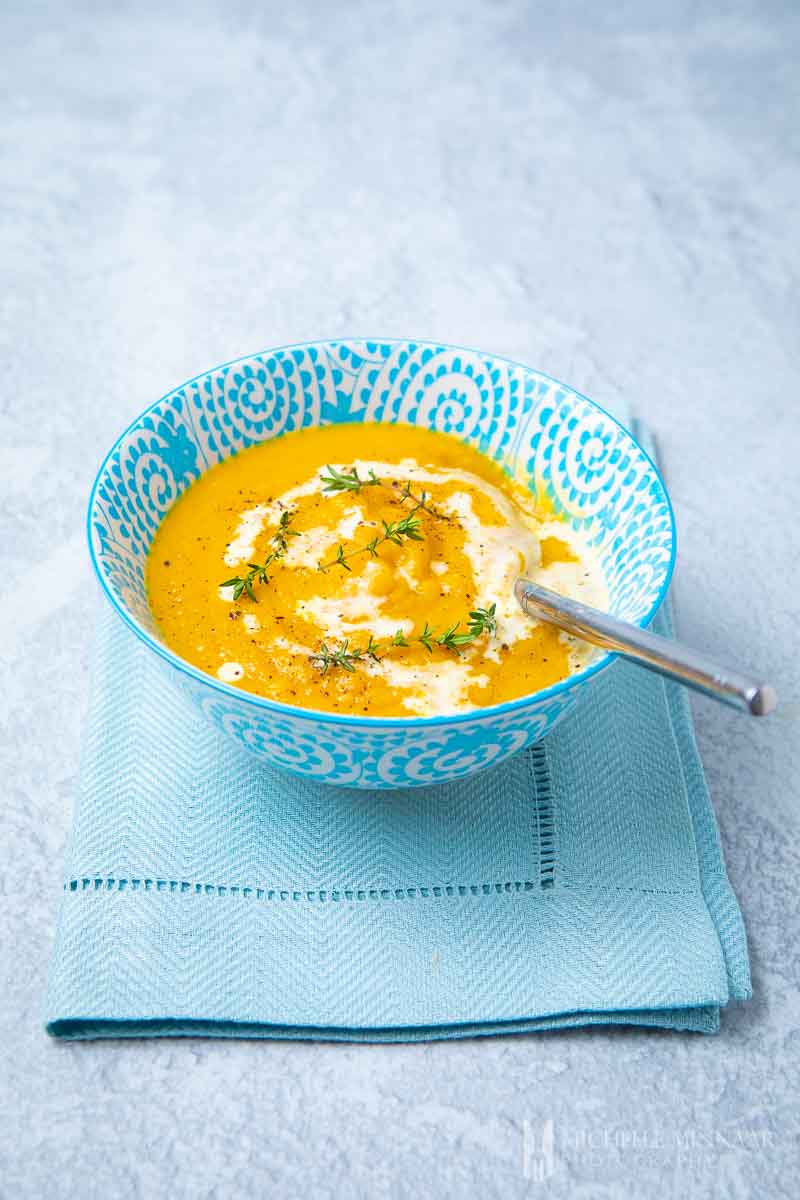 In addition to that, this winter warmer is also an excellent idea for an easy and healthy dinner. Just take a couple of swedes and pair them with your leftover vegetables in the fridge.
It's a fantastic way to practise sustainable cooking. Add your favourite spices or herbs and make this root vegetable soup your own.
I recommend making a large batch of it and then making different versions with different spices. The soup stores very well, so you can easily stick it in the freezer.
For a more filling meal, feel free to serve this soup with your favourite type of bread. Enjoy!
swede soup with carrots and sweet potato
This swede soup is a very simple recipe. It calls for other root vegetables such as carrots, celery sticks and sweet potato. If you haven't got celery, try these celery substitutes instead.
The sweet potato controls the consistency of the soup, making it thicker without having to use flour. The soup is tied together by vegetable stock.
So, naturally this soup is completely vegetarian and vegan-friendly. If you've got leftover swedes and carrots, then you can even try making this carrot and swede mash while the soup is cooking.
definition of swede
Swedes are a root vegetable of pale or white colour. They are roughly the size of a larger potato or a kohlrabi.
You might know swedes as rutabaga, neeps, snagger or white turnip. If you've never heard of a swede or eaten a swede before, just think of it as a hybrid between a cabbage and the actual turnip.
If you are afraid to try swedes, then try this swedeaphobia cure recipe. You'll love it.
The first time swedes were ever mentioned in print was all the way back in 1620 by the Swede botanist Gaspard Bauhin. In short, he recorded them growing wild in Sweden.
Hence, it is believed that the swede is actually native to Scandinavia and Russia. Only later was the swede introduced to Scotland in 1781. Ten years later, the swede made its way down to England.
Did you know that the swede is historically quite an important vegetable? It was used heavily throughout the food shortages and rationing programmes in World War I and World War II.
For example, during the war years, the Germans frequently make Steckrubeneintopf soup, which is basically a swede soup with water.
It couldn't have been very appetising thanks to the lack of complementary ingredients!
Today, swede soup is actually a major part of eastern European cuisine. More specifically, Belarussians have their own swede soup called gryzanka.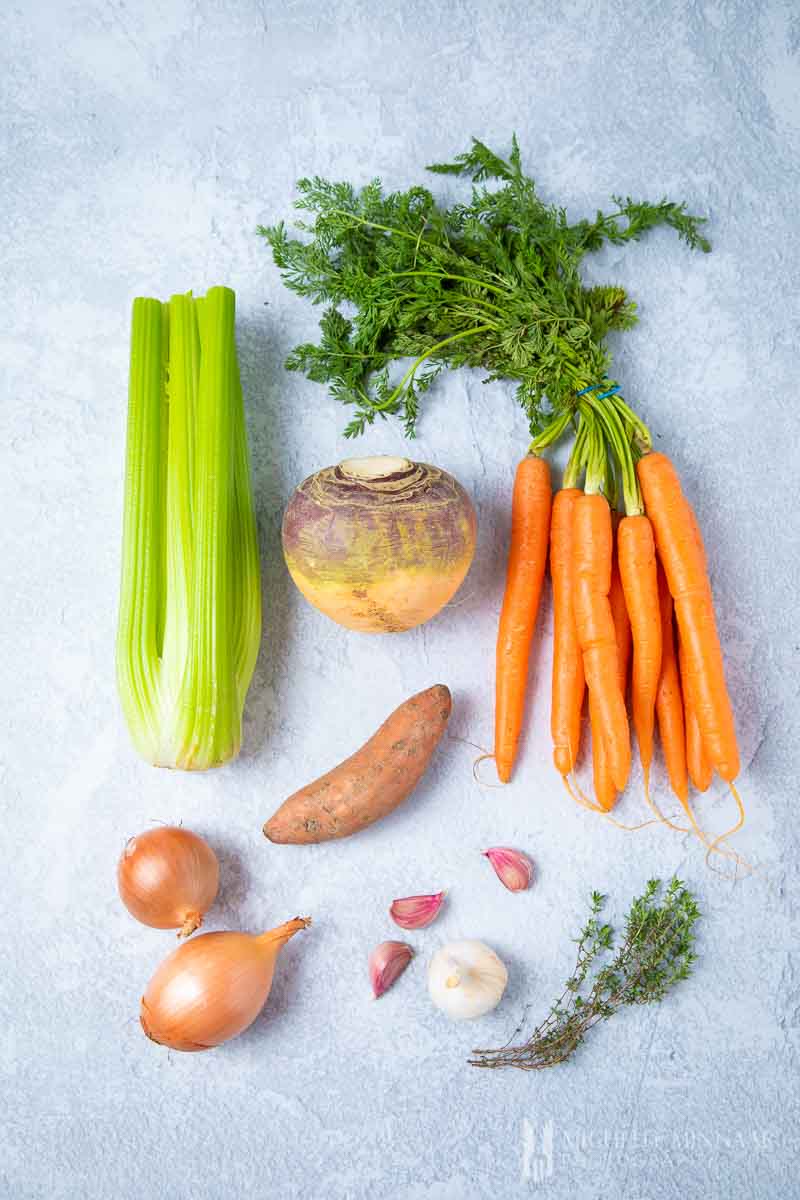 swede and sweet potato soup
The key to making this the best swede soup possible is to roast the root vegetables first. This way, they caramelise and release tonnes of flavours.
If you happen to have problems with sugar intake or suffer from diabetes, then I highly suggest you boil the root vegetables instead. This way, they will retain lower levels of sugar on the glycemic index.
soup varieties
As I've said before, there is plenty of room for you to experiment with this swede soup. For instance, you can add other root vegetables that you have in your refrigerator. Also, consider the following:
cauliflower swede soup
Why don't you try adding cauliflower along with the swede soup? It will also act as a thickener. If you do add cauliflower, then substitute sweet potato with normal ones.
Then you'll end up with a delicious cauliflower and potato soup.
curried swede soup
You can jazz up your soup very easily with a couple of spices. Just take a look at my curried butternut squash and apple soup or my spiced carrot and split pea soup.
pumpkin swede soup
Pumpkin is an excellent addition to this swede soup. Just take a look at my pumpkin and sweet potato soup recipe for inspiration.
You can use half of the pumpkin and then use the leftover roasted pumpkin in a delicious pumpkin and beetroot salad.
swede and lentil soup
If you would like a thicker soup, then add lentils into it. For inspiration, take a peek at my Lebanese lentil soup or my red lentil coconut soup.
swede coconut soup
Speaking of coconut, if you would like to make this a creamy soup, then add coconut milk. The swede soup will still remain a vegan soup.
I recommend adding coconut milk 45ml (3 tbsp) at each time. Add enough coconut milk until you have achieved your desired creaminess.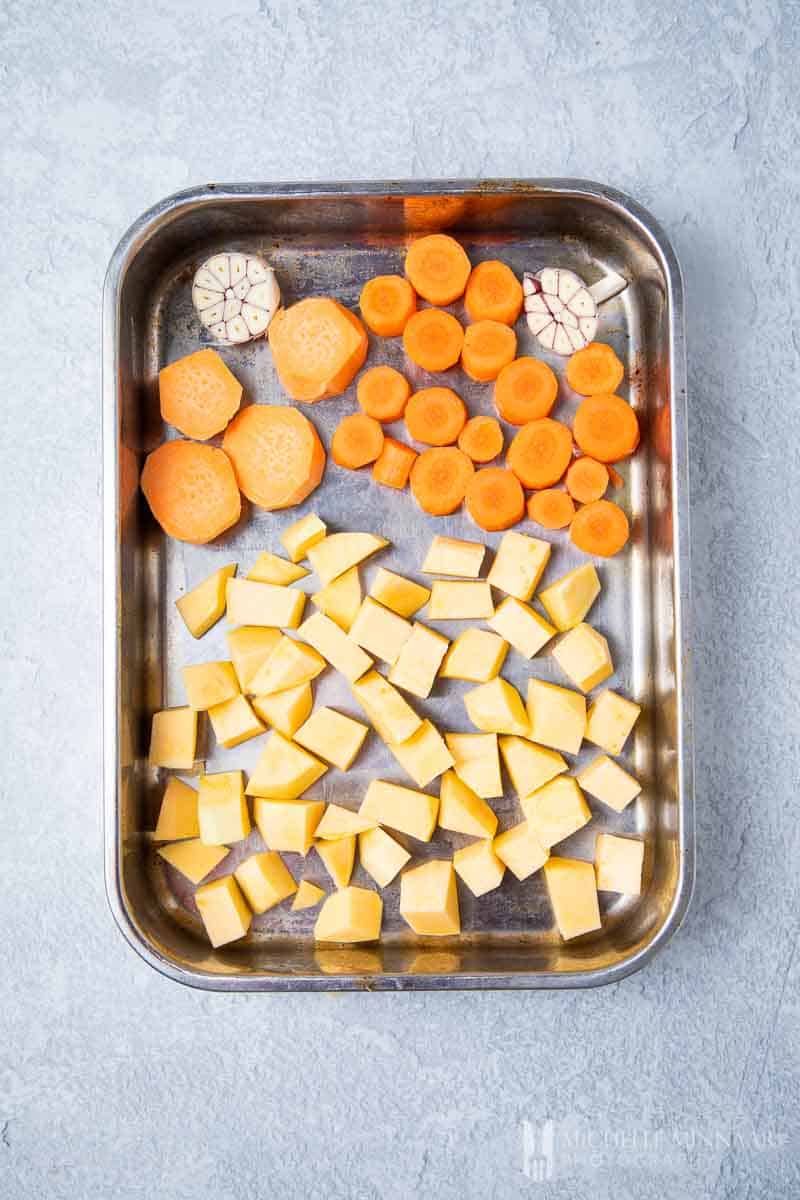 best spices for vegetable soup with swede
If you want to spice up this swede soup with some spices, you can easily do so. Here's a list of spices that I think work best with a root vegetable soup:
smoked paprika
paprika
curry powder
ras-el-hanout
chilli powder
garlic powder
za'tar
cayenne pepper powder
garam masala
madras powder
nutmeg
dried thyme
ground oregano
For a Middle Eastern twist, I recommend trying ras-el-hanout or za'tar. Feel free to serve the soup with some pita bread if you've got a hungry family to feed.
Otherwise, for an Asian spin, try curry powder. In brief, for an Indian flavour, just add a pinch of garam masala, dried chilli powder or madras spice mix.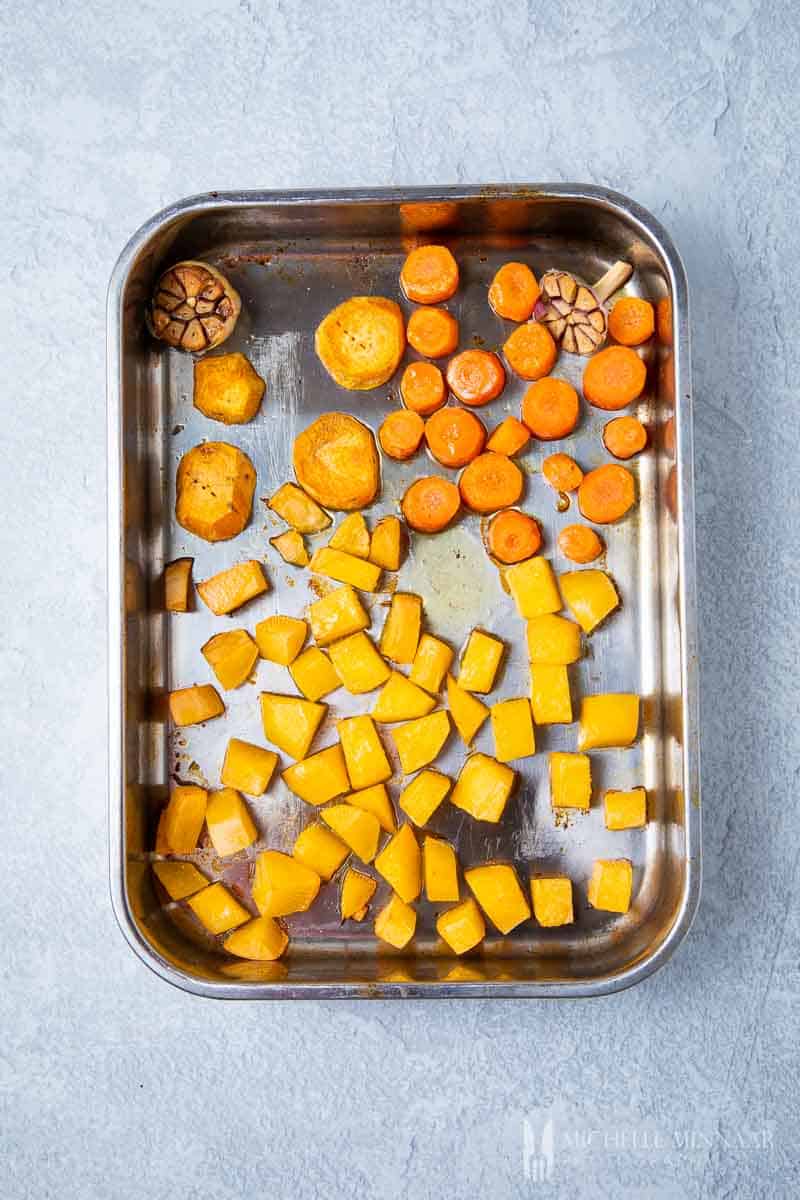 toppings
Fresh herbs and this swede soup are a match made in heaven. My favourite topping of all type of this vegetable soups is fresh thyme.
Thyme complements the root vegetables perfectly. Here are some other toppings you can consider for a little extra crunch or flavour:
fresh leeks
spring onions
double cream
vegan cream alternative
fresh chillies
breadcrumbs
bacon bits
fresh bell peppers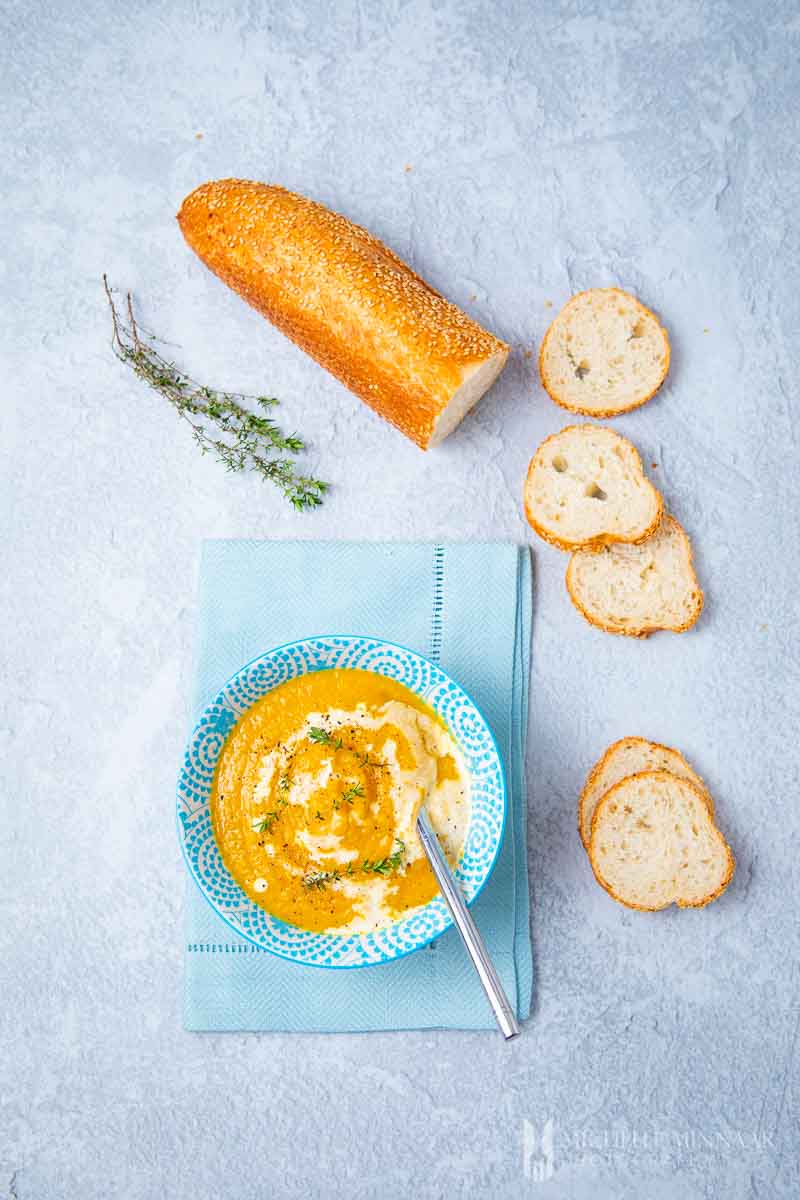 side dishes
As mentioned before, this soup is quite light in terms of calories. So, if you would like to have a more filling soup, just pair it with this incredible cheesy garlic bread or this pesto stuffed bread.
Both recipes are really easy to make and they are irresistibly soft when served hot.
You can also serve the swede soup with rotis, naans, kerala paratha, pita bread and more. Also, traditional baguettes and bread are good options. In fact, any type of bread will do the trick.
More smooth vegetable soup recipes
Need some more soup for the soul? Check out these divine recipes.
Print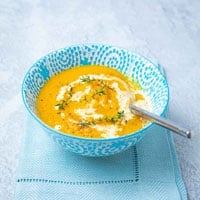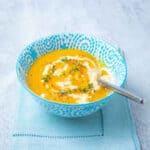 Swede Soup
---
Author:

Michelle Minnaar

Total Time:

1 hour 15 minutes

Yield:

4

servings

1

x

Diet:

Vegan
Description
Take this swede soup recipe and jazz it up to your taste. For best results roast the root vegetables first for extra sweetness.
---
1

swede, peeled and cut into chunks

2

carrots, peeled and cut into chunks

1

sweet potato, peeled and cut into chunks

1

garlic bulb, halved

30

ml

(2 tbsp) vegetable oil

30

ml

(2 tbsp) olive oil

2

celery sticks, washed and chopped

1

ℓ (4 cups) vegetable stock

4

thyme sprigs

10

ml

(2 tsp) nutmeg
---
Instructions
Preheat the oven to 200°C/390°F/gas mark 6.
Arrange the swede, carrots, sweet potato and garlic bulb halves in a single layer on a baking sheet and drizzle with vegetable oil.
Roast the vegetables in the oven for 35 minutes. If everything isn't cooked and tender, cook them for another 10 minutes.
Heat the olive oil in a large saucepan.
Gently fry the onions, garlic and celery for 5 minutes or until softened.
Add the roast vegetables and garlic (skins removed!) to the onions along with the stock, thyme and nutmeg.
Bring to a slow simmer and cook for 10 minutes.
Remove the thyme sprigs then transfer the contents to a food processor and blend until smooth.
Drizzle with your favourite cream and freshly ground pepper.
Notes
If you love garlic as much as I do you can halve a whole bulb and roast it along with the vegetables. After the vegetables are cooked you can scoop out the sweet flesh and add it to the soup.
If you like your soup on the thicker side, use less stock. Thinner consistency? More!
Add chilli if you like a kick.
Use as much or little garlic as you like in this recipe. In the photos I sliced a whole bulb of garlic in two and roasted it along with the root vegetables. When the vegetables have finished roasting, pop the garlic cloves out of their skins before adding them to the soup. 
Prep Time:

15 minutes

Cook Time:

60 minutes

Category:

Soup

Method:

Boil

Cuisine:

Swedish
Keywords: swede soup, swede recipe, roasted root vegetable soup, carrot and swede soup
save the recipe to your pinterest board