This vegan jambalaya is a vegan spin on the traditional meat version. What I find interesting is that you can actually transform a lot of classic dishes into vegan alternatives. This recipe is just one example. Instead of sausage and meat I have used falafel as the protein element of the jambalaya. It is a dish filled with exotic spices and flavours. My version is also very quick and easy to prepare, making it ideal when you want a nutritious meal during a busy week. You don't even have to make the falafels yourself, which is a real timesaver.
Although, fresh falafels are amazing, just like my lentil falafels, sometimes it's not a bad thing to have some shortcuts in the kitchen. For my vegan jambalaya I have used Cauldron Food's frozen falafels, making the dish not only convenient but also delicious.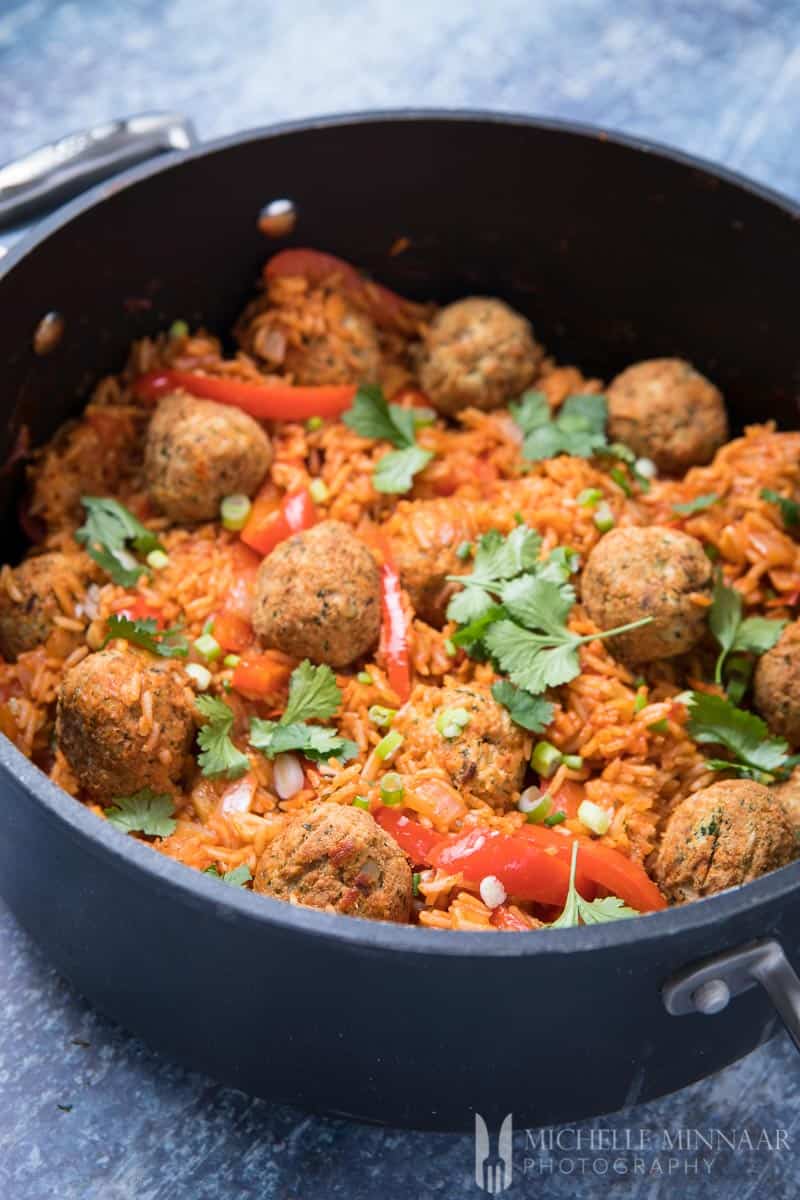 vegan jambalaya recipe
What's not to love about falafels? These classic Middle Eastern deep fried chickpea balls are simply amazing. You can serve falafels hot or cold, as a starter or a main, for lunch or dinner. The sky's the limit! They are incredibly versatile and you can enjoy them with just about anything. For example, this sweet potato falafel can be eaten alone or paired with a salad. A major advantage about falafel is that the main ingredient, chickpeas, are very rich on protein and fibre. This makes them the perfect substitute for meat. Many people who try to go vegan find it difficult make the food filling enough using only vegetables. You can solve this by adding some protein rich staples such as lentils and chickpeas. The vegan jambalaya solves this problem in a heartbeat.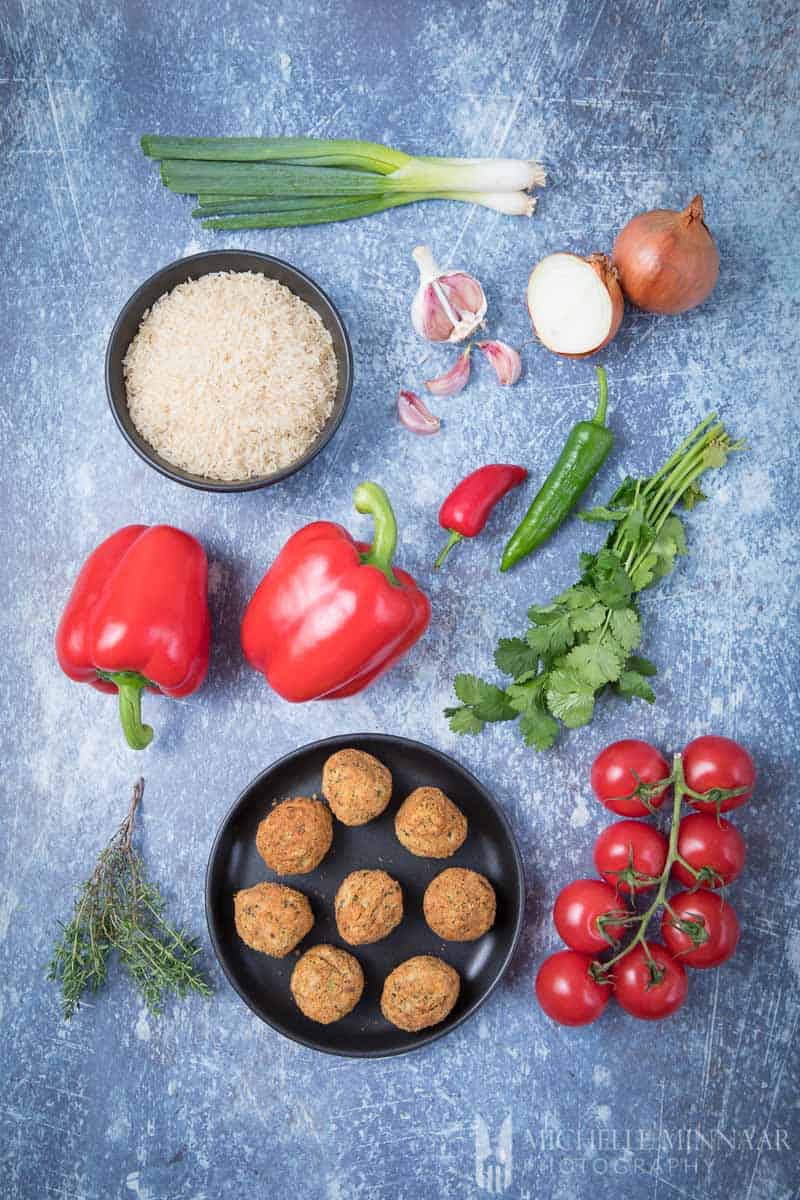 Falafels from Cauldron Foods
Cauldron Foods produces a wide range of vegan and vegetarian convenience foods. The company was founded by Philip Marshal in 1979. It got its name from the book of I Ching: Chinese Book of Change. Ultimately, the cauldron is a ritual artifact in the Chinese culture symbolising nourishment, invigoration and rejuvenation. This inspired the company's approach - "it's what you put in that counts" and that what you leave out is equally important.
The best part about Cauldron foods is that they use non-GM ingredients and include recyclable packaging. Therefore, I know I can sleep at night with a clear conscience when I eat this vegan jambalaya.
Apart from the classic falafels, the company's range includes Persian falafels, falafel burgers and Moroccan spiced falafel bites. Furthermore you can find a number of vegetarian sausages and tofu products in the range. You can check out their range of products here.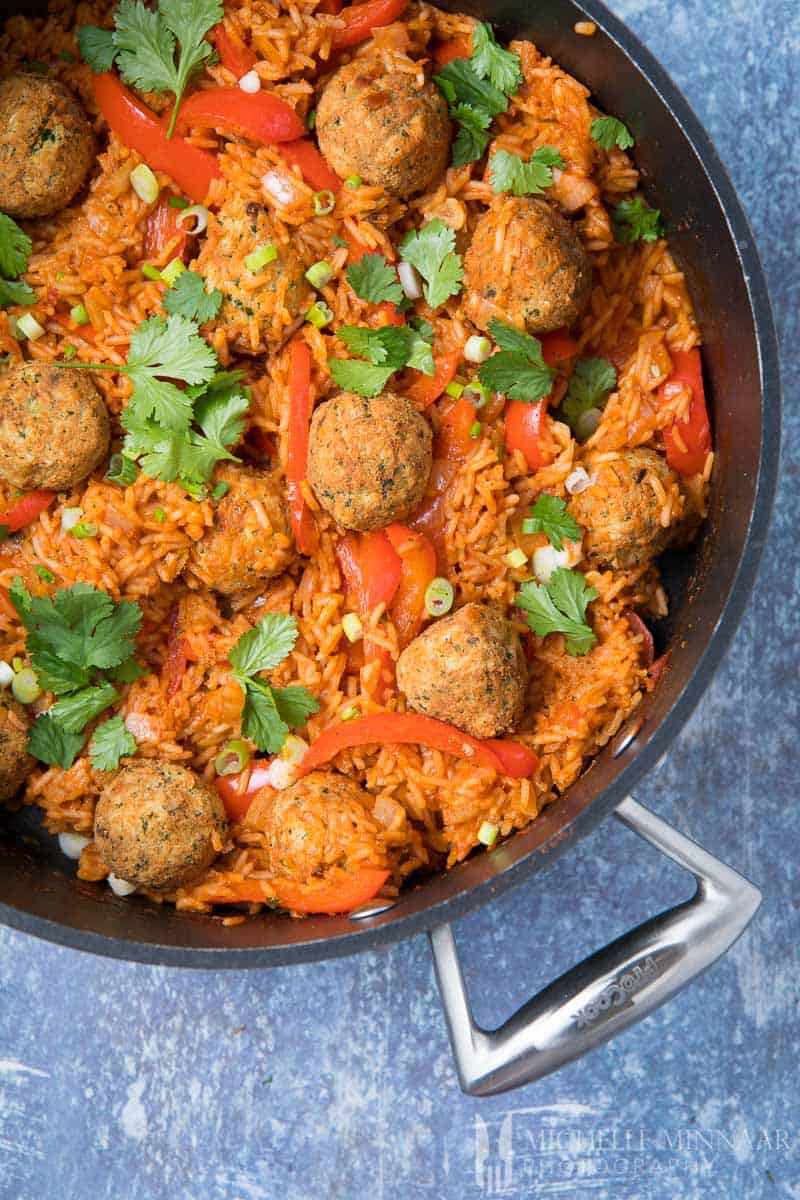 For my vegan jambalaya I used the classic Cauldron Falafels, which are inspired by an authentic Middle Eastern recipe and seasoned to perfection. All you need are herbs and spices such as garlic, cumin and coriander.
The classic falafel is great for a light lunch. You can eat them hot or cold and you can bring them to the office without any problems. Alternatively you can serve the falafels as a starter for a dinner, perfect if you are cooking a Middle Eastern themed dinner. If you are having friends over, serve a big plate of falafels with different dips and dressings and let everybody dig in and share the joy. If you are looking for more inspiration for a Middle Eastern feast, have a look at my harissa prawns or pomegranate couscous Middle eastern salad.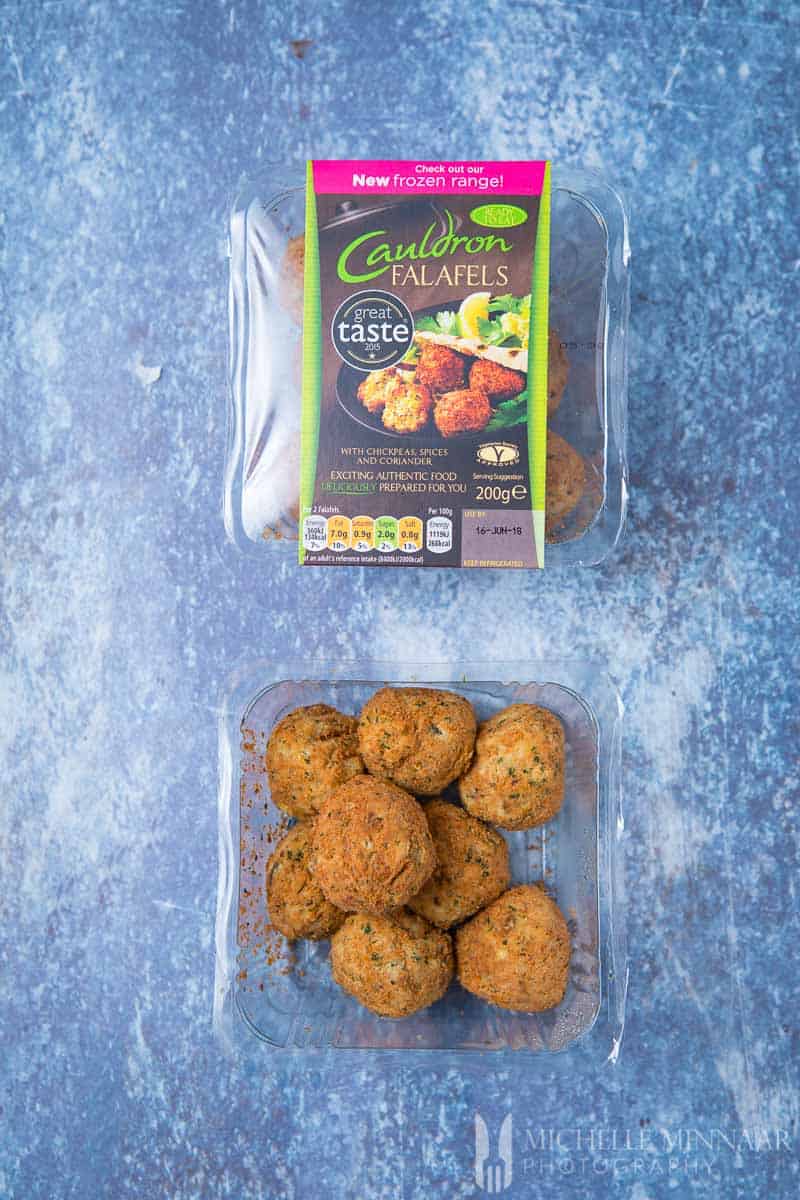 vegan jambalaya
The classic jambalaya is actually a Creole recipe, originating from colonial times in Louisiana, USA. This means it has been influenced by Spanish and French cuisine and adapted to the local taste. Basically, it is spiced rice which you mix with vegetables and some meat. One of the things that make a jambalaya different from other rice dishes is that you cook the rice in a broth together with the other ingredients all in one pan. The preparation is similar to that of a paella. The original version of jambalaya usually contains smoked sausage such as French Andouille, as well as some other meat, usually pork or chicken. However, some versions are also made with prawns and other seafood.
The spicing is Cajun, the name referring to the French settlers of Louisiana at the time when the state was still a French colony. The term has since become synonymous with the exotic spice mix containing paprika, cayenne pepper, black pepper, garlic and thyme. It's a vibrant flavour combination, perfect for jamming some personality into meat or stews.
For my vegan jambalaya I have substituted the meat and sausage with Cauldron's falafels, though at the same time kept the Cajun spice mix, giving me the best of two worlds. Even if you have tried the classic jambalaya you will be amazed how good the vegan jambalaya with falafels actually is.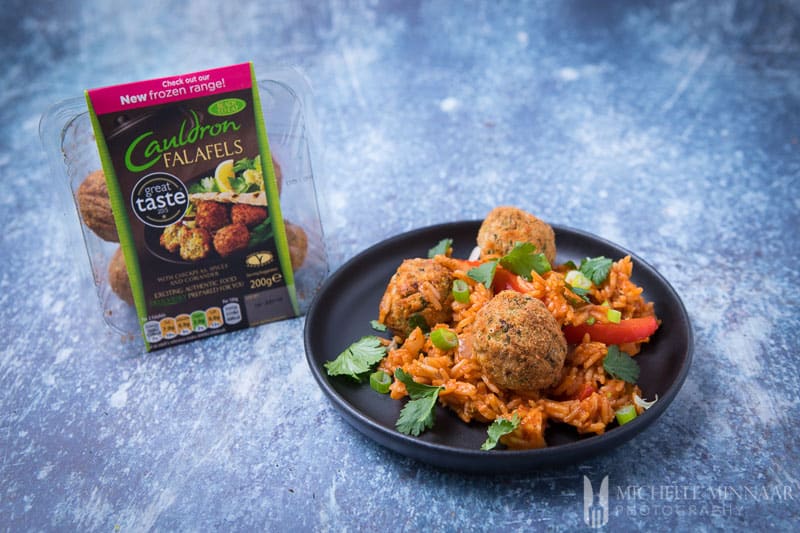 vegan sausage
I have cooked my vegan jambalaya with only a few classic components such as bell peppers. However, you can put some variation to the dish by adding other vegetables too. You can also add any other vegetables you might have or would like to have in the dish. Courgette, for example, is perfect for getting some extra greens into a rice dish like the jambalaya. Other suggestions could be leeks, mushrooms, and broccoli.
In terms of spicing, the jambalaya shouldn't be extremely hot. However, it should have a bit of kick to it. If you prefer your food very spicy you can add more chili or cayenne powder. This way you'll get that extra kick in there. I love that fresh green sprinkle of coriander on top. You can also replace the latter with freshly chopped parsley instead.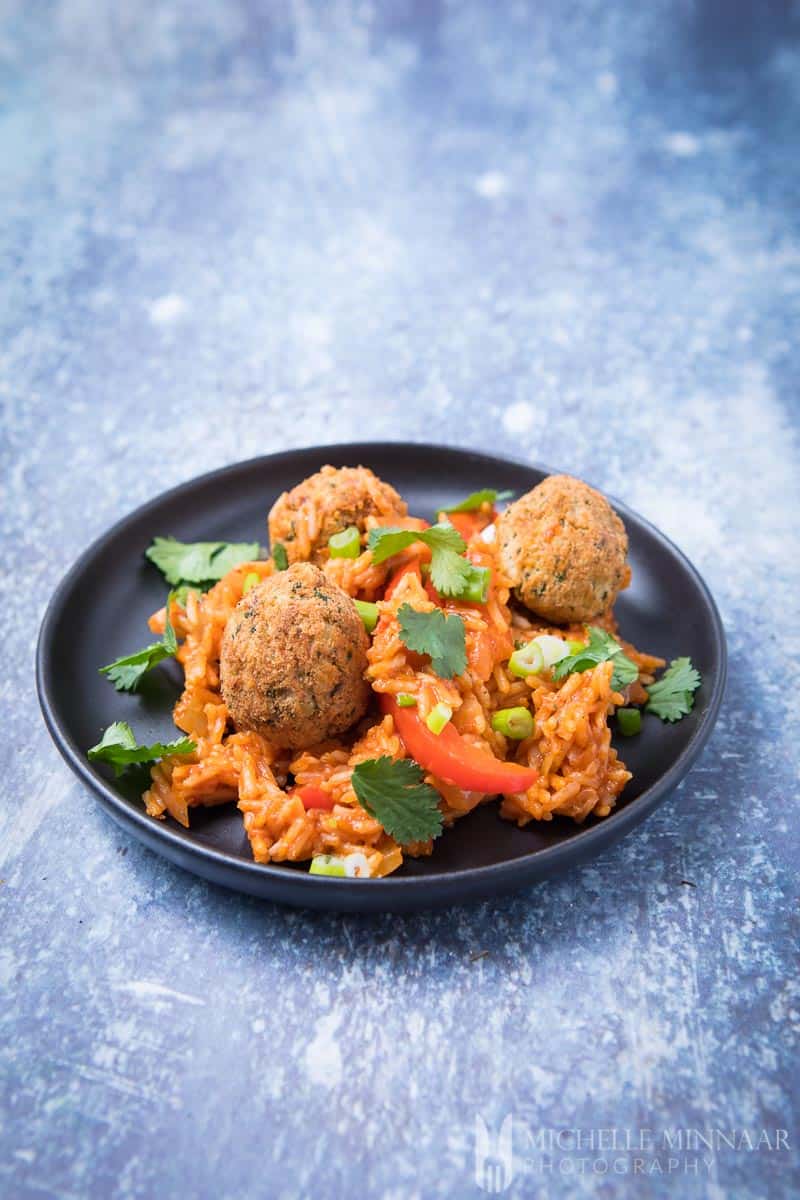 easy vegan jambalaya
The vegan jambalaya is the sort of dish that can do with a rustic serving. If you are cooking for you family, serve the jambalaya in a big saucepan in the center of the table and let everybody dig in. Alternatively, serve on individual plates, and sprinkle the dish with freshly chopped onion and some fresh coriander.
The vegan jambalaya is in itself a filling dish and a complete meal. However, if you want something to go with it, I would recommend something refreshing such as a green salad or a tomato salad. You can also try my Pico de gallo which is a Mexican tomato salsa that really brings some refreshment. The perfect accompaniment for countering spicy flavours of the jambalaya and refreshing the pallet.
You can easily store the vegan jambalaya in the fridge for a day or two if you make much. This way you can also take the leftovers with you to work as a lunch. If you are using the frozen falafels, you shouldn't refreeze the dish again.
What is your favourite way to enjoy falafels?
Print
Vegan Jambalaya
---
Description
Vegan jambalaya might be a tongue twister, but eating this dish is a memorable experience. It comprises spiced rice which you mix with vegetables or meat.
---
30

ml (2 tbsp) oil

1

onion, peeled and finely chopped

2

garlic cloves, peeled and crushed

2

red bell peppers, washed and chopped

5

ml (1 tsp) smoked paprika

5

ml (1 tsp) paprika

2.5

ml (1/2 tsp) cayenne pepper

2.5

ml (1/2 tsp) dried thyme

30

ml (2 tbsp) concentrated tomato puree

250

ml (1 cup) long grain rice

400g

(1 can) chopped tomatoes

500

ml (2 cups) vegetable stock

400g

(1 pack / 8) Cauldron falafels

2

spring onions, washed and finely chopped

60

ml (4 tbsp) cilantro, washed and finely chopped
---
Instructions
Gently fry the onion and garlic in the oil until softened and translucent.

Add the peppers, spices and herbs to the mix and stir. Cook for 5 minutes.

Add the tomato puree, rice and stock. Stir.

Let the mixture reach a slow bubble and cook for around 15 minutes or until the rice is cooked. Add more water if necessary.

Add the falafels, let it heat through, then serve.

Sprinkle with onions and cilantro.
Prep Time:

15 minutes

Cook Time:

30 minutes

Category:

Main Course

Cuisine:

American
Nutrition
Serving Size:

1 serving

Calories:

439

Sugar:

10.4 g

Sodium:

377 mg

Fat:

17.1 g

Saturated Fat:

1.8 g

Carbohydrates:

65.9 g

Fiber:

7.6 g

Protein:

10.1 g
save the recipe to your pinterest board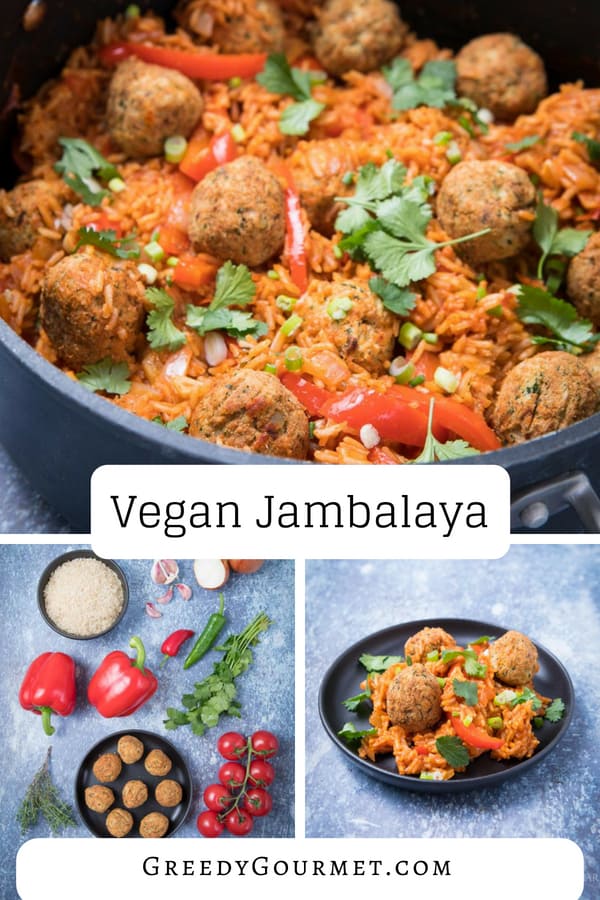 P.S. This is a sponsored post.