Vegan split pea soup is the ultimate winter warmer recipe. However, there's one exception that makes it unique. It's not your traditional calorie bomb! This is because this split pea soup recipe is completely vegan, therefore it doesn't call for adding heavy cream. As a result, you can eat away guilt-free while getting loads of nutrition and vitamins into your system. You can serve this vegan split pea soup as a starter, or you can double up and enjoy it as a main course. Also, you can enjoy this soup warm or cold – whichever you prefer. Most noteworthy, this split pea soup uses only inexpensive ingredients that store well in your cupboard for ages!
In my opinion, you can easily make this vegan split pea soup for just under £5, assuming you purchase the ingredients individually on a weight basis. Still, it's the best recipe to fill up in a healthy way. It's really easy to replicate and it's cheap! What more could you ask for? All in all, this is the perfect soup recipe to add to your weekly meal plan.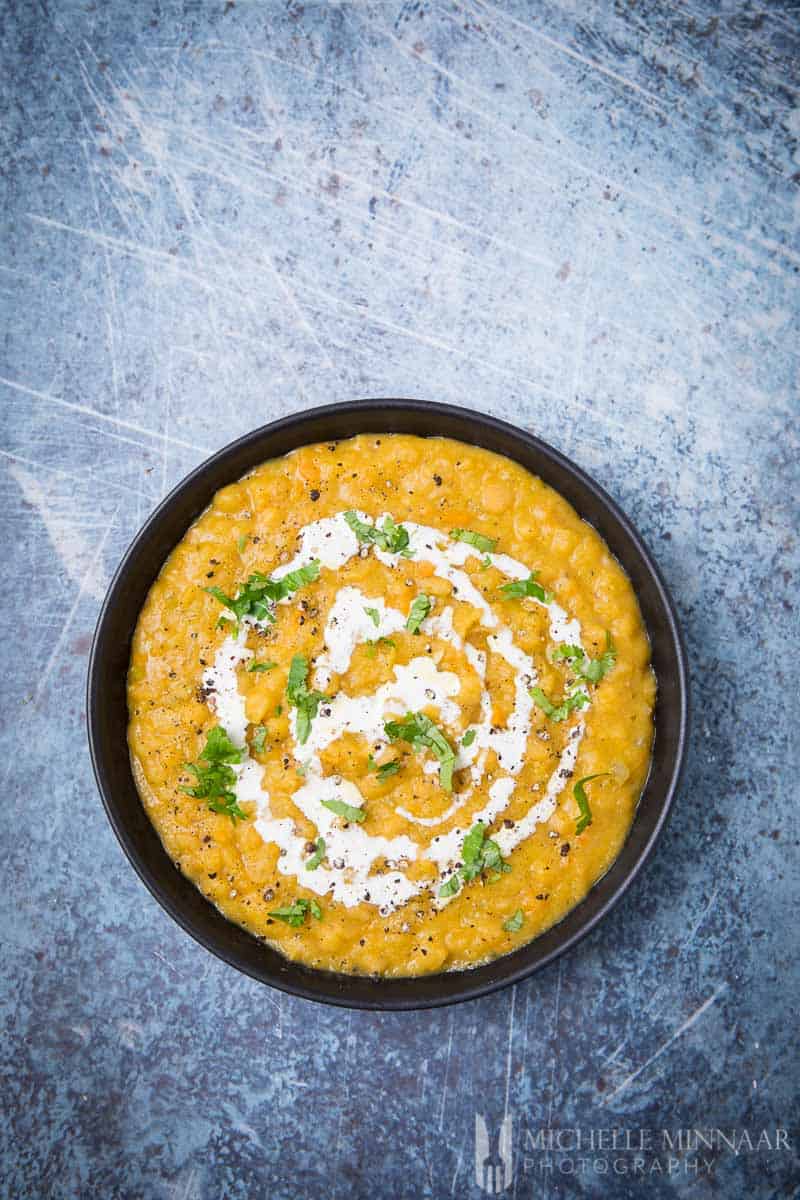 simple vegan split pea soup recipe
This vegan split pea soup recipe consists of dried yellow split peas, root vegetables, garlic and spices. As you can see, it doesn't involve a lot of hassle from your side and it won't burden your shopping list. You can easily jazz this soup up in many ways, either by adding your favourite combination of root vegetables or spicing things up with some herbs and spices.
Pea soups have been enjoyed since the Greek and Roman times. It was around this time that the vegetable was cultivated, all the way back around 500 BC to 400 BC. Back then, it was very common to find split pea soup being sold by vendors in Athens. Pea soup also made an appearance in the UK Middle Ages as pease pudding. It was only in the 17th century, when pea soup was made with fresh green peas, something in the style of this creamy pea soup. Apparently, it was one of the soups which one would serve to King Louis XIV of France.
Of course, pea soups often vary in colour. Especially, this depends on the type of regional dried split peas you use. Mostly, when one hears the term pea soup, one thinks of the green coloured soup made with fresh peas. However, today, there are thousands of different types of pea varieties. It's difficult to put a number on how many types of peas there are, because there are just way too many.
which peas to use for pea soup
My vegan split pea soup calls for using dried yellow split peas. Yellow split peas are also known as split peas. These are always dried, peeled and split from the actual pea plant, hence the name split pea. In western parts of Asia, you might know split peas as lappeh and in India you might know them as daal or dhal.
When it comes to split peas, there are two varieties: green and yellow. You can use either one for the vegan split pea soup recipe, or a combination of both. They are interchangeable as well. If you can't get your hands on split peas, you can substitute with red lentils. These have a nutty note as well as a creamy texture which are perfect for the soup's consistency. They work very well with coconut milk. Check out this red lentil, tomato and coconut soup recipe.
This split pea soup is super-nutritious, very protein rich but low in fat. In fact, it's so nutritious, that it is a very common meal of the Finnish Defence Forces.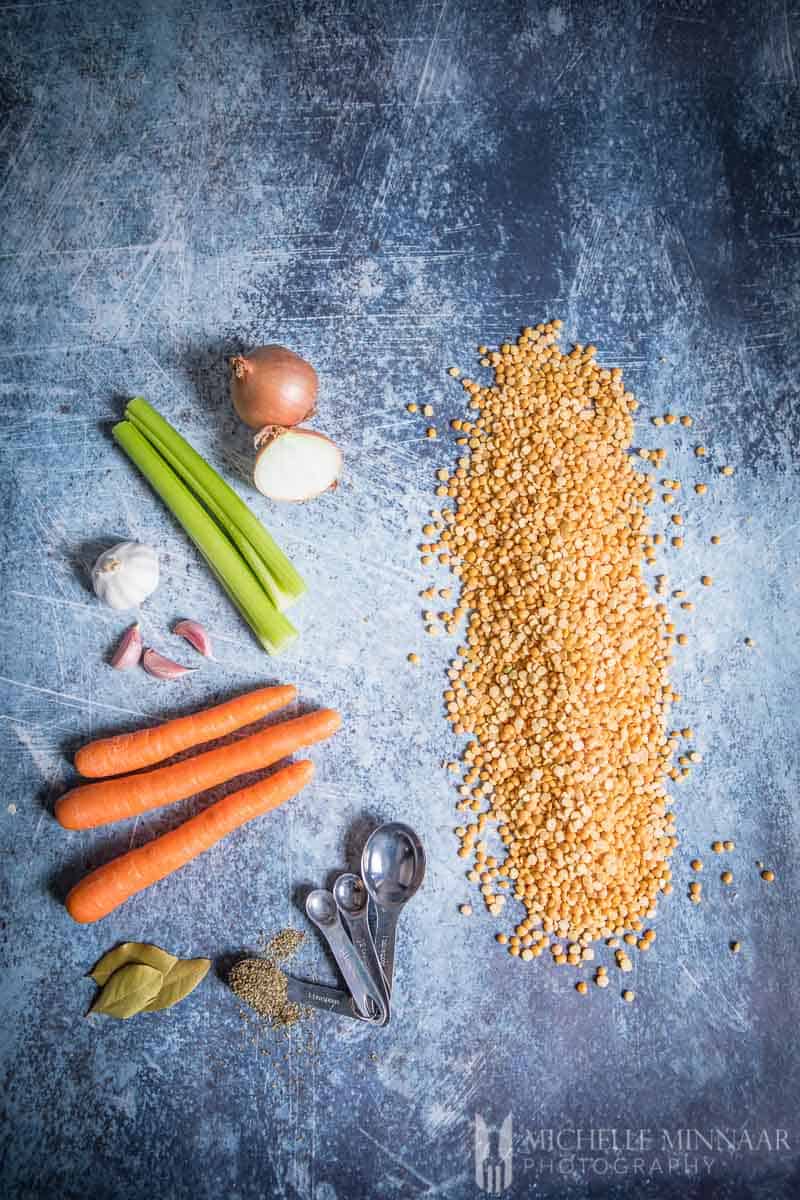 how to make the best vegan split pea soup
There are many tricks you can do to make this the best vegan split pea soup you've ever made. First, you can add more root vegetables such as parsnip and turnip to the split pea soup. This way, it will have even more flavour. In addition, you can also add leeks for some sweetness and earthiness. Otherwise, feel free to make this vegan split pea soup your own and take it in an Asian direction.
As split peas are very popular in Indian cuisine, you can easily give this vegan split pea soup an Indian twist. This would involve root vegetables like ginger. Most importantly, you'll need to add spices like turmeric (to make it into a more vibrant yellow), cumin powder and coriander powder. Just take a look at my tadka daal recipe and my curried carrot and split pea soup recipe.
For a Japanese twist, you can add a hokkaido pumpkin for that extra blast of vibrant orange colour, fresh ginger and drops of soy sauce. Otherwise, you can substitute using yellow split peas with lightly fermented black beans. These beans also make excellent Japanese-style stir-fry.
For a bit of heat, just add chilli powder and season to your preference.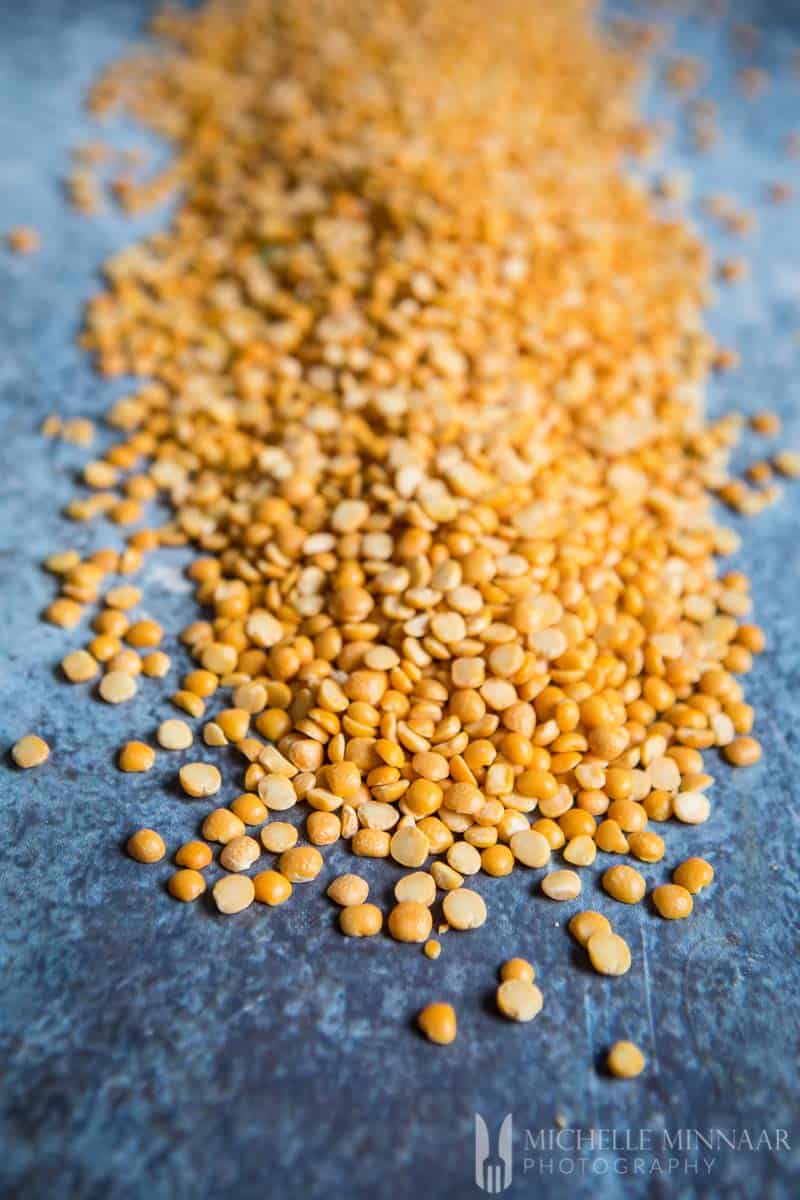 creamy vegan split pea soup recipes
You might be wondering, how can you make a split pea soup creamy when you can't use cream? In general, you don't need to use cream to make something smooth and creamy. There are other alternatives for your vegan split pea soup recipe. All you need to do though is to control the consistency. You can opt for diluting with water or with a vegan cream alternative available in stores.
When I like to play around with creaminess, I generally add a couple of slices of fresh avocado. Even though it might affect the colour of your vegan split pea soup, the consistency and the taste will definitely be a lot creamier than before! Besides, who doesn't love avocado?
best toppings for pea soup
Generally, I love to add a fresh herb topping to any soup. Whether it be fresh coriander, parsley or watercress. Sometimes however, I do enjoy chopping up some pieces of fresh red chillies for that extra kick. However, this might be too extreme for those who don't eat chilli on a regular basis. Otherwise, if you would like to serve this vegan split pea soup in a more refined way, simply use a vegan cream alternative and decorate the soup with it.
Print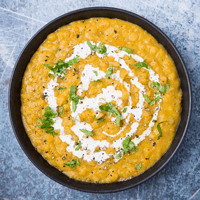 Vegan Split Pea Soup
---
Description
Making this vegan split pea soup is fun! This vegan split pea soup recipe made with yellow split peas is flavourful, yet requires little ingredients. Enjoy!
---
500g

(1lb) dried yellow split peas

30

ml (2 tbsp) olive oil

1

onion, peeled and chopped

1

leek, peeled and sliced

2

cloves garlic, peeled and crushed

2

celery ribs, washed and chopped

2

carrots, peeled and chopped

1

bay leaf

5

ml (1 tsp) dried oregano

2

ℓ (8 cups) vegetable stock
---
Instructions
Soak the split peas overnight in plenty of water. Drain and rinse them the next day and set aside the next day.
Gently fry the onion, leek and garlic until the vegetables have softened, which would take around 5 minutes.
Add the celery and carrots, then continue frying for another 5 minutes.
Pour in the split peas, bay leaf, oregano and stock, then give the mixture a stir.
Bring the soup to a slow simmer and continue to cook for an hour or until the lentils are tender.
At the point you can decide to eat a chunky soup and serve it as is or blend everything until it's completely smooth. In my case, I blended 50% of the smooth and stirred it back in, enjoying both worlds!
Season to taste and serve with vegan milk or cream, and chopped parsley.
Notes
Split peas are thirsty, so keep an eye on the water levels while the soup is cooked. You might end up with more of a stew than a soup, which is not necessarily a bad thing. It's better to end up with a thick soup that you can slowly water down than a watery soup, which is trickier to fix.
Feel free to experiment with different bay leaf substitutes if you can't get hold of any.
Prep Time:

15 minutes

Cook Time:

1 hours 15 minutes

Category:

Main Course

Cuisine:

English
Nutrition
Serving Size:

1 serving

Calories:

359

Sugar:

9.1 g

Sodium:

35 mg

Fat:

5.8 g

Carbohydrates:

58 g

Fiber:

22.7 g

Protein:

21.4 g
save the recipe to your pinterest board