Are you also a fan of delicious and unique salad dressings? If yes, then you will love this watercress salad dressing that I have created.
This watercress salad dressing is tangy, fresh and full of flavour at the same time. A nutritious dressing is the key to preparing for the new spring season.
It is fantastic to serve with any green salads or over any steamed or boiled vegetables. A great recipe prepared in only five minutes!
Watercress
Watercress is a wonderful leafy ingredient used in salads. You can purchase it in a super market or grow it yourself. Click here if you are interested in learning how to grow watercress yourself.
You can also learn about the fascinating history of watercress and how it transformed the Covent Garden Market in Britain. Intrigued?
It's truly mind-blowing how much of an impact watercress has had on Britain. For more information click here.
Nutritional value
Watercress salad is excellent for people struggling with their cholesterol levels. It has a very low cholesterol level and contains almost no saturated fats.
It's also a great source of protein and folate. This means that watercress and watercress salad dressing will be fabulous source of protein for vegans.
You can also find vitamin A, vitamin C, vitamin E, vitamin K, vitamin B6, riboflavin, calcium, magnesium, thiamine, copper and pantothenic acid in watercress.
Health Benefits
Did you know that the famous Greek physician Hippocrates grew watercress because he believed that it held special medical properties? He thought it helped cure blood clots.
There may be some truth in this. Current research has shown that watercress can cure cancer due to its antiviral and antibacterial benefits. It's been proven that watercress inhibits the growth of dangerous tumours.
Other health benefits include:
Prevents blindness and protects against cataract growth.
Helps reduce blood pressure.
Prevents heart diseases.
Keeps the bones strong. Watercress is better for your bones than calcium.
Excellent for diabetics because it helps reduce sugar levels in the blood.
It's great for the skin due to its antibacterial properties
I am surprised that watercress isn't so popular and recognized as a superfood. I am guessing it's because it's mostly known as a garnish hence doesn't receive much attention.
Sugar Substitutes
If you want to keep this recipe as healthy as possible, you can try substituting the caster sugar with honey or agave syrup. I recommend the use of fresh honey, sourced directly from the producer.
Agave syrup can be a tad too sweet for this recipe and some people find it too aromatice.is also too aromatic. It all depends on your taste!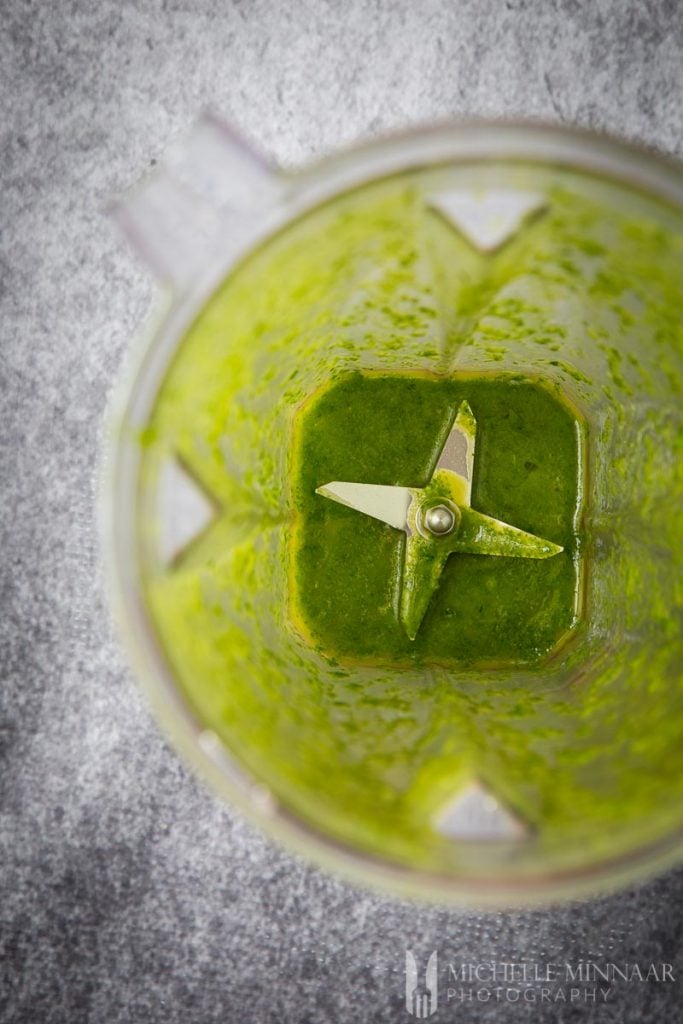 Substitutes for white wine vinegar
The white wine vinegar is very common in Europe and is seen throughout various recipes in European cuisine. I found this vinegar to fit the watercress salad dressing the best.
This type of vinegar also has benefits in terms of appetite control. You can also try these vinegars or juices:
Apple cider vinegar – has great digestion properties and can improve metabolic rates. It has an alkalizing effect on the body and helps neutralize pH levels.
Rice vinegar – has a lightly sweeter and acidic taste.
Lemon juice – the lemon juice might not give you that tangy and acidic taste that a vinegar can.
Lime juice – this juice is slightly more acidic than the lemon juice.
Seasoning
You should use salt and pepper. Season according to taste. If you wish to give the watercress salad dressing a bit of a kick, try adding a pinch of cayenne pepper. If you do this, you will give your metabolism a good boost!
Consistency
Once you finish blending the ingredients together, you might notice that it's starting to look more and more like pesto. To turn it into a dressing, be sure to add the vinegar (or juice) along with the extra virgin olive oil. If the consistency is still too thick, just add water.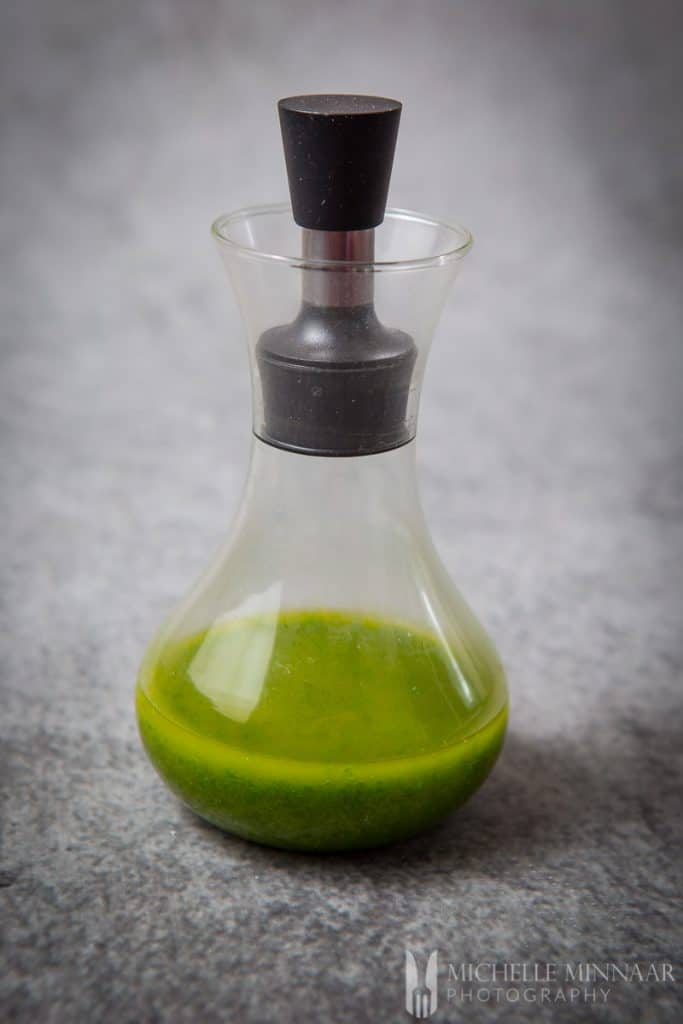 Storage
I wouldn't recommend putting this dressing into the freezer. Once you defreeze, it will lose its flavour profile. The consistency might even be a little off.
You can make a large batch of the watercress salad dressing and store it in the fridge for a couple of days. Make sure you use it up as soon as possible. It's at its best quality when fresh.
Serving
You should serve this watercress salad dressing with any type of green salads, such as rocket salad, mixed salad, you name it! It's a great addition to a dish with a side salad.
How about with miso salmon? The soft, bitterness of the watercress salad dressing will complement the fatty nature of fish.
Pasta
As mentioned above, if your watercress salad dressing turns out to have a thicker consistency, no problem! Keep it that way!
I guarantee you, that you could use a thicker version of the watercress salad dressing on pasta. Top it off with pine nuts and a bit of parmesan and you've got yourself one healthy meal!
Lastly, would recommend the use of sweet cherry tomatoes to add a bit of sweetness. If you like cherry tomatoes, you will love this simple recipe.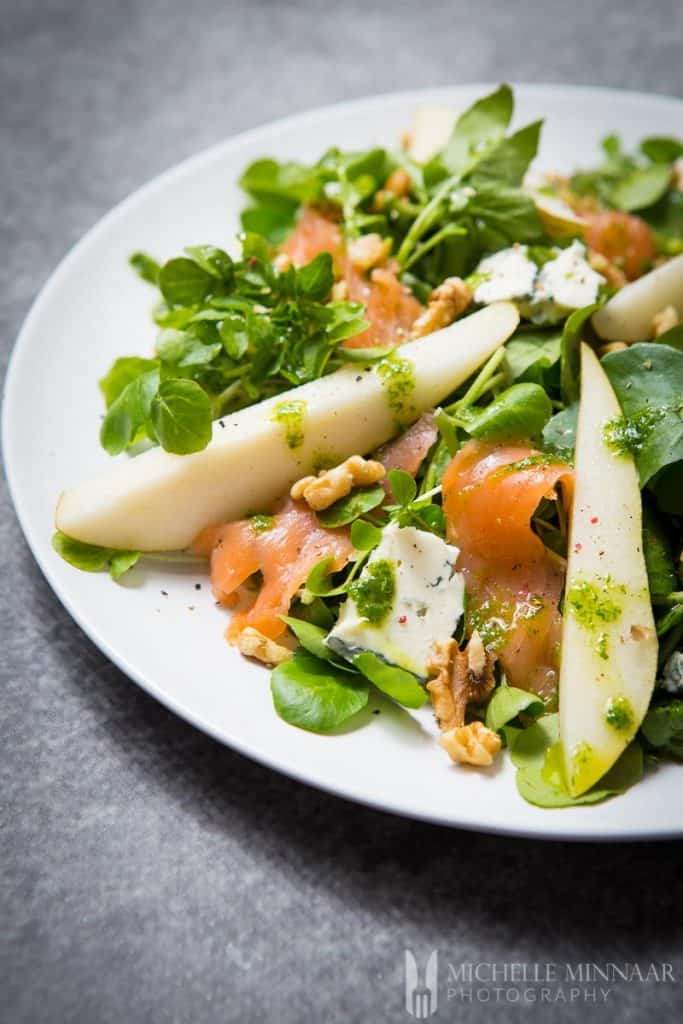 Roasted, boiled or steamed veggies
Are you calorie conscious? If you really take your health seriously, this watercress salad dressing can be a great topping for steamed or roasted veggies.
I really like using this watercress salad dressing on steamed or boiled cauliflower. It's filling and delicious!
Let us know how you decide to use this watercress salad dressing. If you have ideas or suggestions, don't hesitate to comment below.
If you liked this dish and are generally a fan of experimenting with new recipes, see also:
Print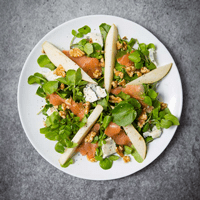 Watercress Salad Dressing
---
125

ml (½ cup) extra virgin olive oil

30

ml (2 tbsp) white wine vinegar

15

ml (1 tbsp) caster sugar

35g

(

1 oz

) watercress
Salt and pepper, to taste
---
Instructions
Place all the ingredients in a food processor and blitz until smooth.
Notes
Serve with any green salad or as a dressing for vegetables.
Nutrition
Serving Size:

1 serving

Calories:

268

Sugar:

3.1 g

Sodium:

6 mg

Fat:

29.6 g

Saturated Fat:

4.2 g

Carbohydrates:

3.2 g
save the recipe to your pinterest board