When one thinks of apple and rhubarb crumble, the mind immediately goes to the comfort of grandma's kitchen. The best part about making this apple and rhubarb crumble is the smell which wafts out of the oven when this dessert is baking.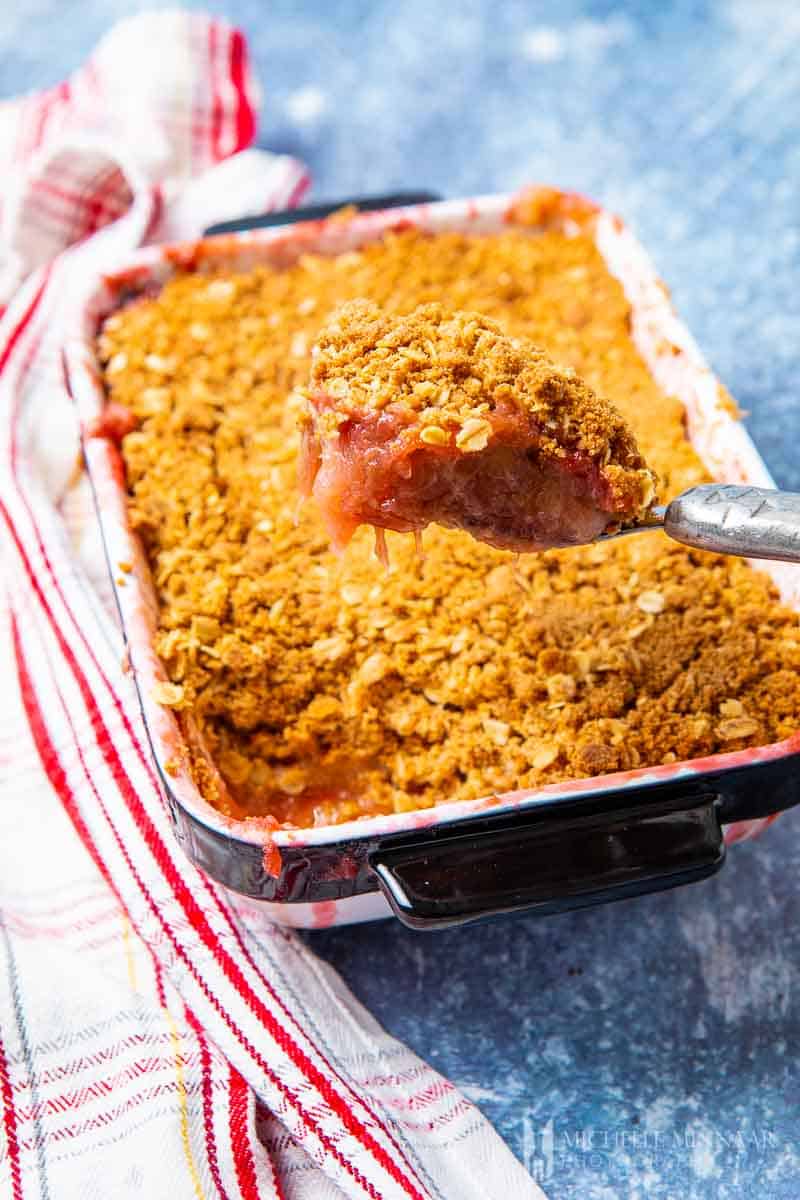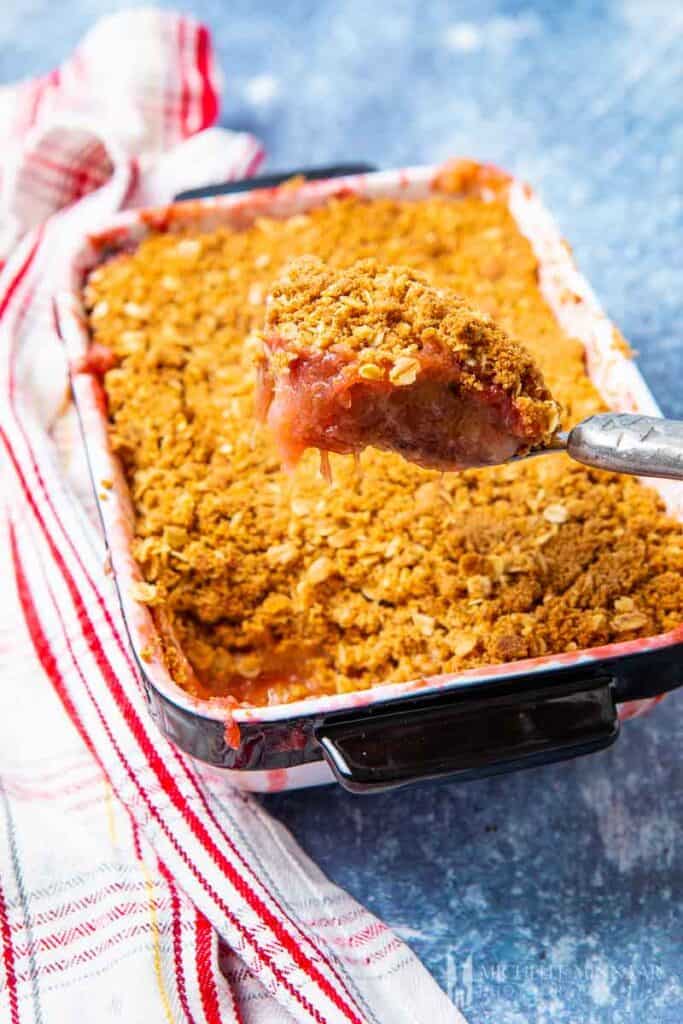 In fact, this is also one of the hardest things when making this recipe. The temptation to take the fruity crumble out of the oven is beyond words.
However, when you finally do take the crumble out, you can enjoy it warm immediately or serve it when it cools down. If you let is cool down a bit, you can also serve with a scoop of silky smooth ice cream.
You can also spin this apple rhubarb crumble recipe in any direction you want by adding other of your favourite types of fruits. For instance, you can also add forest berries, strawberries, cherries, pears, you name it.
For instance, you can make a tempting cherry pie crumble or this apple and blackberry crumble. The choices and flavour combination are endless – it depends on your taste buds.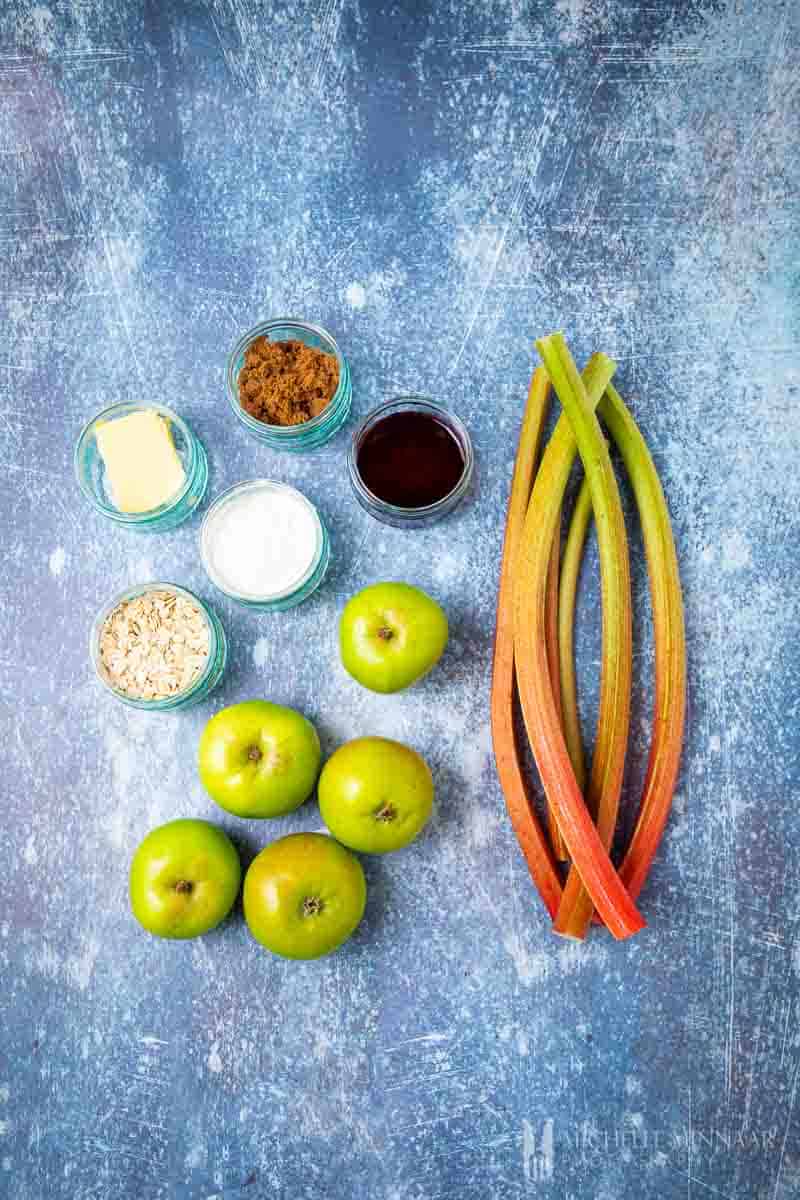 Equipment you need for this crumble recipe
You might also need:
an easy apple and rhubarb crumble
An apple and rhubarb crumble recipe is so easy to make. Moreover, it is inexpensive because it uses humble ingredients, like apple and rhubarb. If you've got rhubarb growing in your garden, then a crumble recipe is perfect for highlighting this ingredient.
Rhubarb is a plant whose stalks are fleshy and edible. You should never eat them raw as they are very sour, and are best stewed or baked. The leaves are inedible and poisonous.
In the past, rhubarb was used for medicinal purposes. Did you know that rhubarb is actually a vegetable? There is a common misconception that rhubarb is actually a fruit, because it is generally used in desserts.
When you cook rhubarb, it is quite tart and generally a sweetening agent, such sugar or honey, is used in a rhubarb recipe to balance the flavours. You can also consider sugar-free alternatives.

Sweeteners for Sugar Free Rhubarb Crumble
history of rhubarb
Rhubarb dates back thousands of years. Apparently, rhubarb first made its first appearance in China, and was known as the 'great yellow". It was later traded on the Silk Road with other spices and goods.
In fact, by the 14th century, it had reached European ports, but then it was known as Turkish rhubarb. This is because it was commonly traded in the famous Silk Road cities of Allepo and Smyrna. Eventually, rhubarb also made its way to the Russian Empire.
During these centuries, rhubarb was an expensive item. Sometimes, rhubarb was much more valuable than other spices such as cinnamon, opium and saffron. This was caused by the high transportation costs from Asia.
Only around 1820, did rhubarb make its way to England, the same year when it also arrived into the US. Today, rhubarb is seasonal ingredient, available in larger super markets. However, admittedly, sometimes I've had to look in two or three stores to find it.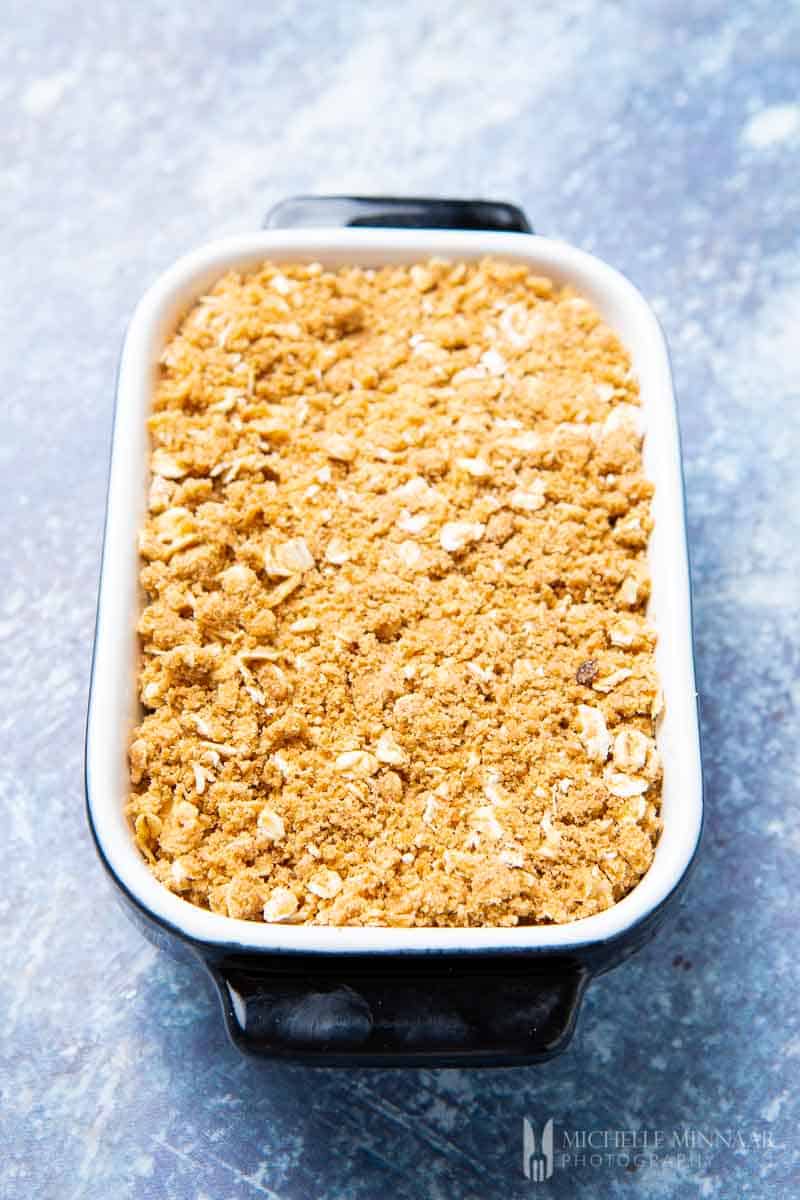 Jamie Oliver's rhubarb apple crumble
While cooking my apple and rhubarb recipe, I took inspiration from Jamie Oliver's rhubarb crumble which you can find here. Following his advice, don't be afraid to pile up on the ingredients in this apple and rhubarb recipe.
Crumble tends to shrink once it's cooked, hence be generous with the filling. Although Jamie's recipe is good, I've tweaked mine to perfection by adding oats, for that desirable crunch, and apples, for a more balanced fruity flavour.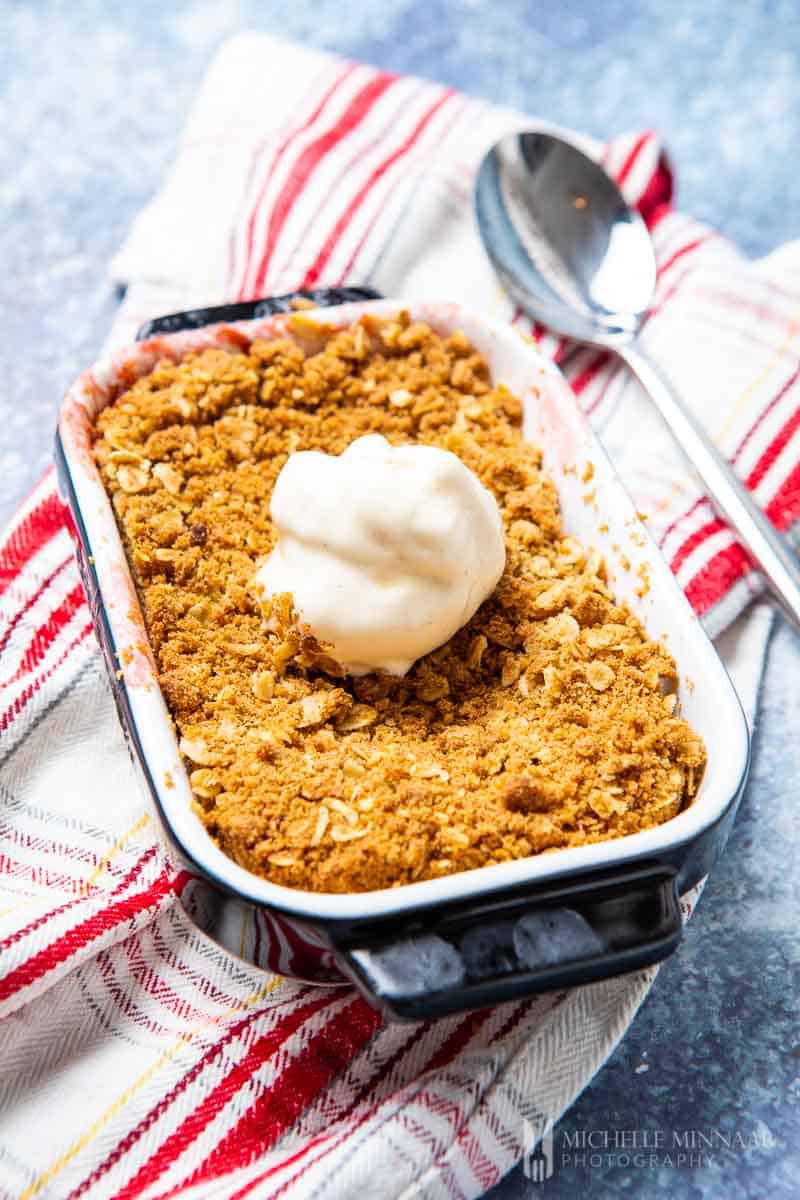 apple and rhubarb crumble without oats
You can also omit oats if you don't like them or if you want to reduce your carb intake. If it's the latter's case, you ground almonds instead. Otherwise, just substitute it will extra all-purpose flour to make an oat-free crumble.
strawberry rhubarb crumble
A very popular variation for this apple and rhubarb crumble recipe is to make it with strawberries. Rhubarb and strawberries fall into the same season, so make the best of the latter by either adding them in with the rest of the ingredients. Otherwise, use strawberries as a substitute for apples.
rhubarb crisp
You can easily turn this apple and rhubarb crumble into a rhubarb crisp recipe. Just take a look at my sugar free apple crisp recipe. Substitute half of the portion of the apple with rhubarb and remove the cinnamon if you wish.
The best part is, the sugar free apple crisp recipes calls for sugar-free alternatives for sweetening. As a result, your rhubarb apple crisp can be completely sugar free and healthy, while still being totally delicious.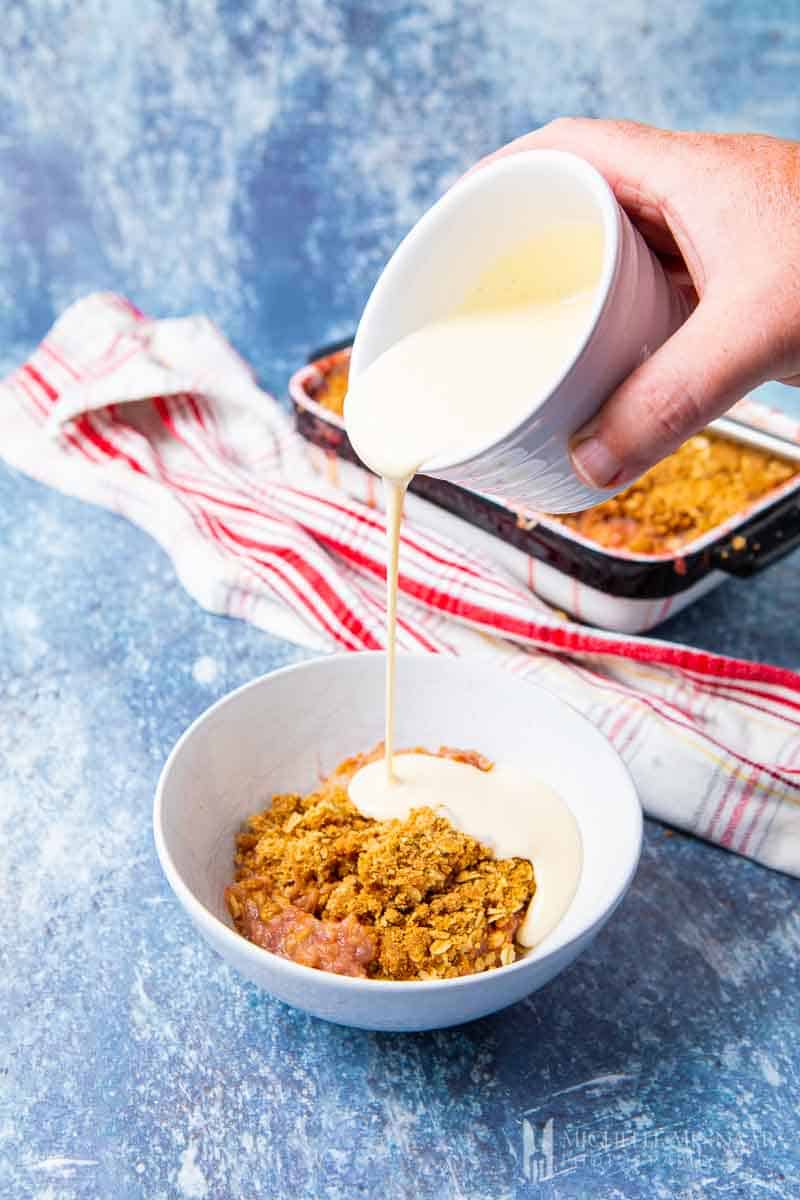 serving
There are ultimately four ways to serve this apple and rhubarb crumble. The first being, serve it on its own, either hot or cold – it's up to you.
Secondly, you can serve it with whipped double cream. Thirdly, with hot or cold vanilla custard! Lastly, you can enjoy it with a scoop of homemade ice creams like the following:
rhubarb recipes
If you've purchased too much rhubarb and you have no idea what to do with it, here are a few ideas:
Print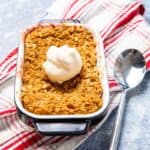 Apple and Rhubarb Crumble
---
Author:

Michelle Minnaar

Prep Time:

15 minutes

Cook Time:

1 hour

Total Time:

1 hour 15 minutes

Yield:

12

1

x
Description
Learn how to make apple and rhubarb crumble in a few easy steps. Serve with ice cream or custard to complete this classic British crumble recipe.
---
Scale
Ingredients
Filling
30

ml (2 tbsp) butter

450g

(1lb) rhubarb, washed and chopped

45

ml (3 tbsp) port [optional]

450g

(1lb) apples, cored, peeled and sliced

100g

(

3oz

) caster sugar
Crumble
200g

(

7oz

) flour

120g

(

4oz

) rolled oats

200g

(

7oz

) butter

200g

(

7 oz

) caster sugar
---
Instructions
Preheat the oven to 180°C (fan 160°C/356°F/gas 4).
Melt the butter in a large saucepan then gently fry the rhubarb for 3 minutes.
[Optional] Turn up the heat, add the port and let it sizzle for a minute. Lower the heat again.
Add the sugar and apples, stir and cook for 2 minutes.
Remove the saucepan from the heat and place the crumble filling in a large baking dish.
To make the crumble, rub the oats, flour, sugar, and butter together in a bowl with your fingertips until well mixed.
Sprinkle this mixture over the fruit and bake for 30-45 minutes, or until the fruit bubbles and the topping is golden brown.
Serve with custard or ice cream. Enjoy!
---
Category:

Dessert

Method:

Bake

Cuisine:

English
Keywords: apple and rhubarb crumble, how to make crumble, rhubarb recipe, crumble recipe