Icelandic caramel potatoes, known as Brúnaðar Kartöflur, is a sweet traditional Christmas side dish served with roasted or pan-fried meat. It's a great alternative to the traditional roasted potato.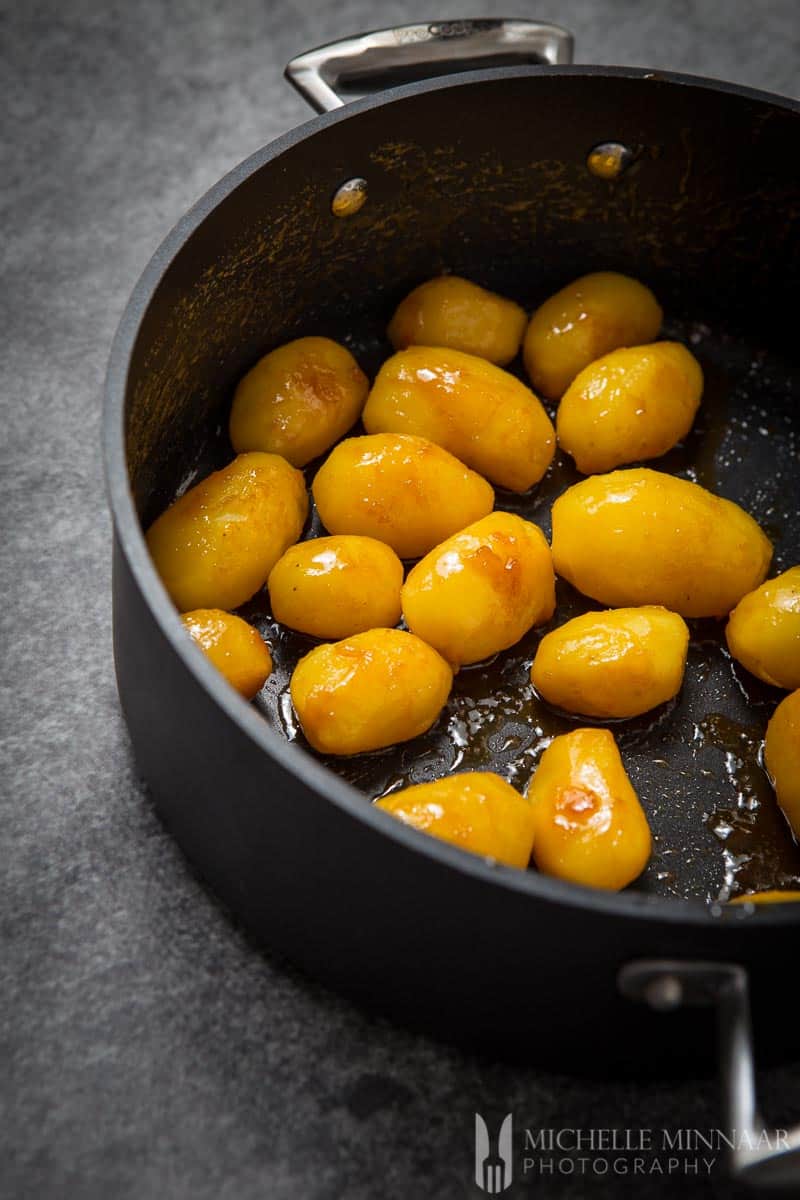 Volcanic Island
Iceland is the westernmost country in Europe, home to the world's northernmost capital city, Reykjavík. It is a volcanic island and still geologically active.
Many Britons would be well aware of the latter, when their travel plans got scuppered by the great 2010 Eyjafjallajökull eruption. All flights ground to a halt, since the planes are unable to fly in copious amounts of volcanic dust.
Iceland, contrary to its name, is not covered with ice in summertime but is an explosion of lush greenery and the most spectacular landscapes.
Glaciers cover just over one tenth of the island, however, the warm southwesterly winds and the Gulf Stream do moderate the climate. Come winter though, and the country's landscape become snowy and magical.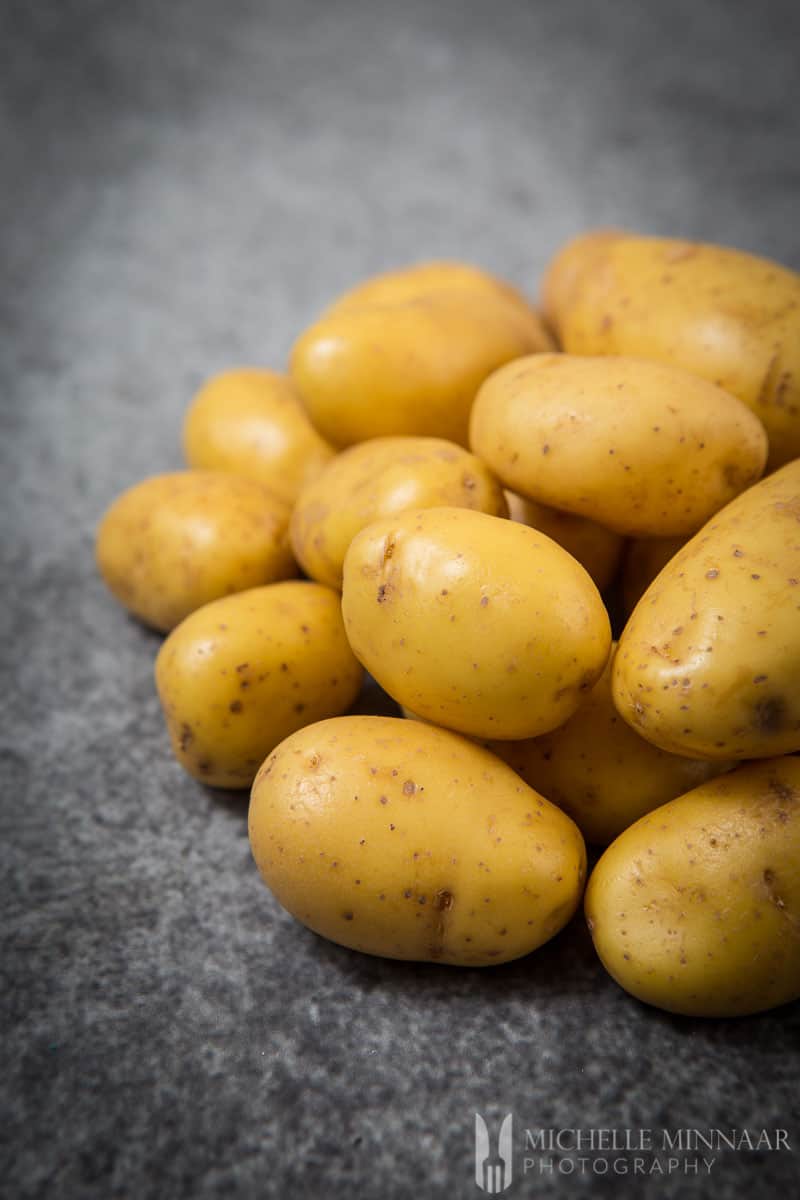 Scandinavian Heritage
Iceland's culture is predominantly Scandinavian thanks to Norway who came along to build its first settlement on the island in 874AD. In 1814 Denmark took over but finally in 1918 the country became independent and in 1944 a republic.
Up to this point the island was very poor, its only income streams being fishing and agriculture. Industrialisation of fisheries, among other things, gave it the boost it needed and today is regarded as the world's 13th most developed country by the United Nation's Human Development Index.
In 2008, the nation's entire banking system failed. Unlike the Americans the Icelanders actually had the balls to send some of the dodgy bankers to jail. In the meantime Iceland recovered economically thanks to the booming tourism industry. What is there to see?
A Funny-Coloured Sky
Like most six year olds, my daughter is full of questions yet she never ceases to surprise me. One of the skills I'm trying to teach her is critical thinking.
"Question everything! If someone tells you something, don't just believe the person, go check it out for yourself."
"Okay."
"For example, if someone tells you the sky is green, what do you do?"
"Look out the window."
"Correct. What colour is it?"
Robyn peeked outside.
"It's black because it's night time."
"Yes. And blue when the sun is shining and grey when the weather is bad. But never green because that person just told you nonsense. Question everything!"
She nodded and went off to play Minecraft on her iPad. Ten minutes later she came back.
"Mamma, you're wrong."
"Eh? About what?"
"The sky is green. Pappa showed me photos and said we should go to Iceland one day but I told him you and I have already been."
Unbeknownst to me, her father told her about the Northern Lights. How could I forget? As for visiting Iceland, Robyn enjoyed picking some ice cream from the frozen dessert section.
A Quick Guide To Iceland
Every year the tourist trade in Iceland is increasing. The summer season is the busiest but in winter the enthralling Northern Lights or Aurora Borealis is a huge tourist attraction as well.
Urban dwellers might be less impressed but outdoor lovers will be in their element. Most of Iceland's attractions are natural. You can snorkel in Silfra, and do whale watching in winter.
Horse riding around hot springs is another option. Visitors flock to Iceland to brave the cold, prepare themselves for 4 -5 hours of sunlight to view the spectacular Aurora Borealis.
There are plenty of hiking trails where you can admire active volcanos, monumental waterfalls and breathtaking lagoons. A great way to spend time with your family, if you ask me.
Going Places
Iceland isn't the type of place where you can just hop on a train or grab a taxi to get to your desired destination. Okay, the latter is possible but will work out pretty expensive.
The best way to explore Iceland is by car unless you feel like hitchhiking. You can rent a car in Iceland, which will enable you to explore over 100 000 square km (40 000 square miles).
It allows you freedom to choose your own destinations and offers the flexibility of being able to do things at your own pace. In summer Icelandic roads take you to some out-of-this-world landscapes.
Hungry?
Just like its language, Iceland's cuisine and culture are heavily influenced by Scandinavia.
As you might have guessed, fruit and vegetables don't really grow in Iceland unless greenhouses are used. Thus a lot of fresh produce don't feature in traditional recipes.
You would have thought a meal devoid of herbs and spices would be dull but I had an excellent meal at Texture, a Michelin-starred Icelandic restaurant in London.
Seafood, lamb and dairy feature heavily in menus. Recently, I started seeing "skyr" on British supermarket shelves, which is Iceland's answer to yogurt but milder in flavour.
Caramel Potatoes
Served with roast meat, caramel potatoes are traditionally enjoyed over Christmas time. The Danish has a similar version, called Brunede Kartofler.
According to locals, the secret is to peel the potatoes only after they've boiled. This will enable the vegetables to soak up the caramel sauce better.
I had a permanent question mark on my face as I was cooking these caramel potatoes but consider me a convert. They are especially good cold, the next day, with some cold flaked salmon.
For more side dish inspiration, check out the following:
Print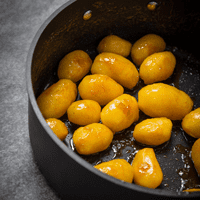 Caramel Potatoes (Brúnaðar Kartöflur)
---
Total Time:

40 minutes

Yield:

4

1

x
1

kg

(2lb) new potatoes, washed

90

g

(3oz) sugar

90

g

(3oz) butter
---
Instructions
Boil the potatoes whole until cooked.
Drain in a colander and let the potatoes cool down.
Peel them.
Melt the sugar in a frying pan. When it starts to brown, add the butter and stir to thoroughly.
Lower the heat and add the potatoes to the caramel.
Turn the potatoes around to ensure they get coated evenly and carry on the glazing process until they are light brown.
They are ideally served cold.
Notes
Waxy potatoes are preferable.
You're welcome to use less butter but you'll find that the caramel go stringy very quickly.
Prep Time:

10 minutes

Cook Time:

30 minutes
Nutrition
Serving Size:

1 serving

Calories:

337

Sugar:

22.5 g

Sodium:

550 mg

Fat:

18.2 g

Saturated Fat:

11.6 g

Carbohydrates:

42.3 g

Fiber:

3 g

Protein:

1.7 g

Cholesterol:

48 mg
save the recipe to your pinterest board