When you're craving something sweet, is there anything better than lashings of cream cheese frosting on top of a soft, fluffy cupcake?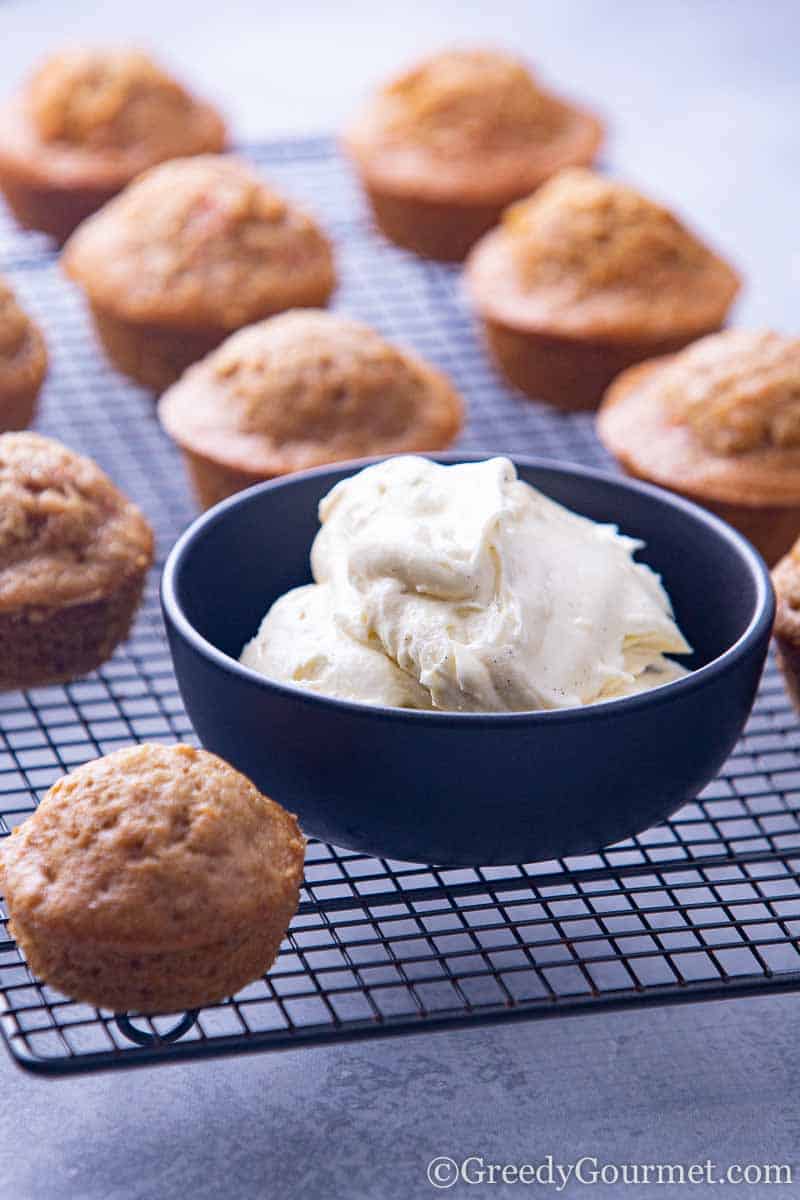 For me, definitely not. That's why I've whipped up this recipe – the best cream cheese frosting you'll ever taste.
It's super simple, lightning quick from start to finish and will totally transform everything from red velvet cake to cupcakes.
Products you need for this recipe
Before you get started, there are few key items you'll need in your kitchen to get the best out of this recipe: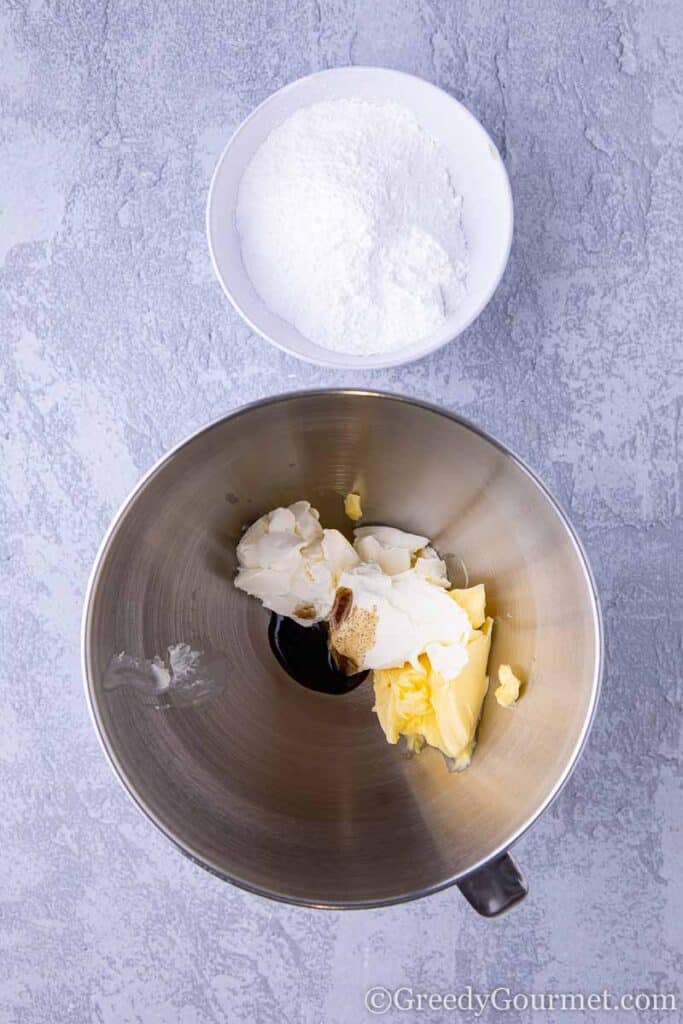 Cream cheese frosting recipe
This frosting is out of this world! It's such a simple recipe and only uses a few ingredients.
By the time you're finished, you'll have a rich, creamy frosting that has a real depth of flavor. It's going to totally transform your cakes and cupcakes.
Adding different flavors to this cream cheese frosting
The beauty of this cream cheese frosting recipe is that you can experiment with different flavors until your heart's content! Here are a few suggestions, to give you a little inspiration:
Tips for making cream cheese frosting
Before we go any further, here are a few little pearls of wisdom to help you get the best kind of frosting:
When using cream cheese, always use full fat cream cheese. If you use a low fat version, you won't get the right consistency.
Make sure you sieve your confectioners sugar or powdered sugar. Unsieved confectioners sugar or powdered sugar could end up clumping when mixing with the other ingredients. Then it could get stuck in the nozzle when piped
Use unsalted butter and add salt to taste if you want more control of the overall taste
Leave your butter and cream cheese out of the fridge for at least 30 minutes before you start this recipe. Cream cheese and butter, softened, are much easier to deal with, meaning you'll get a smoother texture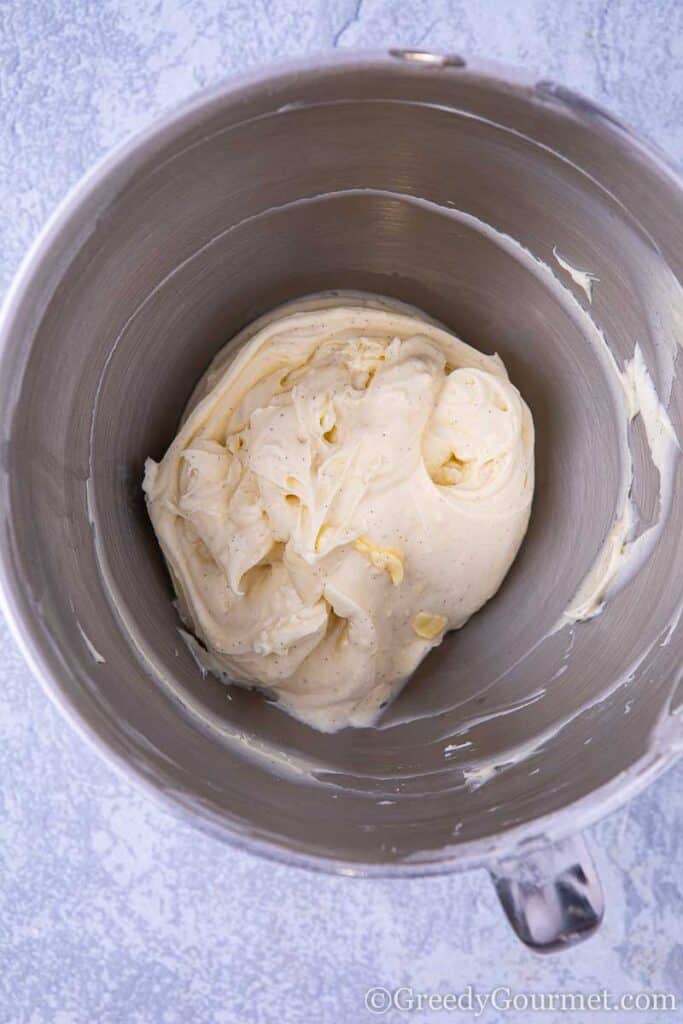 What cake goes with cream cheese frosting?
This recipe goes well with so many different types of cakes. The absolute best is carrot cake cupcakes – check out my carrot cupcakes recipe and combine it with this one for the ultimate sweet treat!
This frosting recipe will also taste fantastic on top of any spiced cake, banana bread, banana cake, red velvet cake, layer cake and just about any cupcake. 
Stuck for cupcake recipes? See the bottom of this article for some incredible Greedy Gourmet cupcake recipes.
Should cream cheese frosting be refrigerated?
If you want to keep your frosting for longer, it's best to keep it in the fridge in an airtight container. However…
How do you store cupcakes with cream cheese frosting?
Hmmm… cake is best stored at room temperature and cream cheese needs to be refrigerated. Put the two together for a delicious frosted cupcake and you have a storage dilemma. So, how do you store cupcakes with cream cheese icing?
Well, that depends. If you live in a cooler climate – say, your house is 21ºC/70ºF or below – it should be fine to store cheese frosting cream cupcakes in an airtight container at room temperature. Only do this if you're going to eat it the next day. Otherwise, refrigerate them.
If you live in a warmer climate where room temperature is more like a sauna, you definitely want to keep your cake or cupcakes in the fridge.
How long does cream cheese frosting last?
If you put your frosting in the fridge in an airtight container, it'll last for around 1-2 weeks.
If you want to keep it for longer, simply place it in the freezer, again in an airtight container. It should last around 3 months. When you're ready to use it, defrost it in the fridge overnight.
Can you freeze cupcakes with cream cheese frosting?
If you want to keep them for that little bit longer, you can even freeze your frosted cupcakes. Cakes take quite well to being frozen.
It's best to freeze cupcakes without icing. Still, if you've already iced them, no problem! Just place them in the freezer for around an hour until the icing has hardened.
Then, wrap each one individually in plastic wrap, then place them in an airtight freezable container. They'll keep fresh for up to 3 months.
Can you overbeat cream cheese frosting?
Yes, you can! If you over whip or overbeat cream cheese frosting, it'll break down and start to become a runny mess. 
You want a beautifully light and fluffy frosting cream cheese mixture. So, as soon as it starts to get fluffy, stop mixing and get ready for some piping!
How do you thicken cream cheese frosting?
There are few things in a baker's life quite as disappointing as runny cream cheese frosting! Having a slightly runny icing instead of a beautiful thick and fluffy icing is a baker's nightmare.
Well, don't sweat it! With just a couple of tricks, you can easily turn a baker's nightmare into a baker's delight! 
Lots of people suggest using cornstarch to thicken cream cheese frosting. You can of course do this – just add a teaspoon of cornstarch to a teaspoon of water to form a paste, then mix into the frosting cream cheese.
For me, this will affect the flavor a little too much. Make sure you don't use any more than a teaspoon of cornstarch to thicken this recipe. Then you'll definitely start affecting the flavor way too much.
If your cream cheese icing is just a touch too watery, try placing it in the refrigerator for around 10 minutes. The cream cheese and butter will cool, giving it a thicker texture, perfect for piping onto your cupcakes.
You could also add double cream, a tablespoon at a time, and whisk vigorously, to add some thickness to your cheese frosting. Cream is a good way to thicken without altering the taste.
How do you pipe cream cheese frosting?
You can spread or spoon your cream cheese frosting on top of your cupcakes, but the best way to get a pretty little swirl of cream cheese frosting is to pipe it on.
For this, you will need a piping bag. Simply spoon the cream cheese frosting into the bag and pipe it onto the top of the cupcake, making a spiral shape.
What's the difference between cream cheese frosting and buttercream frosting?
Buttercream frosting just uses a mixture of butter and powdered sugar, whereas cream cheese frosting uses cream cheese. 
For me, buttercream is nearly always too sweet and lacks that extra slight sourness that tones down the sweetness.
This means that, instead of having a sickly sweet icing, you end up with a rich, creamy icing that's less sweet and sickly and goes so well with cupcakes, especially those that are slightly spiced.
How do you make cream cheese frosting without butter?
The best cream cheese frosting uses butter, for that extra creamy texture. However, if you want to make this frosting without butter, you can swap in a few ingredients.
Add a tablespoon of whipping cream to thicken up the mixture, plus a squeeze of lemon juice and a pinch of salt, to cut through the powdered sugar. Cream cheese butter free frosting will have a lighter consistency than classic cream cheese frosting.
How do you make chocolate cream cheese frosting?
There are some occasions when only chocolate will do. Fellow chocoholics, I understand. Fear not. This recipe is completely adaptable. If you want to make it into a chocolate cream cheese frosting, all it takes is just one simple tweak.
Just add 45g of cocoa powder at the stage when you add the cream cheese. With a little bit of cocoa powder, you'll have a delectable chocolate cream cheese and butter icing to die for!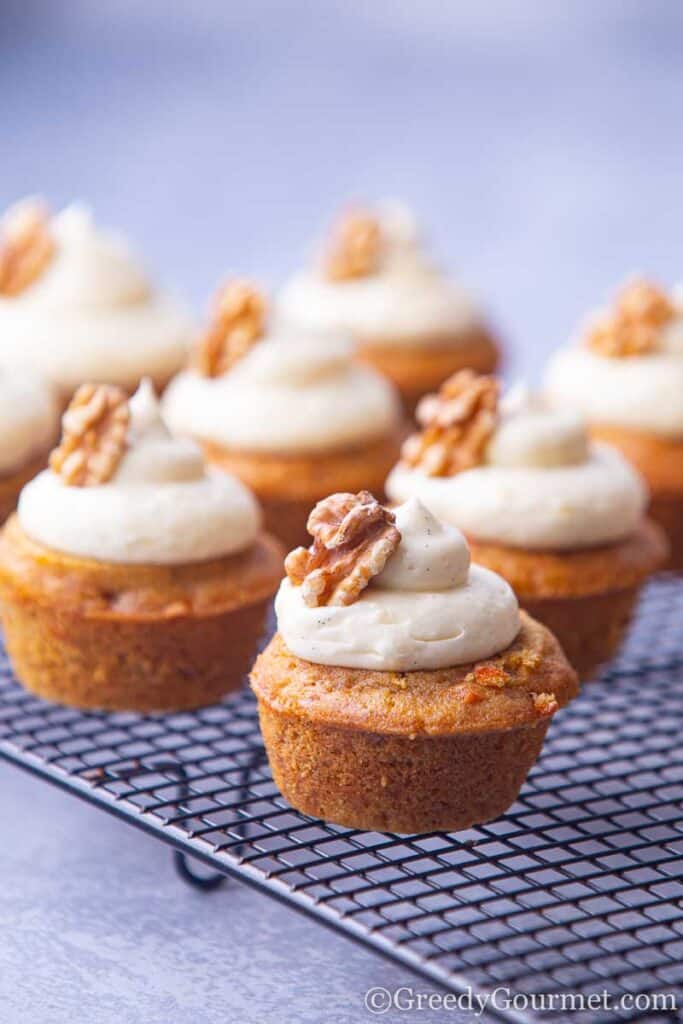 Cupcake Cookbooks You will Love
If you're a cupcake fiend like me, check out these great books for hints, tips and suggestions.
Best cupcake recipes
Can't get enough of deliciously sweet cupcake recipes? Hankering for some more smooth and creamy icing? You'll definitely want to take a look at some of these sweet recipes!
Other cake recipes
Here are a few other cake recipes that would be perfect topped off with this amazing frosting:
Chia seed cake – a soft, spongy cake with hints of lemon, this cake would be perfect with creamy cheese frosting
Cherry bakewell cake – another classic cake that would taste great with this icing
Print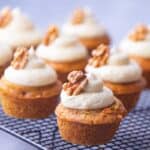 Cream Cheese Frosting
---
Author:

Michelle Minnaar

Total Time:

15 minutes

Yield:

12

portions

1

x

Diet:

Gluten Free
Description
Cream Cheese Frosting is simply a must if you are going to bake pumpkin or carrot cupcakes. It works great with red velvet and banana flavours too. This is a truly versatile frosting that tastes divine!
---
140g

(

⅝ cup

) butter

225g

(

1 cup

) powdered sugar, sieved

210g

(

1 cup

) cream cheese

7.5

ml (1½ tsp) vanilla extract
---
Instructions
Leave the butter to warm to room temperature and cut into cubes. Place the butter in a bowl and beat with a stand or hand mixer on high speed until pale and fluffy, which should take about 2-3 minutes.
Beat the sugar into the butter for 3-5 minutes until well mixed.
Don't forget to scrape the bowl occasionally with a rubber spatula to ensure that all ingredients are blended well together.
Add the cream cheese and any flavouring of your choice to the mixture and beat until fluffy.
Spread, spoon or pipe the icing on cooled down cupcakes.
Prep Time:

15 minutes

Cook Time:

0 minutes

Category:

Dessert

Method:

Mix

Cuisine:

American
Keywords: cream cheese frosting, cream cheese icing recipe, frosting for pumpkin cupcakes, frosting for carrot cupcakes, powdered sugar frosting
save the recipe to your pinterest board