You might think I am crazy, but I am actually one of those people, who prefer creamed cauliflower to broccoli. Cauliflower is sweeter and a tad less bitter than broccoli.
Creamed cauliflower is one of those dishes that make you fill up with warmth. The best way to serve creamed cauliflower as a side dish with meat as the star on the plate.
You can also opt for a complete vegetarian meal and serve creamed cauliflower just as it is. Creamed cauliflower is truly great if you are on a diet and don't want to overeat!
The best part is that this recipe is interchangeable with other vegetables. So try also making creamed leeks.
Cauliflower
Cauliflower is a vegetable that comes all the way from the year 1 A.D. It has been a part of the diet of many civilisations. You might wonder, where and when can I purchase the best type of cauliflower?
There are four types of cauliflower:
Asian – can be biannual and annual.
North Eastern annual – developed in Germany and harvested around fall.
North Eastern biannual – harvested around winter and early spring. If you are in Britain and wanting to grow your own cauliflower, this is the type you should aim for.
Italian – this is the classic type of cauliflower, which can vary in colour.
Cauliflower colours
I am sure that on occasions you have spotted a green or purple cauliflower. Yes, these are just some of the types of cauliflower one can purchase. In fact there are different types of cauliflower:
White – this is the most common cauliflower. You can find it in any local supermarket. This one I used in this recipe, of course.
Green – this one is sometimes called the "broccoflower". No joke. Its sometimes referred to as a cross between broccoli and cauliflower. Many believe that the green cauliflower is in fact much healthier than the white cauliflower.
Orange –this cauliflower is usually found in Canada. I've not come across them yet on British soil.
Purple – the purple cauliflower is more common than the green. You can definitely purchase this in the UK.
Healthy vegetarian dish
As this recipe calls for double cream only, this makes a perfectly fine vegetarian dish. The best thing is, that there is no need to serve this dish as a side, because the richness will fill you up.
There appears to be a knee-jerk reaction whenever cream is mentioned in a recipe, with it instantly being labeled as fattening or unhealthy. The key is moderation…. and keeping things in perspective!
Vegan creamed cauliflower
If you truly wish to make this dish even more healthier and make a vegan version out of it, then you should add soy milk. The soy milk also gives a rich feeling to the dish, but it will probably need a bit more cooking time.
Once the dish is done, you should not sprinkle the breadcrumbs over. This way you can keep the dish fully vegan. Sprinkle fresh herbs on instead.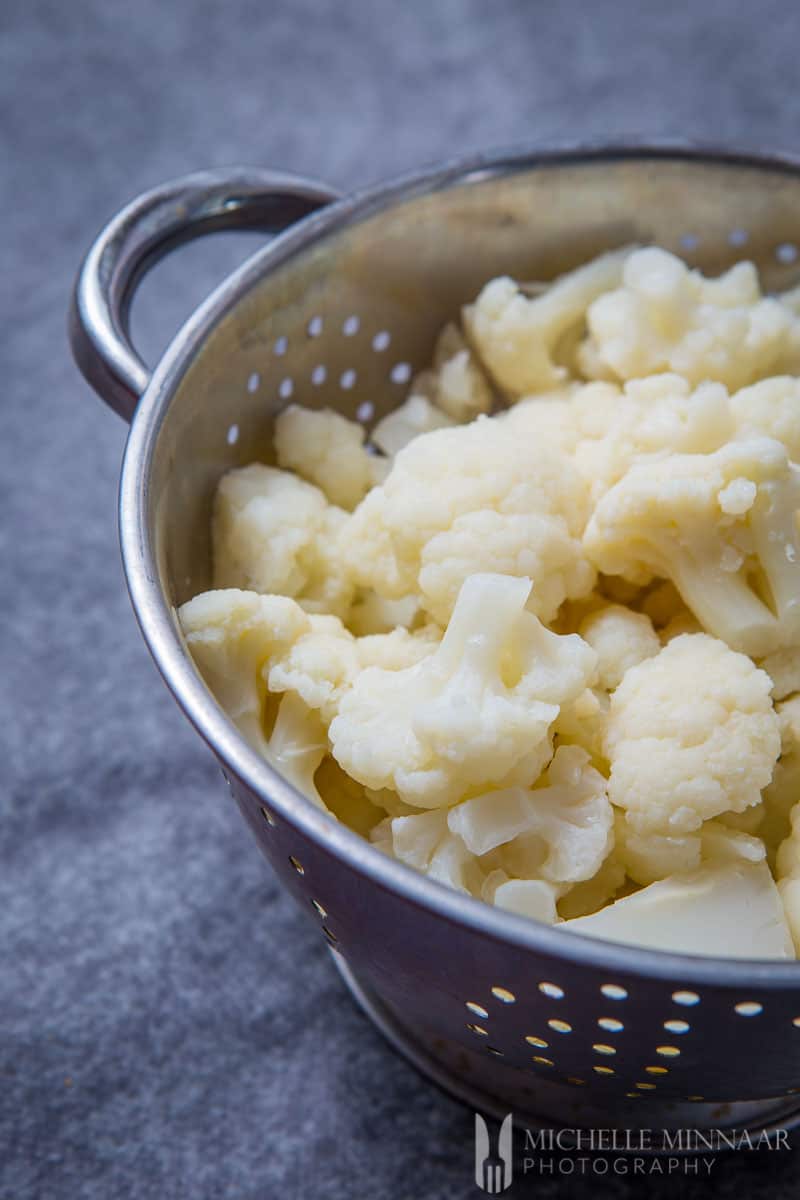 Herbs and Spices
Parsley is a fantastic herb to complement the creaminess of the creamy cauliflower. It will cut through the fatty nature of the sauce and introduce a new texture. You can also add these spices:
Nutmeg: Be careful though. If you add too much it will overpower the dish!
Bay leaf: this works great with cauliflower. If you add black pepper with bay leaf you have got yourself one heck of a dish!
Thyme: one of the more aromatic herbs, but it definitely works with this recipe. If you are a fan of thyme, go for it!
Health benefits
As cauliflower contains lots of fiber, it is beneficial to your digestive system. It also contains lots of antioxidants and vitamins. This is a great dish, full of nutritional value that even your kids won't be able to resist.
If you are on a diet, trying to prepare for the summer, then cauliflower is the vegetable for you. Cauliflower is low in fat and low on carbohydrates. Additionally, it will fill you up with energy for the rest of the day.
Creamy cauliflower as a side dish
Creamy cauliflower can be a great side to a steak or traditional roast beef. It is also very delicious when coupled with pan fried pork. Yum!
Creamy cauliflower is a great substitute for a potato gratin, which is usually served with steak. It has less carbs, less fat and less calories – a great substitute if you want to go for a leaner approach.

Cheesy cauliflower
I don't know about you but I love cheese. In fact, I love cheese so much, I tend to add a pretty hefty layer on this creamed cauliflower recipe.
Don't you love it when the top layer of the cheese turns golden brown like the perfect lasagna? There is no point in missing out on the same feeling with this dish!
If you keep the creamy cauliflower in the over a bit longer, you will be surprised to find a beautiful golden layer on top. You can definitely turn this dish into a cauliflower cheese kind of a recipe.

If you are a fan of creamy delicious dishes, don't miss out and make sure you check out these recipes for more inspiration:
More side dish recipes
Print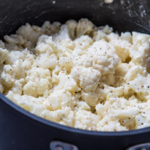 Creamed Cauliflower
---
Author:

Michelle Minnaar

Prep Time:

15 minutes

Cook Time:

20 minutes

Total Time:

35 minutes

Yield:

4

1

x
1

cauliflower, florets only

125

ml (½ cup) double cream

35g

(

1oz

) breadcrumbs [optional]

35g

(

1oz

) grated parmesan cheese [optional]
---
Instructions
Boil the cauliflower for 5 minutes in salted water. Drain.
Heat the cream in a large ovenproof casserole dish.
Add the cauliflower to the dish and mix thoroughly. Season well.
At this point you can serve the creamed cauliflower immediately, or you can turn it into a Cauliflower Cheese kind of a dish.
Heat the oven to its highest setting.
Top the cauliflower with the breadcrumbs and cheese.
Bake in the oven for 10 minutes or until a golden crust has formed on top.
Notes
Serve with a green salad or as a side dish.
Nutrition
Serving Size:

1 serving

Calories:

151

Sugar:

2.7 g

Sodium:

51 mg

Fat:

11.4 g

Saturated Fat:

7.8 g

Carbohydrates:

9.8 g

Fiber:

1.9 g

Protein:

2.8 g
save the recipe to your pinterest board