Crunchie cheesecake is for those addicted to Crunchie bars! It is a luscious and chocolatey cheesecake recipe that will be a family favourite. The best part is, that it gives you an opportunity to integrate lots and lots of Crunchie chocolate bars on top for extra crunch.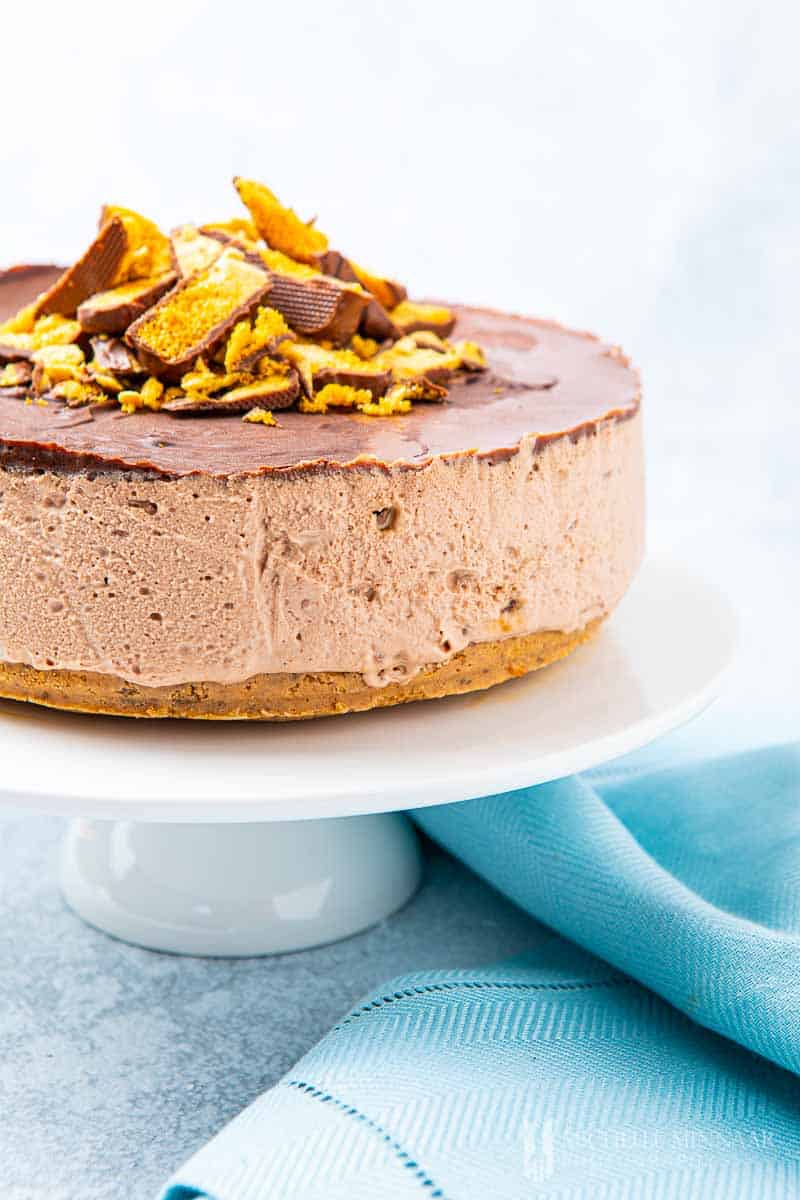 Together, it's a wonderful contrast of flavours that makes eating this Crunchie chocolate cheesecake a memorable experience.
In addition, this Crunchie cheesecake is a completely no bake cheesecake recipe. All you need to do is assemble the ingredients into the cheesecake form and wait a couple of hours for your cake to set.
Trust me, this is the hardest part. However, the wait is totally worth the end result because, overall, this cheesecake is perfection! Enjoy.
Crunchie cheesecake recipe
Not only will you fall in love with this Crunchie cheesecake recipe, you'll see just how easy it is to make a cheesecake from scratch. Once you start making cheesecakes at home, you'll never stop.
Crunchie chocolate bars are the main ingredient for completing this recipe. As this is the case, I recommend buying a large batch. You'll never know if you'll get hungry throughout the cook!
Sometimes, I find myself snacking on chocolate bars (with which I have to cook with). It is only at a later stage I realise that I've actually run out of the essentials to complete my dessert. A real dilemma!
If you are not a lover of Crunchie chocolate bars, you can use other types of chocolates. Also, you can change your cheesecake completely. Take inspiration from these cheesecake recipes that are also very tasty:
Apart from making this no bake Crunchie cheesecake, you can also give regular cheesecakes a go. For instance, try these:

top products you need for this Crunchie cheesecake
Here's a list of the top things you need to make this delicious Crunchie cheesecake recipe. Take a look below:
easy cheesecake recipe
Whenever I think of a cheesecake, it's all about getting the filling right. The filling of the Crunchie cheesecake is very important. I always recommend using the top and freshest ingredients.
For instance, this Crunchie cheesecake recipe calls for using vanilla paste (which is a paste of fresh vanilla beans). If you want to stick to the paste, I suggest purchasing a premium jar of vanilla paste. Otherwise, you can also use vanilla extract, which is also made in a natural way.
Whereas, vanilla essence is made using chemicals. To learn more about the differences between these vanilla products, check out this article on the differences  between vanilla essence vs vanilla extract.
Another integral part of getting the filling to take on a silky smooth consistency is the sugar. By all means use a softer version of granulated sugar.
Sometimes, you can come across sugar that has a very firm crystal structure. This can lead to the creation of lumps. If your granulated sugar is too rough, you'll need to mix the cream cheese filling longer.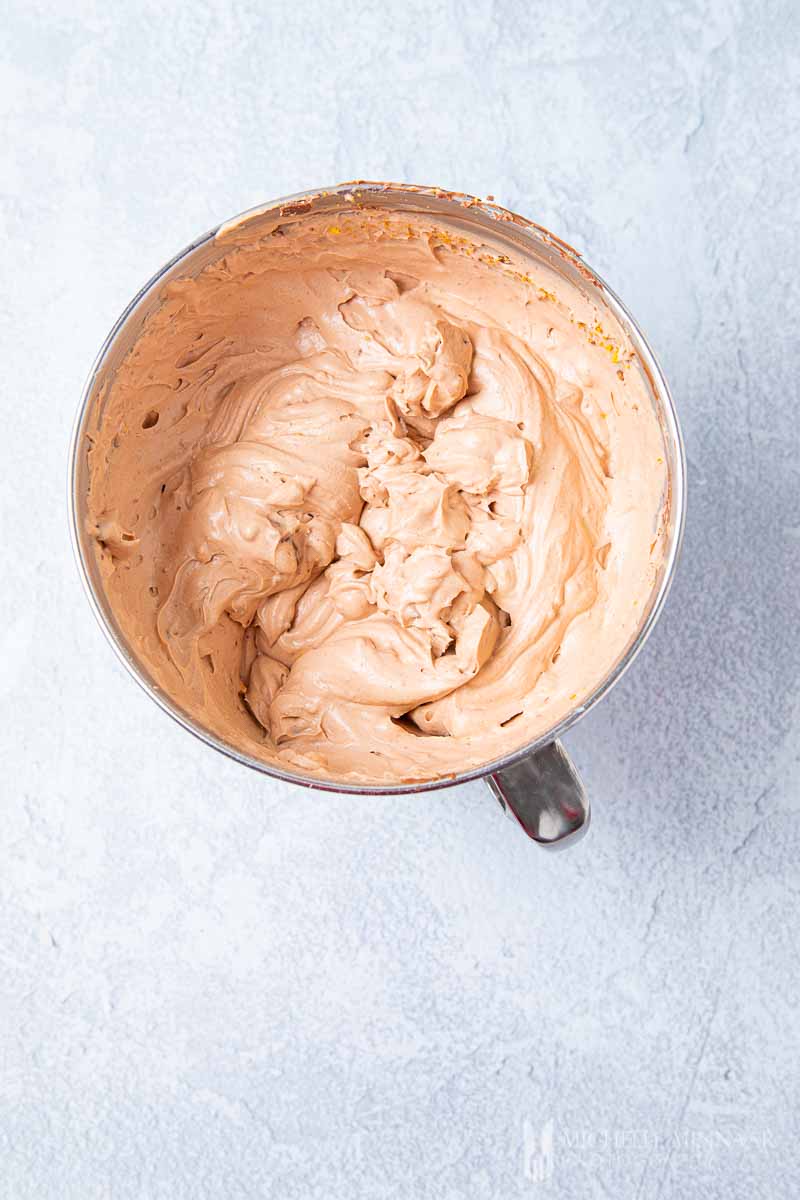 best toppings for Crunchie cheesecake
For my Crunchie cheesecake, I've used bashed homemade honeycomb as well as Crunchie chocolate bars. In essence, a Crunchie cheesecake wouldn't be complete if it doesn't have the Crunchie chocolate bars.
You can also inspire yourself with this Toblerone cheesecake, this Maltesers cheesecake or this Aero Mint cheesecake. They all use the hero ingredient as a topping.
Still, you can use other types of chocolate. For example, you can go for dark chocolate, milk chocolate and white chocolate. If you would prefer a less significant bite, then shave/grate the chocolate first. Sprinkle the chocolate shavings all over.
Other toppings which also work very well with this Crunchie cheesecake include:

how to serve a no bake cheesecake
First of all, once you are finished with your Crunchie cheesecake, you cannot serve it immediately. You have to allow some time for the cheesecake to solidify.
Otherwise, if you cut a slice of the cheesecake too early, you will see your beautiful slice of cheesecake fall apart right in front of your eyes. At times, after this happens, a cheesecake can become very unappetising.
Therefore, allow your cheesecake to set for a couple of hours. I recommend a minimum of six hours in your fridge with a cold setting. For best results, just leave the cheesecake in the fridge for 12-20 hours (or overnight). This way, the flavours of the Crunchie cheesecake layers will fuse together and you'll have a more enjoyable bite.
Just remember, put toppings on your cheesecake only after you allow your cheesecake to solidify in the fridge. If you put some heavier toppings on the Crunchie cheesecake prior to placing the cake in the fridge, some toppings can sink in.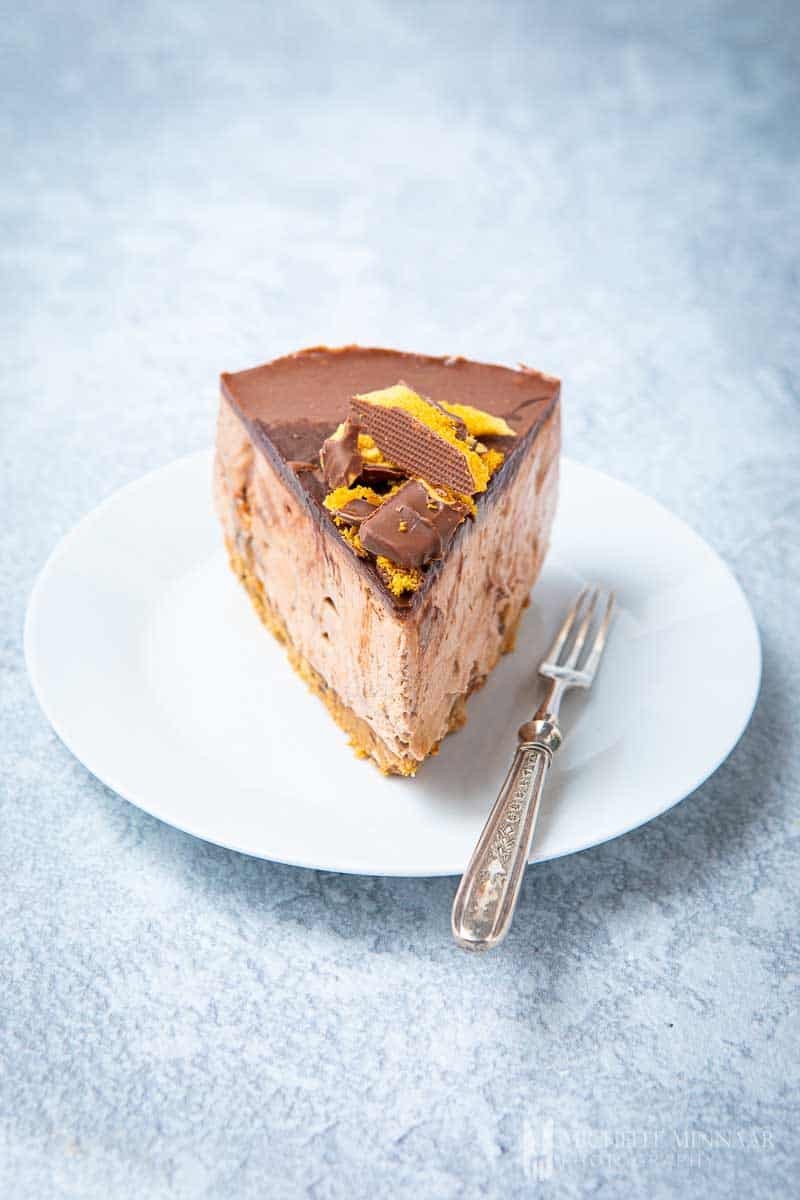 How would you enjoy your Crunchie cheesecake? Would you share a slice or keep the whole cheesecake for yourself? Let me know in the comments section below.
GIVEAWAY
This week one lucky reader will win a luxurious chocolate bundle from Lir just in time for Christmas!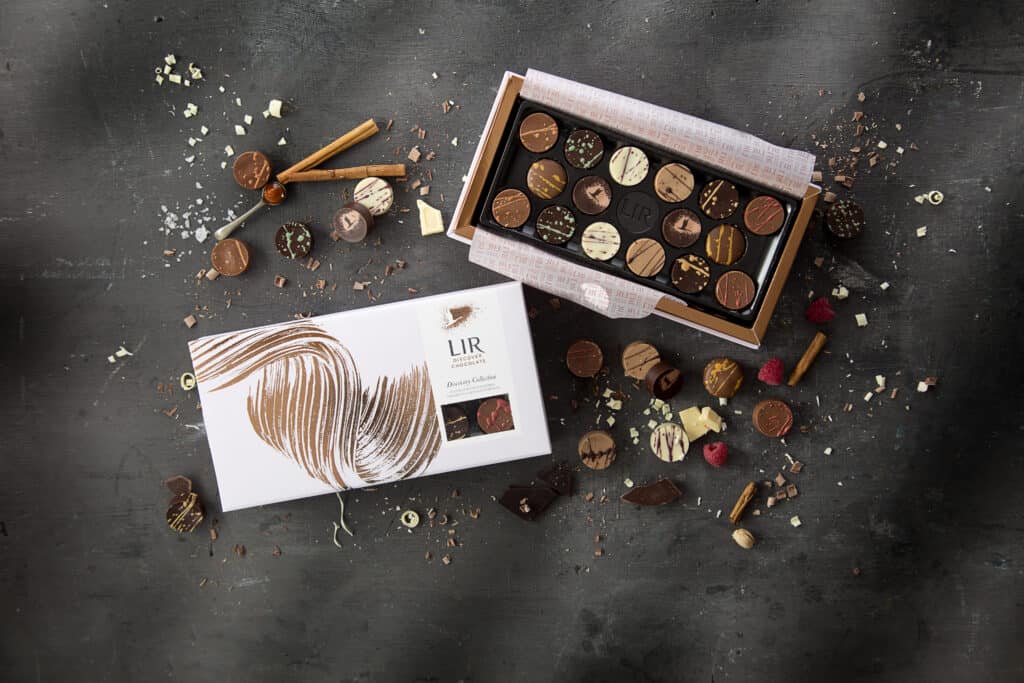 This Christmas, I'm teaming up with Lir Chocolates to give one lucky reader the chance to win a bundle of beautifully decadent handmade chocolates worth £50!
The winner will receive two Discovery Collection boxes, three boxes of Truffles and one Dessert Collection box. The Discovery Collection features 16 mouth-watering chocolates in eight luxurious flavours including Praline, Coffee and Salted Caramel. Just as delicious are the Chocolate Truffles, a combination of a crisp chocolate shell encasing a silky-smooth ganache centre. You'll be spoilt for choice as this bundle includes all three indulgent truffle flavours: milk chocolate, dark chocolate and champagne. Completing this cocoa-tastic prize set is Lir's Dessert Collection, which is made up of mini chocolate-based versions of classic desserts such as Chocolate Brownie or Crème Brulee – the perfect after dinner treat to curl up by the fire with.
Lir was first conceived in 1987, when two entrepreneurial women – Connie Doody and Mary White – as they sat at a kitchen table in Dublin with a food mixer and a bowl. Through the years, a spirit of adventure has made Lir Chocolates a leading producer of premium chocolates. Find out more about the brand here www.lirchocolates.com 
Entering is easy, just follow the instructions below.
HELP
If you're viewing this post by email, please come to the actual webpage to enter.
Competition Question: 
What is your favourite type of cheesecake?
Print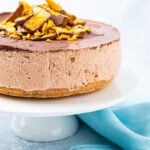 Crunchie Cheesecake
---
Author:

Michelle Minnaar

Prep Time:

1 hour

Cook Time:

15 minutes

Total Time:

1 hour 15 minutes

Yield:

18

1

x
Description
One of the main ingredients you'll need to make this Crunchie cheesecake are Crunchie chocolate bars.
---
Scale
Ingredients
Biscuit Base
400g

(1lb) dark chocolate digestive biscuits

200g

(½lb) butter
Cheesecake Filling
325g

(11½oz) milk chocolate

750g

(1⅔lbs) cream cheese

175g

(8oz) icing sugar

7.5

ml (1½ tsp) vanilla paste

400

ml (⅔ pt) double cream

210g

(7oz) Crunchie bars, chopped
Topping
175g

(6oz) milk chocolate

100

ml (4oz) double cream

3

Crunchies, chopped
---
Instructions
For the Biscuit Base: Crush the biscuits in a sealable plastic bag with a rolling pin until everything turns into crumbs.

Mix the butter with the crumbs.

Spoon the mixture into the base of a 23cm (9in) springform cake tin and level with the back of a spoon.

For the Cheesecake Filling: Melt the chocolate. See Notes.

Whisk the cream cheese, vanilla and sugar until combined. 

Continue to whisk until all the cream is gradually poured in.

Continue whisking while slowly pouring in the melted chocolate. 

Fold in the Crunchies.

Transfer the filling to the tin and spread evenly over the biscuit base.

Chill in the fridge for at least 2 hours. 

For the Chocolate Topping: Heat the cream in the pan, then stir in the chocolate until smooth. 

Let the chocolate sauce cool down a bit before pouring it evenly over the cheesecake filling layer. Smooth the surface.

Chill the cheesecake for at least 6 hours, but preferably overnight.

Top with Crunchies and serve. Enjoy!
---
Notes
There are two ways you can melt the chocolate for the cheesecake filling. Firstly, you can do it in a bowl over a pan of simmering water. Or, you can give it short zaps in the microwave until everything is melted, giving it a stir in between.
Category:

Dessert

Method:

Chill

Cuisine:

British
Keywords: crunchie cheesecake, no bake cheesecake recipe, crunchie recipe, no bake crunchie cheesecake