Why not show your mums how much you love them with making these Mother's Day cupcakes? Are you planning something special for this upcoming Mother's Day? I've always felt, that delicious sweets not only bring warmth to our tummies but also give a certain warmth to our hearts as well. Undoubtedly, these will generate a smile and send a signal of appreciation to all the amazing mums who taste them.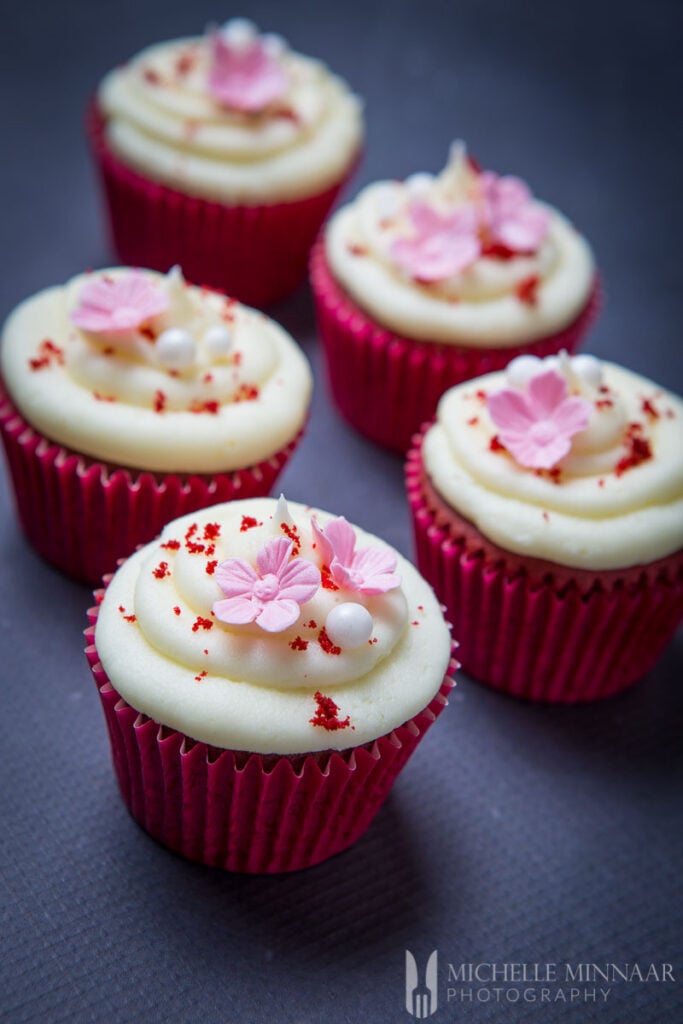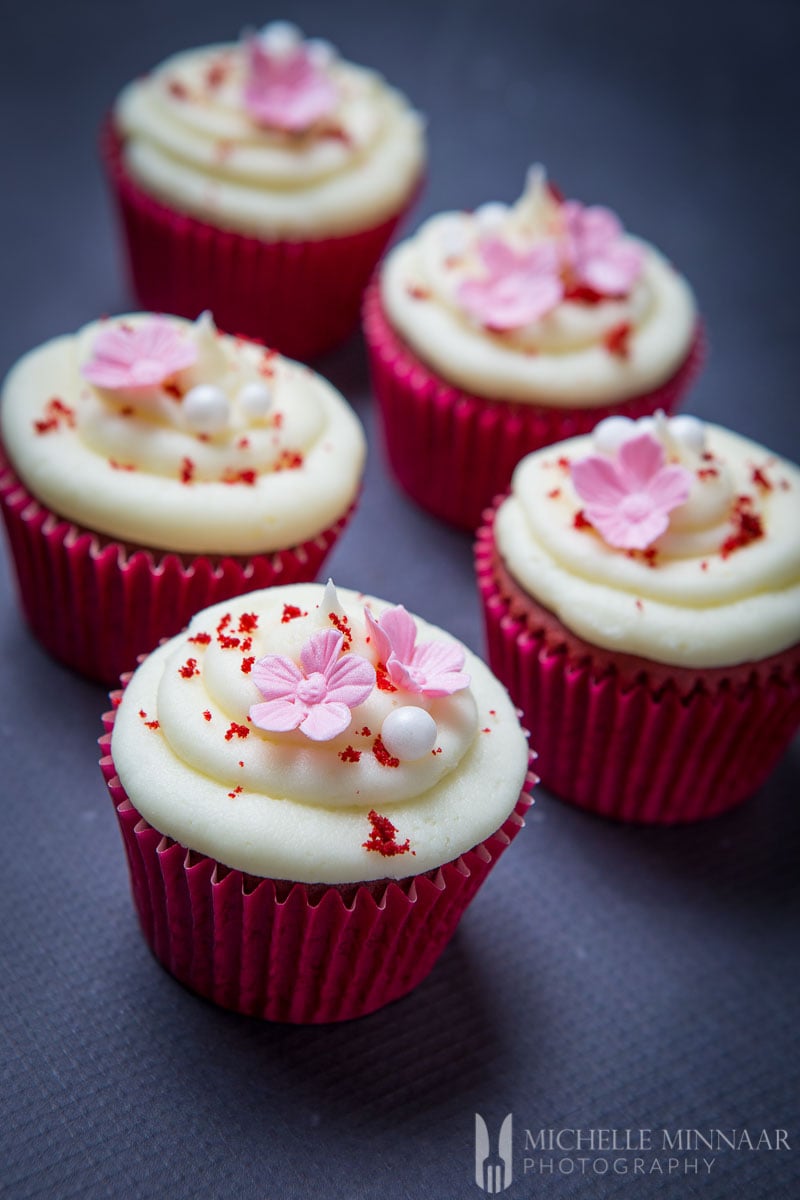 Is baking and decorating not your strongest suit in the kitchen? Thank goodness there are professional cake decorators who specialise in hand-crafting beautiful cakes, like Finesse Cakes. Finesse Cakes believes that cakes make a wonderful addition to any occasion.
Once I saw cupcakes from Finesse Cakes, created and decorated by Sue, it was clear that she was in in a league of her own. Just take a look at the careful craftsmanship of the icing flowers HERE. These flowers, created by Finesse Cakes are so beautiful, they even look real! You can purchase icing flowers separately on Finesse Cakes, if you feel like trying your hand at decorating cakes yourself.
What I love about Finesse Cakes is the vast range of flavours they offer. Your Mother's Day cupcakes don't necessarily have to include a red-velvet sponge or a traditional sponge with red colouring. You can also choose cupcakes any of these flavours:
Simply sponge
Chocolate and chocolate chips
Chocolate orange
Raspberry and white chocolate chip
Cherry and coconut
Lemon
Strawberries and champagne
Light fruit
Minty choc
Gluten free- very handy for people you suffer with gluten intolerances
Or your favourite recipe – just make sure to share in advance.
For more inspiration, take a look at Finesse Cakes on Pinterest.
Mother's Day
Mother's Day is a popular holiday in various cultures around the world. More importantly, us Britons, send out the usual Mother's Day card. Did you manage to send yours last year? Imagine, that in some cultures, it's not very common to do that. In eastern Europe, flowers are generally the traditional gift. In the United States, daughters or sons generally purchase specific gifts or chocolates for their mums. I think it's a great idea to start a new tradition and bake beautiful Mother's Day cupcakes.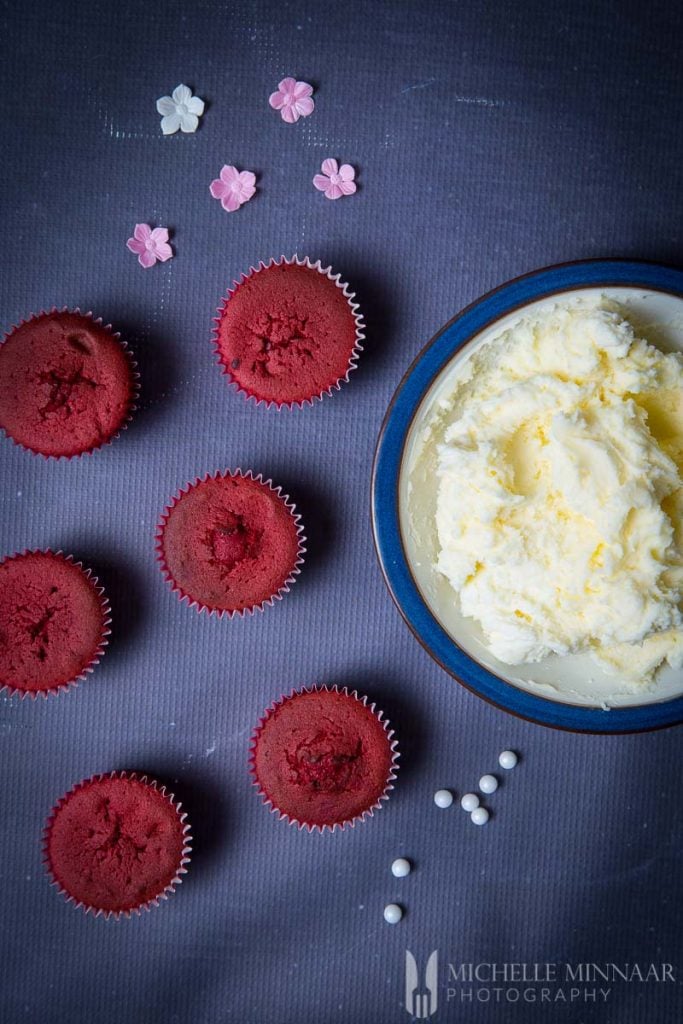 History
Some people have suggested, that Mother's Day has early Roman or Greek roots. Others have argued that the origins of Mother's Day comes from Christianity. As a result, the fourth Sunday of Lent – known as the day to honour the Mother of Christ, became the day to celebrate our mums. Nonetheless, critics from the United States claim, that a lady called Anna Jarvis is to thank, for inventing this holiday. Anna Jarvis strongly believed that mothers should be celebrated in all aspects. She was an activist and a social worker, striving to make this holiday known worldwide. Believe it or not, but in 1914, the president of the United States (President Woodrow Wilson) signed a resolution declaring Mother's Day a national holiday every May. Perhaps we should make a holiday of our own. What type of holiday would you ask for? Please leave a comment.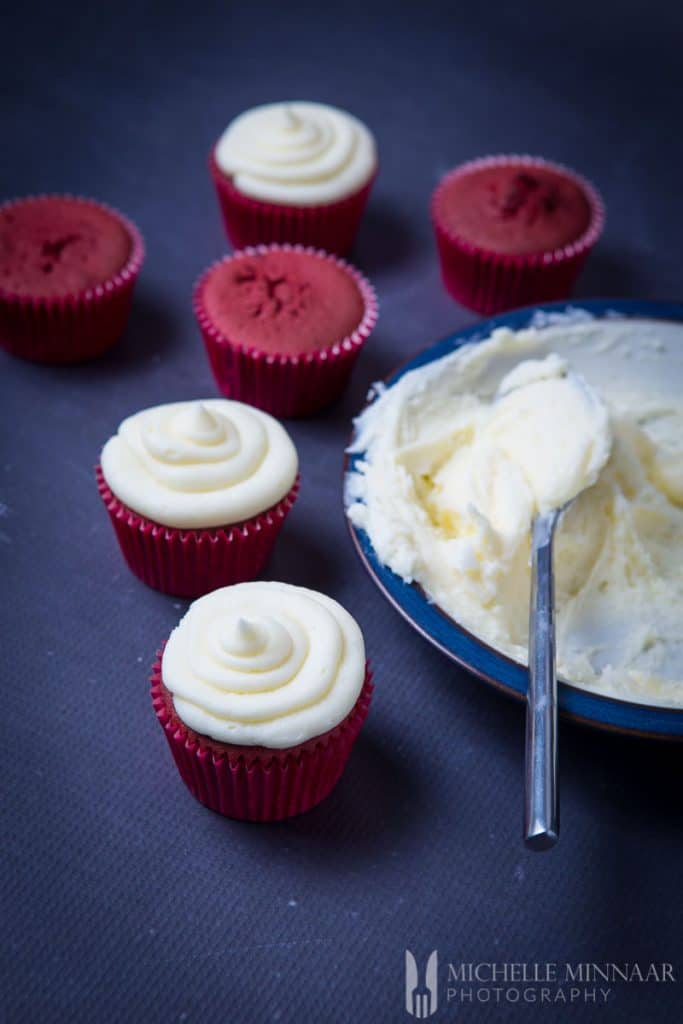 Your gift
What did you get your mum? Card, flowers, chocolate or scented candles? I guarantee you, once your mum sees your Mother's Day cupcakes, she will appreciate your effort of even making them. Eat your sweet bakes with your mum with a side of coffee. Your presence along with deliciously sweet Mother's Day cupcakes is the best gift a mother could ever ask for.
Practical information
Don't fear the red batter. This batter is just as easy to make as any other cupcake batter you've made in the past. Before I get into explaining the details, first, did you select your favourite cupcake pan? Every baker has one! Second, make sure that your cupcake pan isn't too deep or wide. Otherwise you'll end up with ginormous cupcakes rather than delicate and colourful Mother's Day cupcakes. Next, gather all your ingredients and mix them accordingly. I gave away great tips and tricks in my drizzled lemon curd cupcakes recipe.
You will find practical information on portioning, and mixing your batter in a way, so that the mixture is as fluffy and soft as possible - the secret lies in the eggs. Indeed, it's very easy to overwork the batter, and if you do, you'll immediately lose that moisture out of the cupcakes. Be careful!
That being said, make sure that you set your mixer on low. You can also use a fork or a spatula to mix all the ingredients together. It will not affect the texture of the mixtures. Just mix gently with care.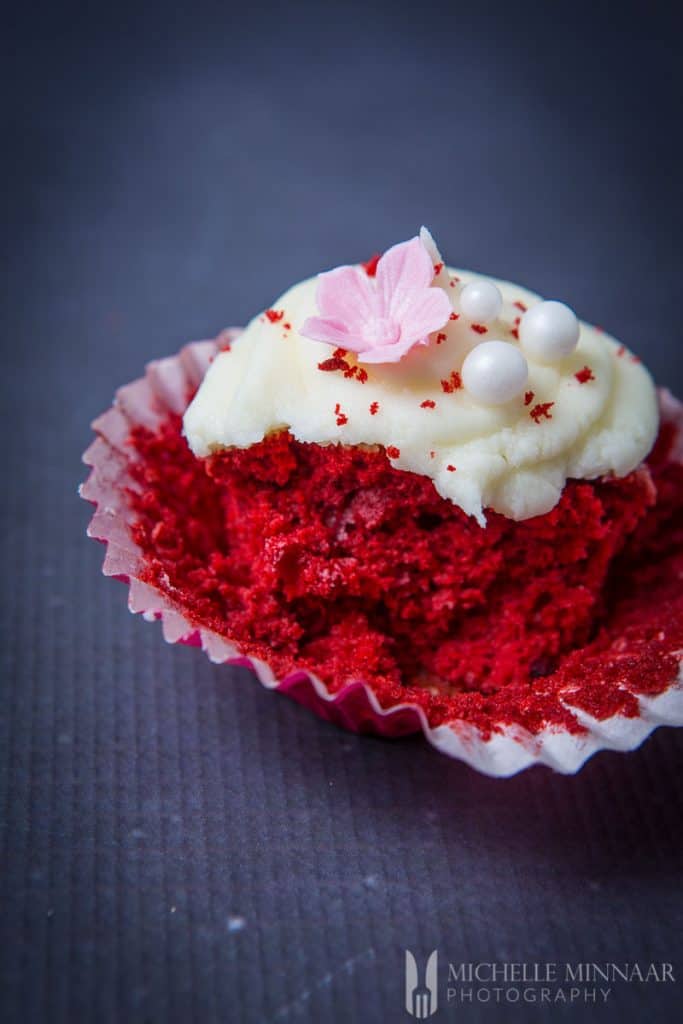 Butter or margarine
Basically, this is a common dilemma that even the most talented and experienced cupcake bakers face. The never-ending question somehow always pops up – should I use the butter or is margarine better? Margarine is slightly healthier than the butter. It's composed of unsaturated good fats, as it's made for vegetable oils. However, a chemical process is used to make margarine. In addition, if I compare the two in terms of baking, margarine tends to create loose batters that might burn slightly faster than the batters created with butter. Moreover, if the main ingredient should be fluffy and moist, definitely go for the butter! Thus, with butter's high fat content, the mixture will be moister and your Mother's Day cupcakes will turn out flawless.
Red cupcakes
Mother's Day cupcakes are red as they represent the colour of love. They are pretty much red velvet cupcakes. Simply add the red colour paste or gel into the batter. You won't need to worry about mixing the paste or liquid into the batter immediately. It will all happen on its own as you add the other ingredients. If you like to have fun and enjoy colour, you can make multiple batches with different colours. I highly recommend making pink cupcakes. They are just wonderful to look at and don't seem so daring. You can also try making pink cupcakes without the addition of food colourants. You can find is an excellent raspberry and white chocolate cupcakes here.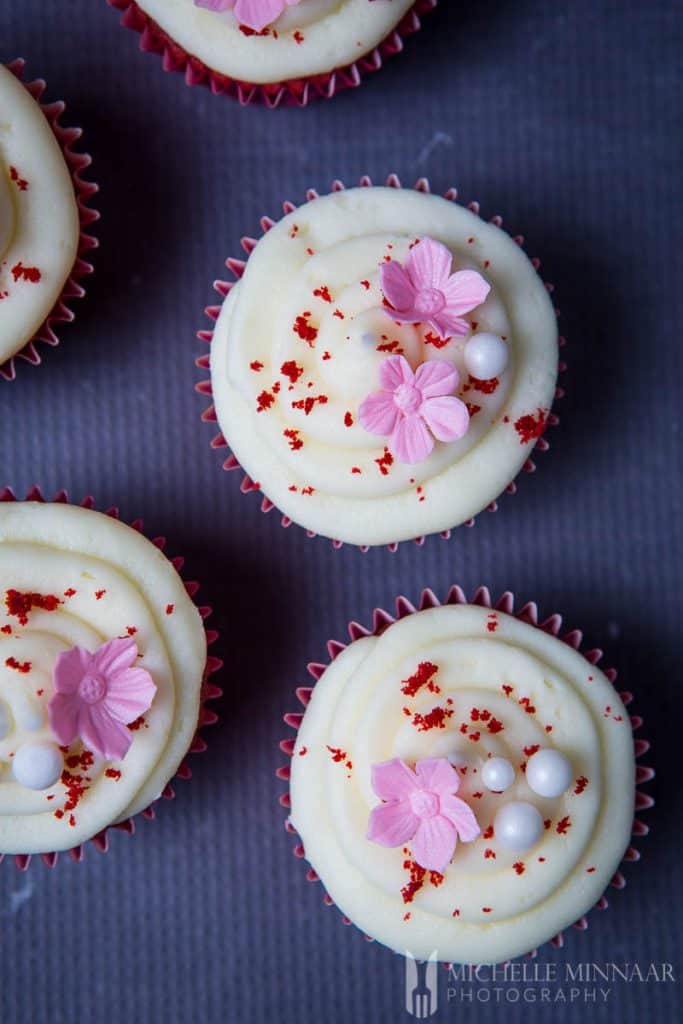 Icing
Do you love icing? I have a great trick to making your icing beautiful. Add three colours of icing into the icing bag and just let your creative side shine. With this technique, you can fool anyone that your Mother's Day cupcakes were created by a professional! This cool technique was used in this Creme Egg Cupcake recipe.
Toppings
As you can see, little flowers and bits of cake crumbs were used as decorations to create that elegant effect of special Mother's Day cupcakes. You can also use sugar pearls and sprinkles. If you're planning on eating the cupcakes quickly, you can even top the sponge with ice cream instead of icing!
You can also find more cupcake recipes:
https://www.greedygourmet.com/recipes-by-dish/chocolate-orange-cupcakes/
https://www.greedygourmet.com/recipes-by-dish/salted-caramel-cupcakes/
https://www.greedygourmet.com/recipes-by-cooking-times/30-to-60-minutes/raspberry-and-white-chocolate-cupcakes/
https://www.greedygourmet.com/recipes-by-cooking-times/30-to-60-minutes/carrot-cupcakes-with-vanilla-buttercream/
https://www.greedygourmet.com/recipes-for-diets/vegetarian/creme-egg-cupcakes
How do you treat your mother on Mother's Day?
Print
Mother's Day Cupcakes
---
130

g

(4 1/2oz) self-raising flour

130

g

(4 1/2oz) caster sugar

130

g

(4 1/2oz) butter or margarine

2.5

ml

(1/2 tsp) baking powder

2

large eggs
Red food colour paste or gel

125

g

(4 1/2oz) cream cheese

250

g

(9oz) icing sugar

50

g

(2oz) unsalted butter
---
Instructions
Preheat oven to 175°C/350°F/gas mark 4 and place appropriate number of muffin cases in a muffin tray.
Measure out butter and sugar into same bowl and cream together until well mixed and turns lighter in colour.
Take a small scoop of the red food paste, about the size of a pea, and add to the mixture.  Don't worry about stirring in at this stage as the colour will incorporate as you mix in the eggs and flour.
Measure out flour into a separate bowl and add the baking powder. Gently stir together.
Add 1 egg to the creamed butter and sugar along with a tablespoon of the flour and mix well. Repeat this part of the process 1 egg at a time to give a lighter mix.
Gently fold in the remaining flour, and add a little more red food paste if necessary to achieve the desired depth of colour.
Scoop mixture into cases, about half-full. An ice cream scoop is very handy for doing this.
Place the mixture in the oven for approximately 15-20 minutes. Check after 15 minutes to see if cooked. Cakes will be cooked when they are springy and return to shape when lightly pressed on top.
For the cream cheese frosting, soften the butter.
Carefully add icing sugar to avoid clouds of icing dust along with the cream cheese.
Mix until fully incorporated and frosting becomes whiter and a little fluffy. You can do this by hand but a mixer makes it much easier – just keep the mixer on a slow speed.
Before icing, slice a little section off a couple of the cupcakes and reserve for later or create little wells in the tops of each cake using an apple corer. Using a large plain nozzle, pipe swirls of the frosting icing onto the cakes.
Decorate with a few cake crumbs from the tops of the cupcakes to create pretty red sprinkles. You can also add icing pearls, sugar crystals or even a little icing flower if you want.
Notes
Don't let that incredible cream cheese frosting go to waste if you find you have lots leftover, check out my guide on freezing cream cheese frosting to ensure it's ready for that next fantastic recipe!
Prep Time:

60 minutes

Cook Time:

20 minutes
Nutrition
Serving Size:

1 serving

Calories:

287

Sugar:

31.3 g

Sodium:

106 mg

Fat:

13.4 g

Saturated Fat:

8.1 g

Carbohydrates:

40.3 g

Protein:

3.1 g

Cholesterol:

66 mg
save the recipe to your pinterest board