Mushrooms on toast is the perfect breakfast dish for vegetarians. However, I think you can enjoy this mushroom toast recipe at any time of day.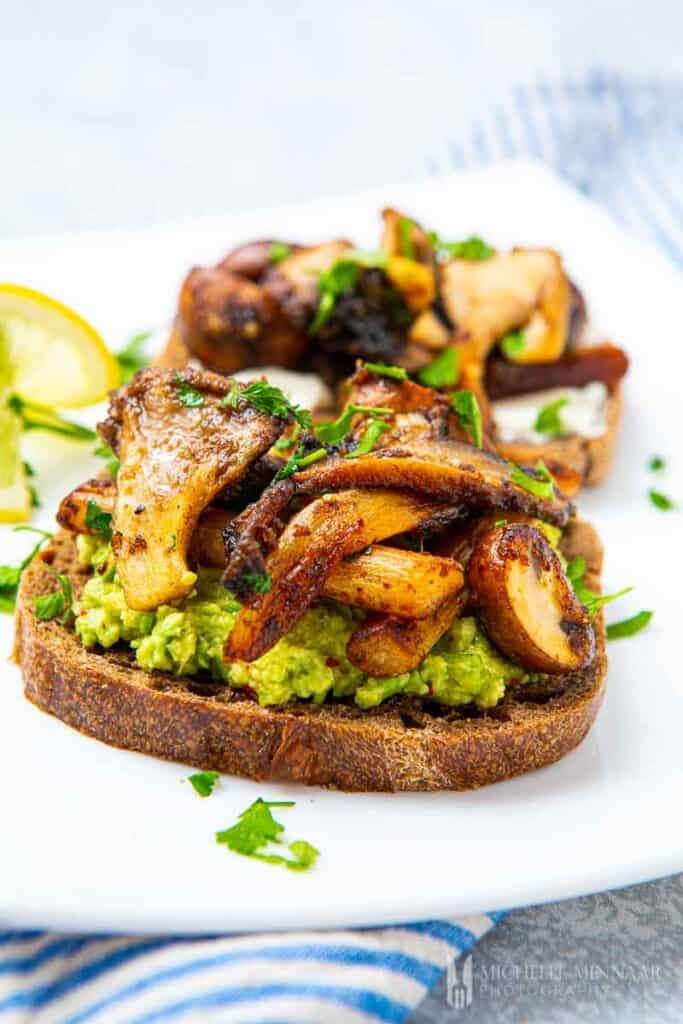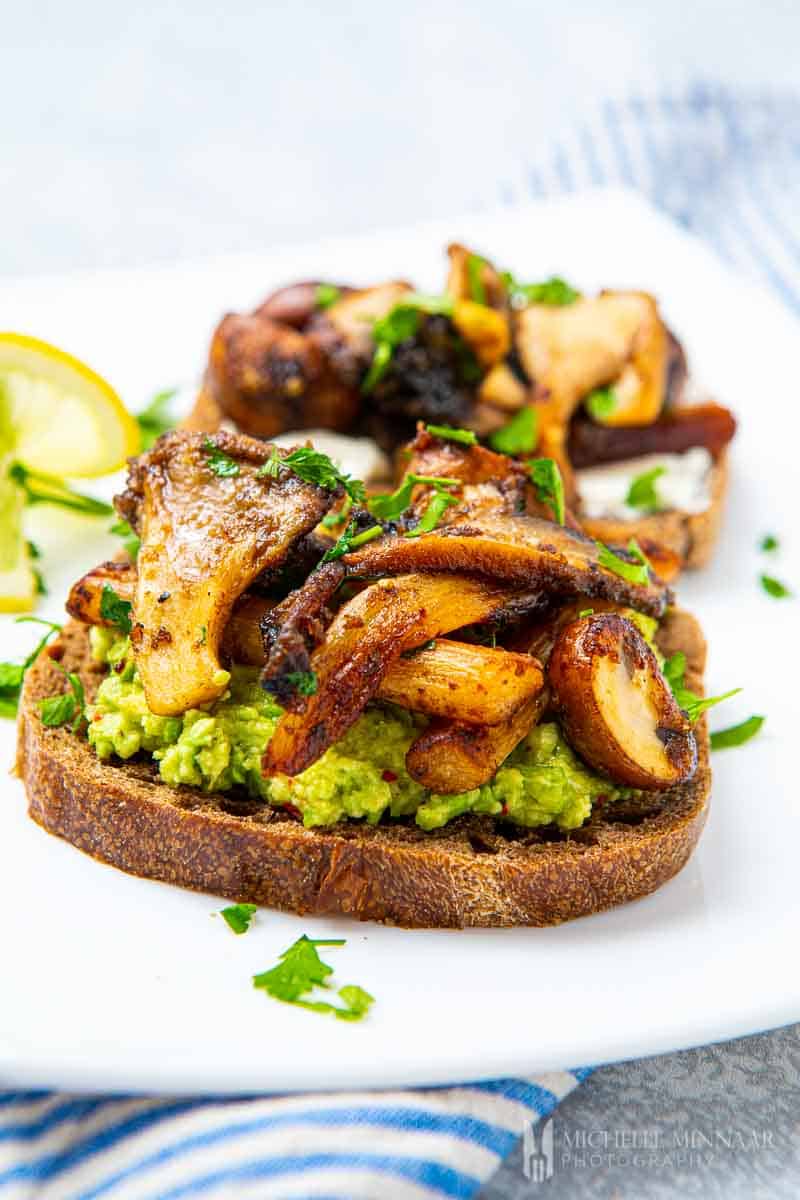 Thoroughly browned mushrooms in butter or oil release that fabulous earthy flavour that goes so well with a piece of toast. What's best, you can practically use any type of mushrooms for this mushroom on toast recipe.
However, what's important to make this recipe complete is the type of bread you select! I recommend you pair this mushrooms on toast recipe with a Jason's Ciabattin®, and make this small dish gourmet-worthy. You'll want to eat it no matter what time of day it is!
Mushrooms on toast with Jason's
Having baked bread over four generations, Jason's produces one of the best breads in Britain. The master baker behind all of this is Jason Geary, who has lovingly crafted and refined generations-old recipes to make fabulous rustic bread.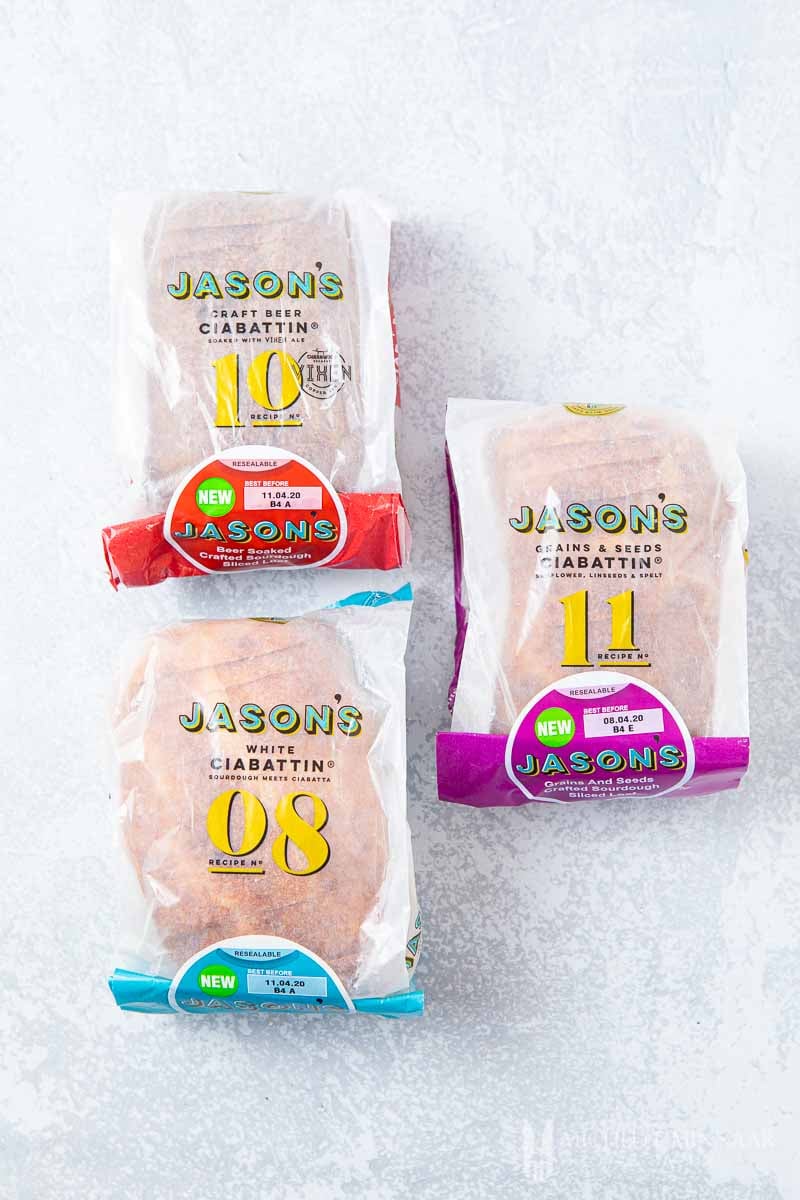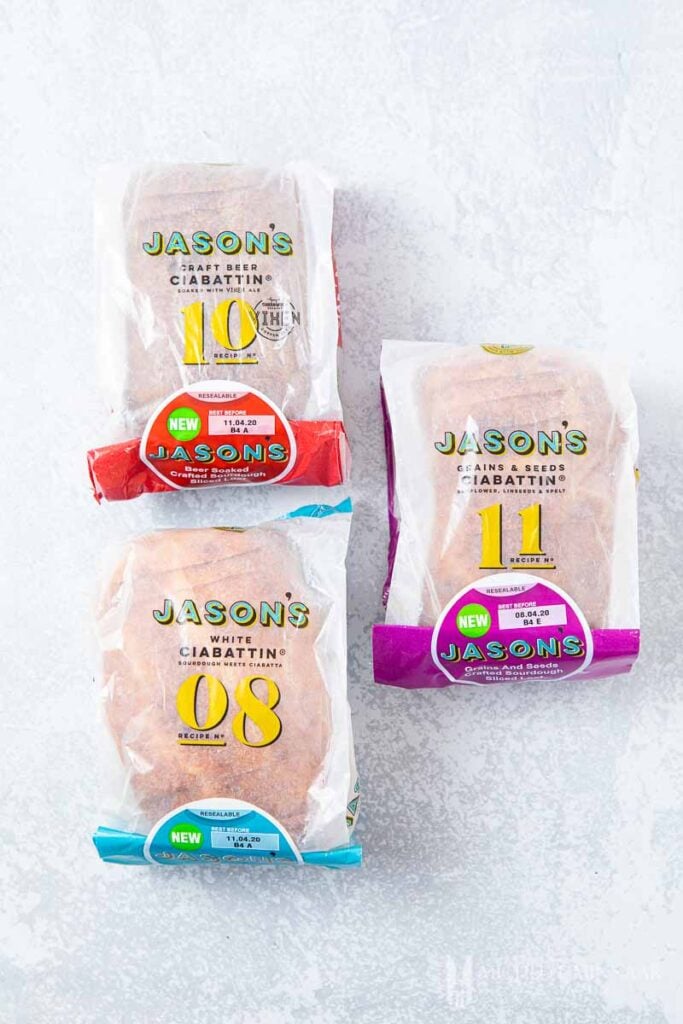 Following Jason's slow-proved baking process, the end result never wavers on quality, taste or craftsmanship. The final reward is the unique Ciabattin. There are three varieties of the Ciabattin® which you simply must try!
08 White Ciabattin®- makes the perfect toast
Grains & Seeds Ciabattin® - with a seeded texture and baked with spelt, it makes the perfect alternative to the classic Ciabattin®
Craft Beer Ciabattin® - made with local craft beer, which adds a rich, hoppy taste.
I've had a chance to sample all three, and they are fantastic. Each has its own unique taste and one can really appreciate the different ingredients which were selected to make the Ciabattin®. It only took me a couple of minutes to munch on these and imagine which recipes I can make.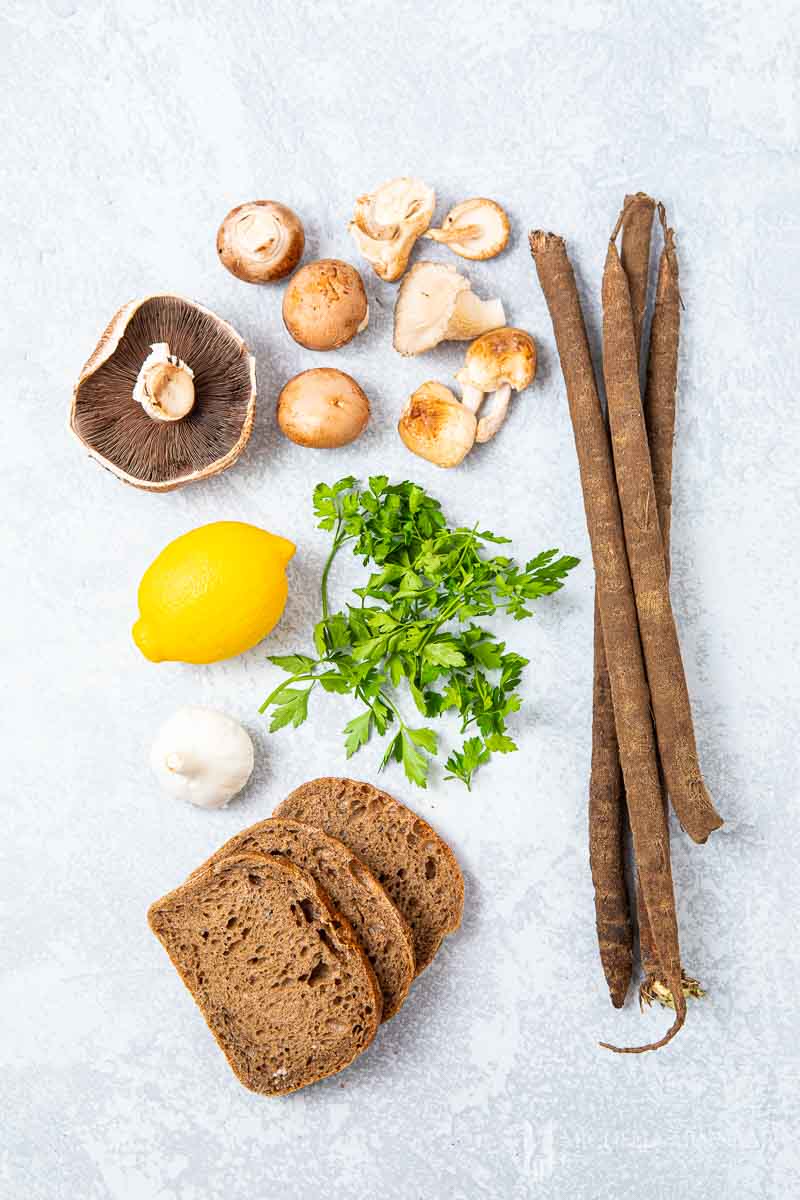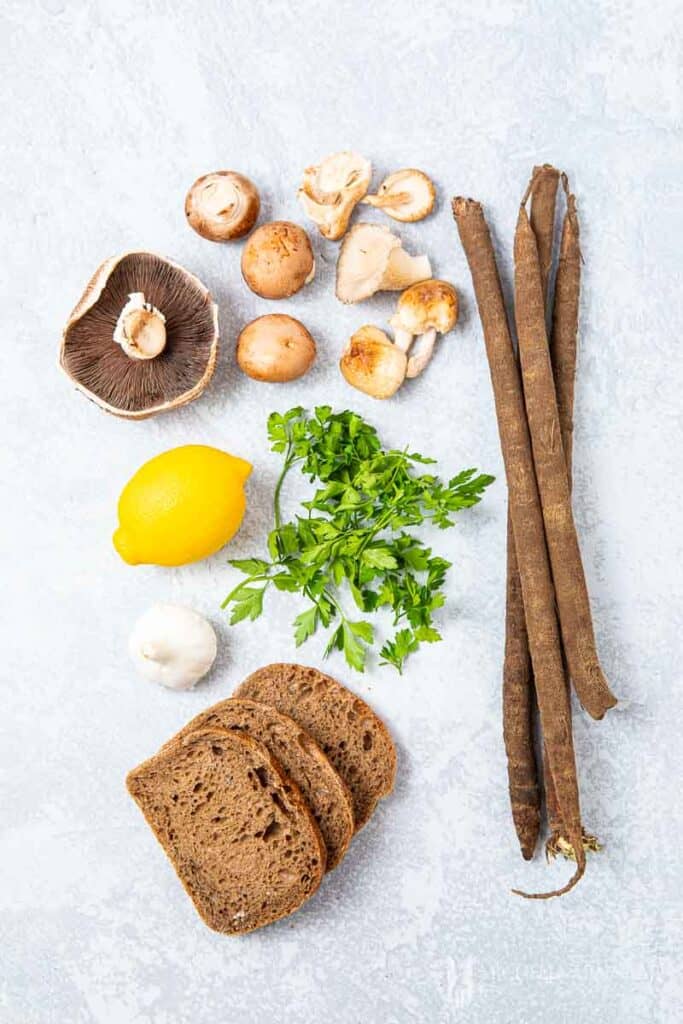 For instance, I could easily imagine pairing the 08 White Ciabattin® with my oeufs en cocotte recipe. If you've got some of the Ciabattin® to spare, try making my savoury French toast on the next day. Another one of my delicious breakfast recipes!
How to cook a mushroom?
Mushrooms are an excellent ingredient to cook with as the preparation and cooking times are relatively low with this type of recipe.
To get the perfectly coloured and cooked mushroom, spread them out on the pan. Add a hint of oil or butter. Apply a bit of salt. Make sure that there is enough space between each mushroom. This enables them to brown and cook evenly. As Julia Child once said, don't crowd them, otherwise you won't get that stunning brown colour.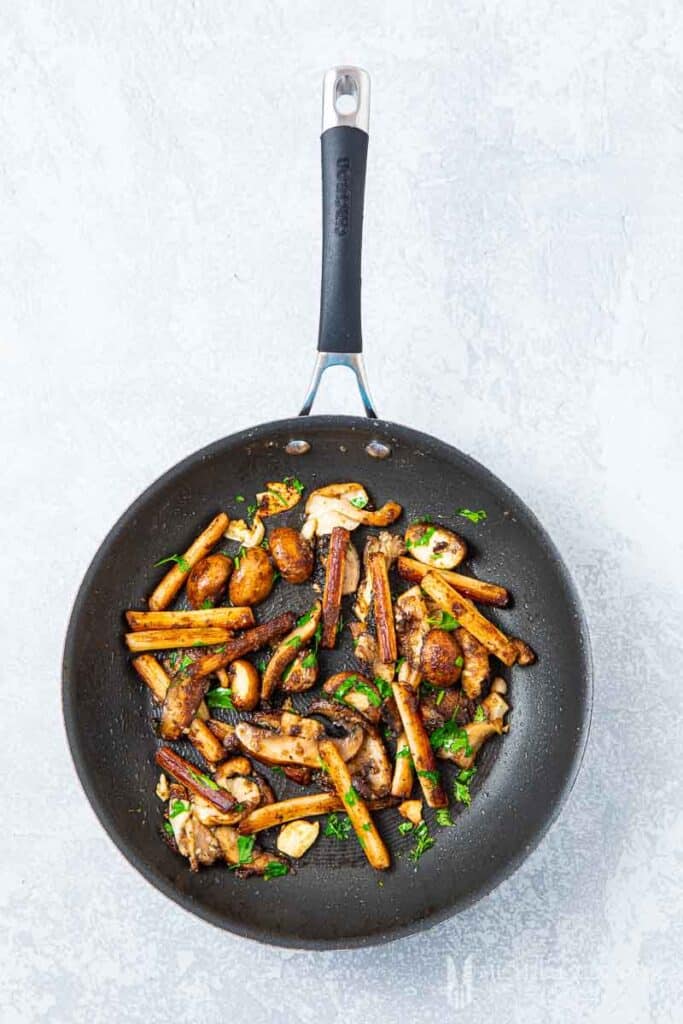 So it's very important you spread them throughout the pan. The cooking process will only take a couple of minutes.
If you are making a larger batch, then you have to remove them each time they're ready, and start again with the remaining ingredients until they're all cooked.
I recommend investing in a larger pan to save yourself a bit of time. So, make sure you've got one at home.
Next, if you're looking for the perfect type of mushroom to serve on toast, try these:
porcini
portobello
button
chestnut
shiitake
oyster
Which one will you go for to enjoy your mushrooms on toast?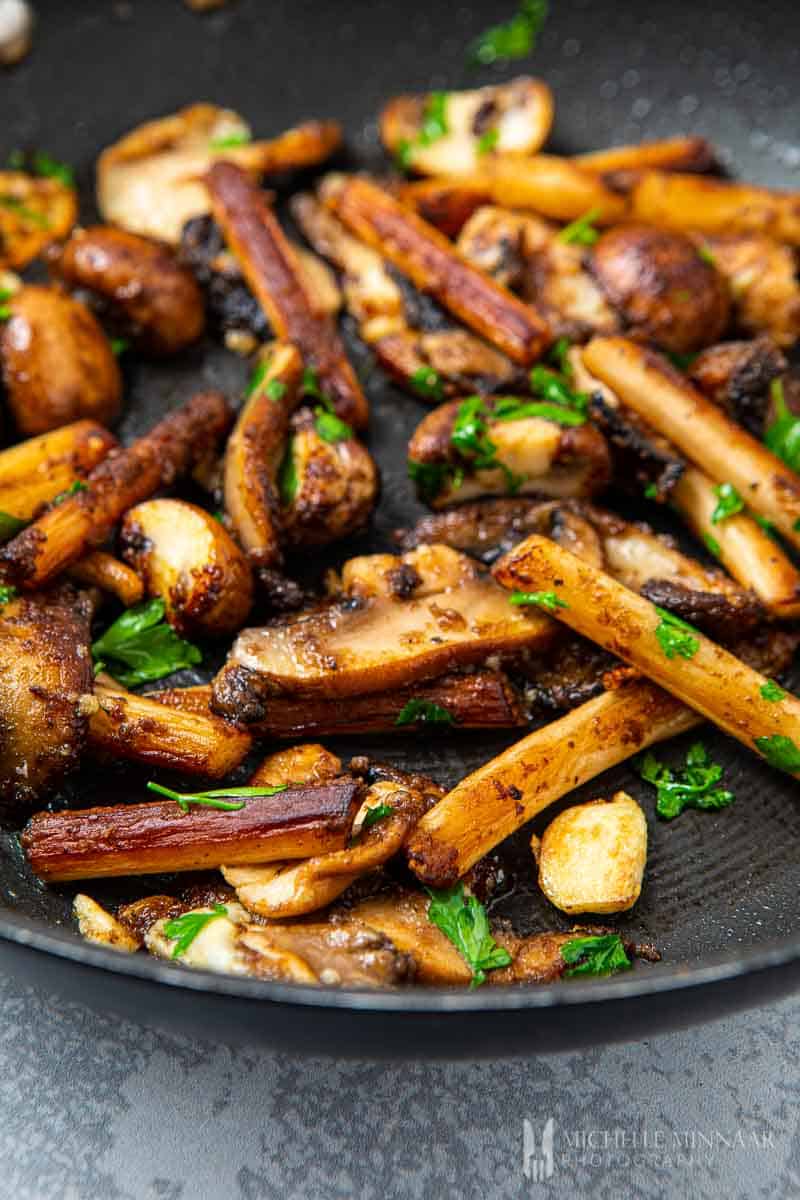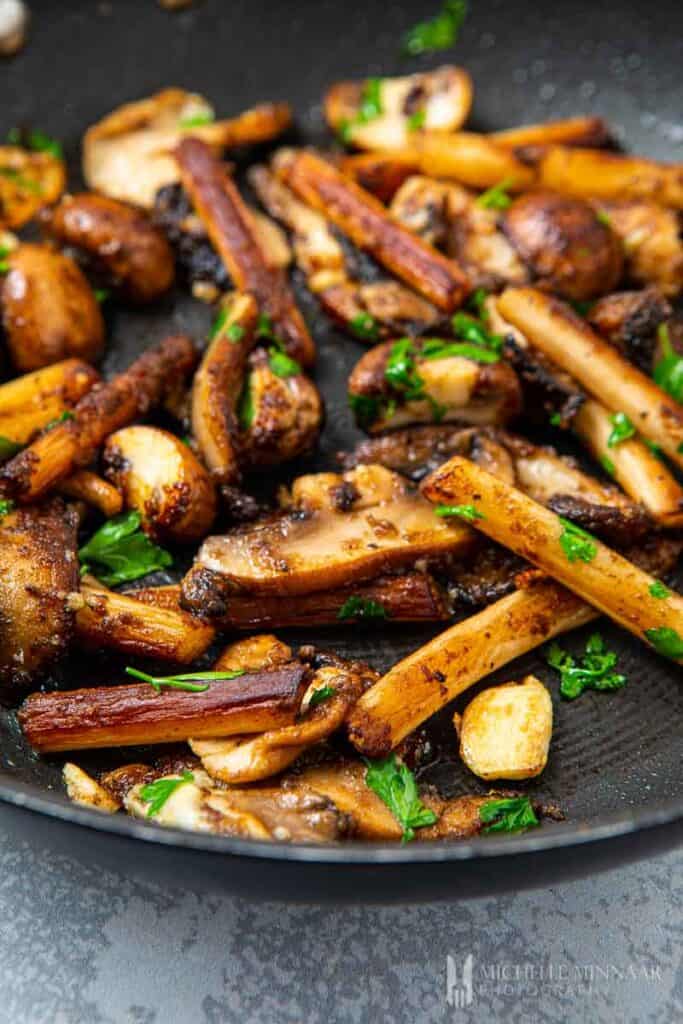 How many calories has mushrooms on toast?
Ingredients such as mushrooms have very few calories and are cholesterol free, making mushroom recipes excellent for those wishing to eat healthily.
If you make this recipe with Grains & Seeds Ciabattin® which uses spelt and seeds, you won't need to worry about the calorie count at all!
Are mushrooms good for breakfast time?
Absolutely! They'll give you the perfect boost because they contain a lot of vitamins and minerals. These include folate, potassium, zinc and magnesium.
What food goes well with mushrooms?
First of all, let's talk about the herbs which pair well with mushrooms. These include thyme, marjoram, dill, tarragon, parsley, chives and rosemary. If you've got any of these, I highly recommend adding them as toppings on your mushrooms toast.
Regarding flavour, don't forget about garlic, shallots and crème fraîche. You can use an unlimited amount of garlic and it still won't overpower the recipe. With the mushrooms on toast, these flavours are a match made in heaven.
If you roast the mushrooms with a little bit of fat (such as olive oil or butter) and later you add the cream element into the pan, it also makes a splendid mushroom-based sauce. It works every time with pasta and some red wine!
Nevertheless, let's go back to mushrooms on toast. Served with sourdough toast and a hint of olive oil, mushrooms on toast is a gourmet-style dish. It hits the spot every time. I recommend sticking to a premium brand of olive oil. Especially if you plan to use the olive oil as a topping.
Apply salt and pepper generously. You can also add the salt during the frying process.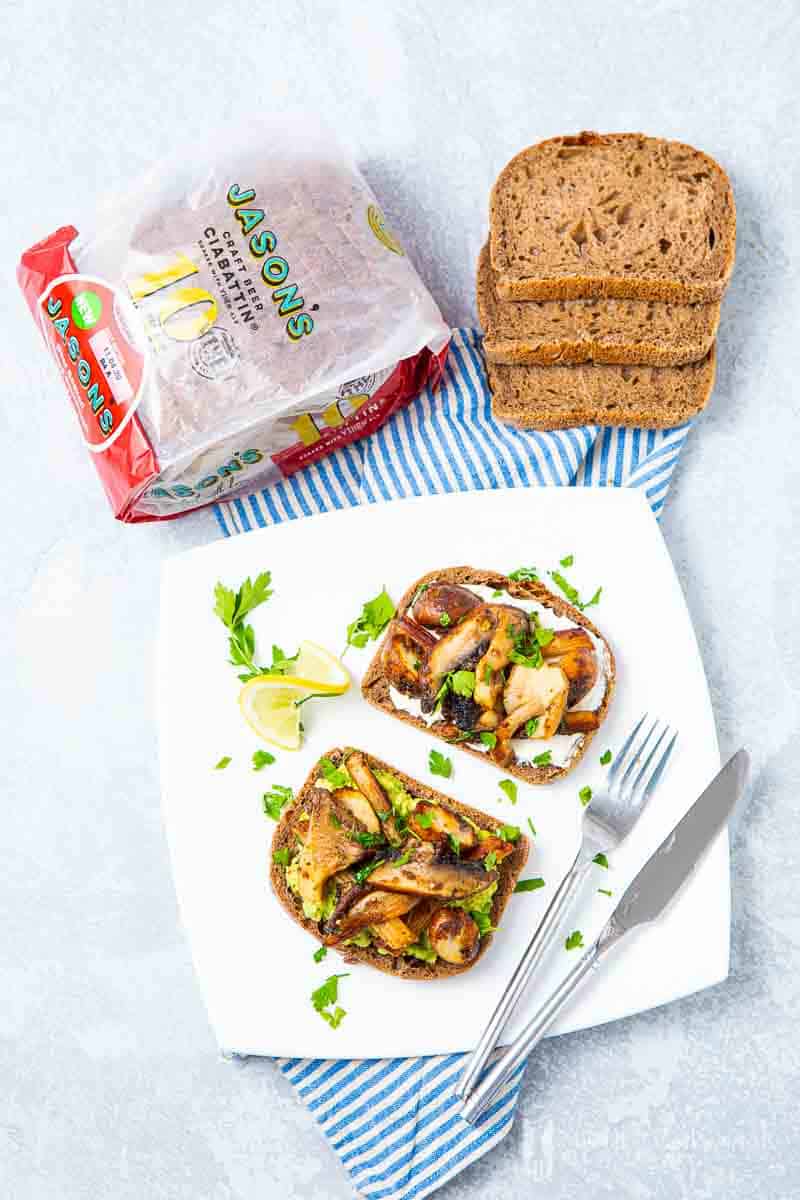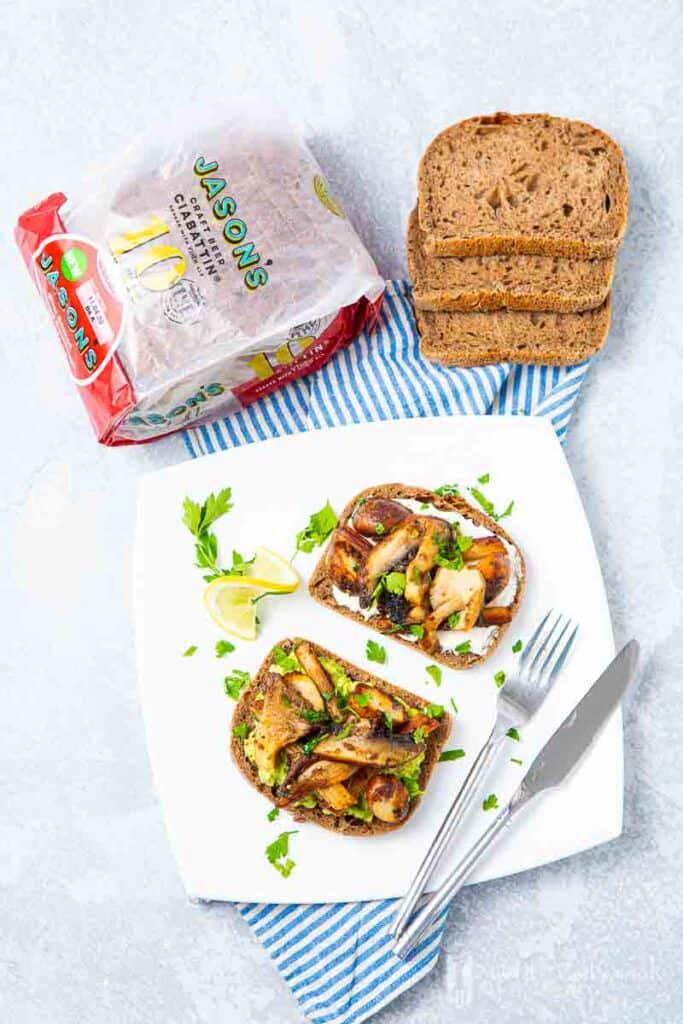 For similar recipes, which you can prepare in a couple of minutes, take a look at these below:
Also, if you're a fan of vegetarian breakfast recipes, take a look at these amazing 19 vegetarian breakfast recipes. They are all incredibly easy to make and always deliver on taste!
How would you serve your mushrooms on toast? Don't be shy and try this breakfast mushrooms on toast recipe!
Print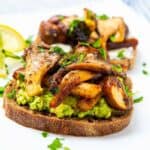 Mushrooms on Toast with Salsify and Avocado
---
Description
Mushrooms on toast makes the perfect breakfast or brunch recipe. It is vegetarian-friendly and super easy to prepare. Experiment with salsify!
---
250

g

(1/2lb) salsify, peeled and cut into batons

1

lemon, juiced

30

ml

(1 tbsp) vegetable oil

250

g

(1/2lb) mixed mushrooms, cleaned and sliced

2

garlic cloves, peeled and crushed

30

ml

(2 tbsp) parsley, washed and chopped

1

avocado, peeled and mashed

1

lime, juiced

1

red chilli, washed and finely chopped

4

Craft Beer Ciabattin® slices, toasted
---
Instructions
Boil the salsify in salted water and half of the lemon juice for 5 minutes. Drain.
Heat the oil in a large frying pan and fry the salsify over a medium heat until soft and golden, stirring regularly.
Tip in the mushrooms and fry until they're browned and cooked, which should take about 10 minutes.
Add the garlic and fry for 1 minute, then stir in the remaining lemon juice and parsley. Season to taste and remove from heat.
Mix the avocado, lime juice and chilli in a separate bowl.
Divide the avocado mixture evenly between the Craft Beer Ciabattin® toast, then top with the mushrooms and salsify.
Season to taste and serve immediately. Enjoy!
Notes
In this recipe I used a mix of mushrooms - portobello, chestnut, oyster and shiitake.
If you don't like avocado or can't get hold of any, check out these avocado substitutes.
If you're extra hungry, you can serve this with fried eggs on top.
Prep Time:

15 minutes

Cook Time:

30 minutes

Category:

Breakfast

Method:

Pan Fry

Cuisine:

British
Keywords: mushrooms on toast, salsify recipe, avocado on toast, Jason's bread recipe, vegetarian brunch recipe, vegetarian breakfast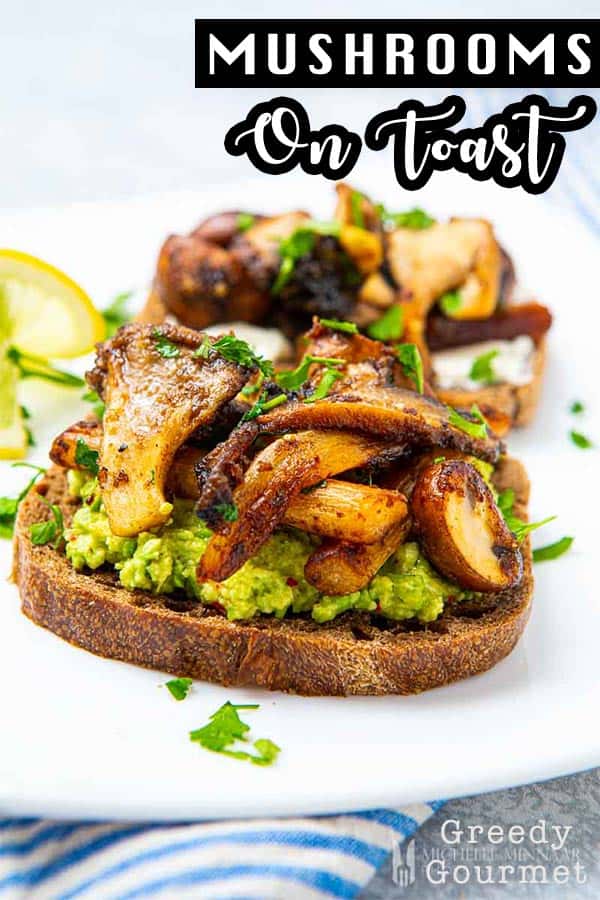 *This is a sponsored post