Come and make this comforting pear cobbler recipe. It's one of those American classic desserts that anybody can master. Usually, cobbler recipes comes in all forms and fruit varieties.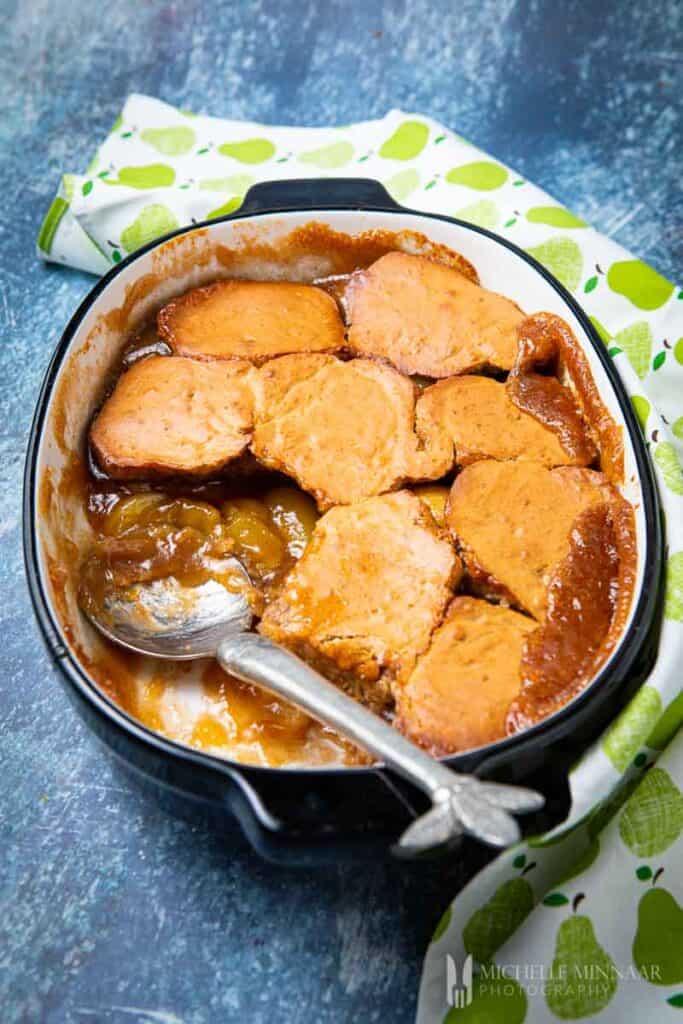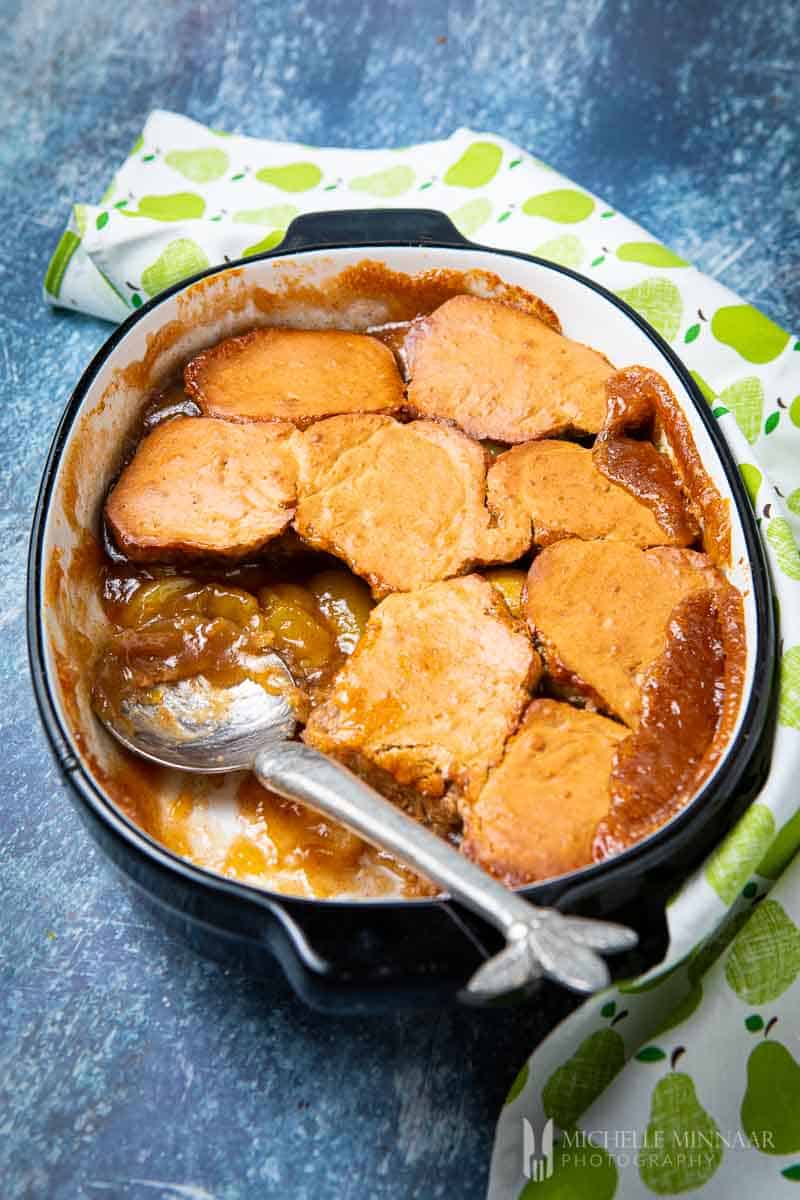 Recently, I've also made an apricot cobbler recipe which was full of tart and sweet flavours – an excellent cobbler recipe for apricot lovers. However, if you are looking for something more intense, then this pear cobbler recipe is for you.
All you need is a handful of pears, some spices and some ingredients for the crust. With a little bit of patience, you'll be able to get that beautiful crowd-pleasing golden crust everyone loves to dig into. Am I right?
So, go on and give this easy pear cobbler recipe a go. It's easier than it looks.
products you need for this recipe
Here's a list of the top things you'll need to recreate this amazing pear cobbler recipe. Or any cobbler recipe for that matter. Take a look below:
pie dish - with this pie dish you'll not only be able to make this pear cobbler but other pie dishes like this lemon chess pie or this cherry crumble pie.
spatulas - I bake best with silicone spatulas like these. They are easier to clean and they are flexible.
ice cream scooper - in case you would like to serve your pear cobbler with a scoop of delicious ice cream.
fruit and vegetable peeler - this tool is definitely for you if you hate to peel vegetables.
mini pie pans - in case you would like to turn this pear cobbler into mini cobblers. In fact, it's an excellent way to control your portion size if you are looking to cut down on a few calories.
easy pear cobbler recipe
You might be wondering about the name and origins of this pear cobbler recipe. If you are thinking about the question 'Why do they call it a cobbler? ', then let me explain.
The name cobbler suggests that you can cobble up ingredients pretty quickly to make this dessert. In essence, a cobbler can be made with any type of fruit. For instance, you can make it with pears, apples, cherries, forest fruit, rhubarb, peaches, apricots, plums, you name it.
Whatever fruit you've got available, feel free to make a cobbler recipe with it. The results will be amazing. If you're looking for more incredible baking recipes, check these out: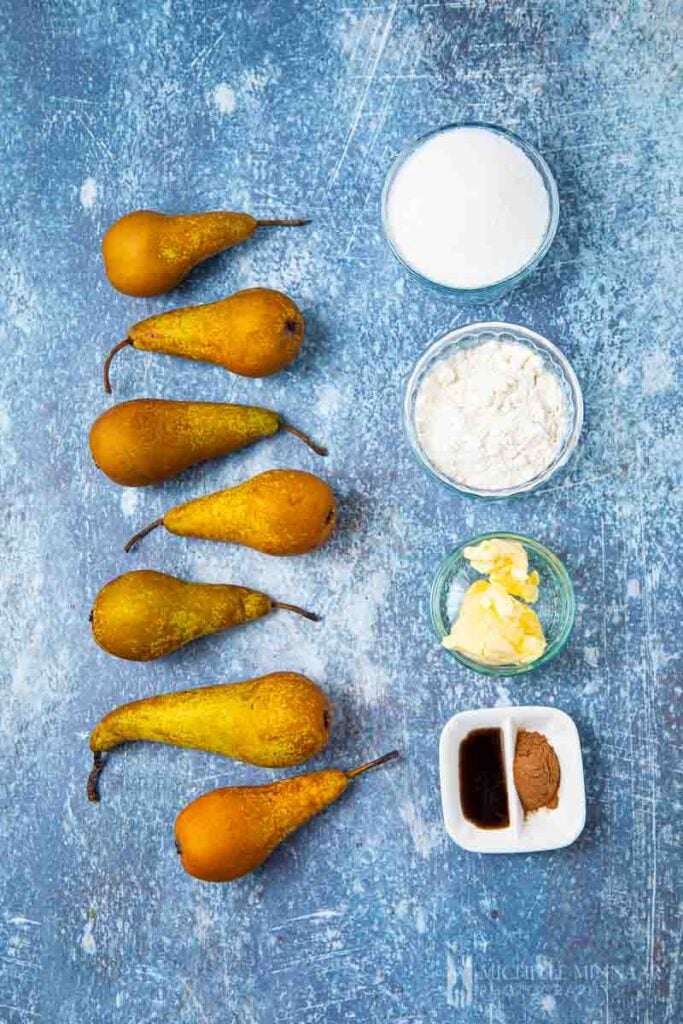 best pears for baking pies
When you are baking pies, such as this pear cobbler, you should look for pears which won't fall apart as you introduce them to the heat. So you'll need to source pears which have a slightly firmer texture.
These types of pears include the Bosc, Seckel or the Conference. Avoid Williams or Bartlett varieties as they are just gonna turn super-mushy because they contain a lot of juice.
If you've purchased too many pears for this pear cobbler and you don't know what to do with them, you can also try your hand at these pear recipes: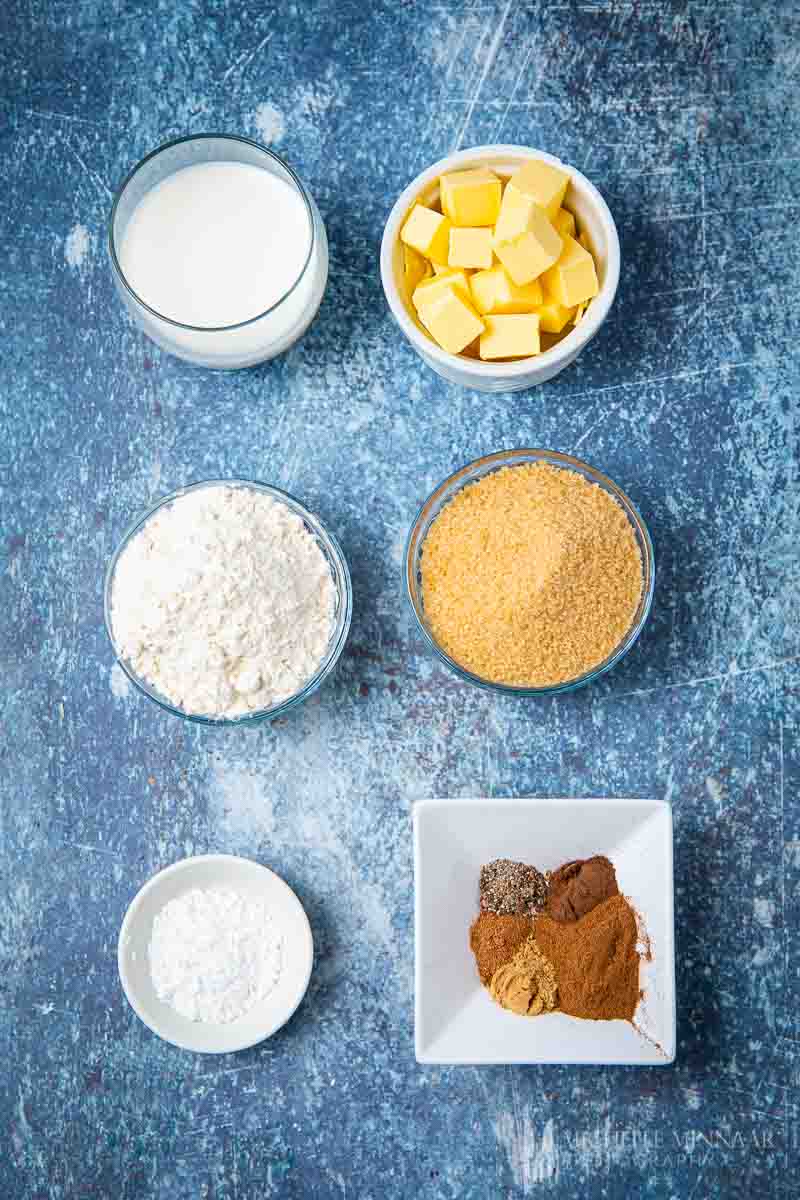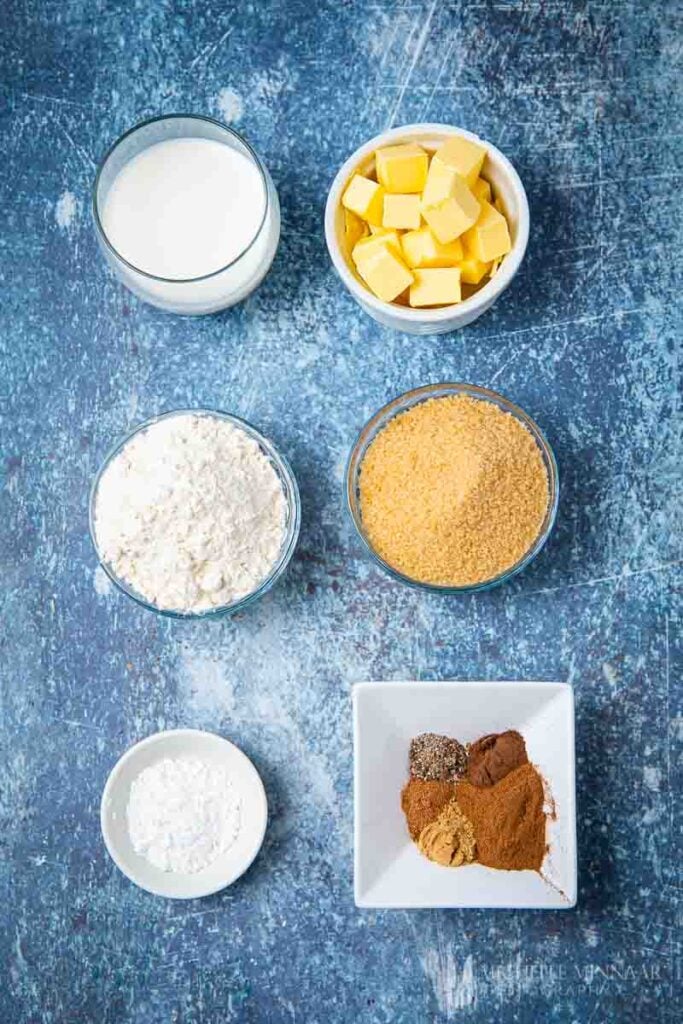 how to flavour the pears
My pear cobbler recipe is a really simple one. The pears are flavoured with sugar, butter and the traditional pie spices like cinnamon and nutmeg. Also, for extra flavour, you can either add vanilla extract or vanilla essence. Click here to learn what the difference is between the two.
To be frank, like Julia Child would say, butter makes life better. She usually adds a ton of it into one recipe – no wonder her recipes are so delicious.
So the key here is to caramelise the pears beautifully with the butter and the sugar. However, I've got a little twist in store for you. You can also turn this pear cobbler into an adult-only dessert.
Take these brandied pears as an example. You can use these pears in your pear cobbler. Or you can just add a splash of the brandy while you caramelise the pears.
You can substitute the brandy with rum, sherry or bourbon.
pear cobbler with pie crust
You don't have to cover the entire pear cobbler with the pastry. You can just put bits of it here and there.
If you do decide to cover the whole pie dish with the pastry, then you'll have to make some small holes with a fork.
Your pear cobbler will be ready when you see a beautiful golden layer on top of those pears. Make sure you give the crust enough heat so that it can achieve this colour.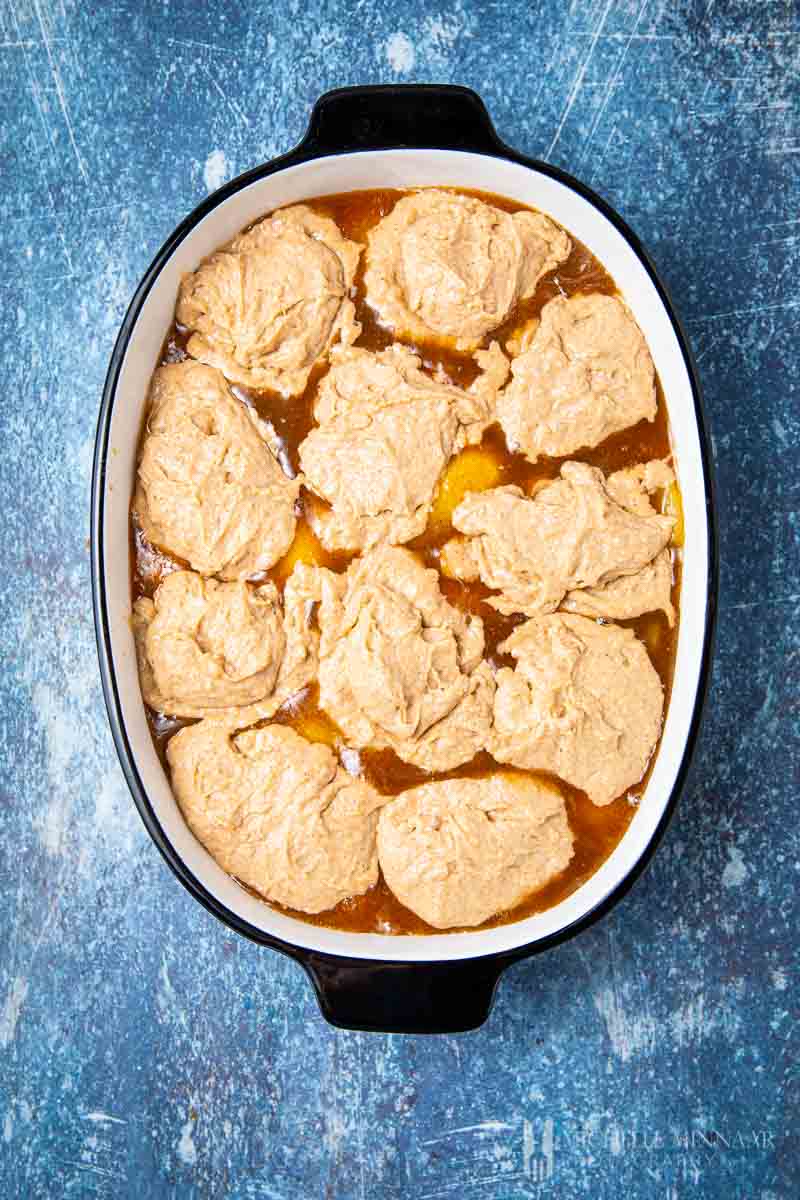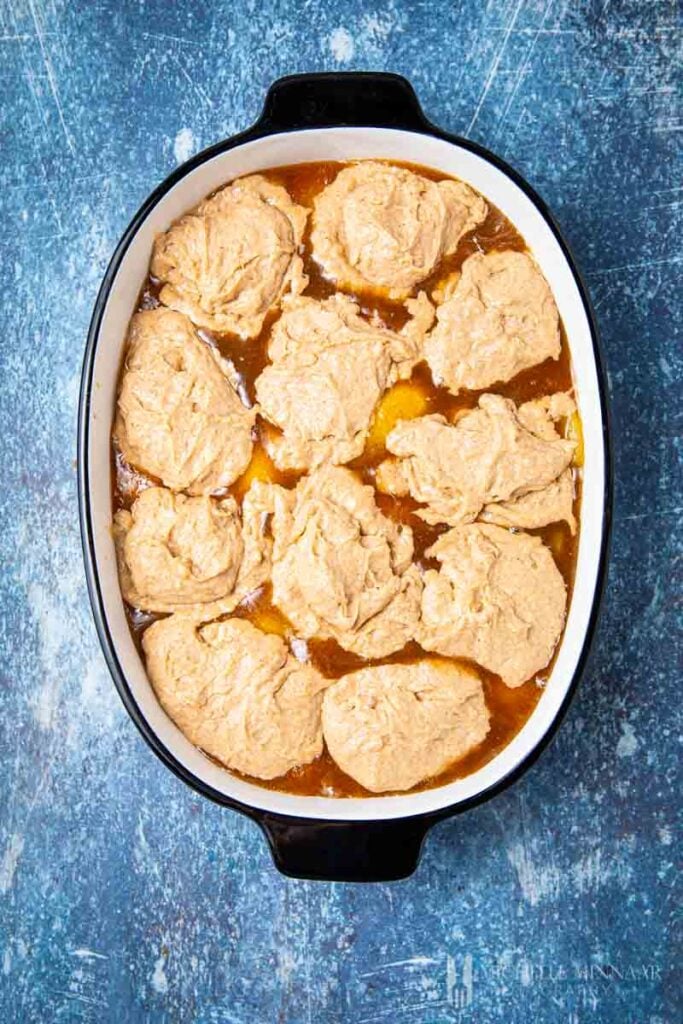 pear cobbiler with pancake mix
If you find out that you've run out of flour, then I'll share a handy trick with you. You can easily use pancake mix and make a pear cobbler with it. It works just as well.
Just follow the instructions on the pancake mix box and cover the pears with the pancake mix. The end result will be super-fluffy and less crunchy than with the pie crust.
pear cobbler with oats
If you feel that you're missing a bit of crunch, you can also add a cup of oats on top of the cobbler. The oats will add a firm bite.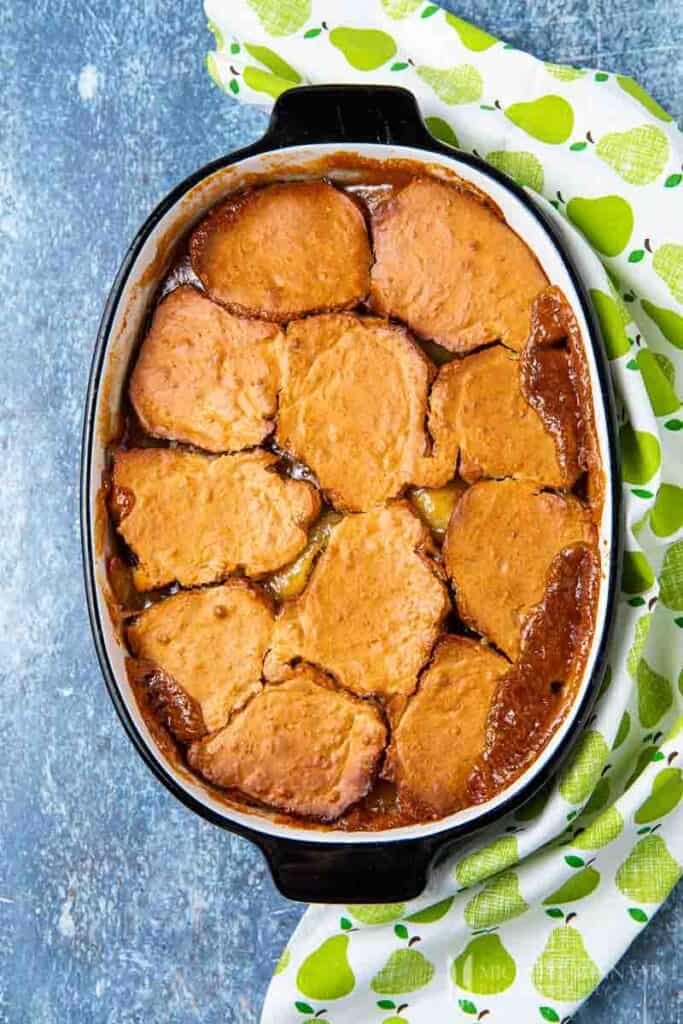 best cobbler toppings
There are numerous toppings that work well with a cobbler recipe. In short, you can decide whether you would like to pair the pear cobbler with a hot topping or a cold topping.
The best cold toppings that work with this cobbler recipe are:
Best warm toppings for this pear cobbler are:
fresh caramel or dulce de leche
So, how would you serve your pear cobbler? With a hot or cold topping, or better yet without a topping? Let me know in the comments section below.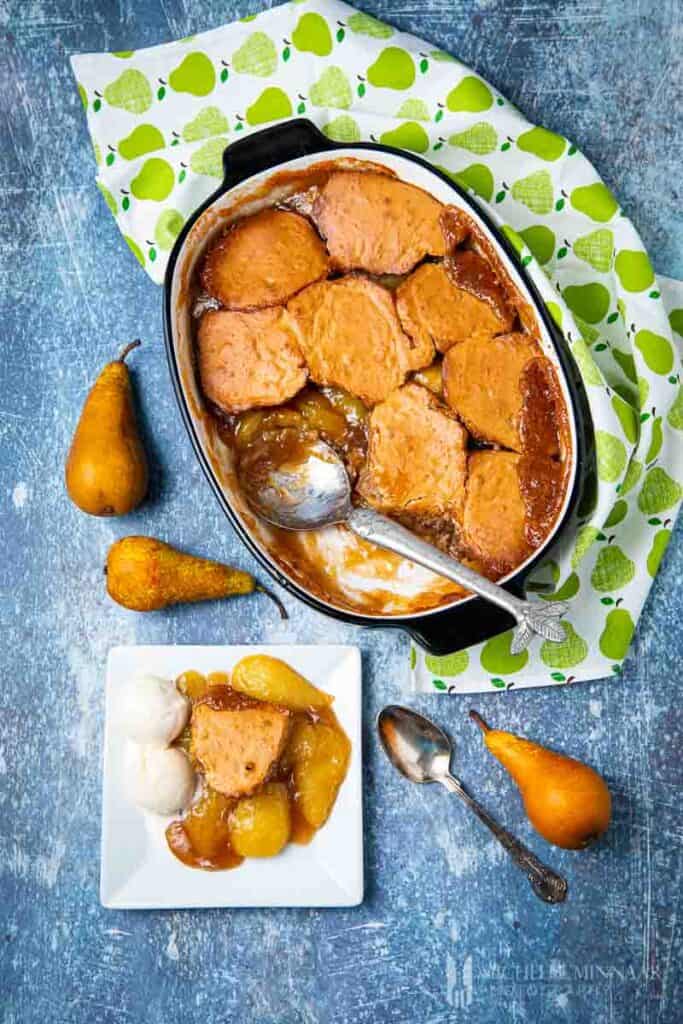 Print
Pear Cobbler
---
Description
This pear cobbler recipe will keep you warm in the colder months. Find out how to make a traditional American cobbler.
---
FILLING
10

small pears, peeled, pips removed and halved

45

g

(3 tbsp) butter

150

g

(3/4 cup) sugar

30

g

(1/4 cup) all-purpose flour

7.5

ml

(1 1/2 tsp) ground cinnamon

2.5

ml

(1/2 tsp) ground green cardamom

2.5

ml

(1/2 tsp) ground ginger

2.5

ml

(1/2 tsp) ground allspice

2.5

ml

(1/2 tsp) ground nutmeg

2.5

ml

(1/2 tsp) vanilla extract
TOPPING
256

g

(2 cups) all-purpose flour

52

g

(1/4 cup) caster sugar

15

ml

(1 tbsp) baking powder

5

ml

(1 tsp) salt

100

g

(7 tbsp) butter

30

ml

(2 tbsp) granulated sugar

250

ml

(1 cup) milk
---
Instructions
Preheat the oven to 180°C / 350°F / gas mark 4.
For the Filling: Melt the butter in a large frying pan.
Add the pears, sugar, flour, cinnamon, cardamom, ginger, allspice, nutmeg, and stir to combine.
Keep stirring until the sugar has dissolved and the mixture reaches a bubbling point. Let it continue to bubble for 2 minutes or until the sauce has thickened. 
Remove the pan from the heat and stir in vanilla extract.
Pour the pear filling into a 23cm x 33cm (9X13 inch) baking dish.
For the Topping: Combine the flour, caster sugar, baking powder and salt in a large bowl.
Cut the butter into the flour mixture until mixture resembles coarse crumbs.
Systematically pour the milk into the crumble until the topping is just moistened.
Spoon the wet mixture evenly over the pear filling and dollops.
Sprinkle the granulated sugar evenly over the topping.
Bake for 30-35 minutes, or until golden brown.
Serve with ice cream, custard or cream. Enjoy!
Notes
Use only as much milk as needed to moisten the crumble. You don't want the flour mixture to get too soggy and difficult to handle.
Prep Time:

20 minutes

Cook Time:

45 minutes

Category:

Dessert

Method:

Bake

Cuisine:

American
Keywords: pear cobbler, American cobbler recipe, autumn dessert, sweet fall recipe, vegetarian dessert recipe, best October dessert