This pineapple ice cream is a creamy ice cream with tons of exotic flavour. A pineapple ice cream recipe is a wonderful addition to the classic ice cream flavours like chocolate, vanilla or peppermint ice cream. If you combine a scoop of pineapple with vanilla, the flavours will complement each other extremely well. That being said, this pineapple ice cream brings forward a lovely acidity from the pineapple, but also a subtle sweetness.
In my opinion, it is one of the best ice creams if you are looking for something completely refreshing. Forget lemon ice cream and try this one instead.
As always, fresh and homemade pineapple ice cream tastes far better than the ones in the stores. I doubt you'll be able to find an ice cream brand which makes completely bio and fresh ice cream. Besides, you can prepare lots of pineapple ice cream in advance and store it in your freezer. This way, you get your money's worth too.
So, are you up for learning how to make pineapple ice cream? Enjoy! It's really not as difficult as it seems.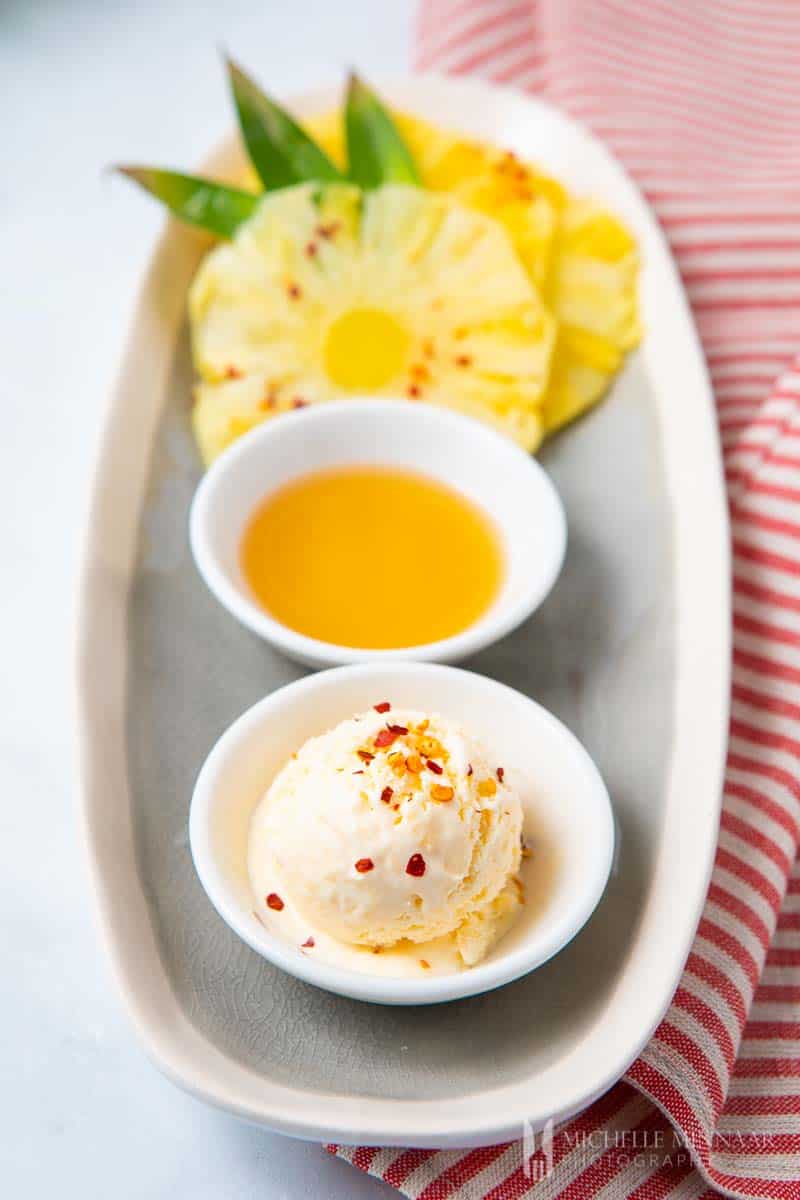 healthy pineapple ice cream recipe
As mentioned above, this pineapple ice cream is made completely from scratch. Therefore, you can control which type of ingredients go in. Besides the fact that you're going to be making the ice cream from scratch, meaning it's already healthy, you can also source bio ingredients.
Let's start with the pineapple. As always, the better your ingredients are, the tastier your result will be. I recommend you try sourcing the pineapple at a premium supermarket. Your chances of getting a tastier pineapple will increase if you buy it there. Ordinarily, the pineapples at a normal supermarket are stiff and green. Basically, far from being ripe.
How to select a ripe pineapple
There are things to look for when you are pineapple shopping in a supermarket. Your first indicator should be the colour of the pineapple. If you select a green or a pale pineapple, your chances of making a flavourful pineapple ice cream will be slim. Hence, look for a pineapple that's golden (almost orange-brown in colour). These are the best. Just don't purchase one that's too brown because pineapple can easily be too ripe. Again, look for that beautiful golden colour.
Your second indicator is the smell of the pineapple. Take the pineapple into your hand and smell the base of it. If it's emitting any pineapple aroma, then it is a good one.
If you happen to find a good deal on pineapples, you can make more batches of the ice cream. In addition, you can also indulge in these recipes which include pineapple:
Do you have a favourite pineapple recipe? Let me know!
how to make pineapple ice cream
These are some of the essentials you will need to replicate this tasty pineapple ice cream recipe.
where to buy pineapple ice cream
I have two answers for this question. First, one could argue that the best pineapple ice cream in the world comes from Hawaii. This is because Hawaii has large pineapple plantations and is famous for exporting pineapples all around the world. In fact, I bet that you might have come across a pineapple which was grown at the Dole plantation in Hawaii.
If you ever happen to visit the Dole plantation in Hawaii (Oahu Island), you'll be able to sample their amazing produce. First, you can eat a fresh pineapple which was just picked off the plantation. Now that's fresh! Second, you will be able to taste their homemade ice cream using their fresh local pineapples. Sounds wonderful doesn't it? Hence, this is my first option if you are looking to buy and try the best.
Next, you can also consider purchasing pineapple ice cream at your local ice cream shop. However, here you are limited with availability as most ice cream shops operate only in the warmer months.
In case you do find an ice cream shop, ask them for a large 'take away' pack of ice cream. Usually, you can take ice cream with you in litres (or in bigger sizes). Just make sure you have enough room in the freezer, where you can store your ice cream for up to 3 months.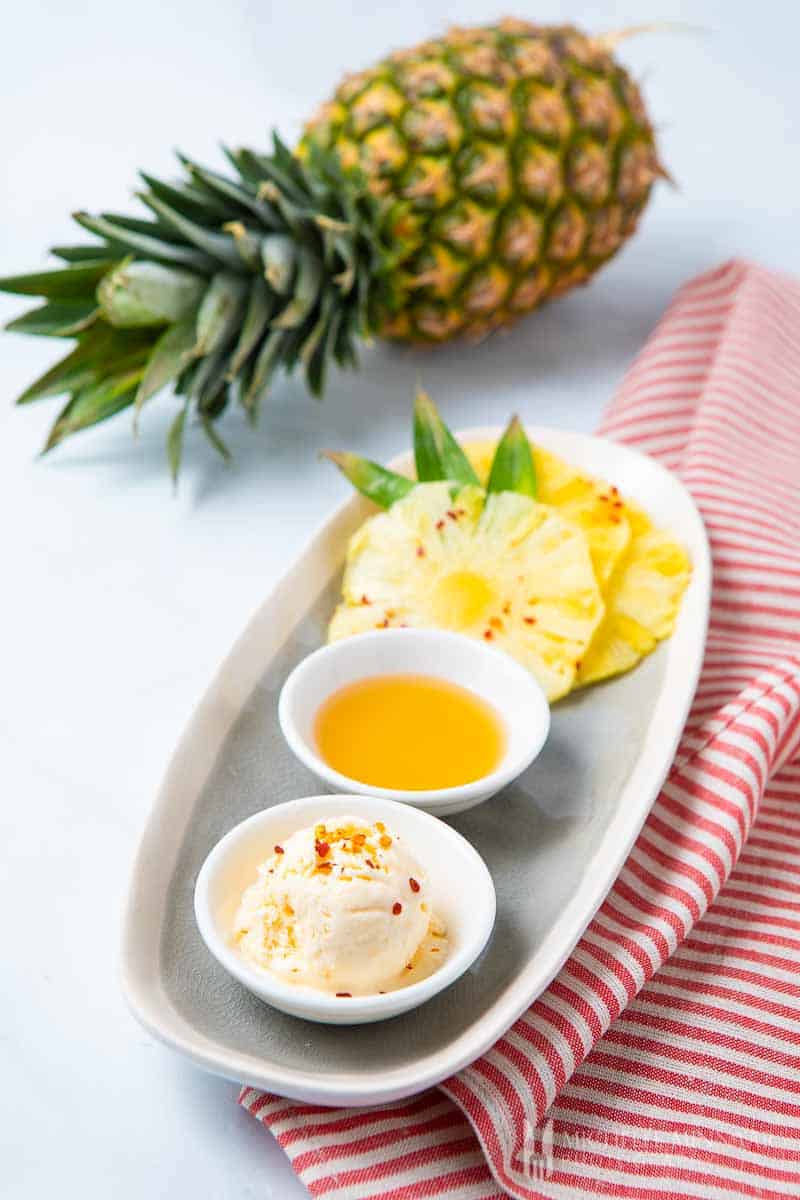 homemade pineapple ice cream with condensed milk
There are a couple of ways you can sweeten this pineapple ice cream. First, you can add sugar or a liquid sweetener. Although, I generally prefer adding condensed milk as it adds a creamy flavour too.
Admittedly, I found myself sneaking a spoonful of condensed milk from time to time.  It is in fact considered one of the most essential baking staples. Make sure you always have a couple of cans at home so you can make more ice cream recipes. For instance, you can try your hand at these:
So, either you can try your hand with this exotic ice cream recipe, or you can try any of the ice cream recipes above.
best ice cream toppings
There are a couple of delicious toppings that work perfectly with pineapple ice cream. My first suggestion would be to purchase a paper umbrella. However, you can also consider these toppings as well:
When was the last time you tried fresh pineapple ice cream? Let me know in the comments below.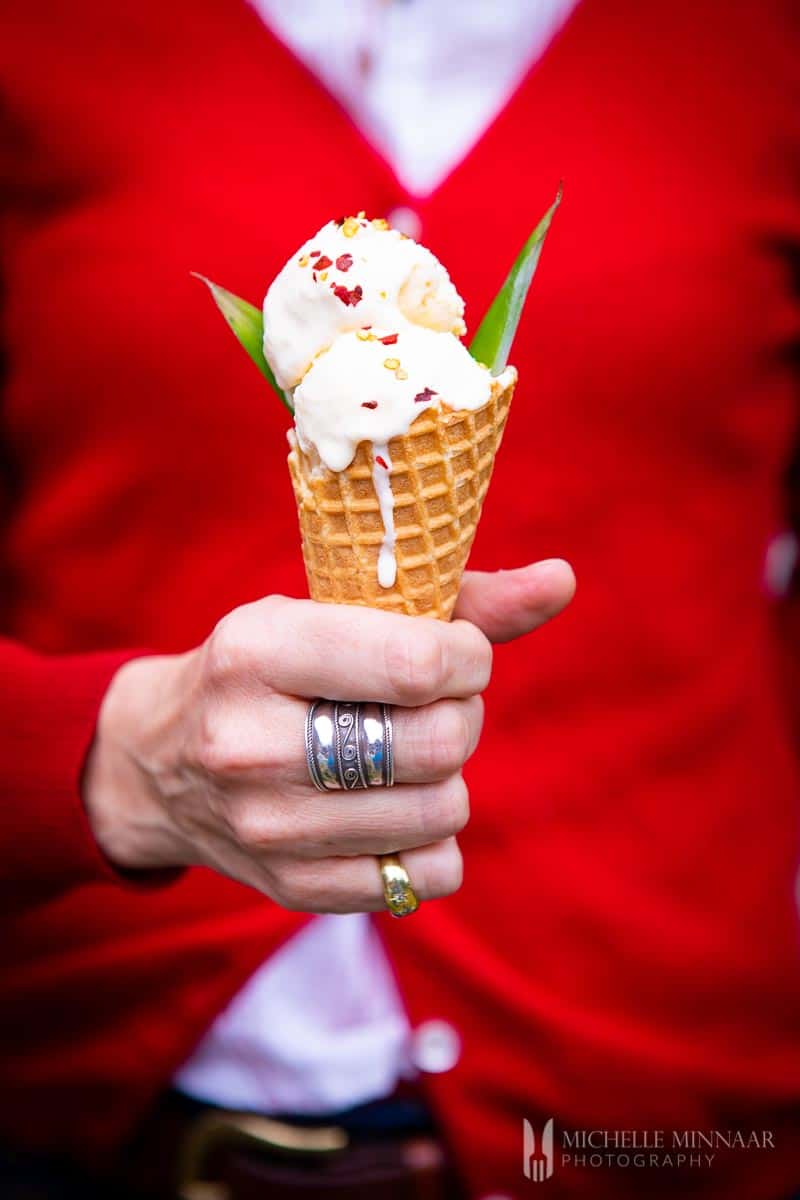 Print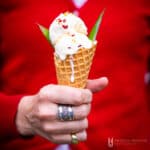 Pineapple Ice Cream
---
Description
Make this refreshing homemade pineapple ice cream recipe today! This perfect sweet and sour combo is best served in cone or cup. Sprinkle with dried chilli flakes if you wish.
---
250

ml

(1 cup) fresh pineapple juice, sieved

500

ml

(2 cups) double cream

250

ml

(1 cup) whole milk

125

ml

(1/2 cup) + 15ml (1 tbsp) granulated sugar

4

large egg yolks

7.5

ml

(1/2 tbsp) vanilla paste
---
Instructions
Combine the pineapple juice, cream, vanilla, milk and 15ml (1 tbsp) sugar in a saucepan. Bring to the boil then remove from the heat.
In a large bowl, whisk together the 125ml (1/2 cup) sugar and egg yolks, until the mixture has gone pale in colour and doubled in size.
Temper hot milk into the sugar yolk mixture, by slowly adding hot milk about 60ml (1/4 cup) at a time, whisking to distribute heat. Once all the milk has been added, transfer mixture back into the saucepan.
Place the saucepan over medium-low heat. Stir until mixture reaches nappé consistency, or 80°C (180°F) on a kitchen thermometer. Let mixture sit at this temperature for 5 minutes to pasteurise the eggs.
Remove from heat and pour the custard into a large mixing bowl. Place the bowl into icy water and stir until the custard has cooled.
Pour the custard into an ice cream maker and churn according to your unit's instructions.
Transfer the ice cream to a sealable container and freeze for at least 3 hours or overnight.
Notes
Ensure that the pineapple juice is perfectly smooth, otherwise you'll find undesirable stringy bits in the ice cream.
If you like spicy things and feel brave, you can add a bit of chilli powder to the ice cream because it pairs beautifully with ice cream.
Prep Time:

20 minutes

Cook Time:

1 hour 30 minutes

Category:

Ice Cream

Method:

Freeze

Cuisine:

American
Keywords: pineapple ice cream, pineapple dessert recipe, ice cream maker recipe, vegetarian ice cream recipe