Desserts can often be complex dishes to prepare. However, that does not apply to this brilliantly simple rhubarb dumb cake. In fact, it is so easy that it almost feels like cheating. Rhubarb dumb cake is the ideal afternoon treat or dessert for unexpected visitors. Only a few ingredients, and just ten minutes of prep time is all you need. Once the rhubarb dump cake is in the oven you are free to be with your family or friends while the dessert bakes.
Although rhubarb is in season during the summer months, you can usually find it in supermarkets all year round. This rhubarb dump cake might very well be your new favourite pudding. It is simply that good! For extra indulgence, you can serve the rhubarb dump cake with a good quality vanilla ice cream. To elevate this dish to new heights, serve the rhubarb dump cake with homemade hokey pokey ice cream!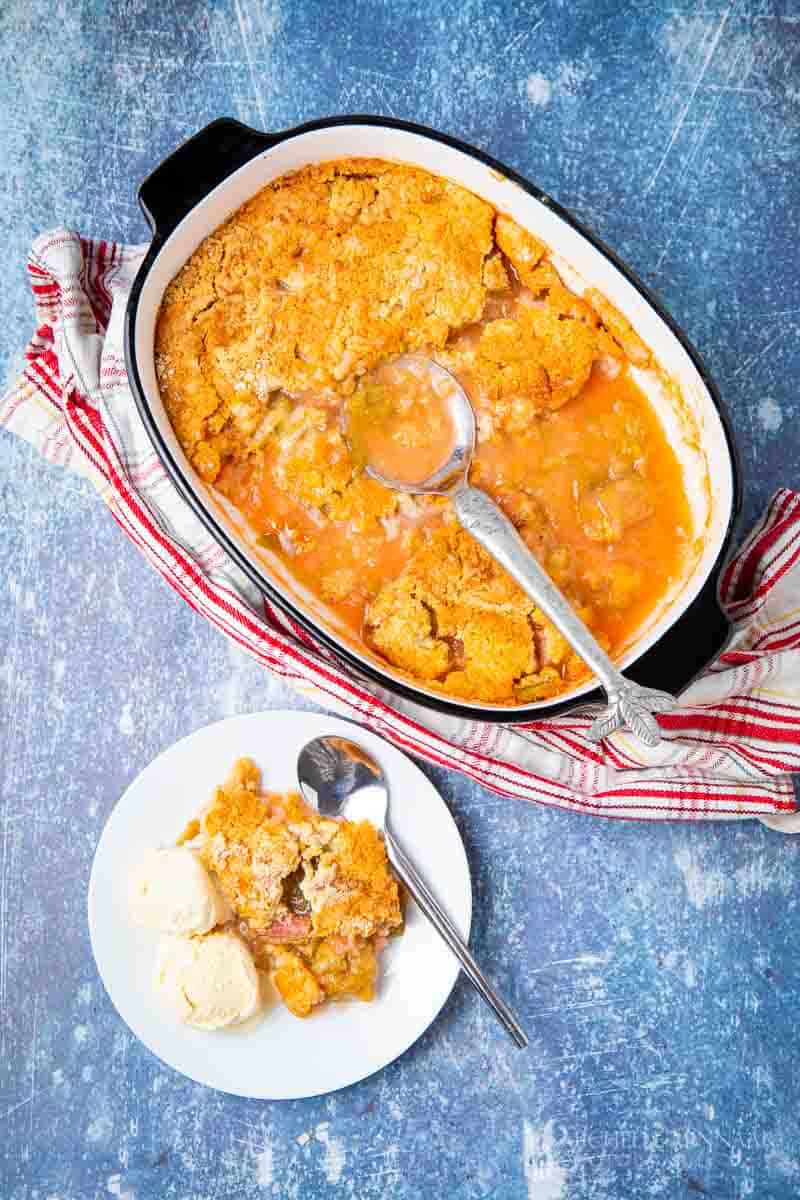 what is a dump cake?
Rhubarb dump cake is a type of rhubarb pie. Only, in this case you do not need to make a pastry. The thing that makes rhubarb dump cake so easy to prepare is the fact that you actually just pour all the ingredients on top of each other in a tray, and voilà. Furthermore, rhubarb is the perfect base for a good dessert. It has a good balance between sweetness and acidity, and need very little done to it, in order to be a success. Rhubarb dumb cake is a classic American dessert that is sure to be a crowd pleaser, whether you serve it for your family on a weeknight or as a dessert for a dinner party.
In addition, if you are looking for another crowd pleaser, try my sugar free angel cake recipe.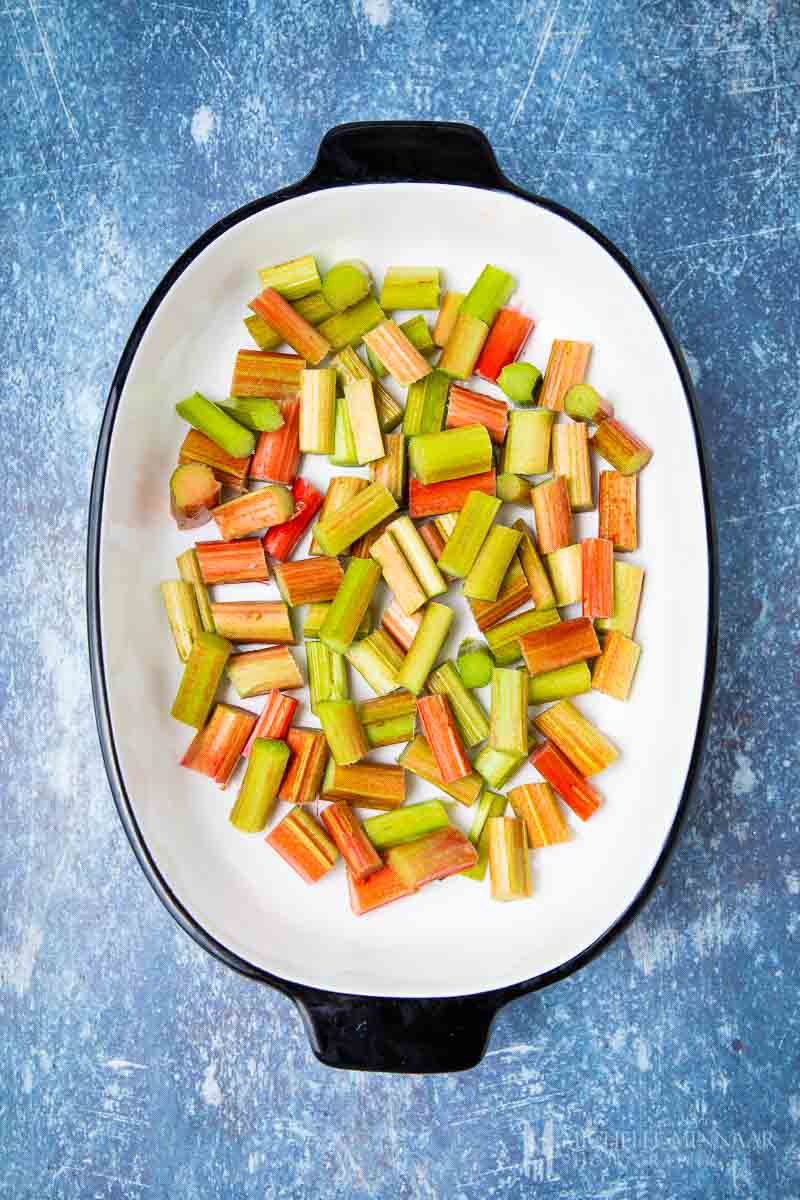 cooking with rhubarb
People have been eating rhubarb for centuries. It is believed that rhubarb came to Europe from Asia back in the 14th century. Although rhubarb is technically a vegetable, it more often assumes the role of fruit in modern cooking, being used in desserts such as this rhubarb dump cake. Nowadays, rhubarb is a typical dessert ingredient, tasting of summer, yet available all year round. In addition, you can even grow rhubarb yourself. Even if you don't have green thumb, you cannot go wrong with growing this plant. It almost needs no maintenance, and will grow extensively when left to its own devices.
One word of caution if you are new to cooking with rhubarb though. Only the stalks are edible. The leaves are actually poisonous due to a high level of oxalic acid, so avoid them at all costs.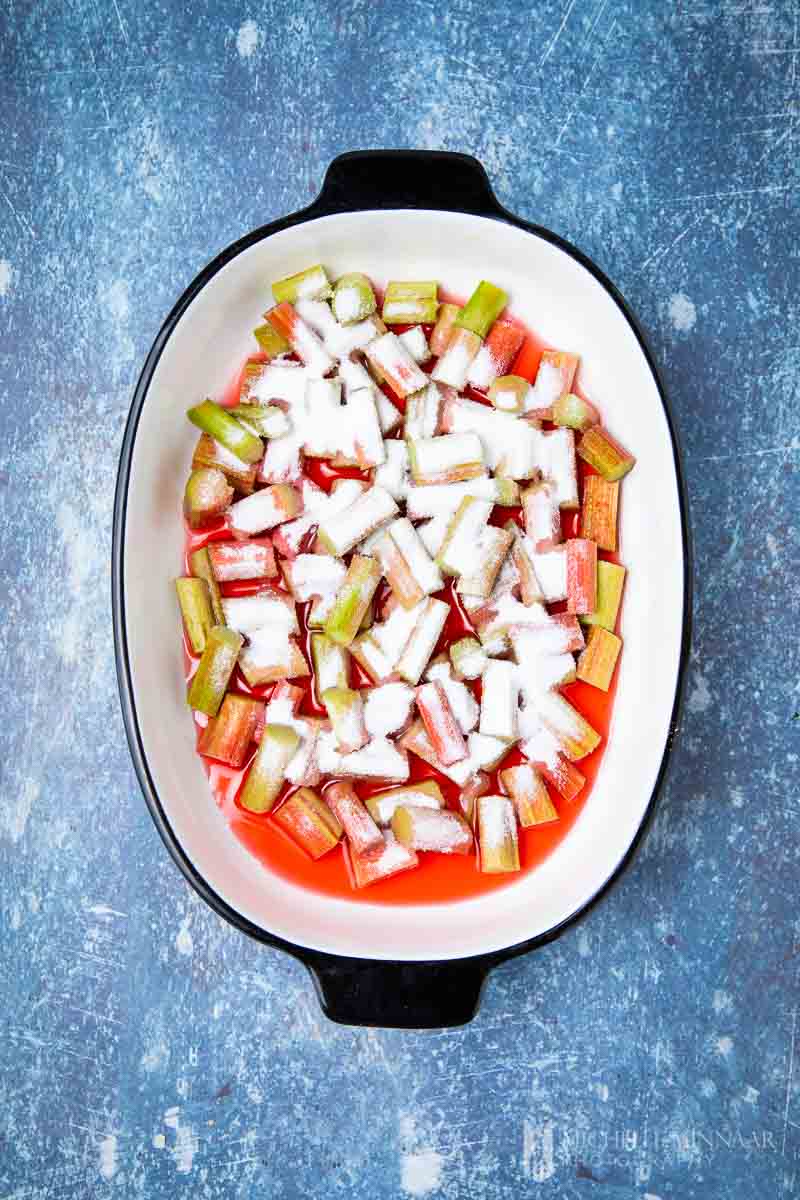 There are different types of rhubarb, and the colour can vary from crimson red, to light pink and light green. Depending on how ripe the rhubarb is, the taste can be somewhat sour and you will probably find that you need quite a bit of sugar when preparing rhubarb. Another method is to pair it with other types of fruit, such as strawberries.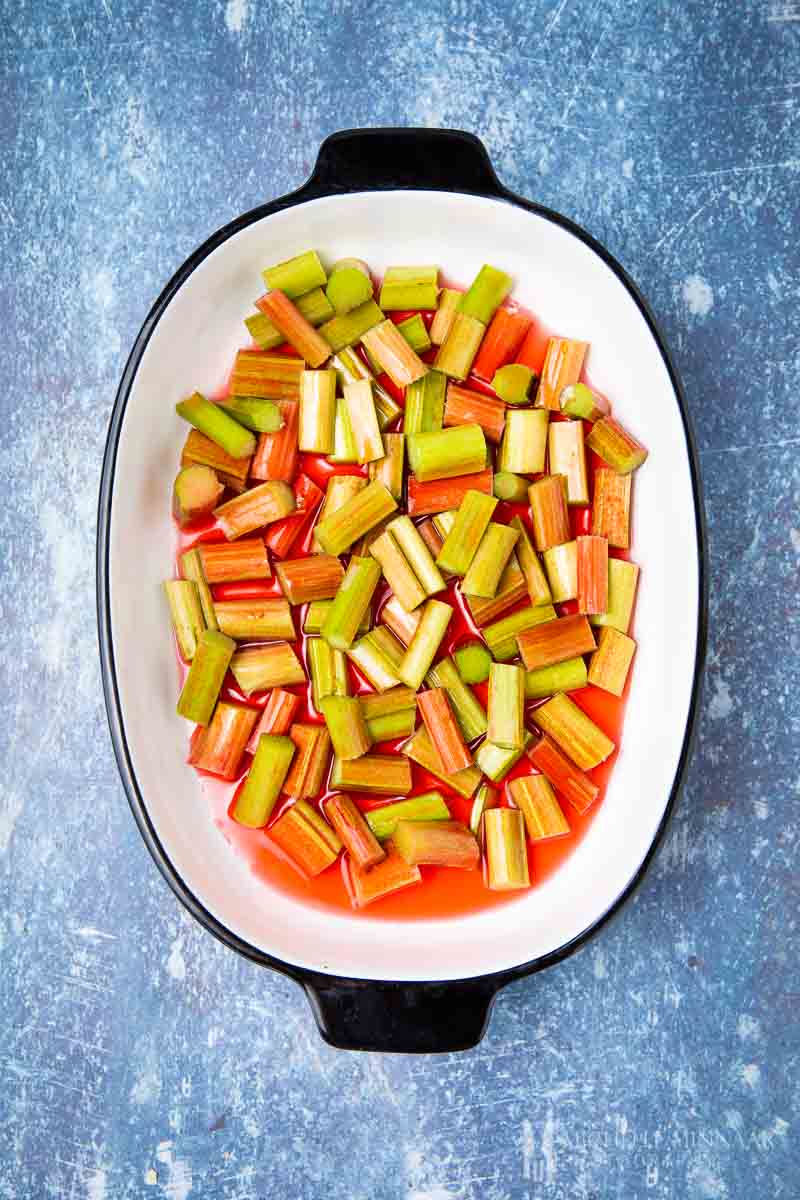 rhubarb crisp using cake mix
Rhubarb dump cake is also known as rhubarb crisp, probably thanks to the crispy crust formed when baking the rhubarb dump cake. The thing that makes rhubarb dump cake particularly ease to prepare, is that you make it with cake mix. For my rhubarb dump cake, I chose a vanilla cake mix, as vanilla is a great flavour combination for rhubarb. You can consider these cake mixes:
You can also opt for a neutral, sweet cake mix if you prefer to leave the vanilla out.
During baking, the rhubarb will soften beautifully while the cake mix and other ingredients will form a crispy cake topping. The end result is somewhat similar to a crumble/cobbler. Love pie? Check out my cherry crumble pie.
For baking, you can also use a good baking tray: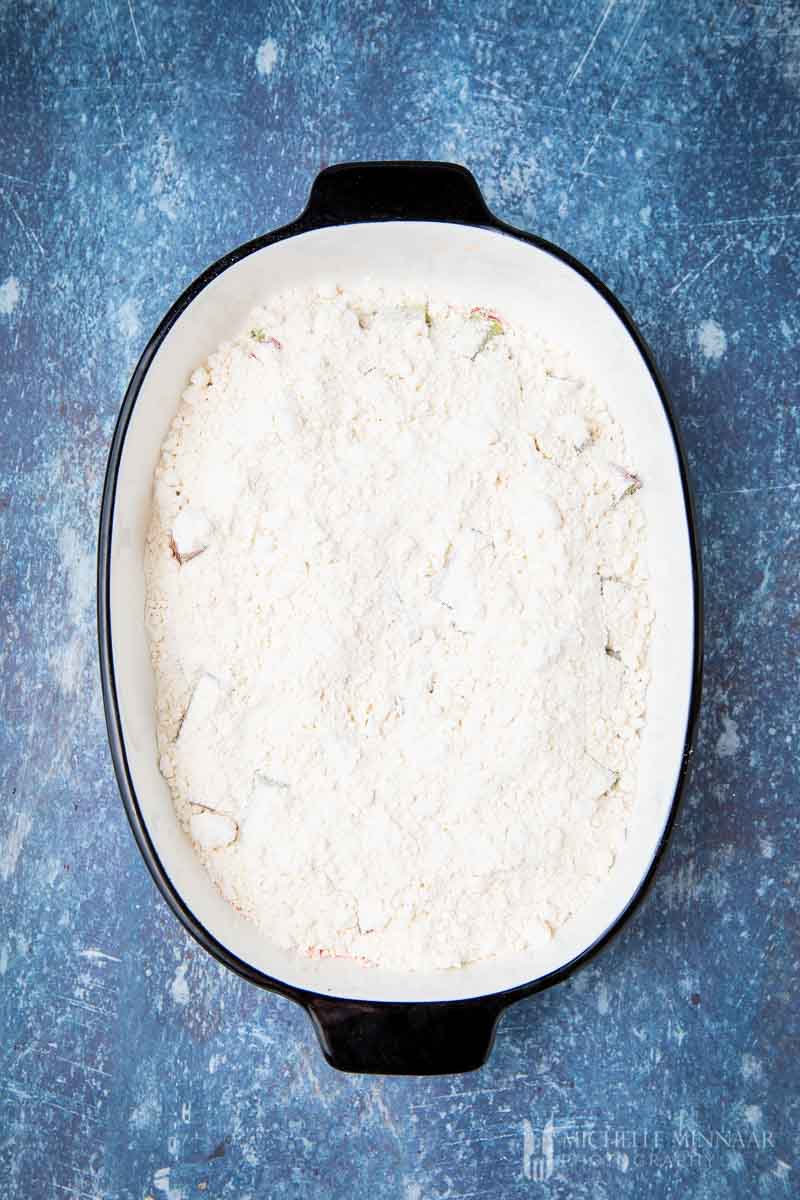 Can you make rhubarb dump cake with frozen rhubarb?
The short answer is yes, absolutely! In fact, since the texture of the rhubarb will turn mushy during the baking anyway, there is no disadvantage to using frozen rhubarb. Moreover, if you grow rhubarb in your garden you should harvest some regularly and freeze it for the winter. That way you will always have some at hand for a quick rhubarb dump cake. If you use frozen rhubarb, let it defrost before making the dump cake.
A quick tip – cut the rhubarb into smaller pieces before freezing it. It will save you space in the freezer, and it will defrost quicker once you need it. Frozen rhubarb will keep up to a year, and at its normal growth rate, you should have plenty of rhubarb to harvest during the summer.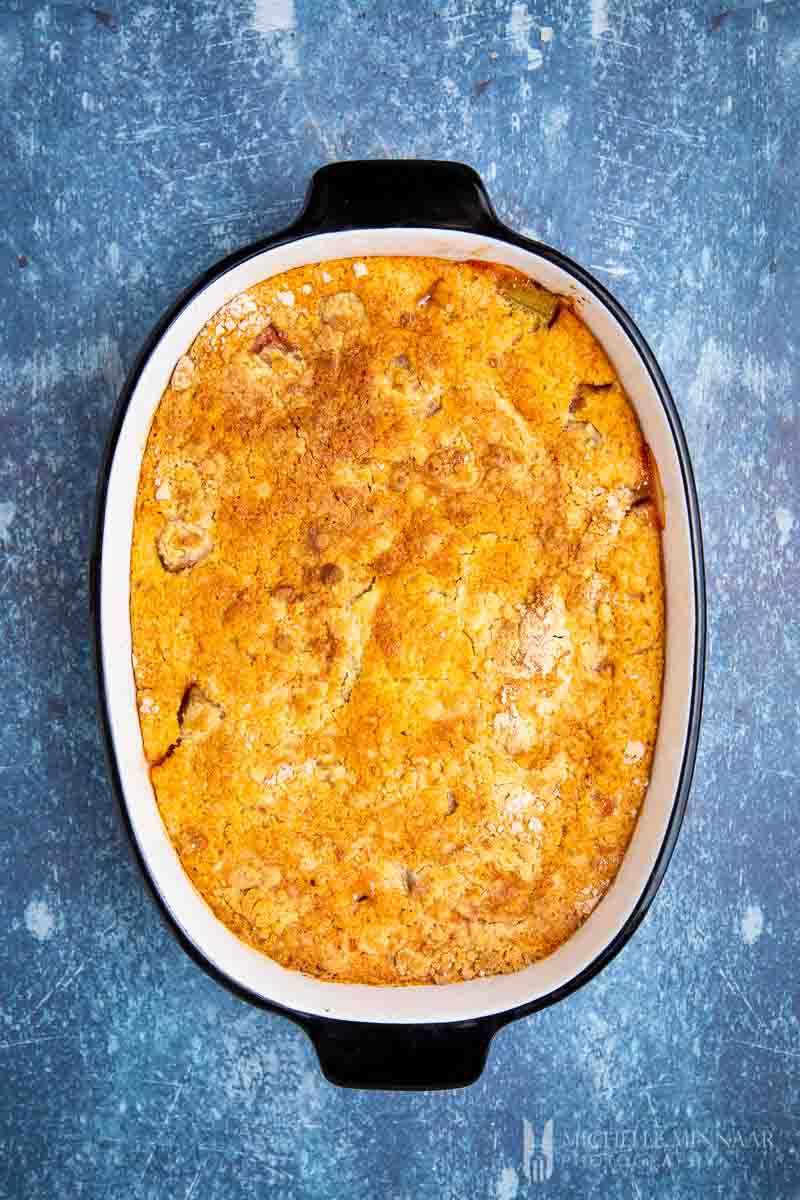 Rhubarb pineapple dump cake
To be honest this rhubarb dump cake recipe is quite versatile. You can actually replace the rhubarb with a number of other fruits or berries. Do you fancy the sound of an apricot dump cake or a blackberry dump cake?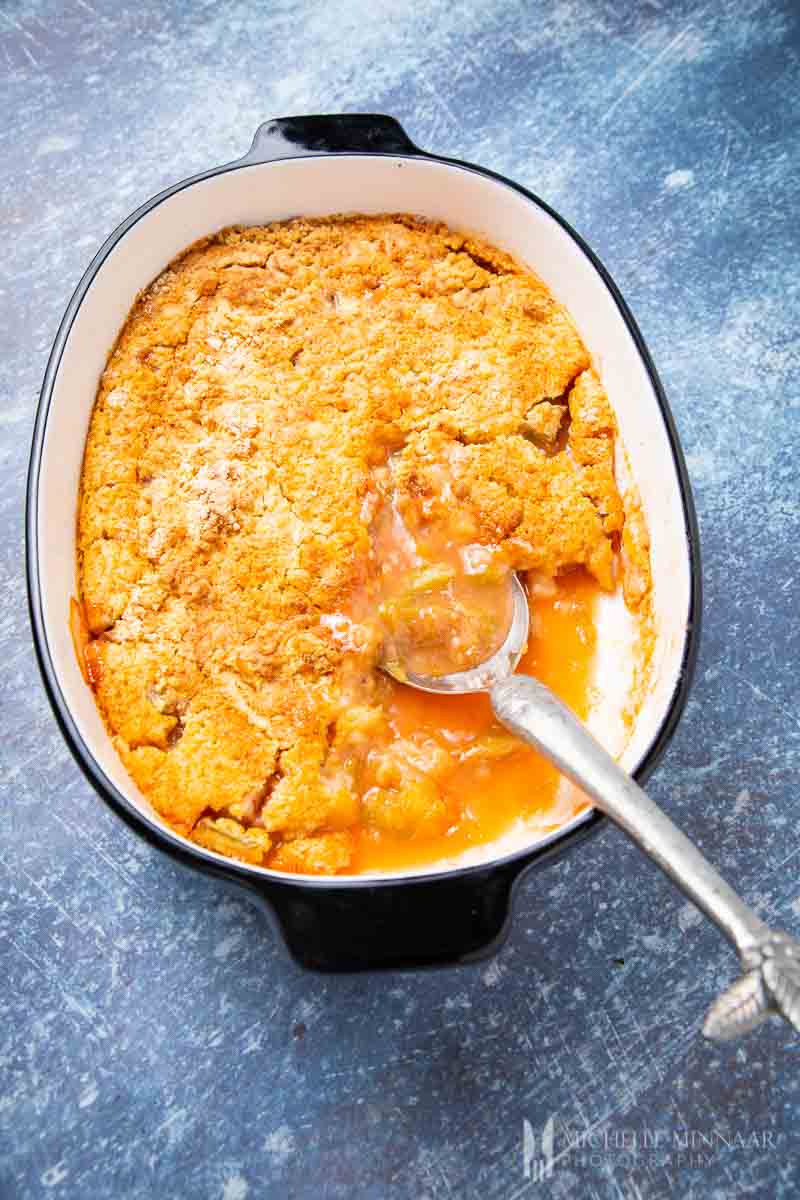 Another option is to add something extra to the rhubarb dump cake. Strawberries pair well with rhubarb, though I bet you haven't thought of pineapple. As a matter of fact, the combination is surprisingly good. During baking, the acidity of both fruits will tone down somewhat, leaving you with beautiful, sweet and exotic flavours. The result is quite unique, and if you are in the mood for something different this is something to try out. Alternatively you can add other red fruits, such as raspberries or red currant.
What to serve with a dump cake
I love to serve my rhubarb dump cake with vanilla ice cream, especially in the summertime. Not to mention that the combination of textures and flavours make eating the rhubarb dump cake a restaurant quality experience. Instead of ice cream you can simply serve the rhubarb dump cake topped with whipped cream, or a spoonful of crème fraiche.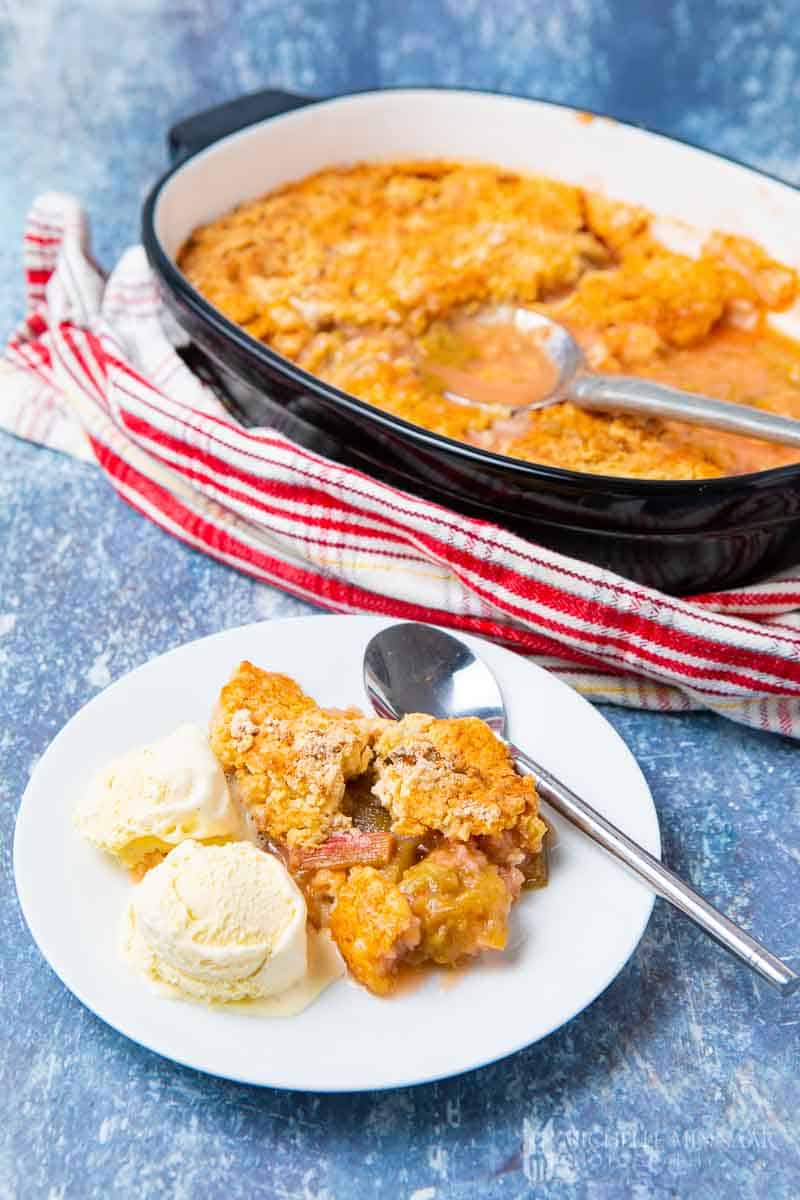 If you want even more indulgence, consider serving the rhubarb dump cake with a special homemade ice cream. How about my Ferrero rocher ice cream for example? If you love good ice cream have not yet tried this one, it is simply a must next time you cook a dessert.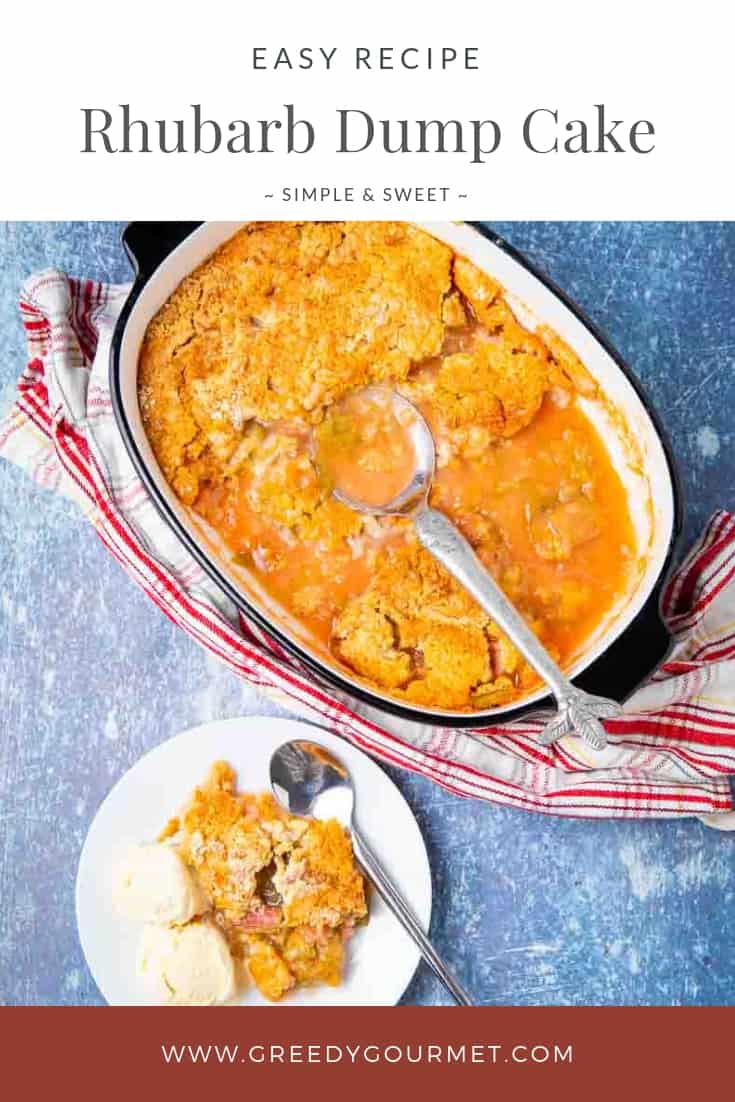 Print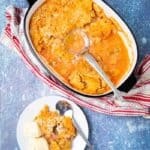 Rhubarb Dump Cake
---
Description
Try this impeccable rhubarb dump cake. This rhubarb recipe is the perfect balance between acidity and sweetness. Serve it with a scoop of vanilla ice cream.
---
450g

(1lb) fresh rhubarb, washed

100g

(½ cup) caster sugar

135g

(1 packet) strawberry jelly [see Notes]

425g

(1 packed) vanilla cake mix

80

ml (⅓ cup) butter, melted 
---
Instructions
Preheat the oven to 180

°C /

350

°F / gas mark 4.

Chop the rhubarb into bite-sized pieces and arrange them evenly in a deep, oven-proof dish. 

Sprinkle the sugar evenly on top of the rhubarb. 

Melt the jelly in 90ml (3fl oz) boiling water and stir until completely dissolved. Pour the liquid jelly into the dish. 

Sprinkle the cake mix evenly until all the rhubarb is covered.

Drizzle the butter evenly over the cake mix.

Bake the cake for 45 minutes, or until golden on top. 

Serve with vanilla ice cream. Enjoy!
Notes
The jelly referred to in the ingredients list is for the concentrated jelly products available in the UK that need dissolving in water in order to make standard jelly. If you live in North America, you can substitute it with 85g (3oz) packet of powdered strawberry jello. If you are using the latter, omit the step of dissolving the jelly in a bit of water first. Simply sprinkle the jello, along with the sugar, on the rhubarb proceed with the cake mix.

The cake mix should be enough to make a two-tiered cake.
Prep Time:

10 minutes

Cook Time:

45 minutes

Category:

Dessert

Method:

Bake

Cuisine:

American
Keywords: rhubarb dump cake, American dessert recipe, rhubarb recipe, rhubarb dessert