Struggling to find a moment to have a decent breakfast in the mornings? If you have a lot on your plate at the moment, then these sugar free flapjacks will save your life!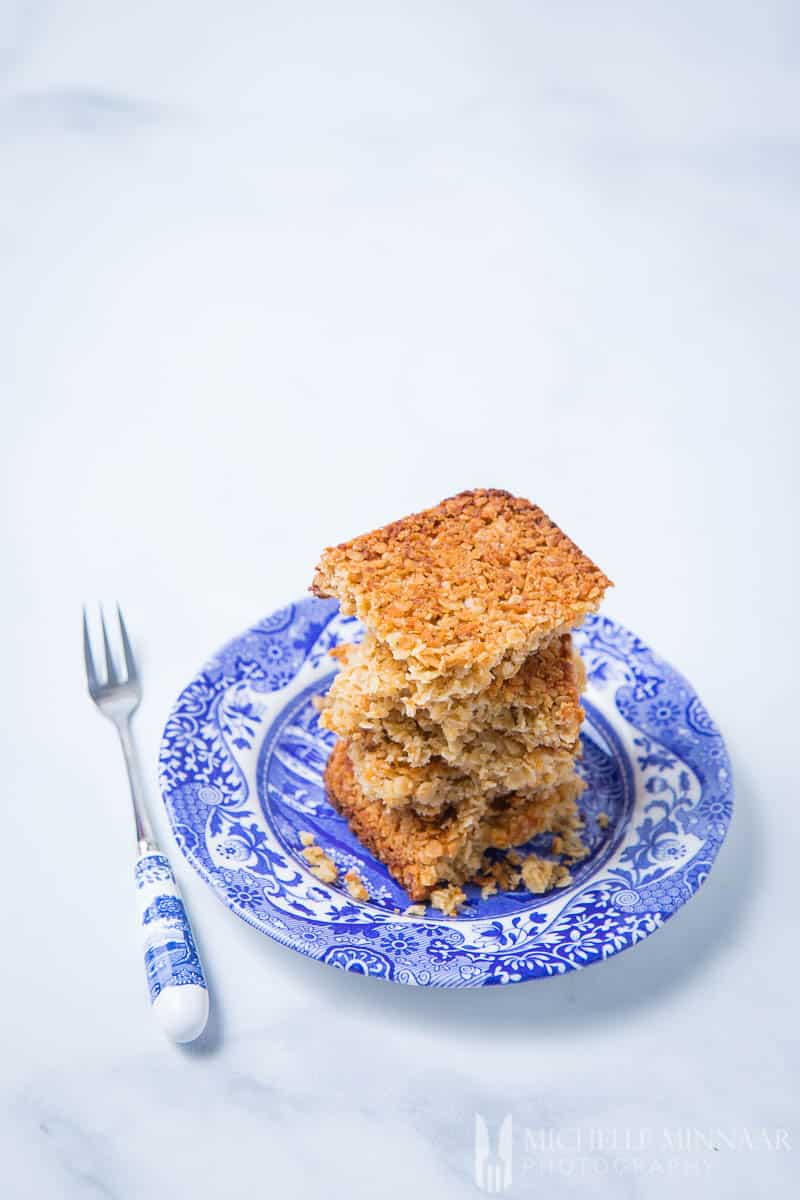 Mastering this flapjack recipe is a piece of cake. Plus, you can make it your own by adding your favourite ingredients inside the flapjacks, such as banana, oatmeal and much more.
I recommend making these in large batches, so you can have healthy sugar free flapjacks for breakfast every day of the week.
Plus, you can take them to work if you need an energy boost, or you can snack on them between meals. Since these are sugar free flapjacks, you'll have nothing to worry about.
what are flapjacks?
What are flapjacks? To some people, pancakes like these come to mind. However, sugar free flapjacks are far from a traditional pancake recipe. In fact, flapjacks are like cereal or oatmeal bars, generally cut into little squares.
You might also know sugar free flapjacks as muesli bars or granola bars, as they are called in Australia and New Zealand. The bottomline is flapjacks generally consist of rolled oats, butter, brown sugar, and golden syrup or honey.
There are several known versions of flapjack recipes out there in the world, which include nuts, dried fruits and even chocolate. However nothing beats this sugar free flapjacks recipe.
Sugar free flapjacks are known to be a healthier substitute for cakes, biscuits and digestives. In terms of texture, you can expect them to be moist with a crisp exterior.
Depending on other flapjack recipes, you might also find drier and crispier versions of sugar free flapjacks. This depends on how many rolled oats you include, as they will absorb moisture.
To learn more about flapjacks, click right here.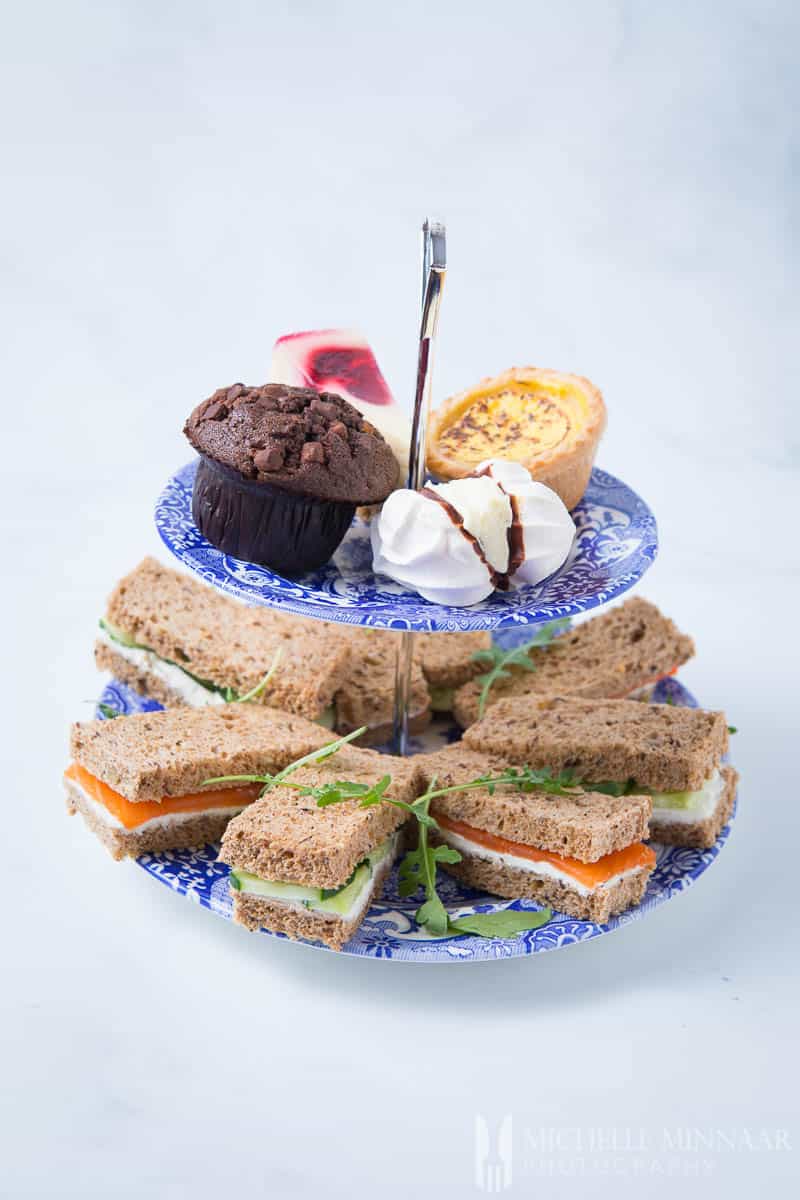 healthy flapjacks recipe with spode
Looking to serve your sugar free flapjacks on something fancy? What better way to dazzle your friends with something sweet and healthy on a plate than with sophisticated and iconic tableware from Spode Blue Italian?
Established in Stoke-on-Trent by Josiah Spode in 1770, this company began its journey with a £500 mortgage. It focused on the Spode's expertise in the blue under-glaze transfer printing. This was a major achievement that redefined the British ceramics industry, as it competed head to head with Chinese imports.
Today, this company of 500 people has made its way to having one of the most recognised designs in the world. The Spode company was acquired by Portmeirion Group back in 2009, still the Spode brand still remains true to its significant heritage clocking in at over 200 years old!
The manufacturing process still takes place only 500 meters from the original site in 1770. However, today more than 150,000 pieces are produced every week!
As such, the Italianate scene and cobalt blue and white colours have become an iconic design around the world. Everyone can recognise the Spode Blue Italian print! Did you know that 22 pairs of hands make the Spode Blue Italian?
sugar free flapjacks for diabetics
Due to the fact that traditional flapjacks are super heavy and sugary, there are many healthier variations that omit the use of sugar. Plus, there are also low-calorie versions.
This doesn't only include sugar free flapjacks, but sometimes people also omit the butter element and substitute with coconut fat. These are the good fats which your body needs to function well.
If you suffer from a diabetic condition, they recommend also adding some seeds and nuts into the flapjacks. Looking to go easier on sugar? Check out these sugar free recipes for inspiration:
Also, this sugar free dessert is a testament to the fact that can still eat something sweet and while maintaining your health.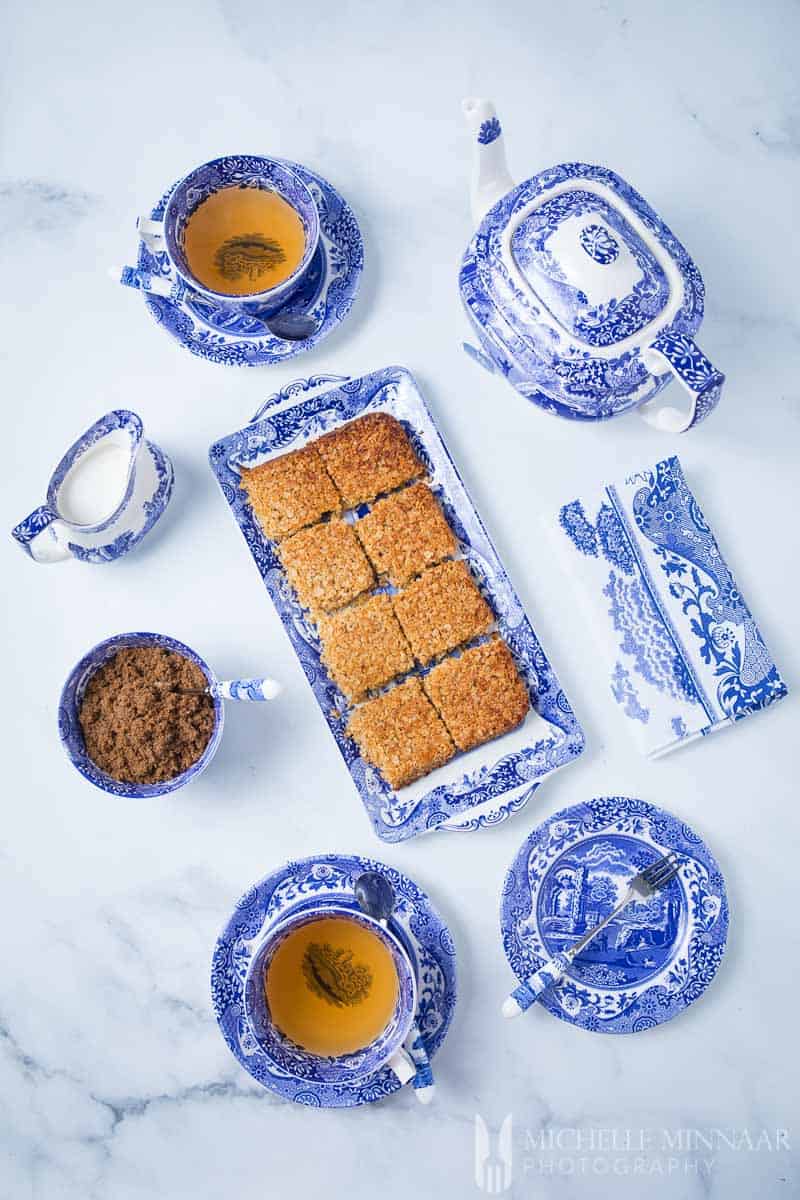 healthy sugar free flapjack recipe banana
Banana is another way to have healthy sugar free flapjacks. In fact, cooks generally use bananas as thickening agents to get the right consistency. It is a perfect substitute or addition to your sugar free flapjacks.
Especially when your sugar free flapjack recipe calls for flour, maple syrup or honey. Take two bananas and much them up with a fork. Add the oats and some nuts.
No need for you to add syrup or honey, the banana will bind all the ingredients together. Banana is an excellent source of potassium as well as energy.
Hence, baking a flapjack recipe with banana will make them perfectly suitable for that morning energy boost. Perhaps these banana flapjacks might even give you enough energy for you to leave out caffeine.
Another good sweetening and binding agent to use instead of honey or golden syrup is apple mash or apple sauce. You can buy pre-made apple sauce in jars - the ones you get your infants!
They work splendidly and they will give the flapjacks a lot of moisture too. You might need to leave them for an extra minute or two in the oven if you use the apple sauce. Most importantly, it will still remain a sugar free recipe!
Print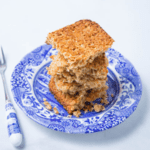 Sugar Free Flapjacks
---
Description
Learn how to make these healthy sugar free flapjacks in a few steps. This sugar free recipe will make you wish you tried cooking sugar free years ago.
---
200

g

(7oz) butter

20

g

(2/3oz) powdered artificial sugar

90

ml

(6 tbsp) honey

200

g

(7oz) rolled oats

50

g

(2oz) dessicated coconut
---
Instructions
Preheat the oven to 200°C/180°C fan/390°F/gas 6.
Melt the butter in a small saucepan and stir in the sweetener and honey. Remove from the heat and set aside.
In a large bowl, mix the oats and coconut.
Slowly drizzle the butter mixture into the oats while stirring.
Mix everything well until all the oats are covered with butter.
Pour the oat mixture in a 20x20cm (8x8in) baking tin and flatten evenly with the back of a wooden spoon.
Bake for 20 minutes or until golden brown.
Notes
If you are diabetic or want to avoid all types of sugar, including honey and dates, it is possible to still make flapjacks. In this recipe you can just omit the honey. That said, the flapjacks will be very crumbly but nonetheless enjoyable. The honey allows the mixture to become sticky which keeps it together better.
This is a base recipe. Feel free to spruce up your flapjacks with welcome additions such as adding a variety of seeds (pumpkin, sunflower, sesame, etc.) and dried fruit (dates, apricots, raisins, etc.). If you think think the mixture looks a bit too dry, add a drizzle of honey to firm up.
These flapjacks are crumblier than your average flapjack. This is because not copious amounts of honey or syrup were used to bind all the ingredients together to make flapjacks sticky and super sweet.
Prep Time:

10 minutes

Cook Time:

25 minutes

Category:

Breakfast

Cuisine:

English
Nutrition
Serving Size:

1 serving

Calories:

180

Sugar:

6.9 g

Sodium:

75 mg

Fat:

12.8 g

Saturated Fat:

8.3 g

Carbohydrates:

16 g

Fiber:

1.7 g

Protein:

1.8 g

Cholesterol:

27 mg
save the recipe to your pinterest board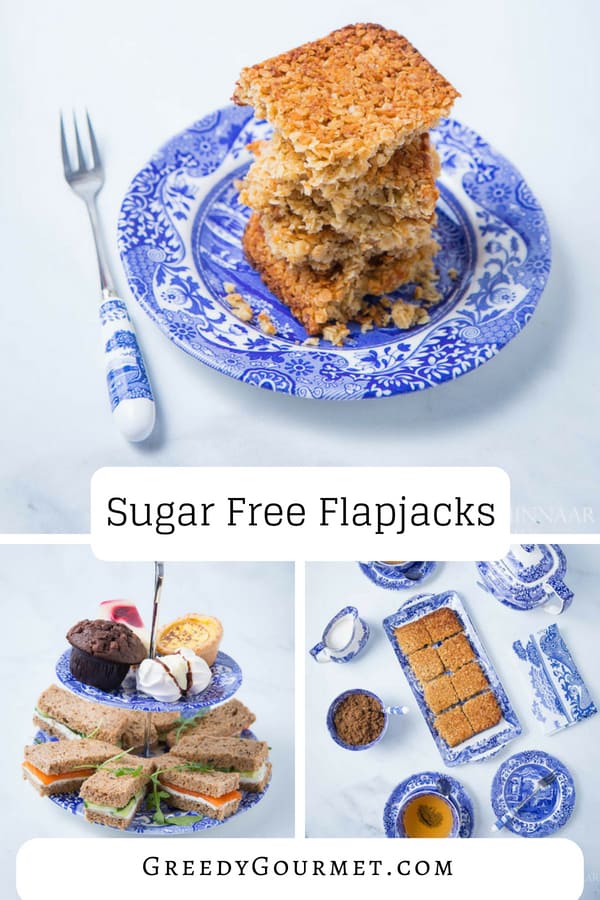 P.S. This is a sponsored post.