Remember when I was gushing all over a fantastic Indian BBQ recipe called paneer tikka? Well, this tawa paneer tikka is no different. Ultimately, tawa paneer tikka is a type of paneer recipe on a skewer that's grilled or fried on a flat pan. In India, tawa specifically translates to using a flat pan. Generally speaking, tawa paneer tikka is great leftover recipe idea for after a barbecue when you have loads of paneer tikka left. Preparation is easy and the recipe calls for common and inexpensive ingredients. You can also serve a tikka recipe as a starter, but you'll need to halve the portion sizes.
Tawa paneer tikka is a fantastic choice for vegetarians. This is because paneer is a type of nutritious Indian cheese, which is an excellent alternative to meat, and the recipe is crammed with vegetables. Nevertheless, this tikka recipe also works for meat lovers. Feel free to substitute the paneer with your favourite type of meat, e.g. lamb, beef or chicken. As a result, you can make lamb tikka or chicken tikka and serve them alongside this tasty tawa paneer tikka.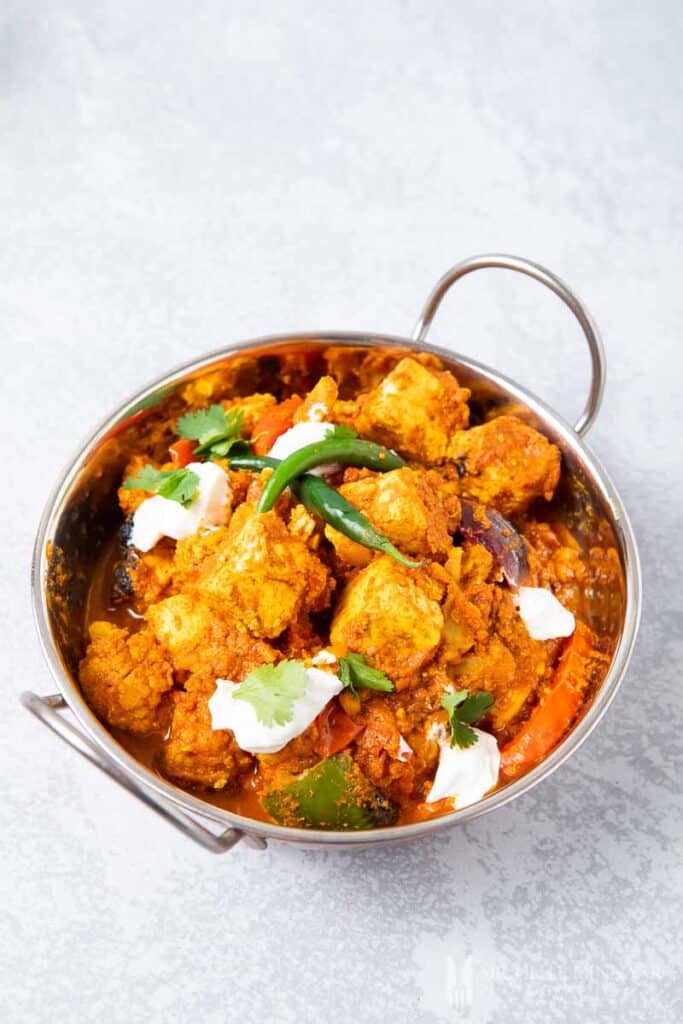 tawa paneer recipe
In short, tawa paneer tikka calls for small cubes of paneer, your favourite vegetables and onions on a skewer. After that it's finished off with cooked vegetables. Usually, before one places the tawa paneer tikka on the hot flat pan, the ingredients are marinated in a masala mix gravy with traditional spices. In this case, my marinade contains tomato sauce as a base. This makes a perfect tawa paneer tikka curry which you can serve with rice later on.
However, you can also use yoghurt instead of the tomato sauce. For instance, check out my vibrant masala grilled aubergine or eggplant recipe for more inspiration. The yoghurt lifts the entire recipe with exceptional creaminess and infuses the spices very well.
You can opt to add the marinade at a later stage and simply fry or grill the paneer tikka first like I did. Just make sure you use a pinch of the spices with traditional seasoning like salt and pepper on the tikkas.
indian cooking essentials
cooking paneer tikka on a tawa
As mentioned above, tawa is a special type of flat oval pan. It's one of the must-haves of any Indian kitchen.
You might also know tawa as:
tapa – in Georgian
tava or tave – in Iranian, Bosnian, Croatian and Romanian
saj – in Arabic
sac – in Turkish
sache or sach – in Bulgarian and Serbian
In essence, it resembles a flat pan used for French pancakes or crepes. Ordinarily, the tawa pan is made out of sheet iron, aluminum, cast iron or steel. Although the tawa pan originated in the Indian subcontinent, today you can find in all four corners of the world. That's because Indian cuisine is one of the most popular and loved cuisines in the world.
A tawa pan is used for frying food, like this tawa paneer tikka recipe. You can also fry other dishes like:
However, it is also heavily used for making a variety of Indian flatbreads. For instance:
rotis
pita bread
garlic naans, peshwari naan or any other type of naan
saj berad
chapati
paratha or kerala paratha
dokas
pesarattus
pancakes
As you can see, the tawa pan is not limited to making only tawa paneer tikka. You can use it for making so many more flavourful Indian recipes.
what is paneer?
Paneer is a type of fresh Indian cheese. It's widely used in Indian vegetarian recipes. Basically it is a cheese made by curdling milk with an acidic element. Generally, lemon juice is used. Although paneer is a fresh cheese, it has quite a firm texture. Therefore it is perfect for this tawa paneer recipe as the heat won't impact its structure.
Don't be afraid to purchase a large batch of paneer. You can use the leftover paneer to make a paneer korma or a spicier malai paneer curry.
paneer tikka in microwave
If you haven't got a tawa pan, you can also prepare this tawa paneer tikka recipe in a microwave or bake it in the oven. I recommend sticking the tawa paneer tikka recipe in the oven as you can get a lovely char with the grill function. As such, you wouldn't be able to spot the difference whether you've used an oven or a tawa pan.
paneer tikka masala gravy
The masala gravy ties the entire dish together, especially if you want to serve the tawa paneer tikka as a curry. Simply mix the Indian spices with the tomato sauce, but you can also use tomato paste. If you are not a fan of tomato sauce, you can also substitute with yoghurt or coconut cream. Otherwise, if you've made Indian curry recently, like this beef kofta curry just use the leftover left over curry base sauce.
tawa paneer tikka curry
Once you have your masala mix gravy ready, combine it with the paneer tikka. You can also toss in cauliflower, which will provide a nice soft texture and a subtle sweetness. This is an excellent way to serve tawa paneer tikka if you would like to use it as a main course or if you have a large and hungry family.
serving
You can serve the tawa paneer tikka in as a curry in a deep curry dish. Serve it the dish with traditional Indian side dishes like white basmati rice and cucumber raita. Lastly, top your tawa paneer tikka with fresh coriander leaves, fresh green chillies, fried spring onions and lime juice.
Do you own a tawa pan? Have you ever tasted tawa paneer tikka before? What would you serve the paneer tikka with? Let me know in the comments section below.
Print
Tawa Paneer Tikka
---
Author:

Michelle Minnaar

Prep Time:

20 minutes

Cook Time:

25 minutes

Total Time:

45 minutes

Yield:

6

servings

1

x
Description
This tawa paneer tikka recipe is vegetarian. The Indian cheese is first marinated, then grilled. Afterwards it's cooked with vegetables in a masala gravy. Make it tonight!
---
Scale
Ingredients
30

ml (2 tbsp) coconut oil

3

garlic cloves, peeled and crushed

2.5

cm (1in) fresh ginger root, peeled and minced

1

green pepper, washed and sliced

1

red pepper, washed and sliced

1

small cauliflower, cut into bite-sized florets

15

ml (1 tbsp) tomato paste

7.5

ml (½ tbsp) garam masala

7.5

ml (½ tbsp) ground turmeric

1.25

ml (¼ tsp) cayenne pepper

440g

(

1

can) chopped tomatoes

1

batch of paneer tikka, already cooked

125

ml (½ cup) Greek yogurt

15g

(

¼ cup

) cilantro, washed and chopped
---
Instructions
Heat the coconut oil in a large, deep saucepan.
Add the onion, garlic, ginger, red pepper, green pepper and cauliflower, and stir fry for 1 minutes over medium heat. Continue to cook for about another 15 minutes, or until the onion is soft and translucent.
Add the tomato paste, garam masala, turmeric and cayenne pepper. Sit until everything is incorporated.
Pour in the tomatoes, stir, and let it heat through, which should take about 2 minutes.
Add the cooked paneer tikka, stir, and heat it through, which should take another 2 minutes.
Remove from the heat, then stir in the yogurt.
Season to taste, top with cilantro and serve immediately with naan bread. Enjoy!
---
Notes
Feel free to use your favourite vegetables in place of the ones I used in this recipe. Keep in mind that cooking times vary for each of them.
Category:

Curry

Method:

Pan Fry

Cuisine:

Indian
Keywords: tawa paneer tikka, paneer tikka recipe, tawa recipes, vegetarian Indian main course recipe