Have you ever heard of tin roof ice cream? As strange as the name sounds, it is quite a popular ice cream flavour. This type of ice cream is generally served in a cone, or as a topping on cakes and sundaes.
In fact, tin roof ice cream is said to have originated as a sundae, but we'll get to its origins later. All in all, this tin roof ice cream has three major flavours running through it. First, it has a vanilla base. Secondly, a swirl of chocolate sauce runs through it. Lastly, it is topped with peanuts. Sometimes, the latter is chocolate covered peanuts for an extra chocolatey punch. Although a three flavoured ice cream might sound complex to make from scratch, it is not. Making tin roof ice cream is easy, because it has a simple vanilla with a sauce and topping added at the end.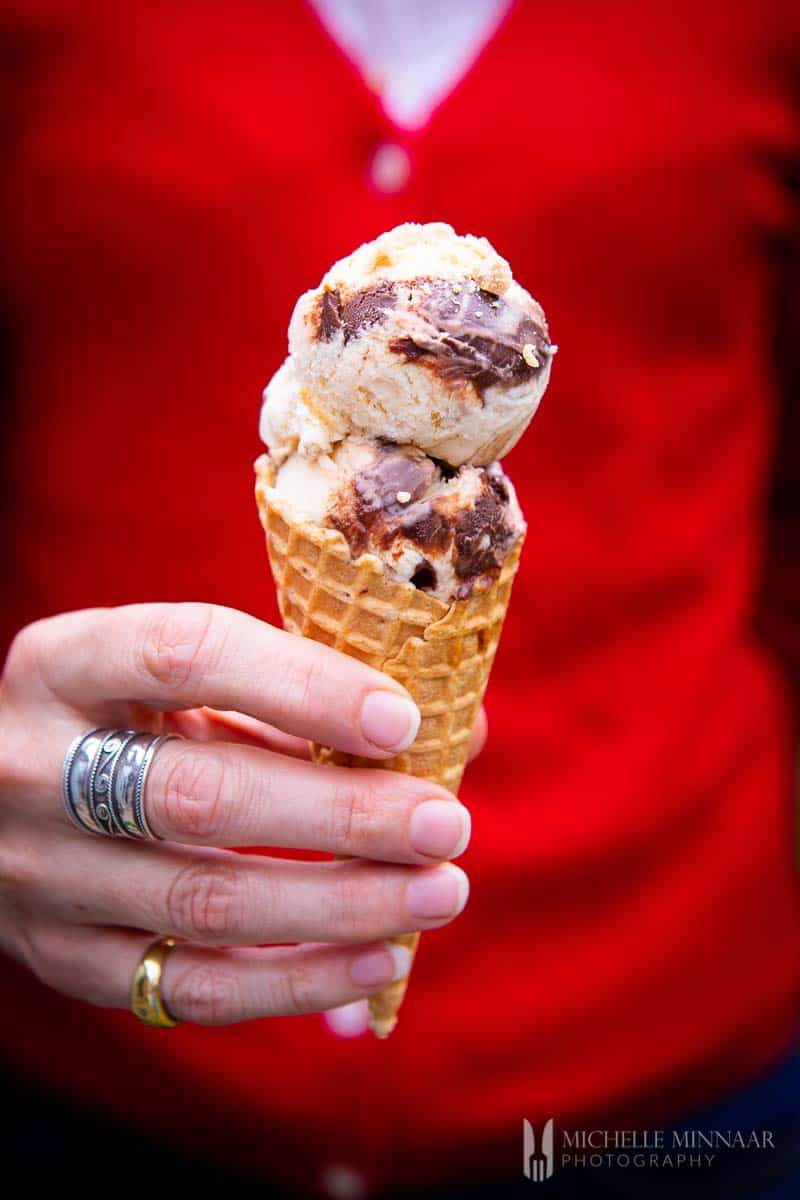 For this ice cream recipe, you'll need an ice cream maker or ice cream machine. Unfortunately, this is not a no churn recipe like my no churn peanut butter oreo ice cream, which is to die for. This recipe requires an ice cream maker. So, before you start making this tin roof ice cream, make sure that you've got the right equipment at home. Other ice creams you can make with an ice cream machine include:
essential ice cream making equipment
tin roof ice cream recipe
If you're making a tin roof ice cream for the first time, then you're going to have tons of fun. The recipe involves a couple of steps at the end where you integrate different flavours and textures into the vanilla ice cream. Once you master this ice cream recipe, you'll be able to master any multi-flavoured ice cream recipe. Dare to explore your ice cream making skills.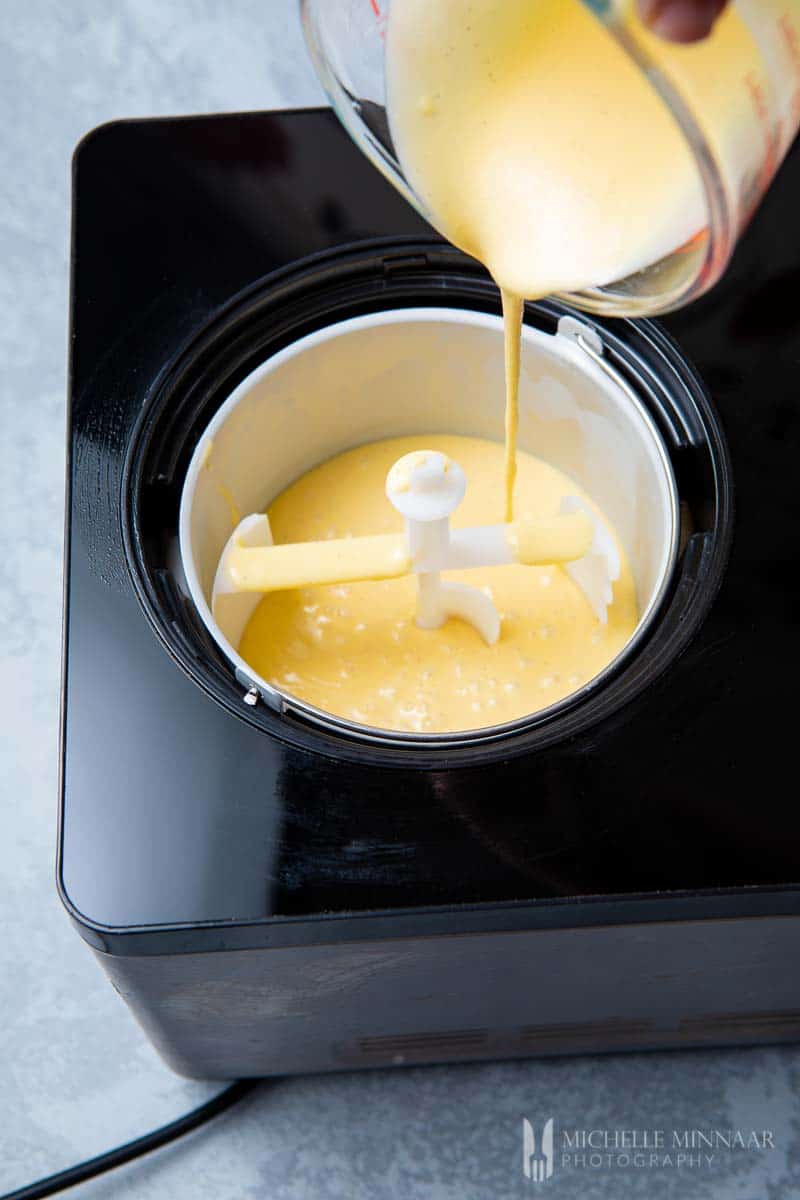 why is it called tin roof ice cream?
The origins of this ice cream recipe are uncertain. Nevertheless, one theory suggests that was first invented as a sundae. Consequently, they decided to name it tin roof because the business had a tin ceiling. Others argue that the name came from the neighbouring restaurant which had a tin roof ceiling. After that, the term tin roof stuck.
blue bell tin roof ice cream
As this is an American dessert, some ice cream makers such as Blue Bell have released a commercial version of this ice cream. Although, I guarantee that store bought ice cream never tastes the same as home made ice cream. Feel free to compare and let me know.

is there a tin roof sundae near me?
Since I live in the UK, the answer is a big fat no. Good job I know how to make it, and so can you!
Apparently, tin roof ice cream was invented as a sundae in an American diner. Have you ever made a sundae before? You can make it yourself. No need to go anywhere. It consists of ice cream, syrup, whipped cream, sprinkles and other crunchy ingredients or fresh fruit. In the case of sundaes, the bigger, the better. If you haven't made an ice cream sundae before, then follow these simple steps:
Pour syrup into a sundae bowl.
Add two to three scoops of tin roof ice cream.
Drizzle the syrup over the ice cream.
Add some whipped cream over the sundae.
Sprinkle the peanuts.
Add one last scoop of ice cream and serve, preferably with an umbrella!
substitutes for peanuts
There are a couple of varieties of nuts you can use for this tin roof ice cream recipe. For instance, you can use any type of nuts - the best substitute being macademia nuts. They are sweet in flavour and have a soft bite to them.
However, if you've got a nut allergy to any type of nuts, you can completely skip this step. Instead of peanuts, there are other substitutes.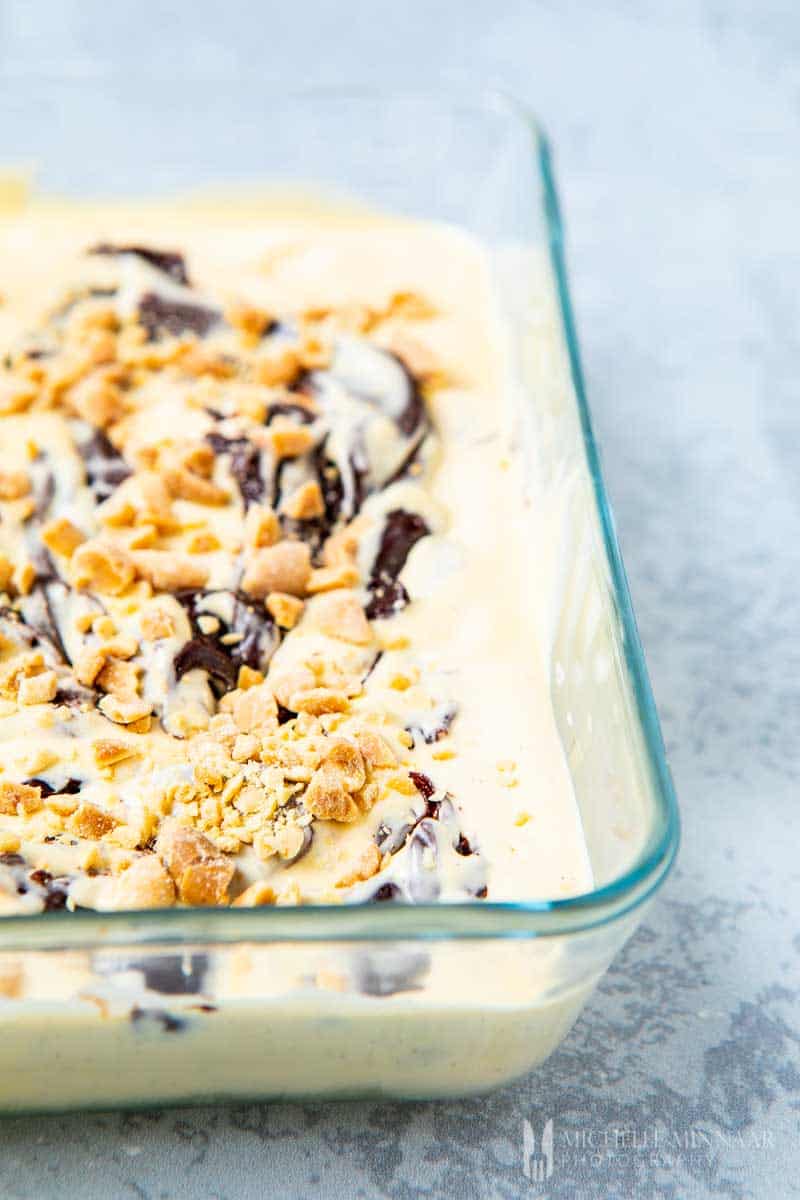 different ice cream toppings
I think this is my favourite part of eating any ice cream recipe, let alone this tin roof ice cream recipe. Although, tin roof ice cream is famous for being topped with peanuts, which gives it that wonderful variety of textures - crunchy and silky at the same time. That's something no one is able to resist.
In either case, if you would like to inspire yourself with more toppings, consider these:
cashews, macadamia nuts, walnuts, pistachio, hazelnuts - as mentioned before, you can use these peanut substitutes
drizzle a bit of this thick and amazing chocolate fudge sauce or a simple chocolate syrup
who can forget classic sprinkles?
whipped cream - although more suited for tin roof sundaes
fresh fruits like strawberries or blueberries
honeycomb like in this hokey pokey ice cream
dried fruit such as dried bananas
Smarties, candy corn, gummy bears, M&Ms, cereal, cheerios, you name it!
In fact, if you've got kids I recommend adding small marshmallows into the recipe. Either as a topping or directly into the ice cream maker when you make your ice cream. It will then resemble the infamous American ice cream classic, Rocky Road. Have you ever heard of this one? Rocky road ice cream consists of chocolate flavoured ice cream, peanuts and diced marshmallows. Those of you who had the opportunity to try it know just how full of texture this ice cream is.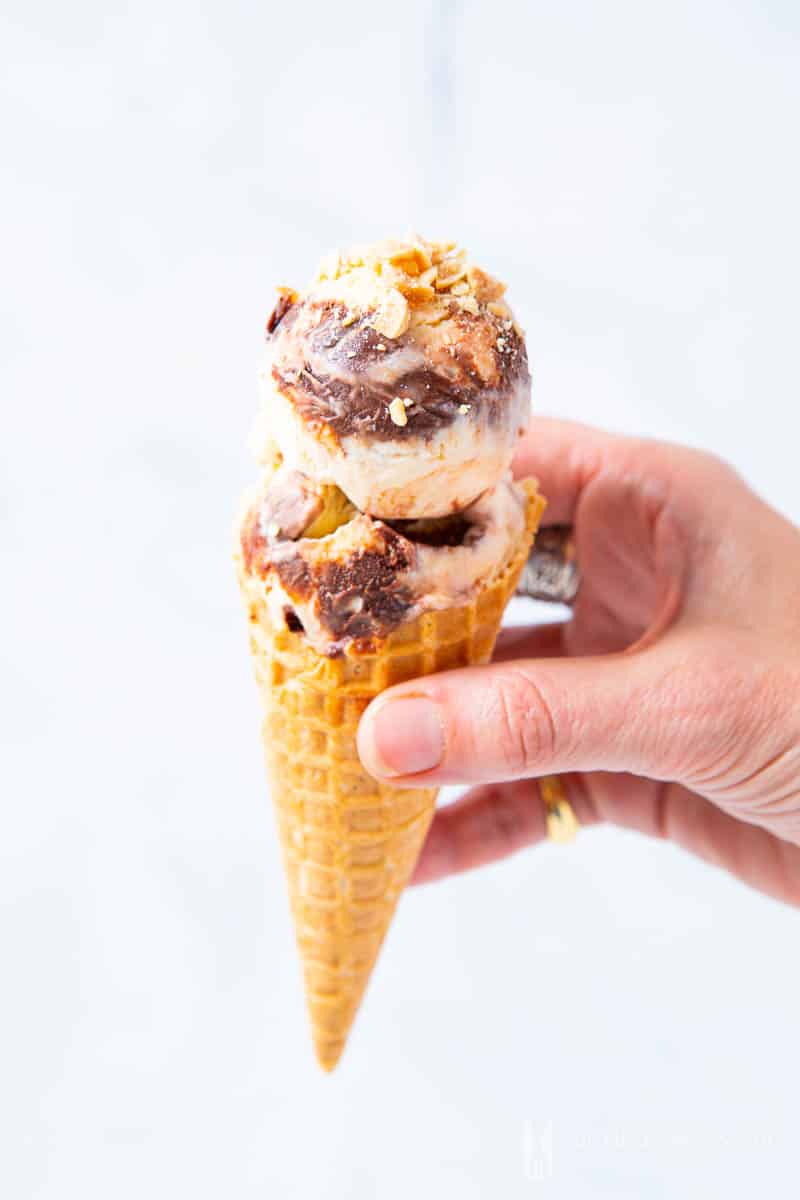 serving
Serve this ice cream in a waffled cone, on its own, in a sundae or alongside a fruity crumble. For example, you can consider serving it alongside these desserts:
What is your favourite ice cream topping? Do you have a favourite topping for this tin roof ice cream recipe? Do let me know in the comments section below!
Print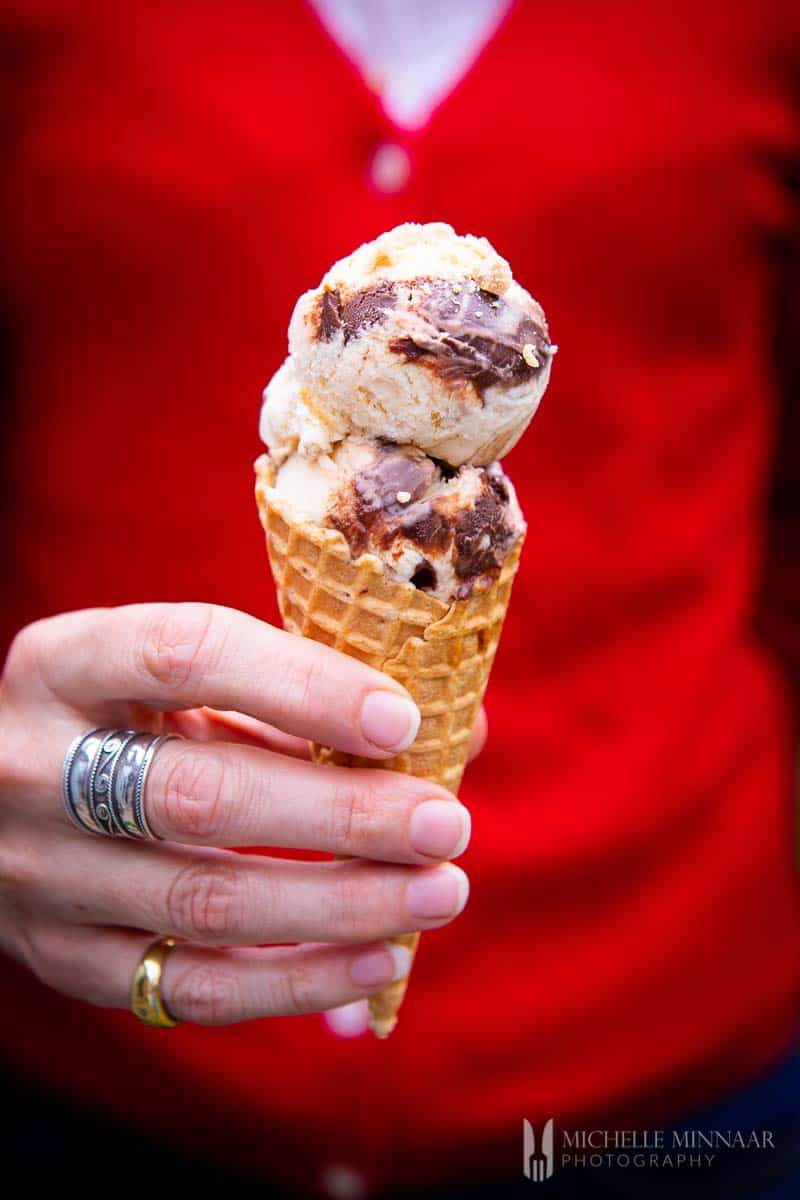 Tin Roof Ice Cream
---
Description
Tin roof ice cream consists of a vanilla ice cream base, with chocolate fudge swirls and roasted peanuts. An easy and simple ice cream recipe.
---
500

ml

(2 cups) double cream

250

ml

(1 cup) whole milk

125

ml

(1/2 cup) + 15ml (1 tbsp) granulated sugar

4

large egg yolks

7.5

ml

(1/2 tbsp) vanilla paste

180

ml

(3/4 cup) chocolate fudge sauce

95

g

(3/4 cup) peanuts, roasted and salted
---
Instructions
Prepare the chocolate fudge sauce first by following this recipe.
Combine the cream, vanilla, milk and 15ml (1 tbsp) sugar in a saucepan. Bring to the boil then remove from the heat.
In a large bowl, whisk together the 125ml (1/2 cup) sugar and egg yolks, until the mixture has gone pale in colour and doubled in size.
Temper hot milk into the sugar yolk mixture, by slowly adding hot milk about 60ml (1/4 cup) at a time, whisking to distribute heat. Once all the milk has been added, transfer mixture back into the saucepan.
Place the saucepan over medium-low heat. Stir until mixture reaches nappé consistency, or 80°C (180°F) on a kitchen thermometer. Let mixture sit at this temperature for 5 minutes to pasteurise the eggs.
Remove from heat and pour the custard into a large mixing bowl. Place the bowl into icy water and stir until the custard has cooled.
Pour the custard into an ice cream maker and churn according to your unit's instructions.
Place the contents in a large bowl and gently fold in the chocolate fudge sauce, keeping action to a minimum so that dark chocolate streaks are easily discerend in the ice cream.
Transfer the ice cream to a sealable container and sprinkle the peanuts on top, then place in the freezer. Freeze for at least 3 hours or overnight.
Notes
You can adjust the quantity of vanilla paste to taste.
Alternatively, one vanilla pod instead of the vanilla extract. Halve the vanilla pod, scrape the seeds out and add to the milk and cream mixture, along with the pod itself. After the boiling process, remove the pod.
Ice cream makers vary in timings. The one I use will finish churning in 50 minutes. If your machine's process takes longer, adjust the timings accordingly.
Some recipes call for chocolate covered peanuts. This can be bought or, if you feel up to it, you can melt the chocolate and dip them yourself. Since this ice cream will be drenched in chocolate fudge sauce, I see this step as superfluous, so skipped it altogether. After all, why make life harder if you can keep it simple?
Prep Time:

10 minutes

Cook Time:

1 hour 30 minutes

Category:

Dessert

Method:

Freeze

Cuisine:

American
Keywords: tin roof ice cream, tin roof sundae ingredients, vanilla ice cream with chocolate fudge sauce and peanuts