Watercress sauce is both delicious and made in no time. Once you try this watercress sauce recipe, I'll bet anything, that you will replace your regular sauce with this healthy vegetarian substitute. It's for someone who wishes to include more greens in their meals. Furthermore, it's super versatile and you can use it on literally anything you like. As you can see, I have used the watercress sauce with a lovely piece of salmon and some roasted new potatoes. Together, you have a balanced meal with combination of different textures that will satisfy the most health-conscious individuals. Enjoy!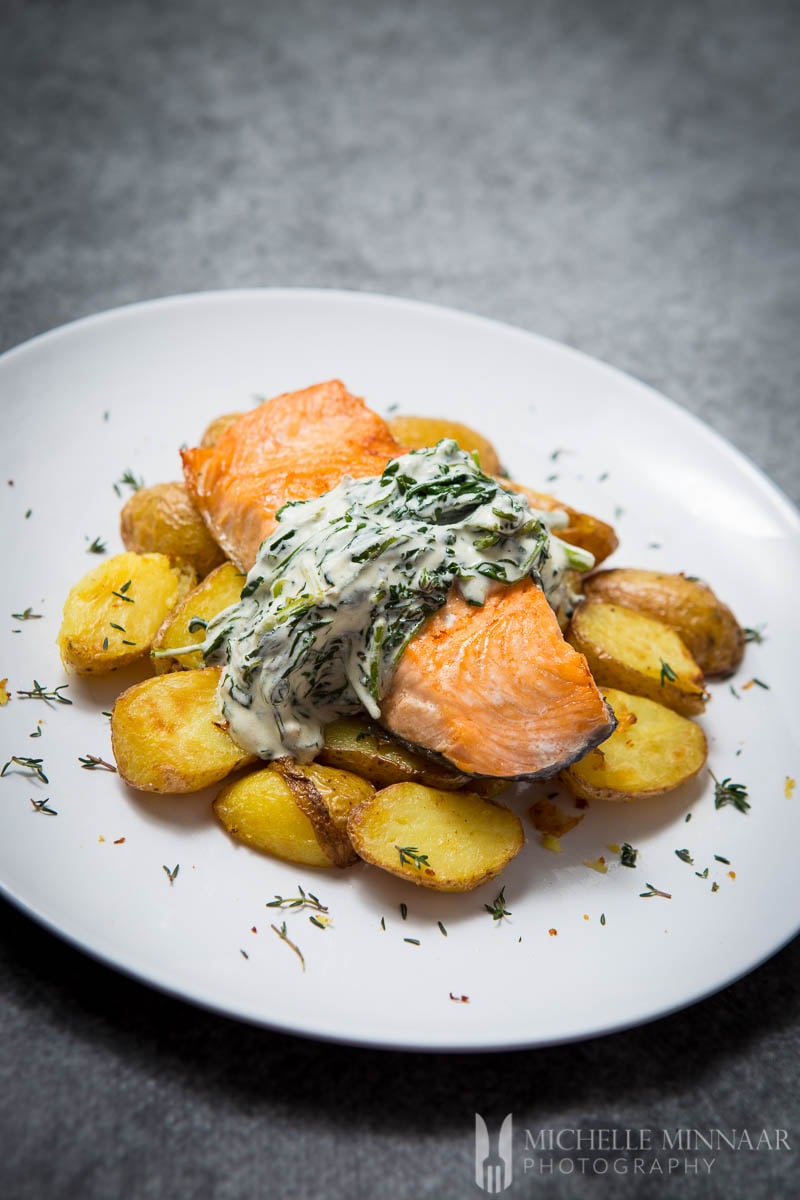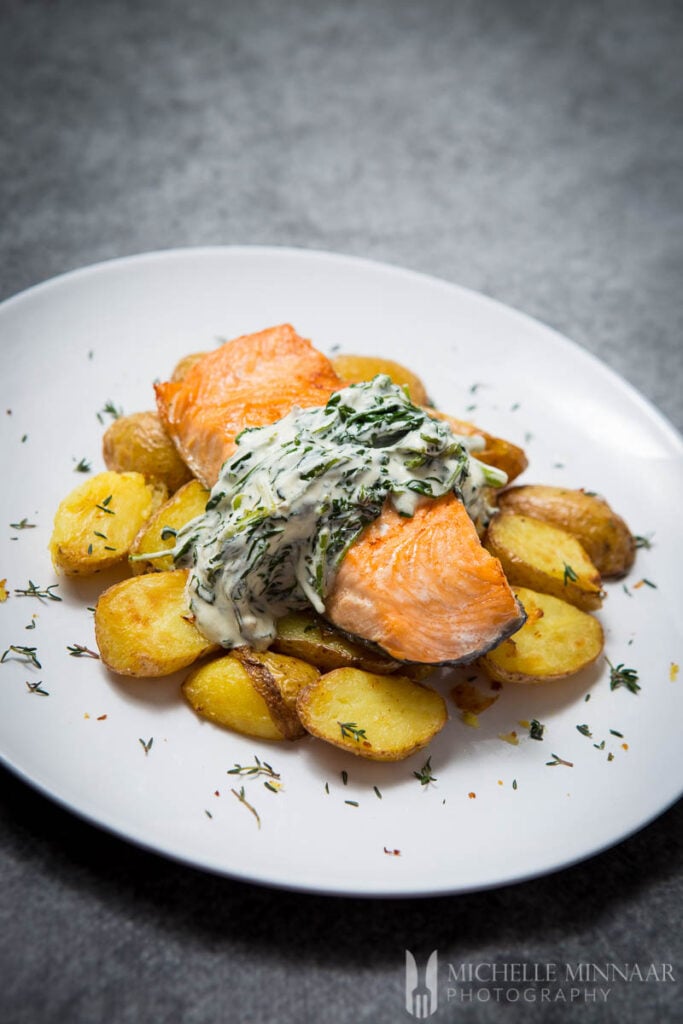 Watercress
Watercress is an aquatic plant with strong antioxidant qualities. Its leaves are generally picked and used for salads. Today, I've used the leaves to make a sauce. Believe it or not, but watercress has been around for ages. It was used by many royals and noted historical individuals. Click here to find out more about the history of watercress.
Growing watercress
No, it's not so difficult to grow your own watercress. This plant is friendly to rainy and cooler climates. In addition, it doesn't require too much attention. For more information on growing, picking and harvesting you own watercress, if you dare, click here.
Butter
I used butter in this recipe. It adds a subtle creaminess to the watercress sauce during the frying process. Be careful when you fry the watercress in the pan. Don't expose the pan to too much heat. If you do, you will burn off the vitamins from the watercress. Use low intensity heat!
Dijon mustard
Dijon mustard is a great addition to the watercress sauce. It adds a tangy flavour to the palate. This traditional French mustard has been a popular condiment for years.
History of Dijon mustard
Named after the town of Dijon in Burgundy, mustard has made its first appearance during the Roman era. A recipe using mustard seeds was found in a Roman cook book from the 4th century. The Romans used the mustard seeds with other herbs to make a glaze for roasting meat during their feasts. Dijon mustard arrived in Paris in the 13th century. During this time, Dijon was getting popular for its mustard production. In 1865, Jean Naigeon experimented with the mustard recipe using verjuice instead of vinegar. It has been a success ever since. Can you imagine cooking without mustard?
Yellow mustard
Many will ask this question – can I use yellow mustard instead of Dijon mustard? The answer is, of course! The difference between the two mustards is not that big. Yellow mustard, also known as traditional American mustard, is mild and less spicy than the Dijon mustard. It's less intense. Finally, the choice comes down to your personal taste. Do you prefer a spicy mustard or a milder one?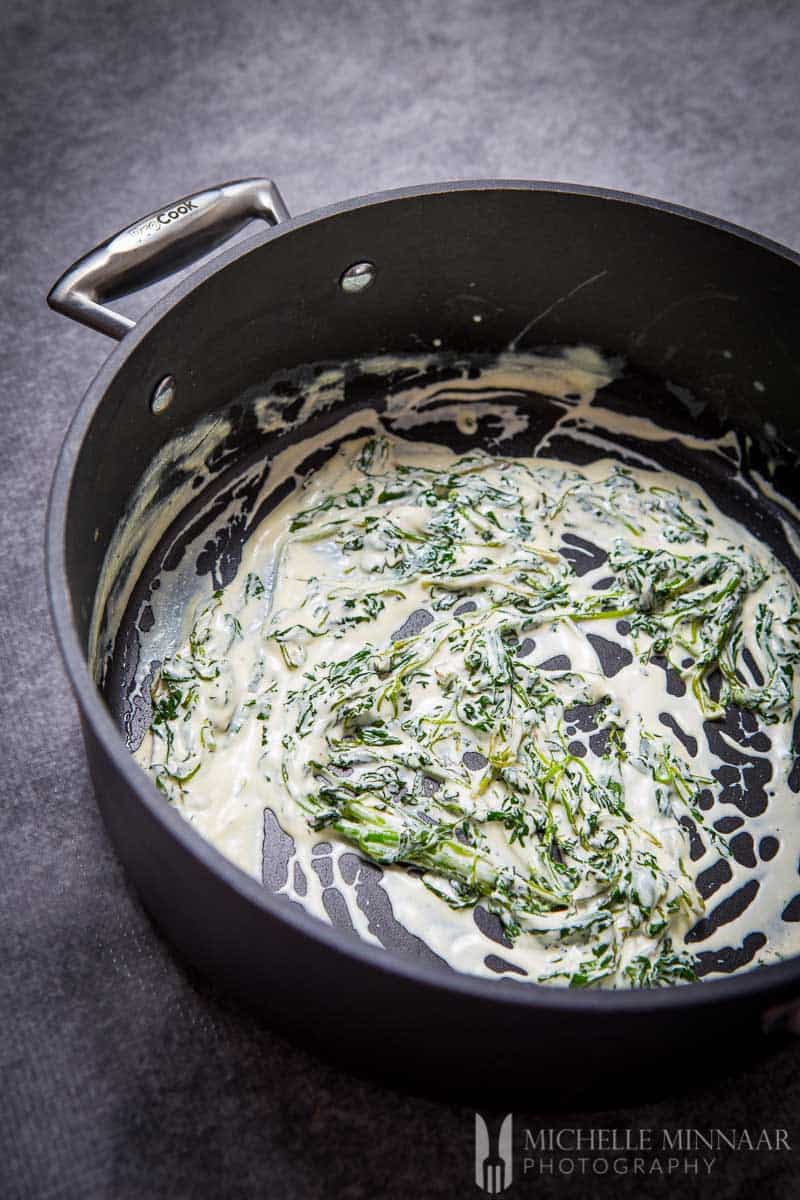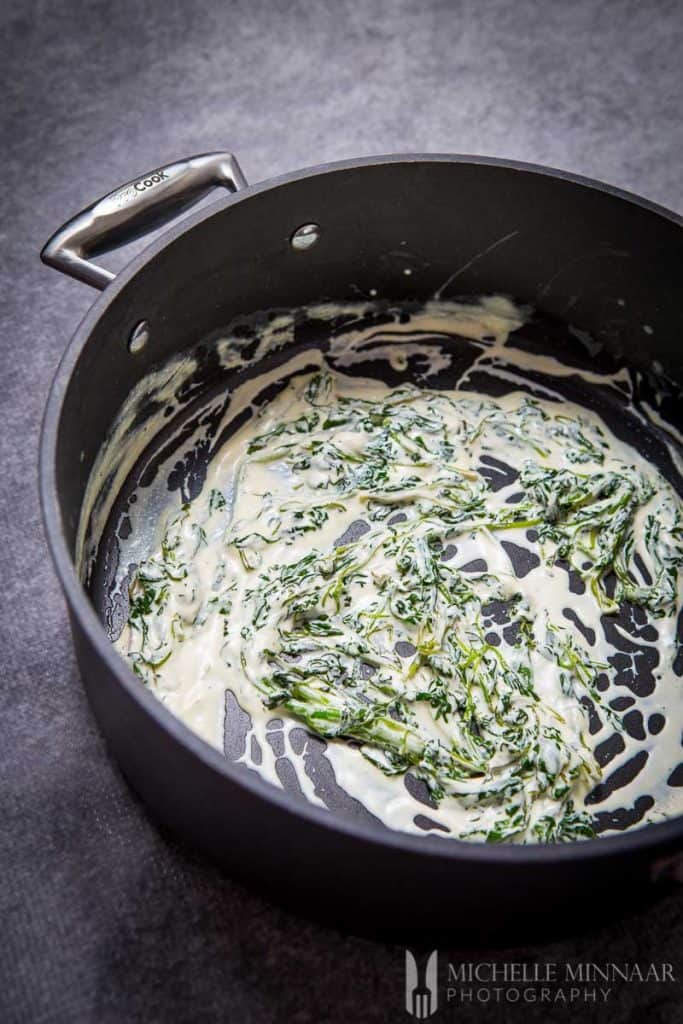 Crème fraiche
I used half-fat crème fraiche to keep the calorie content low for this recipe. As watercress sauce should be light, try to avoid using heavier creams. If you don't have any crème fraiche in your refrigerator, you can use single cream or double cream. Be careful with the double cream. Don't use too much as the sauce will become very heavy.
Preparation time
The watercress sauce takes only five minutes to make. w incredible is that? If you decide to have a smooth sauce instead, place the ingredients in a food processor and blend until desired consistency, then just place the sauce in a pot or a bowl. Next, rinse the mixer with water. Trust me, if you do this step as soon as possible, cleaning the mixer won't be such a hassle later.
Consistency
The beauty of making this sauce is that you can control its thickness. If you wish more a more dense and thick sauce, simply add more watercress and reduce the amount of cream. For a smoother mixture, add more cream and butter and keep pressing the blend button until smooth. I personally like the watercress sauce to be a bit coarse.
Storage
You can refrigerate this sauce for a couple of days. Freezing is possible but not recommended. Once you defreeze, the consistency of the sauce won't be the same. Afterwards, it might even become flaky. The best option is to consume straight after the watercress sauce mixture is finished.
Vegetarian
This watercress sauce is vegetarian friendly! For health benefits of the watercress, please click here.
You can use this sauce in a variety of ways. The creaminess of this watercress sauce will keep you full. If you enjoy creamy vegetarian-friendly dishes, you will love this creamed cauliflower recipe.
Salmon
The watercress sauce is a fantastic topping for a beautiful salmon filet. When you pan-fry your salmon, place it on the hot pan with the skin facing down. As soon as the salmon starts to turn pink and appears cooked, take it off the heat. The creamy watercress sauce will work perfectly with the rich salmon and the crispy skin. You can also use other types of fish such as: halibut, sea bass, and so forth. The choice is yours.
Potatoes
I enjoy using the watercress sauce on boiled potatoes. Potatoes are more filling than other types of vegetables. In fact, if you are looking for a hearty and healthy meal, potatoes with watercress sauce is the way to go!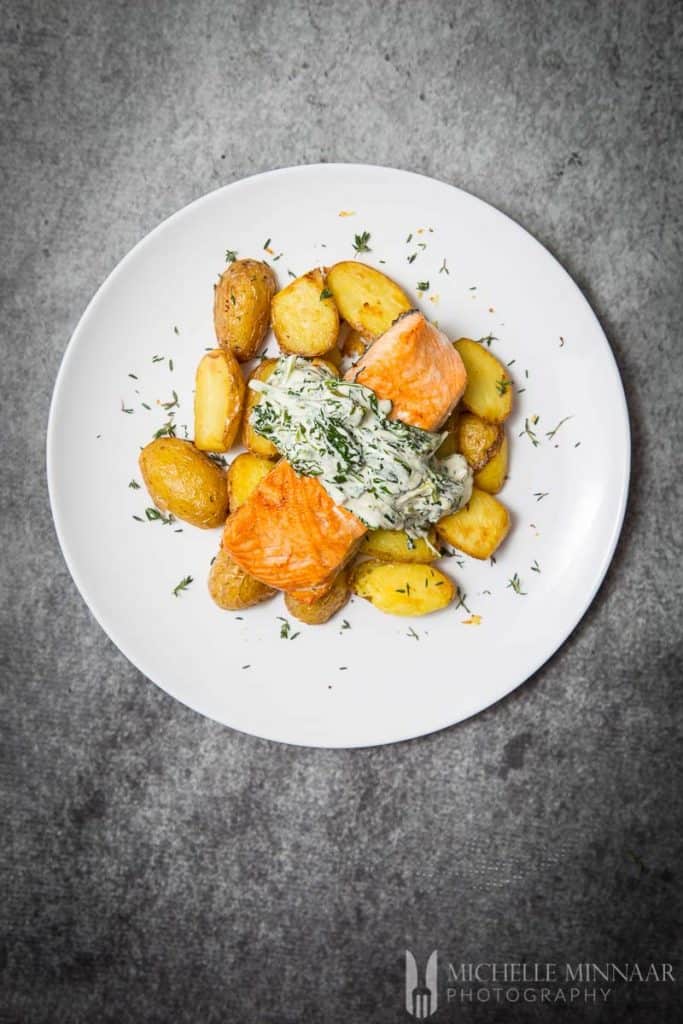 Vegetables
Instead of potatoes, you can also use watercress sauce on some these vegetables:
Cauliflower
Carrots
Green beans
Broccoli
Corn
This way, you will keep the calorie level of the dish down. If you are really watching your figure, go for the green beans or broccoli. Let us know what works best for you, leave a comment below.
Pasta
Yes! You can use the watercress sauce with pasta. Just make sure that you use a thicker watercress sauce. Try adding some cherry tomatoes and nuts to cut through the creaminess of the watercress sauce. Sometimes, I like to drizzle a bit of lime or lemon on top.
Your ideas
One of things I love about this blog is your amazing feedback. Someone had commented that they use watercress in an egg sandwich. What a great idea! Excellent addition for moms with picky kids. Healthy and easy to make at the same time!
If you love watercress and have watercress in your fridge, you can check out these recipes more inspiration:
Watercress Salad with Smoked Salmon, Blue Cheese, Pear and Walnuts
Print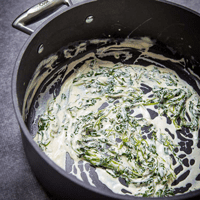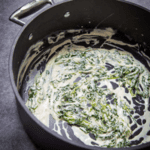 Watercress Sauce
---
Author:

Michelle Minnaar

Prep Time:

5 minutes

Cook Time:

10 minutes

Total Time:

15 minutes

Yield:

2

1

x
5

ml (1 tsp) butter

5

ml (1 tsp) oil

60g

(

2oz

) watercress

5

ml (1 tsp) Dijon mustard

100

ml (3 oz) half-fat crème fraîche
Salt and pepper, to taste
---
Instructions
Fry the watercress in the butter and oil until wilted.
Add the mustard and crème fraîche to the greens and let it bubble for a minute.
Season to taste and serve.
Notes
Instead of half-fat crème fraîche you can use full fat crème fraîche, single cream or double cream.
Serve with salmon, chicken or vegetarians can have it with pasta or potatoes.
If you prefer a smooth sauce, blend until smooth in a food processor.
Nutrition
Serving Size:

1 serving

Calories:

71

Sodium:

75 mg

Fat:

6.7 g

Saturated Fat:

2.9 g

Carbohydrates:

1.5 g

Protein:

1.3 g

Cholesterol:

13 mg
save the recipe to your pinterest board