White sauce, also commonly referred to as béchamel, is a thick and creamy sauce made with butter, flour and milk. It is often poured over freshly cooked pasta, oven-roasted chicken, fish or roasted vegetables. Moreover, it is an integral component of a lasagna recipe. You can find the sauce in between the layers.
White sauce is one of those basic sauces everyone should master. Just like hollandaise sauce, béarnaise sauce or marie rose sauce. In fact, it's considered the mother of all sauces in French cuisine.
It comes in many forms and consistencies depending on the amount of ingredients and how long you cook it for. However, there is such a thing as the perfect sauce. First it needs to have the right level of thickness (not too pasty, or too runny – like milk). In addition, a perfect version shouldn't contain any lumps.
This recipe will show you exactly how to make a flawless white sauce of which you can be proud. Enjoy learning the art of sauce-making!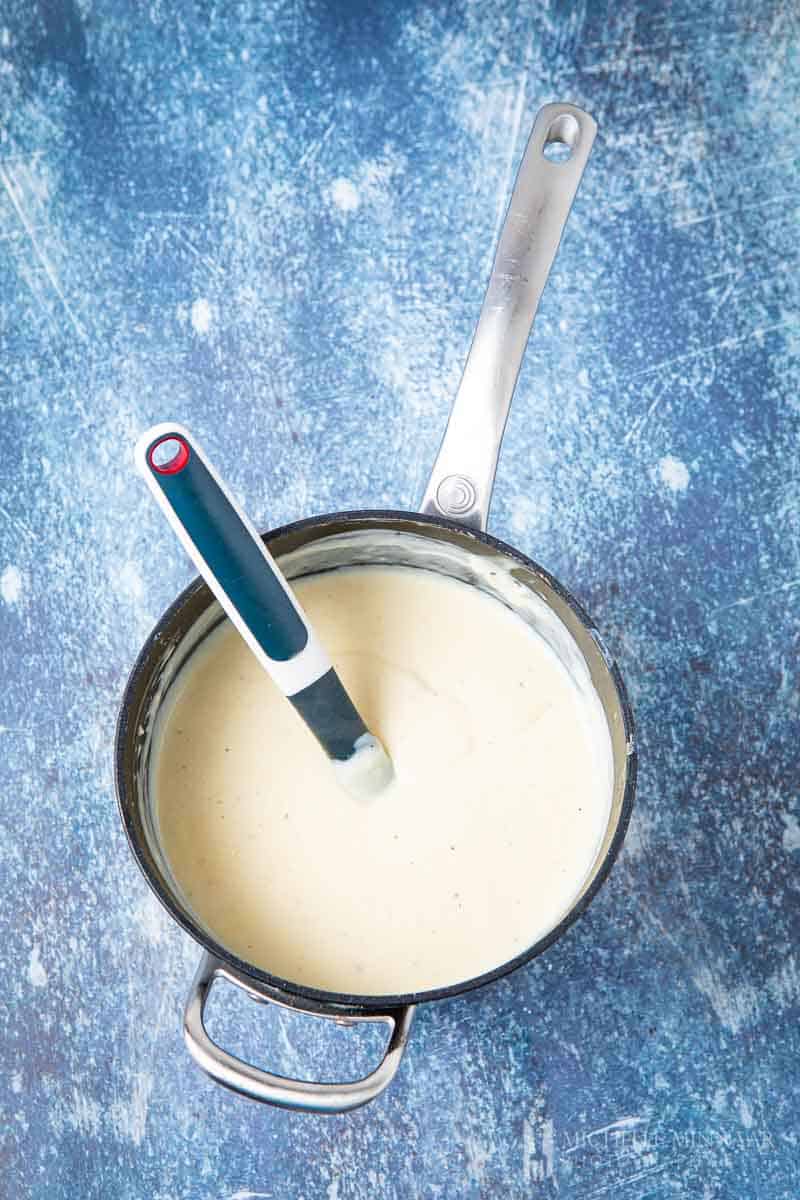 white sauce recipe
White sauce was originally invented in Italy (more specifically Tuscany) during the Renaissance era. Back then, it was known as salsa colla or colletta, which translates as glue sauce. Today in Italy, it's known as balsamella and besciamella.
Believe it or not, the sauce was brought to France by an Italian chef called Catherina de Medici in the 16th century and was originally served as a veloute (with lots of cream).
how to make white sauce
There are a couple of handy kitchen tools and gadgets you'll need to make this sauce – and others for that matter. For instance, you'll need:
white sauce ingredients
The key to this sauce is getting the proportions of the ingredients right. Ultimately, a béchamel sauce is made with only three ingredients. These are milk, butter and flour. Did you know that when you combine butter and flour, it's called white roux?
However, you can add other ingredients to the sauce to flavour or enhance it.
how to add maximum flavour
If you would like to add as much flavour as possible to the sauce, you can infuse the milk first with spices.
For example, you can add:
bay leaf or kaffir lime leaves - for an extra herbal kick
onions or shallots - for a subtle tart flavour in the white sauce
parsley, celery, coriander - if you'd like an even more fragrant sauce
black, green or white pepper - for some sharpness
nutmeg - a popular addition in many French versions
cheese - works with any type of cheese
how to prevent a lumpy sauce
Silky smooth béchamel or white sauce is what you want. First of all, follow the instructions closely as the proportions of the butter to milk determines your batch of sauce.
Tip: When you cook the white roux (butter and flour), make sure you whisk as much as possible. Also, make sure you reach all corners of the pan. This prevents the paste from scorching. If you are wondering why one cooks the white roux, it is basically to cook the raw aroma of the flour out of the white sauce.
Tip: Don't use too high a heat when you cook the white roux, as the butter will brown. Add small chunks of butter in the various corners of the pan. This redistributes the heat and will allow the flour to cook evenly. Above all, the butter will coat and attach to the flour, hence preventing any future lumps when you add the milk.
Tip: Once you add the milk, pour it in slowly. Not all at once. While you pour small amounts, whisk away. This is absolutely essential for a silky smooth sauce. It will allow the milk to bind nicely with the cooked white roux and also prevent any lumps. Plus, it's easier to control the consistency of the sauce.
Don't worry about the white sauce looking a bit too runny when you add the milk. Once you bring it to a simmer, it should thicken up nicely.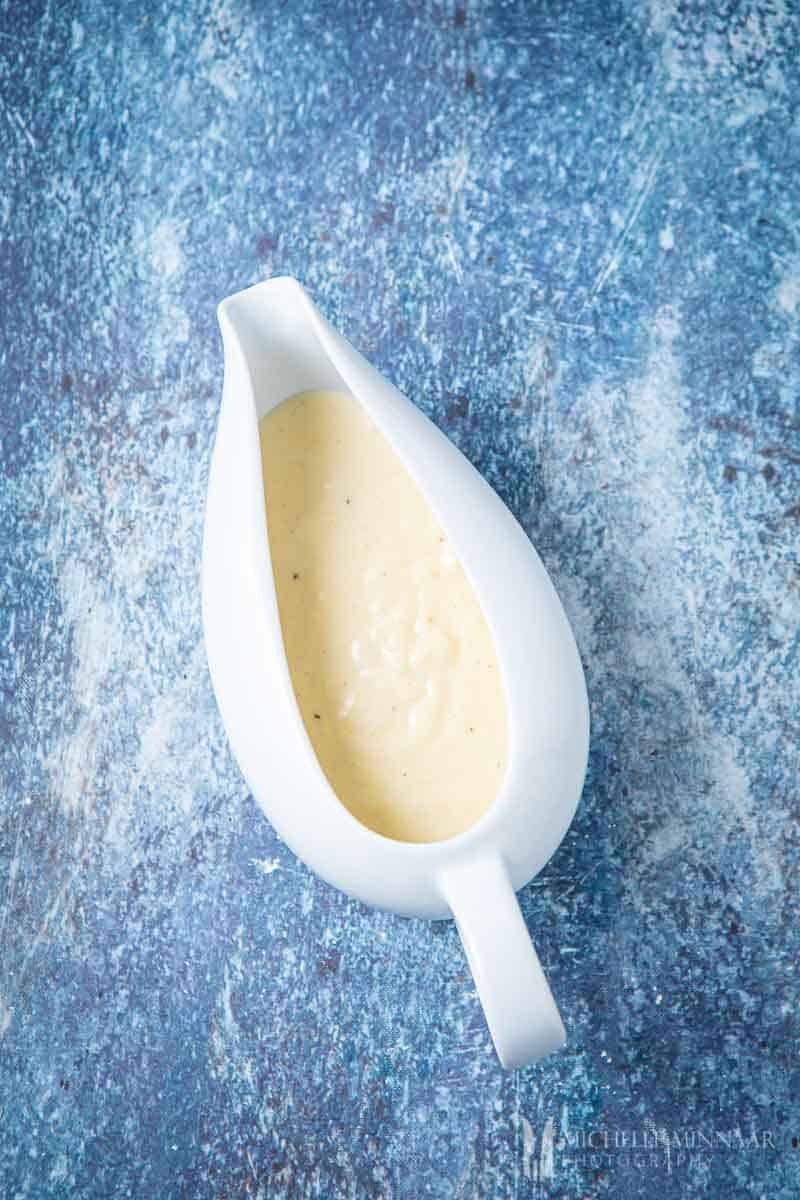 white sauce with cheese
Some versions of the béchamel or white sauce call for the addition of cheese. Especially, those served in France. In fact, if you decide to add cheese into the sauce, it becomes a whole different sauce called Mornay sauce.
Generally, you can use all sorts of cheese for this white sauce recipe. For instance:
Next, you can use the béchamel with cheese in the following recipes:
savoury French toast - serve on top
lasagna or moussaka (especially when your white sauce turned out thicker)
croque monsieur
white sauce for chicken
First of all, the white sauce goes nicely with a bowl of fresh penne or homemade fusilli pasta. However, it is also used as an excellent sauce over white meat like chicken.
The best option would be to serve the sauce over sous vide chicken breasts or brined chicken breasts.
Here's some food for thought. If you infuse green peppercorns into the milk for your white sauce, it will resemble my chicken breast with creamy green peppercorn sauce recipe.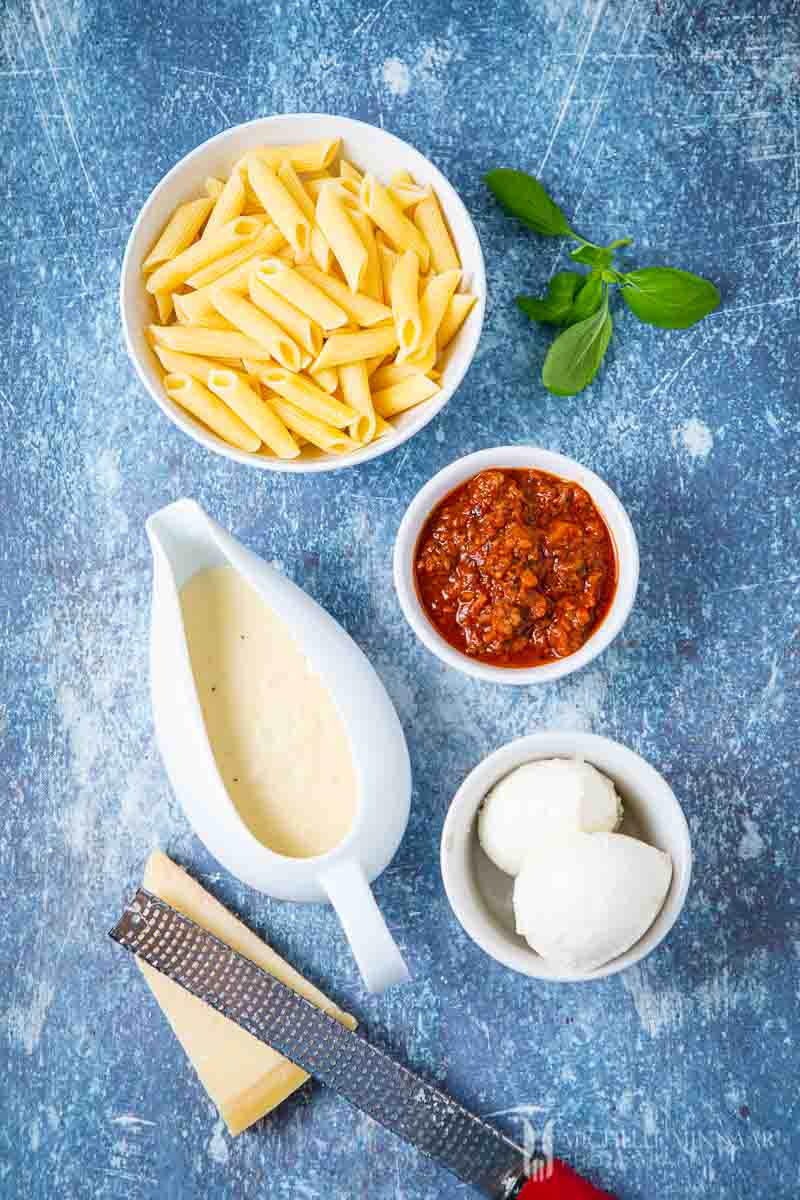 how to make white sauce without flour
Instead of flour, you can use roughly half of cornstarch as flour. Otherwise, if you'd like a gluten-free sauce, use the same proportions with gluten-free universal flour.
How would you make your white sauce? With what would you serve it? Let me know in the comments below.
Print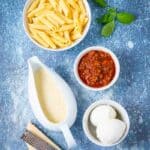 White Sauce
---
Description
Discover the secret to making the perfect white sauce, known as béchamel sauce, balsamell or besciamella.
---
60

g

(2oz) butter

60

g

(2oz) flour

600

ml

(1pt) milk
Salt and pepper, to taste
---
Instructions
Melt the butter in a large saucepan.
Add the flour and stir continuously until a roux (paste) forms. Continue to cook for another 2 minutes.
Gradually pour in the milk while stirring vigorously, until you get a smooth sauce.
Cook for 5 to 10 minutes, continuously stirring until the sauce has thickened to your desired consistency.
Season to taste and serve with greens.
Prep Time:

5 minutes

Cook Time:

15 minutes

Category:

Sauce

Method:

Boil

Cuisine:

French
Keywords: white sauce recipe, how to make white sauce, white sauce for pasta