Fancy discovering just how amazing British food can be? At the Benedicts Norwich restaurant, you'll get a chance to try our beautiful modern British cuisine. Located at the heart of Norwich, Benedicts Norwich is headed by the British award-winning chef Richard Bainbridge. Definitely setting the bar very high in regards to the quality and service in Norwich, I was able to enjoy myself in this modern restaurant with Michelin standards! This restaurant exceeded my expectations on all levels, and I wouldn't be too surprised if I find myself booking a table at Benedicts Norwich again in the near future.
Benedicts Norwich award winning chef
The chef and owner of Benedicts Norwich has won multiple food-related awards. His dedicated to culinary excellence is definitely reflected in the food that is served in Benedicts Norwich. Originally coming from Norwich, he has collected some of the best professional experience during his travels around the world. Some of his experiences include him working with Michael Roux Senior at the 3 Michelin Starred Waterside Inn, and also working for Kevin Thornton in Dublin and Günter Seeger in New York. When he returned from his travels, he soon became the head chef at Galton Blackiston's Morston Hall.
Him and his talented wife Katja first opened Benedicts back in 2015. Since then he has been winning awards non-stop. Benedicts Norwich received:
The Times Top 100 Restaurants in the UK
EDP Norfolks' Best Restaurants 2016
Square Meal Top 100
A rating of 5 in the Good Food Guide 2017
If that doesn't catch your attention, then maybe this will. As soon as Bainbridge opened Benedicts Norwich, he was on BBC's Great British Menu. Since then, he was invited to be a Veteran Judge on the program. Being so passionate about food, he also writes a weekly food column for the Eastern Daily Press. To learn more about Richard Bainbridge and his team at Benedicts Norwich, click here. However, now you can already start getting a sense of quality and dedicated to serving simply amazing food!
Benedicts Norwich restaurant review
Again, Benedicts opened back in 2015 and since then it has been winning not only awards but the hearts of customers who eat there. Also, while you are there, book your stay at the Holiday Inn Norwich City. You can easily book the restaurant to host an event also. To find out more information, click here.
Benedicts restaurant menu
The restaurant menu has a lot of selections. You can choose between a 2-course menu, 3 course menu, 6 course menu and an 8 course menu. If you are a vegan or a vegetarian, the chef has also a vegetarian, vegan and pescatarian tasting menu for you that you can request. With so many choices to consider, I went for the 6 course menu. Be aware that they are closed for winter break and summer break.
benedicts standard menu & special diets menu
Snacks
To my surprise and delight, I was served snacks before the 6 course menu started! You had a chance to sample crisps with a delicious dip, the mini cheddar which was a creamy cheese sandwiched between two biscuits, chive powder with pickled vegetables. I also got a rice cracker dotted with roe, shallot rings and micro herbs, served with sherry based fish mouse and tomato salsa.
All the while, I was served homemade bread with fresh butter. Mine was dairy free and tasted just dandy! In addition to that, I also had gluten-free bread and I honestly couldn't tell the difference.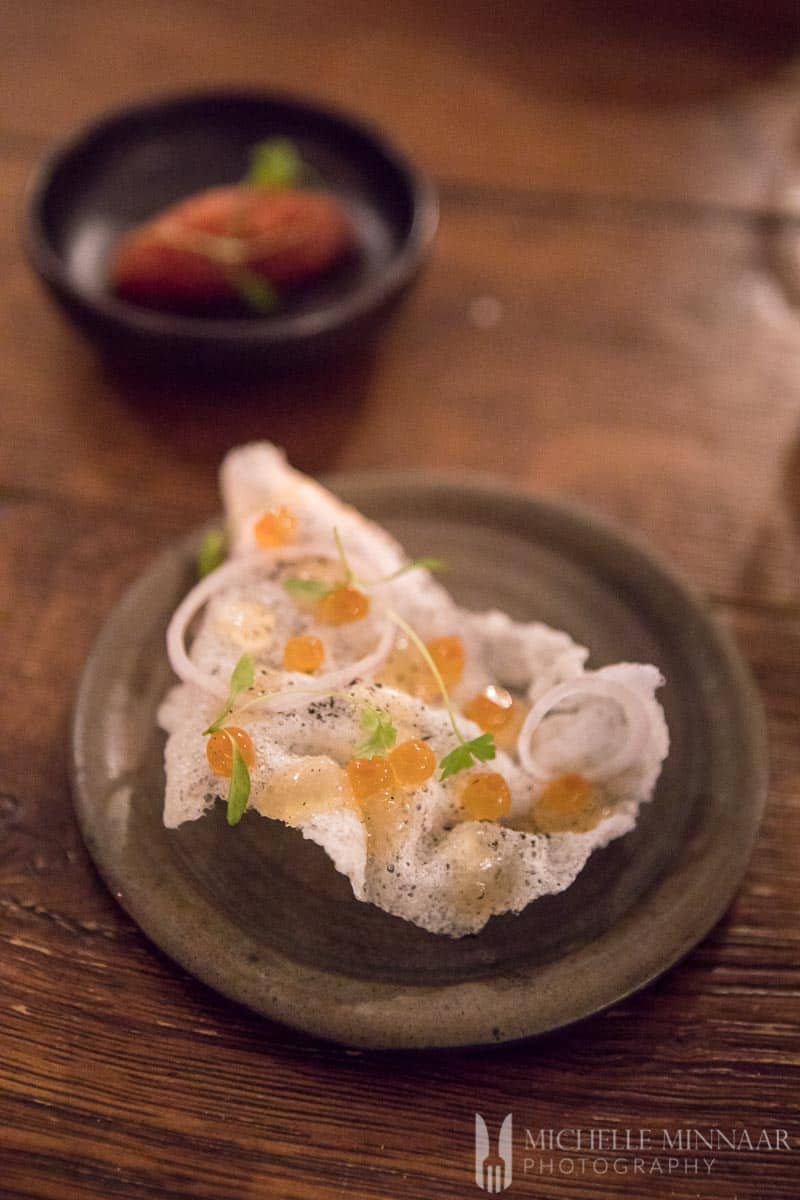 Thornage Hall Tomato Salad (special diets menu)
The tomato salad with tomato granita and gel was very light, refreshing and packed with flavours.
Mash & Gravy
The mash was creamy and the gravy dripped flavours of umami. The whole dish was topped with crispy shallots.
Wine pairing: Bourchard Finlayson De Mer, Blanc 2015
Cromer Crab Raviolo
The raviolo and the chicken broth were light. There is a definite after taste of apple which worked very well. However, you did lose the taste of the crab slightly in the end.
Wine pairing: Stephani Estate, Pinot Blanc, England 2015
Fish and Chips (special diets menu)
The trout was sous vide with crispy potato rosette and on top of super green sauce and samphire. The dish was served with chive powder.
Wine pairing: Nyetymber, West Sussex, England
North Norfolk Venison
The venison, chocolate, elderberry combination worked well. The meat was cooked to perfection. I really enjoyed the pops of elderberry throughout the dish, quite refreshing. The only slight flaw is that I didn't detect any hints of liquorice.
After this dish, I received a strawberry sorbet and plum to cleanse the palate. It was tangy and light.
Wine pairing: Fuligni Rosso Di Montalcino, Italy 2015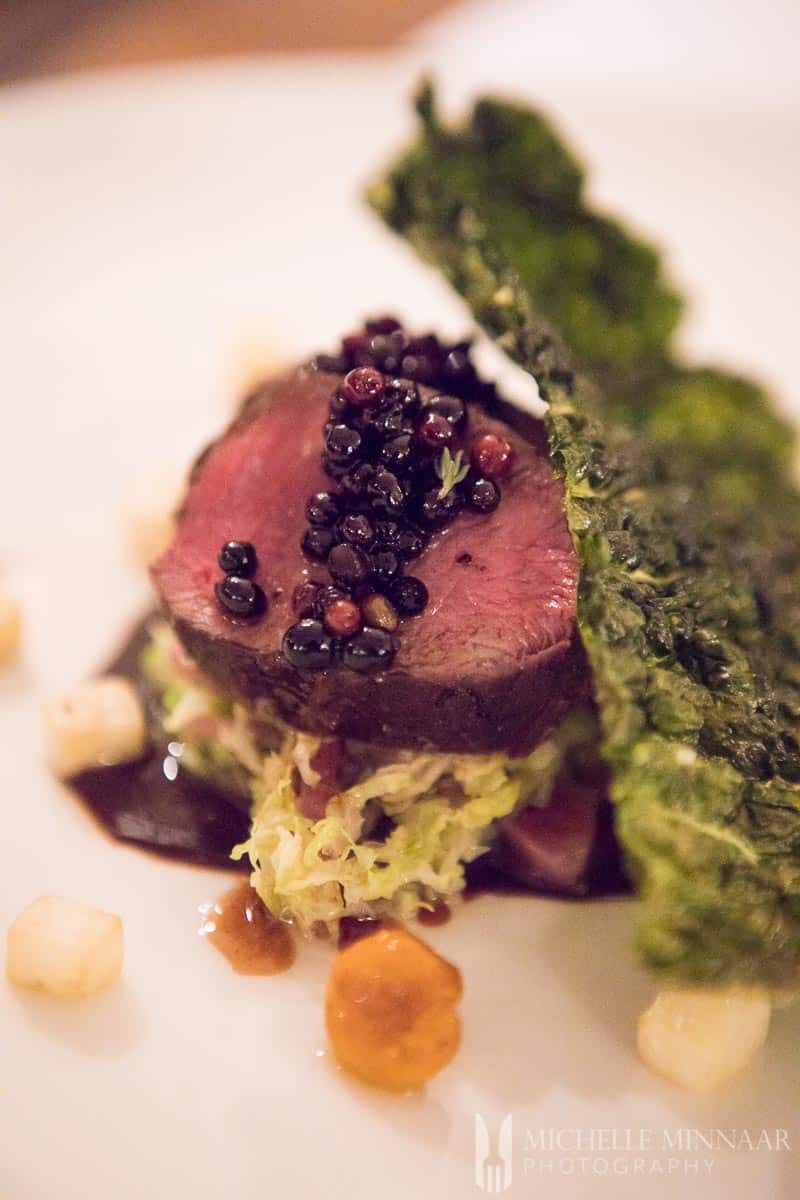 Late Season Sharrington Strawberries (special diets menu)
Refreshing and deliclous!
Wine pairing: Chateau Montgils, Cru Bourgeois, Sauterne 2012
Thornage Hall Blackcurrants
There were intense blackcurrant flavour ruling the dish tempered with cream to balance the flavours.
Spiced Pineapple (special diets menu)
The pineapple was sweet and moreish but the coconut foam was weak and didn't seem to play any role.
Nanny Bush's Triffle
In short, this is a milk jam. This is the winning dish of BBC2's Great British Menu 2015. Traditional Englishman said it hit the spot.
Wine pairing: Muscat de Riversaltes, France 2013
Benedicts Norwich review
Overall, from the standard menu, the trifle and venison were definitely the highlight. From the special diet menu, trout and venison were also a standout for me. I was very pleasantly surprised how easily Benedicts caters for special diets via this special diets menu. I requested no pork, dairy or gluten, which was all met! Whereas my travel companion was able to eat from the main menu. Yet, I didn't feel like I missed out in any way.
The Benedicts Norwich restaurant has impeccable service. The staff were very knowledgeable and proactive. The wine pairing by maitre'd was right on point, with Stephan Estate Pinot Blanc, England 2015 being the highlight of the evening.
Benedicts Norwich reservations
Honestly, this was so far the best meal of my entire trip to Norwich. It was a lovely way to finish the weekend in Norwich. A true joy in eating at Benedicts. To book a table, click here.
how to get to Norwich
If you are contemplating on visiting Norwich or eating at Benedict's Norwich, book your fare with Abellio Greater Anglia. Also, if you are planning to stay in Norwich overnight, book the Holiday Inn Norwich City. Check out my review.
To enjoy a luxurious restaurant meal at home right now, you can cook these:
Benedicts Norwich
01603 92 60 80
9 St Benedicts Street, Norwich, NR2 4PE
info@restaurantbenedicts.com

P.S. I was a guest of the Benedicts.