The first thing you will notice when you walk into the Blue Boar Smokehouse on a Sunday afternoon is the dazzling array of desserts on offer.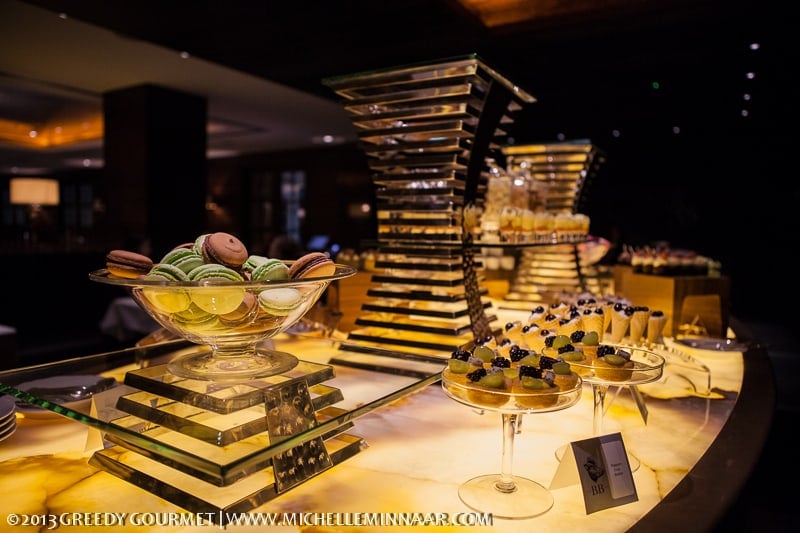 Whoever arranged these bowlfuls of macarons, miniature mousse cones, precious carrot cupcakes and truffles among other things did a splendid job to win any prospective diner over. Next to the desserts the starters were found. What I didn't expect to see in this 5-star setting was imitation crab sticks in a salad. Another low point was the over salted venison pastrami. The highlight was the smoked chicken and apple salad and no one could resist the large, sumptuous king prawns on offer that were abundantly stocked up whenever the ice block they were piled on started to look a bit bare.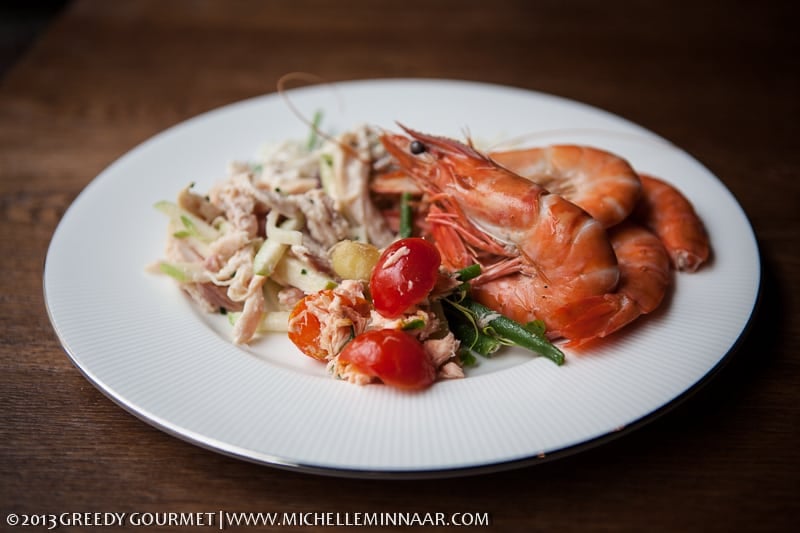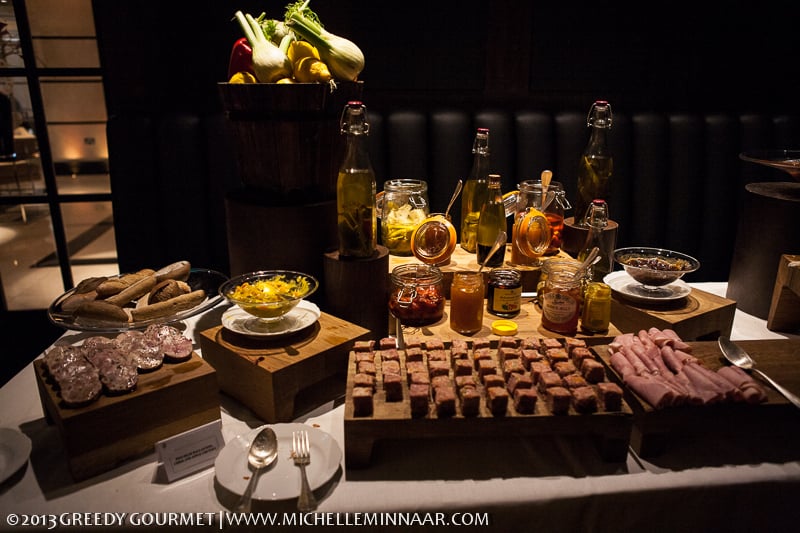 We had a hard time deciding on a main course from the menu, simply because of its blandness and lack of imagination. While there is no arguing that the pulled pork, which held the most promise, fell apart at the touch of a fork and was quaintly presented, it was puzzling to see that no decent BBQ sauce was served with it, like at All Star Lanes. The seabass ended up being a whole grilled fish which was extremely generous but overcooked and dry. Perfectly rare, my rib-eye steak was on the measly side and the plate looked quite sorry with just two tomato halves next to it. The pale, boiled greens served as a side dish resembled something from a 70's cookbook.
After ogling the rainbow coloured macarons throughout the meal I was quite dismayed to find out they were old, hard and very chewy. Turning to unlimited Bucks Fizz and chocolate for consolation, the chocolate mousse cones, chocolate tart and salted caramel truffles made up for all the booboos. Almost.
The Blue Boar Smokehouse's brunch (£45 per person) has the potential to be brilliant but a hard look should be taken at the quality of each and every dish that leaves the kitchen.
Quick Overview
Food
6/10: Some spectacularly good dishes and some not that great ones. The brunch's main course selection was dull.
Value
6/10: Great, big juicy prawns and fresh oysters always help.
Service
6/10: It was busy but there was no personal touch.
Toilets
10/10: I wish all restrooms were like this!
Ambience
6/10: Unless it's classical, live music cheapens the atmosphere.
Recommend
5/10: While there are some winners to be had at the brunch, the a la carte menu holds more appeal.
Check out what my dining companions thought of our meal:
Blue Boar Smokehouse & Bar
37-45 Tothill Street
Westminster
London
SW1H 9LQ

Website