Café Rouge is situated on Moulsham Street, just off Chelmsford's shopping district where the city enjoys a buzzing nightlife. There are a staggering +120 sites dotted across the country of this restaurant chain.
Inside, Café Rouge resembles a typical Parisian bistro and even the staff is French which adds to the effect. The restaurant offers an extensive array of French classics throughout the day, from breakfast to seasonal specials, or simply just a good coffee.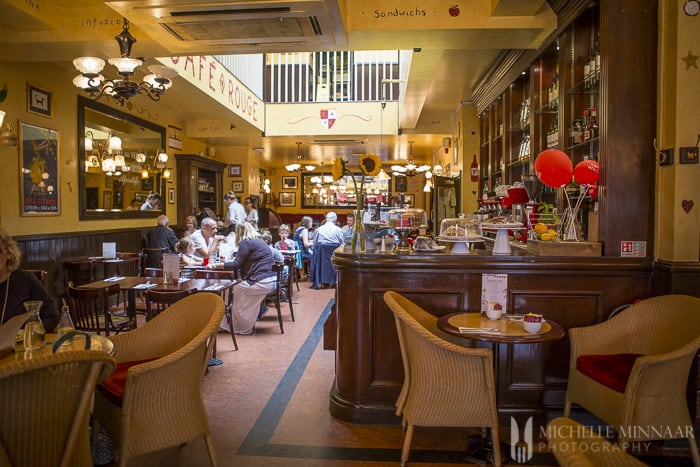 Coffee isn't the only thing Café Rouge does well. True to the French lifestyle, there is a decent selection of wines to choose from and the cocktails are out of this world. The Fizz La Poire (£6), which is delicate blend of Absolut Pears vodka, cloudy apple juice, elderflower and lemonade, was offbeat and moreish.
Activity booklets are immediately provided upon seating to keep the kids amused. There is a special kids menu priced at £6.95 for a 3 course meal including a drink, which is excellent value. The usual suspects such as bangers and mash, fish and chips and macaroni cheese are spotted on the menu, but more grown up options are also available such as the Sautéed Chicken Breast with New Potatoes. What I also like about the setup is that it's teaching kids the French way of life – the principle of a 3 course meal, the variety of flavours that can be enjoyed and patience to sit through it all!
There is only one starter available for kids and that is the crudites with two slices of baguette, served with red pepper tapenade and butter. The petits pois, broad bean and herb croquettes with crème fraîche aïoli (£6.25) and warm breaded Camembert with cranberry & redcurrant sauce (£6.50) are two dishes that I could eat every day. The croquettes were as pretty as a picture placed on top of the light sauce to offset the heaviness of the potato cakes, circled by dots of peas and baby peppadews and covered by baby salad leaves. As soon as you broke through the crispy crust of the Camembert its gooey, melty centre oozed out onto the cranberry sauce, served with pea shoots.
The kids had Le Burger (Charolais 4oz burger with tomato, lettuce and frites) and Bangers et Mash (2 porky grilled sausages, fresh mashed potato and gravy with peas and sweetcorn). Not only were the staff very proactive in assessing the needs of each table and acting accordingly, but dreaded spills were cleaned up in a jiffy and amendments to the order were received without as much as a blink. Unfortunately, the burger patty was overcooked and burnt. On the other hand, the sausages were miles better than the ones offered at a Wetherspoons pub the day before and were demolished within minutes.
The Bouillabaisse (£14.75) comprised sea bream, mussels, king prawns and squid in a tomato and saffron broth with rouille and Gruyère and was wonderful. It was much better than the monstrosity served at Loch Fyne and another disaster I had at a fish restaurant in Leigh-on-Sea. Unlike the starters and most of the main courses, the Confit De Canard's (£15.25) portion was pitiful thanks to there almost being no thigh meat on the duck leg which essentially left me with a bit more than a drumstick which was rather disappointing. The accompanying Potato Dauphinoise and orange sauce were lush though.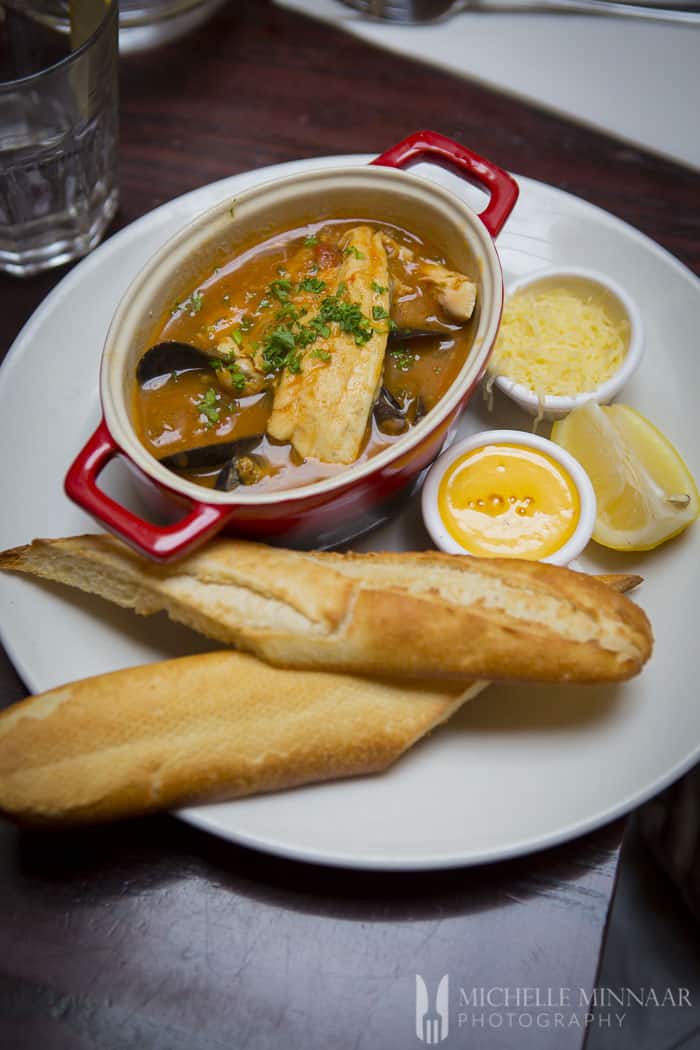 Expectations are dangerous things. Eagerly ordering the Tarte Tatin (£6.25) I envisaged a delectable plate of thin slices of apple arranged elegantly on top of puff pastry with a super crisp base. Alas, it was the shortcrust version but overall a comforting dessert and the added hazelnuts added a nice touch. The kids were more than happy with the ice creams served with popping candy and marshmallows, respectively.
Some ups and a few lows in the meal but overall we are happy to return when the fancy strikes. And who could possibly say no to red balloons?
Café Rouge
2, 219 Moulsham St
Chelmsford
Essex
CM2 0LR
Website
P.S. I was a guest of Café Rouge.