Family-owned Dante's Brasserie is an upmarket fish restaurant that opened in Maldon (Essex) mid-September this year. Sourcing ingredients and supplies from local producers wherever possible, its goal is to be as environmentally-friendly as it can be while serving the neighbourhood with delicacies from the sea.
Essex Restaurants
Admittedly, I'm not sure whether I should be proud or ashamed by confessing that since settling in the UK 14 years ago I've always lived in Essex. Like any place, it's got its good (better weather) and not-so-good (TOWIE - say no more) points. What was immediately clear back in 2014 was that the food sucked in Essex. Back then, my mind was simply blown (in a bad way) when doing currency conversion calculations between Rands and Pounds and receiving terrible food for sky high prices. This is how Greedy Gourmet came into existence in the first place. I very quickly stopped eating out and taught myself to cook while documenting it along the way.
Years later, I finally acclimatised and stopped thinking in Rands, which is still a painful thing to do for newly arrived South Africans. Here's what I learnt. If you want a proper meal, go to London. With competition being so tough in the capital, most establishments have to deliver or die, so the quality of food and service remains of utmost importance all of the time. Out in the country? Not so much. You can get good meals out here but the likelihood of being at the receiving end of a flop is much higher.
Here in Chelmsford chain restaurants are taking over. With each new opening, the place is bursting at its seams, with prospective customers forming long queues wanting to check out what all the fuss is about. The more exotic the menu the better. This proves that palates have changed over the years and people are bored with British, Chinese and Indian cuisines.
Dante's Brasserie in Maldon
A demand spurred especially by London commuters, is growing for better food. It's a downright pain having to travel to London if you want to have a superb meal. The alternative is settling for mediocre food with a chance of striking it lucky with good grub.
And that, ladies and gentlemen, is why I'm excited to have dined at Dante's Brasserie. It's a London restaurant with London food and London service and it's not based in London. If you're going to point out the London prices, consider the money and time you're saving by not having to travel to ... London.
Dante's Brasserie's Menu
Even though Dante's Brasserie is located in Maldon's high street, it's easy to miss. In fact, as a casual passer-by, I wouldn't have known I walked past a restaurant, so something has to be done to liven up the place's somewhat understated existence.
Once inside the atmosphere is relaxed and inviting, with simple decor and paintings created by local artists lining the walls. Dante's can accommodate up to 40 diners at a time and with its sleek, fishy design there's no question what is on the menu.
Speaking of which, the latter is short, to the point but overflowing with creativity. In a nutshell, the menu draws inspiration from the four corners of the world, serving numerous varieties of fish in the best possible light. Here's what we had.
Pan-fried tiger prawns with a splash of laksa and pickled radish (£10).
Smoked salmon with beetroot, spiced salmon mousse and pomegranate gel (£9).
Halibut with broad beans, peas and girolles (£22).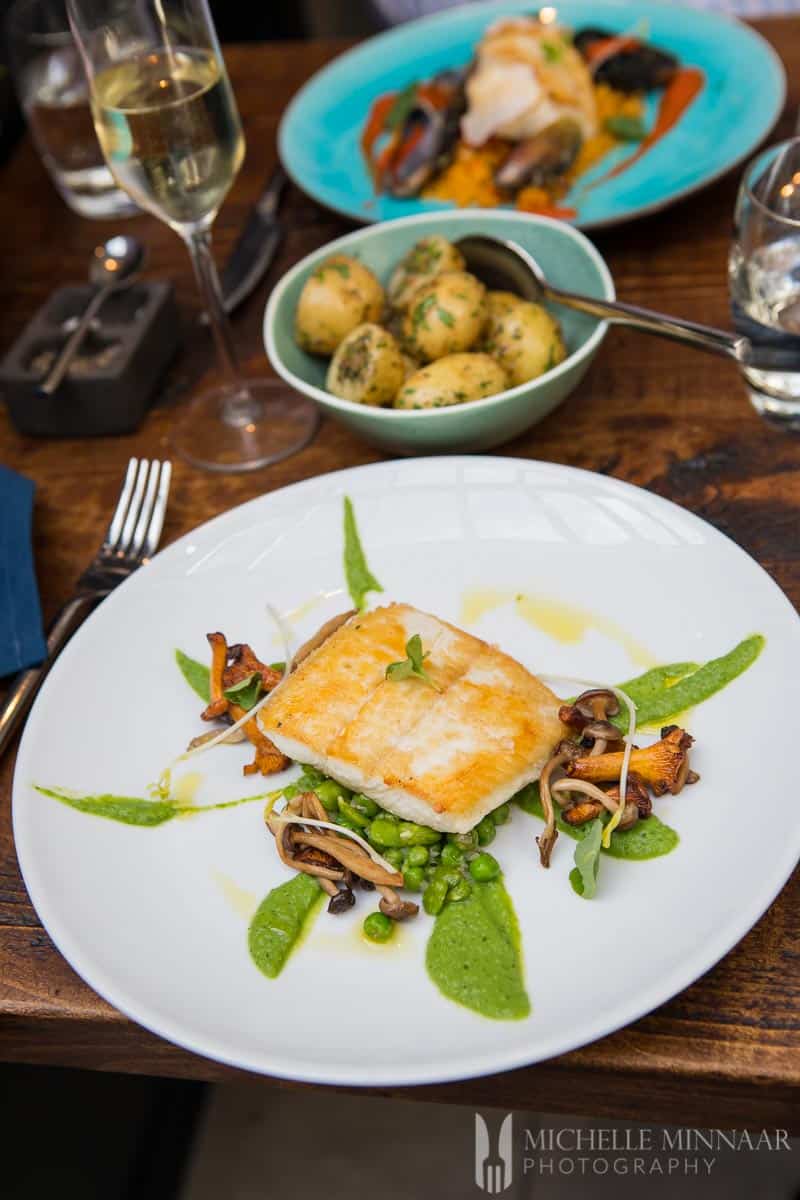 Monkfish with mussels, chorizo, couscous, red pepper coulis and apple crisps (£23).
Pear crumble, blackberry coulis and orange custard (£8).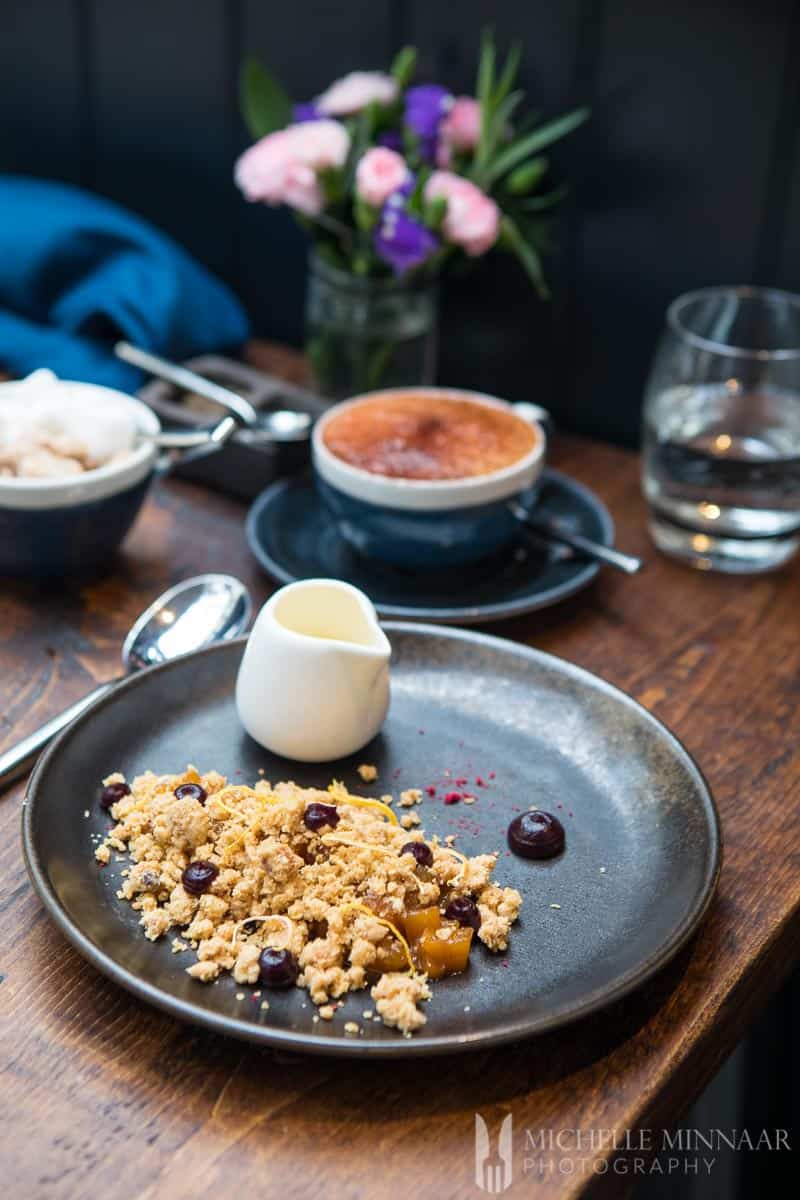 Hazelnut chocolate mousse with raspberry, hazelnut praline and chocolate crumble (£7).
I truly hope the photos speak for themselves. Great care was taken to source the smoked salmon, salt, coffee and fresh produce locally, in an effort to support closeby suppliers.
Everything was to love, from the fragrant smoked salmon, meaty prawns, crispy halibut, Spanish-inspired monkfish, autumnal crumble to the ready for Christmas festivities chocolate mousse. The small array of wines available are carefully selected to match fish and there's even dessert wine on offer, which was a special touch in this neck of the woods.
If you're contemplating where to celebrate your next special occasion, dare to visit Dante's Brasserie. You won't regret it!
Dante's Brasserie
King's Head Centre
38 High Street
Maldon
CM9 5PN
GIVEAWAY
This week one lucky reader to receive a Hydratem8 reusable and eco-friendly coffee cup to encourage them to ditch the disposal and take on their morning commute. The Winner can choose what colour they would like.
This is not just any coffee cup. Three layers of insulation ensure that your hot drinks remain hot when you need them. A pop-up lid can be operated with one hand and with a no spill lid our reusable coffee cup is the perfect companion for the commute.All of their coffee cups can be personalised too. Click here to learn more.
Entering is easy, just follow the instructions below.
Competition Question: What would you order at Dante's Brasserie?
HELP
Here you can find a tutorial how to enter with Rafflecopter.
If your form is not showing, try refreshing the page.
Complete the form, otherwise your entries will not count.
Make sure the mandatory entries (e.g. leave a blog comment) are completed first.
Don't forget to come back daily for extra entries via Twitter.
If you're viewing this post by email, please come to the actual webpage to enter.
P.S. I was a guest of Dante's Brasserie.