Growing up in South Africa was a strange experience in some senses. Surrounded by sea from three sides and having four neighbouring third world countries next door, South Africa might as well be a far flung country.
Lands with culture and rich histories are far away and passionate tales were told by those lucky enough to have visited. With the exception of the United States, who had saturated our TV screens with entertainment, most other countries were shrouded in mystery. In fact, the further the away the country the more enigmatic it was.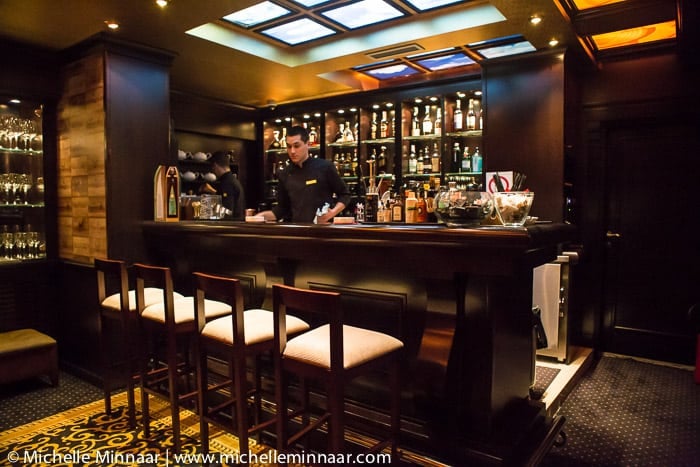 One such country is Serbia and visiting it was like the fog lifting from this part of the world. Driving through Belgrade there is no mistaking that we're in an ex-communist country with cyrillic billboards and women wearing funky socks paired with dubious footwear.
Right in the heart of Belgrade we stayed at the exemplary Square Nine Hotel, five star luxury for the discerning traveller.
A short walk away you'll find Dukley City Lounge that recently opened. Businessmen frequent this venue and it's easy to see why – with its wooden interiors, wide range of whisky and late night bar in the basement reminiscing the bygone jazz era.
The menu comprises an eclectic selection of international favourites and tend to be on the heavy side. As someone who detests beer, the Beer, Elderflower, Vodka and Lime cocktail was surprisingly pleasant and refreshing. Fresh breadrolls arrived at the table and the velvety paprika, garlic and basil butter was downright moreish.
Visitors are spoilt for choice when it comes to starters. My favourite was the somewhat feminine Tuna Tartar (£9.50) that was brined for 24 hours and served with pickled cucumber, sliced avocado and a zesty emulsion of orange juice, ginger, oyster sauce, sesame oil and seeds.
In close second came the big hunk of a Camembert (£5.50), completely covered with ground hazelnut and pepper, in a cloche containing thyme smoke. Cranberry jelly is served on the side to cut through the richness and wine is simply a must.
Also noteworthy was the goat's cheese that formed part of the Italian-style platter (£6.00). Goat's cheese tend to be at the end of two extremes – with rind and gooey on the inside or dry and crumbly. Unusually, Dukley City Lounge's offering falls in the middle; a soft, not gooey, yet not firm and definitely not dry cheese. Most of the produce used in the restaurant are bought locally in an effort to support local businesses.
The Pumpkin Risotto (£5.50) was better placed in the main course section than with the starters. It's the perfect autumnal dish, laced with cinnamon and tastes like a savoury pudding. Topped with crispy sage and prosciutto, condensed red onions and melted parmesan it proved to be as pretty as a picture.
Prawn Wrapped in Sea Bass (£9.50) served with a medley of vegetables and citrus sauce were well executed. Not to missed is the Duck a L'Orange (£10.00) which melted in the mouth with the help of the sous vide. Sweet potato puree and orange jus worked brilliantly with the meat. Throughout the meal one could not help but appreciate the range of artsy crockery used.
Camomile Panna Cotta (£1.50) topped with lemongrass cream came in cute little cups but turned out to be unbalanced with no acidity to help cut through the richness. The kilner jar craze seems to have hit Serbian soil but the deconstructed Jaffa dessert (£1.75) proved to be irresistible with its laýers of ground, roast hazelnuts, chocolate mousse and orange jelly.
Overall, the quality of the food served was fantastic and it's definitely worth a visit if you are slightly suspicious to try the local cuisine yet don't want to stoop to McDonald's. Warning, there aren't many of the latter in the capital.
For another perspective of the restaurant, you can read Jeanne's review here.
(Don't forget out its sister restaurant in Budva, called Dukley Beach Lounge.)
Have you ever been to Serbia? If so, what did you think? If not, why not?
Quick Overview
Food
8/10: Good from start to finish.
Value
9/10: Prices are below the average of decent London restaurants with the Tuna Tartar being the exception. Decent sized portions though.
Service
8/10: Attentive and on the ball.
Ambience
7/10: Laid back with acoustic covers of well known tracks playing in the background.
Recommend
8/10: Great food and service to be had in Belgrade's city centre.
Dukley City Lounge
Kralja Petra 44
Београд 11000
Serbia
Website
P.S. I was a guest of Dukley City Lounge.