Misconceptions. There are a lot of them flying around these days. Although I wouldn't dare to tread on religious territory, there are plenty of other areas in life where they are prevalent. Where do they come from? How are they formed? My take is that people are influenced by what they watch on TV, read, and hear from others. Perhaps they had only one bad experience and then wrote off the whole lot. For me the key is to go out and experience stuff for yourself while keeping a balanced view in mind, in order to form your own opinion and not thinking what others want you to.
That said, I'm guilty of carrying my own misconceptions around. One example used to be my thoughts on Eastern European countries, which must surely have permanent bad weather and terrible food comprising potatoes and beetroot. I was wrong.
As for my thoughts on The North, I think science backs my belief that the weather is worse up there. Not that UK's weather is a selling point for tourists in the first place. Television and books have given me the impression that Northerners mainly subsist on stodgy foods, such as pie and mash, and fish and chips. I have no idea whether there is any truth to it.
A misconception doesn't necessarily have to be negative. I've long heard how friendly Northerners are compared to Southerners. This, I have now seen with my own eyes. In the restaurants, table neighbours will just start talking to each other. Such an exchange will rarely happen between Southerners, who have passed The Art of Blanking Strangers with distinction.
Nope, in the 14 years I've lived in the UK I haven't gone up north much. I've visited Grimsby three times too many, thanks to the ex in-laws living there. Enough grounds for divorce right there, I say. My sadistic satnav also took me through Bradford city centre on a Friday afternoon during rush hour. Never again. However, there are lovely places too. One of my fondest memories is of York. Skipton is now added to The Good List.
Skipton is a market town north-east of Leeds. In July 2017 a new restaurant, called Alexander's, opened its doors. As a hardened eater I find most menus boring. After a while everything seems to be a regurgitated blur with maybe three unique items if you're lucky. At Alexander's I hit the jackpot because just about all the dishes are offbeat and appealing. The cocktail menu is extensive and a mixologist is at hand to guide you or come up with a one-of-a-kind drink upon request.
The All Day Dining menu offer Nibbles and Sides but then goes off track by offering Small Plates, which are ideal for sharing tapas-style, or Our Plates, which is where two people share one plate. For the latter, think of sharing a Chateaubriand but instead of fillet you can share other items such as BBQ Pulled Pork (£32) or Beetroot Tarte Tatin (£24).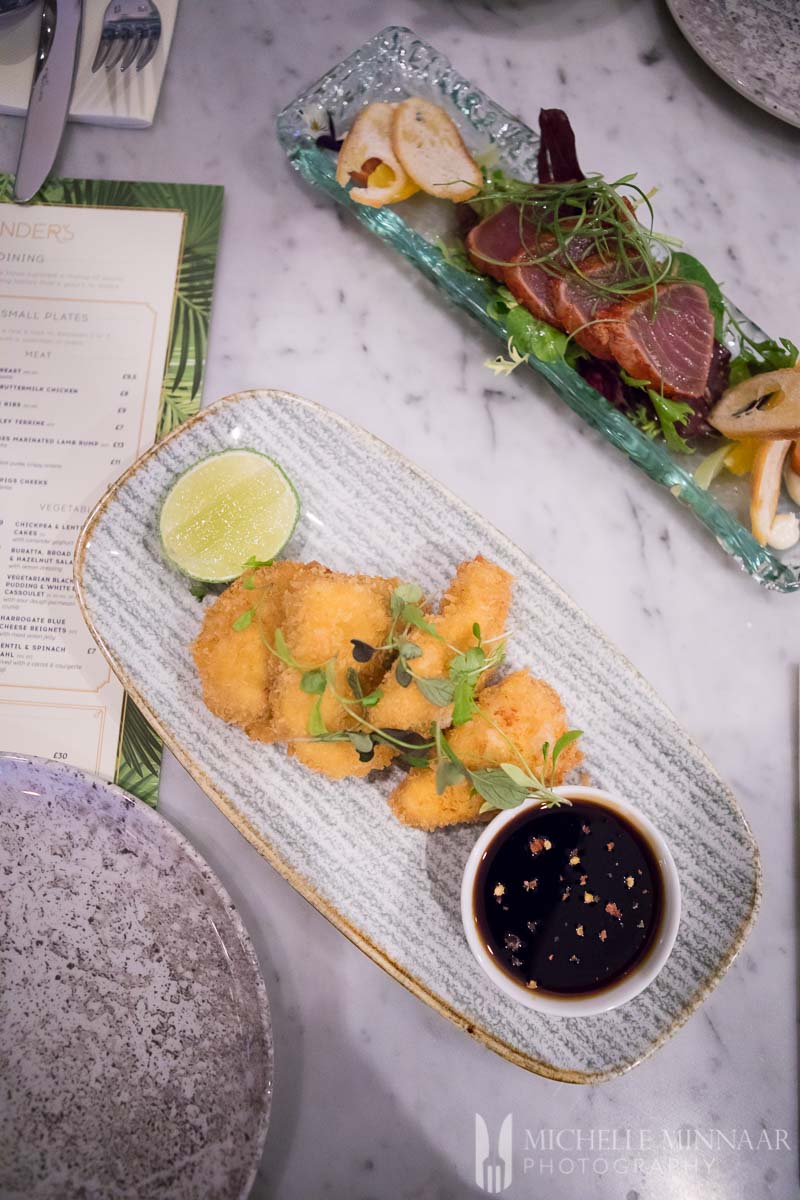 We had the following:
Gin Cured Duck Breast with glazed figs and aged balsamic (£9.50)
Treacle Beef with shallot puree, crispy onions and a red wine sauce (£11)
Pepper Tuna Sashimi with a citrus salad and wasabi mayo (£11)
King Prawn and Sweet Chili Dumplings with a soy, ginger and mirin sauce (£8)
Panko Crumbed Monkfish with a caramel sweet chilli dipping sauce (£9)
Burrata, Broad Bean and Hazelnut Salad with lemon dressing (£11)
Halloumi Fries with cranberry chutney (£6.50)
Kirsch Cherry Clafoutis with amaretto anglaise and pistachio ice cream (£7)
Lemon Meringue Slice with raspberry sorbet (£6.50)
Yes, we had a heck of a lot of food and I had a classic Greedy Gourmet moment where I ate way beyond satiety – eating simply because of the joy of devouring good food. Alexander's serves London quality food and every dish is prepared with care, as clearly illustrated in the photos.
It was a pure novelty for me not to cook for a change and still be able to eat exquisite food that's beautifully presented. Even the desserts are interesting and dessert wine is available to pair them with. All in all, it was one of the best meals I've enjoyed thus far this year. Don't believe me? I suggest you challenge your own perceptions and try Alexander's out yourself!
Live too far away? You can make three of Alexander's dishes at home. Check out the recipes!
Alexander's
4-6 High Street
Skipton
BD23 1JZ
P.S. I was a guest of Alexander's.
GIVEAWAY
This week 1 winner will receive 1 x 70cl bottle of The Dubliner Irish Whiskey and Honeycomb Liqueur RRP: £22.50 for 70cl. ABV: 30%.
Crafted in Ireland the Dubliner Irish Whiskey and Honeycomb Liqueur is a smooth blend of honeycomb, caramel and triple distilled Irish Whiskey.
The Dubliner Master Blender was inspired to create a 'Liquid Crunchie' and the result is a perfect introduction to Irish Whiskey, for those looking for a sweet, smooth drink that works equally well in coffee, a shot on the rocks or in cocktails.
If you gave up sweet treats for lent then The Dubliner and Honeycomb Liqueur Bees Knees cocktail is a scrummy treat!
Add ice to a cocktail shaker. Pour in 50ml of The Dubliner and Honeycomb Liqueur, 20ml honey syrup and 20ml fresh lemon juice. Shake and strain into a martini glass. Garnish with lemon zest
Entering is easy, just follow the instructions below.
Competition Question: What would you order at Alexander's?
HELP
Here you can find a tutorial how to enter with Rafflecopter.
If your form is not showing, try refreshing the page.
Complete the form, otherwise your entries will not count.
Make sure the mandatory entries (e.g. leave a blog comment) are completed first.
Don't forget to come back daily for extra entries via Twitter.
If you're viewing this post by email, please come to the actual webpage to enter.
save the recipe to your pinterest board