This blog is an advertorial for GoCompare and their dine scheme, which by the way will definitely interest you!
It's hard to come by a fantastic Indian restaurant such as this one. As you know, it's always a game of chance when it comes to Indian takeaways and dining out, especially when living outside London. Luckily, I had the opportunity to review one of the best Indian restaurants in Chelmsford.  Admittedly, I've eaten at Bilash a couple of times, and each time it did not disappoint and I left satisfied.
The restaurant offers a full dining experience in a spacious dining area and also accommodates to those who wish to eat their Indian dinner in their own dining room. You can order your food online or via the telephone, and pick it up in around 30 minutes.
Inside Bilash, the atmosphere was very relaxed, friendly and the aromas one could smell coming from the kitchen made everyone eager for their food to arrive as soon as possible. A lot of locals have realised that this is the place to be when the craving for Indian cuisine hits, and the restaurant can get quite busy at times. Therefore, it's best if you book a table for just in case it gets packed.
gocompare
Have you ever heard of the GoCompare DINE  scheme? Basically, if you purchase your insurance from Go Compare, you have the added possibility to dine out at certain restaurants much cheaper than the average joe. Why pay the full price when you don't have to? It is perfect if you are on a tight budget yet feel like you deserve to take yourself out for dinner. The GoCompare Dine Membership is perfect for such occasions.  Bilash is one of these independent restaurants where you can enjoy special discounts if you purchase a qualifying GoCompare product. For more information, click right here.
bilash menu
What I loved most is that Bilash accommodates everyone's tastes and preferences because the menu offers a wide selection of dishes. Just take a look at the menu yourself. You'll find classic starters such as chicken tikka or chicken chat, to tandoori specialties. Also, you won't miss out on traditional favourites such as shatkora, achari, korma, jalfrezi dishes and so much more.  If you love Balti dishes, thali dishes and briyani dishes too, then do take a peek at the menu.
Overall, the menu is averagely priced, but the portions were a little smaller than average, at least compared to what I am used to. My friends and I have taken tapas to a new level by ordering a variety of dishes and then sharing everything tapas-style, enabling everyone to make new discoveries along the way.
Bilash review
bhindi bhaji (£3.95)
We skipped starters and went straight to main courses with added side dishes. Bhindi bhajee and you'll find under vegetarian side dishes on the menu. Some of you might know this filling Indian starter from reading my blog, you can find the recipe here. Nevertheless, the bhindi bhaji is one of my favourite side dishes that I like to order every time I visit. Bilash knows exactly how to handle this ingredient, as cooking with it can sometimes be quite tricky for those who have never cooked with okra.
If you love okra, you'll also like my bhindi ki sabzi and bhindi kurkuri.
brinjal bhaji (£3.95)
Brinjal bhajee also features on the menu under vegetarian side dishes. Brinjal refers to aubergine or otherwise known as eggplants. Thesamee concept but with aubergines instead of okra. Compared to the bhindi bhaji, it was more creamy in terms of texture. It paired very well with the rest of the Indian dishes.
Want to know how to prepare it at home? You'll find my brinjal bhaji recipe here.
chicken khuchi (£9.95)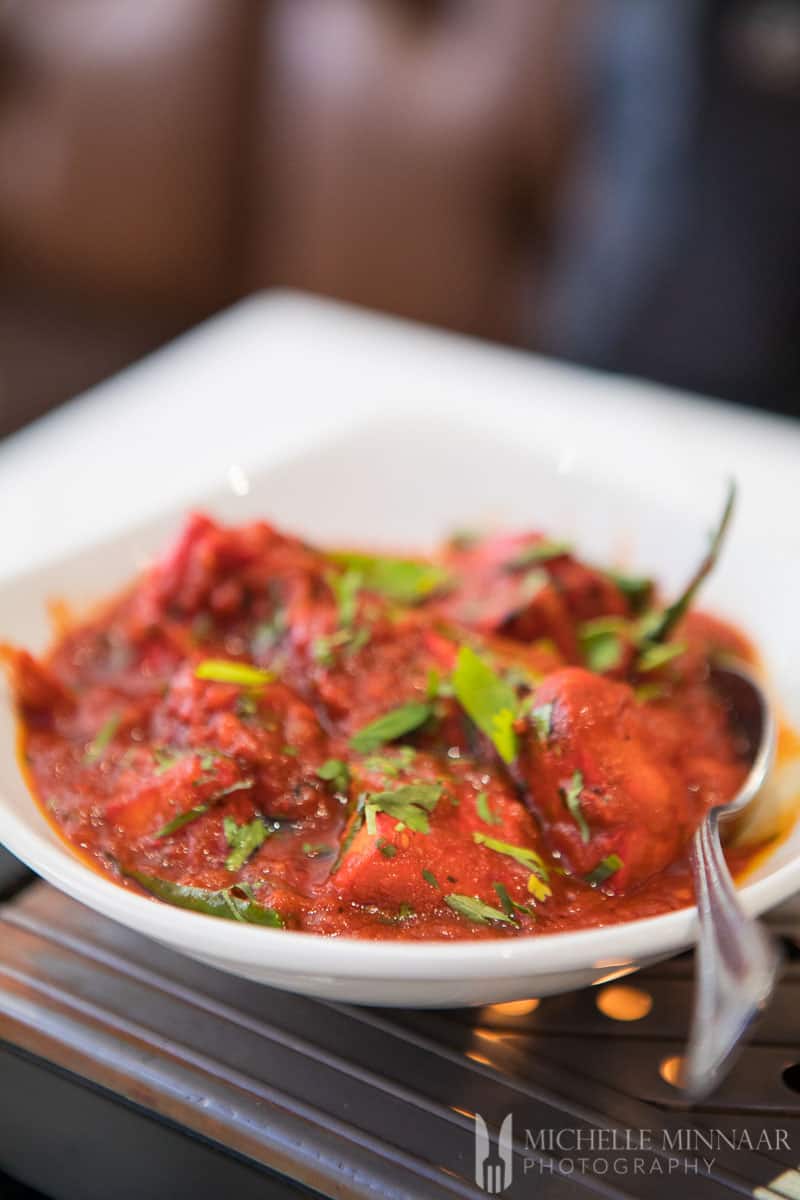 If you are thinking that this dish is looking hot, then you are correct! The best type of curry in my opinion is one with fresh chillies. This chicken khuchi comprises chicken pieces in a hot sauce with fresh green chillies. There was a balance to the dish with the tomatoes on top. Delish! Best enjoyed with a peshwari naan because the sweetness of the naan brings down the spice.
lamb shatkora (£10.50)
Lamb shatkora is a tangy curry with native Bangladeshi citruses and you simply have to try it! You can have the shatkora with chicken too. Generally, I prefer my lemons more tender and melt-in-the-mouth because here they were a bit tough and chewy. However, that's the only downside that I've found. Otherwise, I could not fault the flavourful curry.
prawn pathia
Prawn pathia was another lovely dish. Great textures and the prawns cooked were just right. If you like prawn pathia, then you might also enjoy my prawn puri. It's quite similar when it comes to the look and feel of the dish. Otherwise, if you love your prawns, then try a good old classic – prawn korma. You can make your own chicken pathia at home too!
As mentioned above, I combined my curries with a peshwari naan (£2.95) and a side of coconut rice. The peshwari naan is an excellent idea if you are looking to order hotter curries. It will make them more tolerable by bring down the spice levels. Otherwise, instead of the coconut rice, you can also order pilau rice, jasmin rice, mushroom rice and much more.
I enjoyed yet another lovely meal at Bilash and will be returning to explore its House Specialities further!
P.S. This is a sponsored post. All opinions are my own.