As someone who usually gives fish and chips shops a wide berth, I could not help but be hesitant about dining at Grosvenor Fish Bar in Norwich.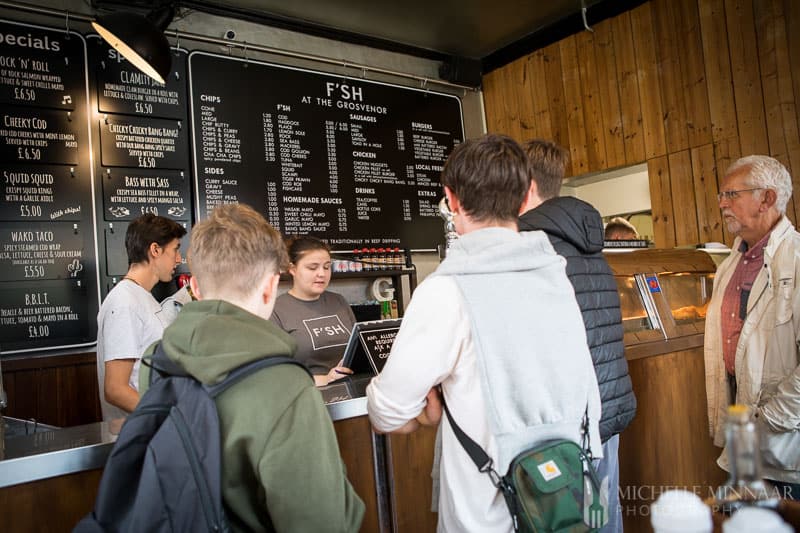 Let's be honest. Most traditional English fish and chip shops are basic, with drab interiors, a limited menu and a stench of oil and vinegar that permeates the air. The moment I stepped into Grosvenor Fish Bar I knew it was different.
The first big clue was the menu. Its black and white board on the wall is minimalist but extensive. The usual suspects can be found but unusual ones are detected too.
Amongst the regular fish and chips items on the menu, you can order delicious homemade sauces, house specials, and burgers. Quite a selection, isn't it?
Grosvenor Fish Bar Norwich review
It was like the institution got a much-needed facelift in conceptual terms. I blame it on the proprietor, called Dwayne, who is American. It was as if he saw potential in what a proper fish and shop could be like, made the tweaks and boom!
His magic touch worked because this place is busy. As much as the service is quick and efficient the queue constantly lines out the door with people impatiently waiting to get fed. Read below to see why.
the best fish and chips Norwich
Apart from having the best fish and chips around, it was also very lovely to see that the restaurant is being environmentally conscious by serving food made of recyclable material, including cutlery. Well done! That's one step closer to dealing with the alarming problems of plastic.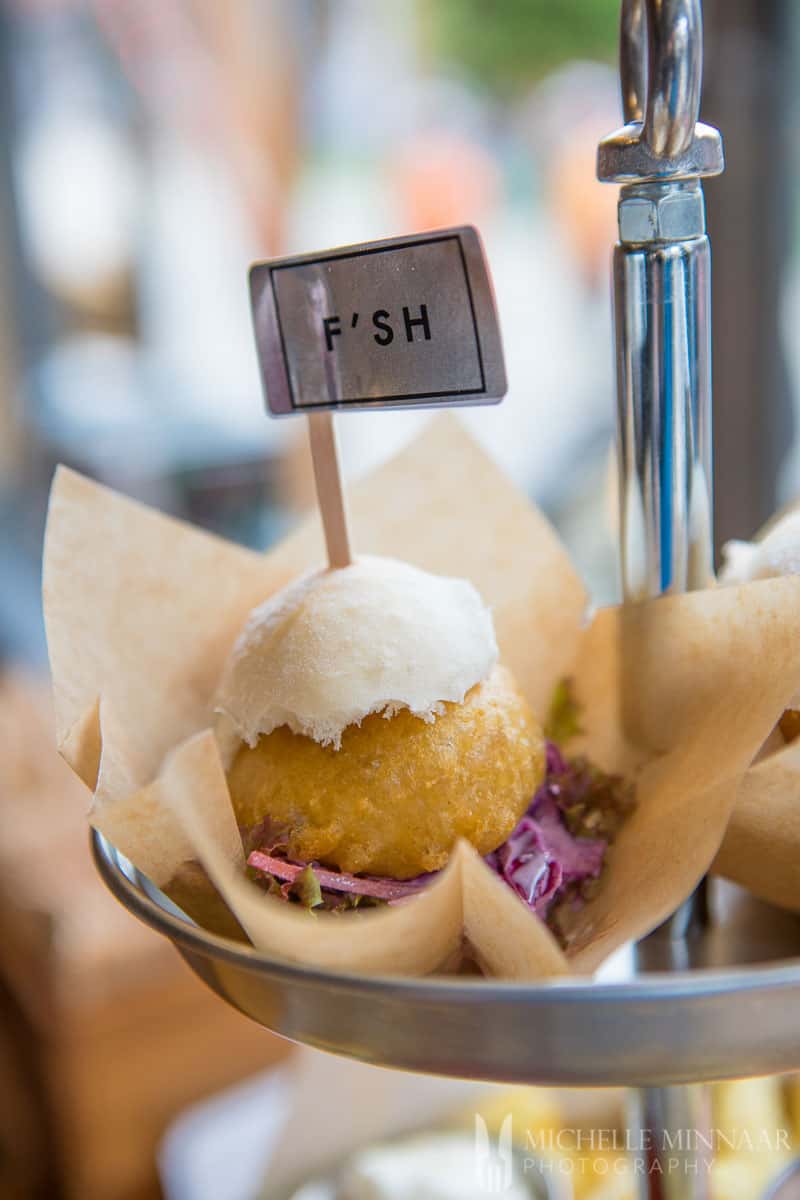 Grosvenor Fish Bar Norwich menu
High Sea for Two (£29)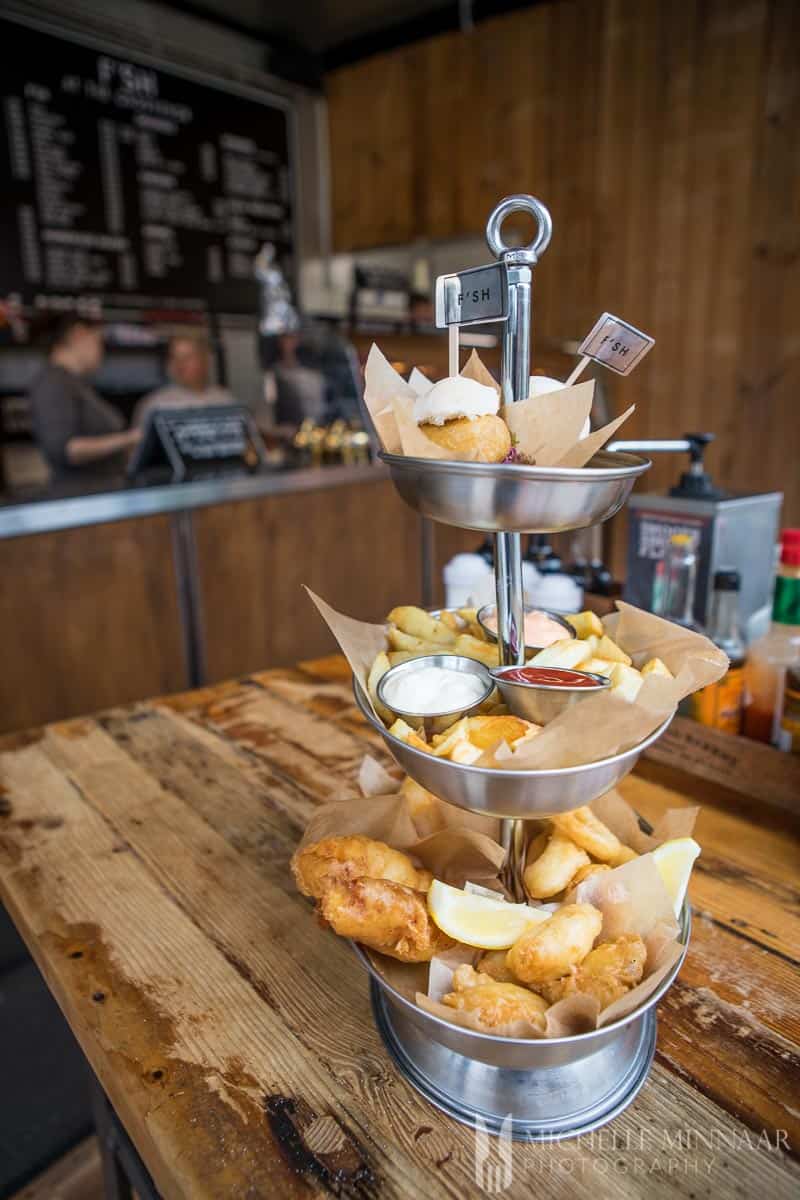 This is a house seafood special which consists of battered squid, cod cheeks, clam sliders, tiger prawns, whitebait and cod goujons. All in all, the High Sea has an unusually wide selection which makes it all the more special.
Unlike the small, cheeky portions one has come to expect when ordering seafood, Grosvenor Fish Bar serves the exact opposite. The fishy bits brimmed over the edges of the tiers and was served with coleslaw and a massive portion of chips.
The squid rings were tender, the cod goujons didn't disappoint and the cod cheeks were succulent and moreish. The prawns were a decent size as one would expect and the clam sliders an unusual addition. The whitebait was surprisingly fresh and well-sized and turned out to be the highlight of the meal.
On the side, you can enjoy the following dips: ketchup, garlic mayonnaise, sweet chilli mayonnaise and mint & lemon. All of these dips complemented the entire selection well. For £14.50 per person, it's an absolute steal!
Fried Green Tomatoes (£3)
Typically, this is not something I see on restaurant menus every day. This American side dish, along with its companion battered gherkins, makes this menu quite eclectic.
When I saw fried green tomatoes on the menu, I simply had to try it. I've seen the movie and the recipe is peppered all across American food blogs.
While the slices had a crispy outer layer and were silky smooth on the inside, flavour-wise it's quite bland, which is why the sweet chilli mayonnaise alongside did the trick.
Warning! As tempting as they look and are, don't eat them too quickly because they are piping hot when they arrive.
I'm still not a fan of the standard fish and chip shop, which begs the next question. Will I consider going back to Grosvenor Fish Bar? Indeed. While this meal was by no means grand, Grosvenor Fish Bar is simply a must visit when you travel to Norwich. Just be aware that they are closed on Sundays.
Has this post made you crave seafood? Here are some quick recipes you can try before your visit to Grosvenor Fish Bar:
Grosvenor Fish Bar Norwich's location
To find the Grosvenor Fish Bar, see the address below:
28 Lower Goat Lane,
Norwich
NR2 1EL
P.S. I was a guest of the Grosvenor Fish Bar.