Looking for an amazing Indian restaurant in Norwich? A few weeks ago I visited Namaste India in Norwich and what I experienced was a meal filled with delicious and authentic Indian recipes. In fact, this was my first trip ever to a completely vegetarian Indian restaurant.
namaste india in Norwich
India Namaste is an authentic Indian restaurant with an outstanding reputation in Norwich. Wherever I went afterwards, people only had positive things to say about the establishment, which is a rarity.
We dined at the original restaurant at Opie Street, which is quite charming and cosy. Its sister restaurant, Namaste Village is the larger one which is perfect for hosting larger events. The latter also serves as a wedding venue.
This family-run restaurant in Norfolk serves Gujarati cuisine and runs on the ethos of kindness, delicious food, and family-like customer service.
namaste india in norwich
The décor and interior were far from stylish nor as thematic as one would expect an Indian restaurant to be. Yet, at the same time, the Namaste India restaurant has a homely atmosphere with bold colours. There were colourful umbrellas hanging from the ceiling which definitely lit up the room with a sub-continental feeling.
While I was waiting for my food to arrive, I suddenly came to realise that the restaurant must be making most of its money from takeaways and deliveries. Admittedly, it felt slightly quiet for a Friday night. However, as a result, the service staff were very attentive and knowledgeable, keenly answering any questions that I had relating to the content of the various dishes and where they originate from.
For those of you who fancy a drink during your meal, it might disappoint you that Namaste India doesn't serve alcohol. On the plus side, you are more than welcome to bring your own!
namaste india restaurant's menu
To have a closer look at the India Namaste Menu, click right here.
namaste india starters
Ringan Pakora (£5.75)
For those of you who are wondering what Ringan Pakora is, it is an appetiser which consists of thin masala layered aubergine fritters. This dish had good textures and vibrant flavours and paired well with the chutneys provided - coriander & mint chutney and tamarind & date.
Masala Puri (£5.75)
These puris with Bombay potatoes were truly refreshing bites of joy. The masala puris include chickpeas, crunchy noodles, chat masala, tamarind sauce, and coriander chutney. Altogether a great combination of different flavours and textures.
namaste india main courses
Chilli Mushroom (£9.95)
I found this main course rather expensive due to the fact that the dish is just grilled mushrooms with peppers and spices. The mushrooms had a very interesting texture, they were crunchy on the outside which was pleasantly surprising. The dish felt more like a stir-fry and something you'd usually expect from other parts of Asia. I would say that this is a great meal for someone searching for a lighter option for dinner.
Gujarati Special Kaju Paneer Masala (£12.95)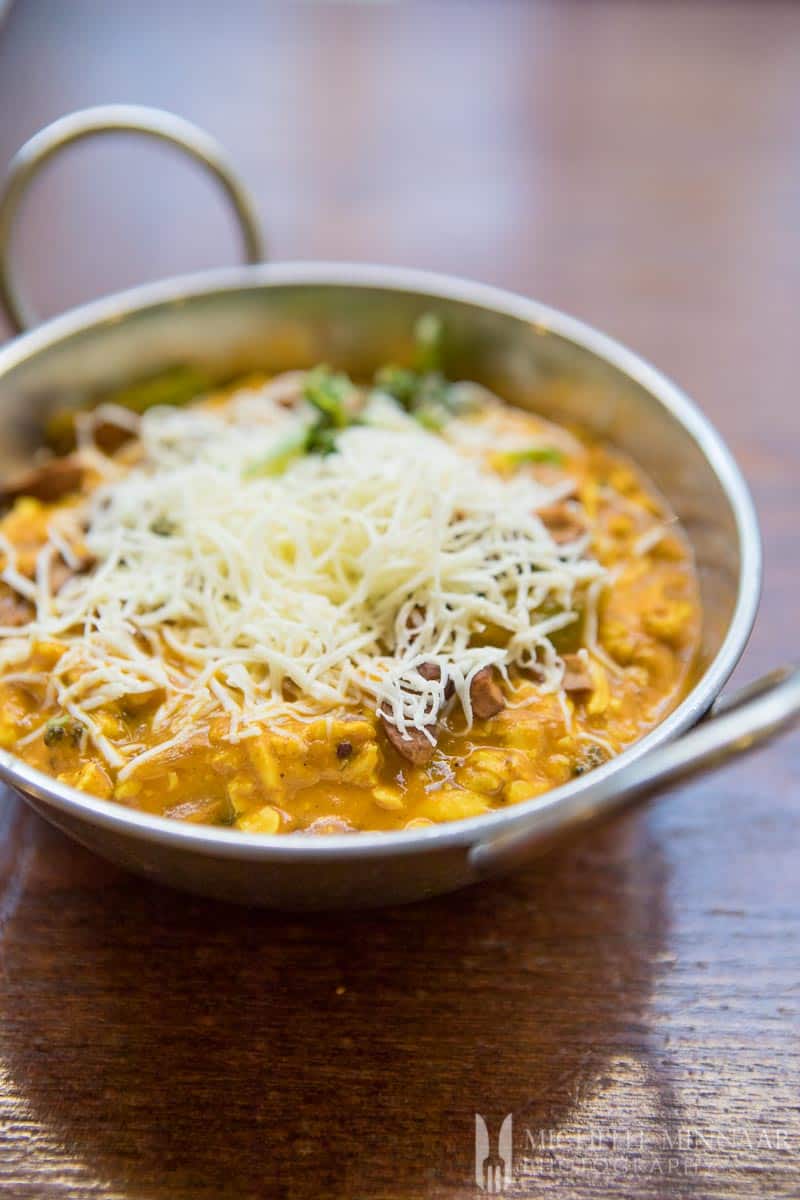 Slightly overpriced for my liking, although this perfectly balanced dish is superb. The crunchy cashews, ginger, onion, tomatoes and grated paneer certainly stimulated our taste buds!
Namaste Special Masala Dosa (£10.95)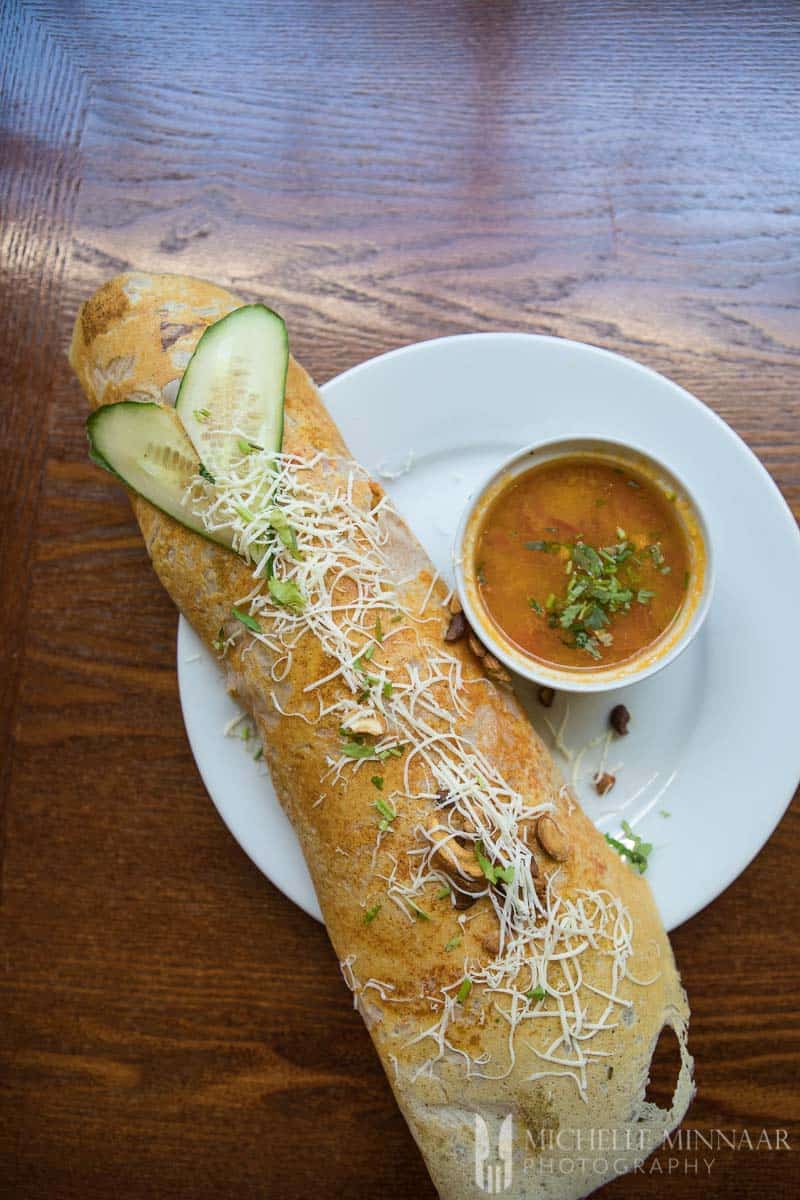 In contrast to the two dishes mentioned above, this dish was great value for money and can be easily be shared between people for lunch. The filling was jazzed up with paneer, coconut, and roasted cashews. Plus, the addition of lentil soup and coconut chutney brought the entire dish to another level.
All in all, I found the Namaste India menu to be far more interesting and creative than the omnivorous ones found all across the UK. Finally, a here's your chance to divert from the usual British Indian fare! When you visit this restaurant, you are in for a far more authentic dining experience. On this occasion, I didn't miss meat at all and truly enjoyed trying new dishes!
Make sure you book a table or take a closer look on their homepage to see what they are all about.
If you just read this and you need to make Indian food right now, take a look at these recipes.
mailai paneer - click here for recipe
beetroot poriyal - click here for recipe
chicken korma - click here for recipe
Namaste India
2a Opie Street
Norwich
NR1 3DN
P.S. I was a guest of Namaste India.