Fancy some pizza? This is the place to go to.
Everybody's got a reason, whether it's a young couple who can't afford to go to a posh eatery, teenagers' favourite social hangout, pensioners who got bored with meals on wheels, full time mothers who are searching for their sanity or husbands who want to escape from their wives' awful cooking for just one night. Really, Pizza Express can be regarded as society's "happy place".
I have to confess this is my first ever visit to a Pizza Express. Each country probably has got its own version of Pizza Express and in South Africa it is Mimmos. Hands down the latter is still my favourite. First of all, Mimmos uses wood fired ovens which make their pizzas ten times more authentic and better tasting. Apparently, there is some stupid British law that prohibits the use of them in this country. Also, Mimmos' menu is far more interesting and the overall quality of food much better. Before you accuse me of being biased, see the dishes below and decide for yourself. One day when I visit my motherland again I'll review my favourite family restaurant and bring back the proof!
The portion of Rocket Salad and Parmesan Shavings with Balsamic Reduction was extremely generous. No discoloured or rotten leaves in sight. A very simple dish to prepare but an effective one that would have pleased even the most hardcore salad eater out there.
What a big mess the Bruschetta con Funghi (Portobello & closed cup mushrooms, cream, béchamel, red onions, balsamic vinegar, £4.55) was! The last time I checked it was made of slices of toasted bread, usually baguette, and not strange oily balls of dough. The onions were crunchy and unsweet, and the sauce too plentiful, which after a few minutes turned the bread into a complete soggy mush.
Here's how I think the Melanzane Parmigiana (Aubergine, béchamel sauce, mozzarella and tomato, breadcrumbs and grana padano, £8.10) was made. Someone carefully grilled a whole, sliced aubergine, emptied a can of tomatoes over it, added a tablespoon of béchamel sauce, a teaspoon of mozzarella and parmesan each, and then baked it for a few minutes. Very rustic and completely imbalanced in flavour. Tweaking the ratios would make a huge difference to this dish.
The star of the night was the pizza. This one's toppings were bacon and sweet roasted peppers. Since the item was on the new menu, I couldn't find the description online.
I thought it was quite nifty that you got your own pizza cutter and slice and dice your food as you pleased.
One of life's greatest mysteries to me is how people can serve a slice of Banoffee Pie (£4.80) with rotten banana in it...with a clear conscience. Do they really think the customer won't notice?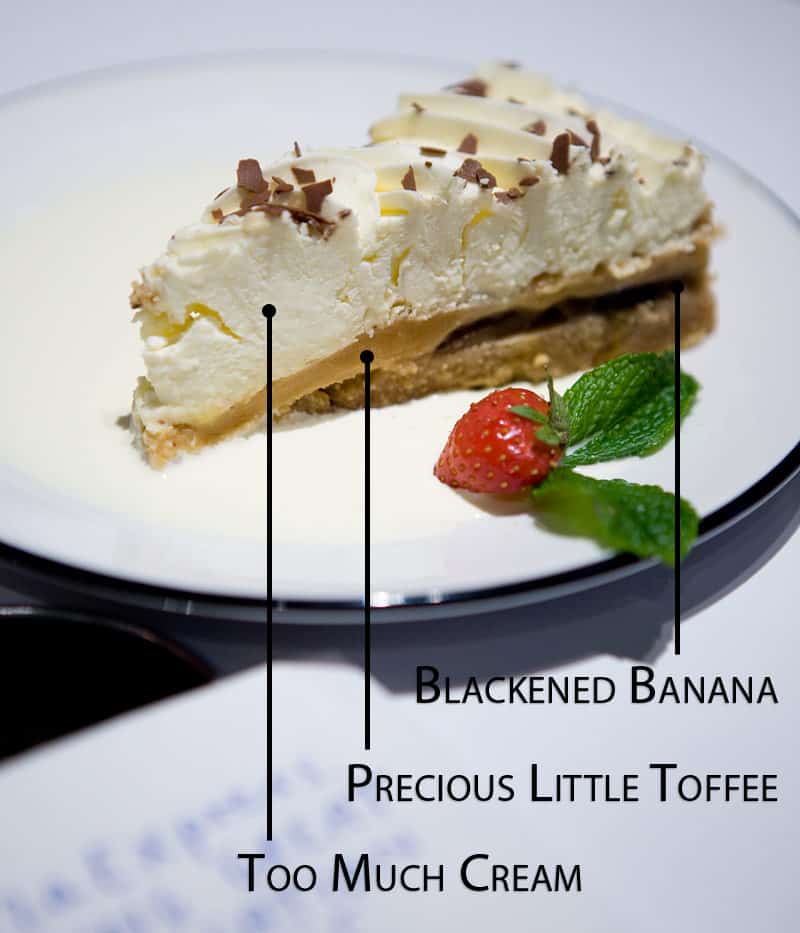 The sheer size of the Chocolate Glory (Vanilla Gelato, chocolate sauce, chunks of chocolate fudge cake, chocolate straw, £4.90) was something to admire. Too bad the ice cream was of the cheap variety and the brownie unmemorable.
What a great tosser! Or more specifically pizzaiolo.
In all seriousness, the open kitchen is quite charming and the enthusiasm of the staff infectious. If only they knew what they were doing!
Quick Overview
Food
5/10: The excellence of the pizzas gets let down by the other dishes.
Value
7/10: Portions are very generous, if only the food was of consistent quality.
Service
5/10: When we entered the restaurant, no one came to greet and seat us at a table. We ended up helping ourselves. Only after waiting 10 minutes did we receive menus. No, a changeover of shifts is no excuse. After that the service improved.
Toilets
6/10: Due to the sheer number of customers using the facilities, the bathrooms are showing wear and tear.
Ambience
5/10: Since Pizza Express is more or less affordable for the average joe, the clientele varies considerably. Don't be surprised if you come across crying babies, screeching toddlers and obnoxious teenagers.
Recommend
5/10: If you have the quantity-over-quality mentality, you would be in seventh heaven. If not, you can't go wrong with the pizzas but have starters and desserts elsewhere.
Pizza Express
Lion House
Richmond
TW9 1RE
+44 (0) 20 8948 7460
http://www.pizzaexpress.com
A special thanks to Pizza Express for inviting me as a guest.