The dining scene in rural Essex is a sad affair.
Firstly, there aren't many eateries to choose from and secondly, most of them aren't that great. Sometimes I fancy an Indian takeaway but get haunted by taxi drivers' words like Taste of Rat when Taste of Raj was infested with the rodents. Resorting to the internet doesn't help matters either. Reviews of other restaurants don't instil confidence when there are reports of after the meal continuous projectile vomiting ensued throughout the night, the service was rude or or the food atrocious. Except for upper class restaurants, food photography on websites are horrendous and how they can proudly tote amateur photos on their website that makes their food more appealing to my dogs than me, is beyond my grasp.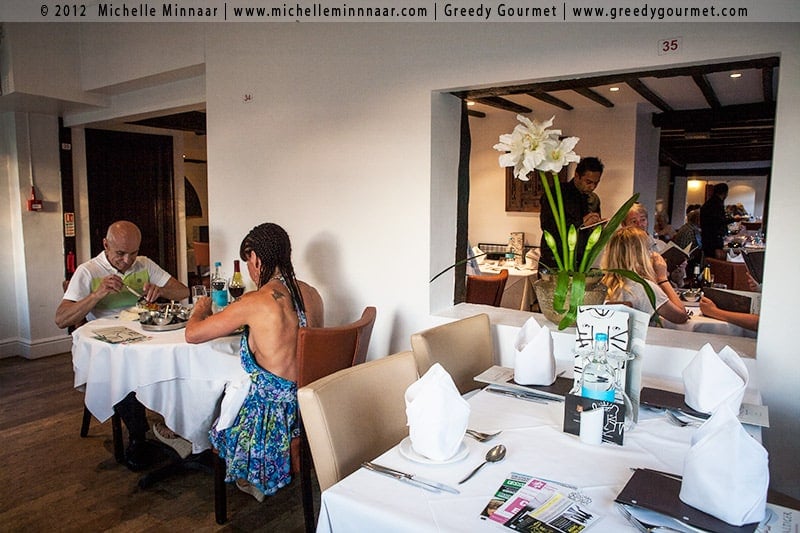 Rant over. I've actually found a good Indian restaurant, which I ended up visiting three times.
In Rettendon a large detached house's ground floor had been turned into a restaurant, called Royal Tiger. The concept of serving Indian AND Thai food I still find strange but they do both well but perhaps the former a little bit better.
Almost a full chicken breast was served in the Chicken Satay (£5), which was excellent value. Another starter, Coconut prawns (£6.20), fared less well where no coconut flavour could be discerned in the filo wrapped prawns that were served with out-of-a-bottle sweet chili sauce.
On the Thai side the Gai Masaman (£6), aromatic chicken curry with cinnamon, cloves, nutmeg, peanuts and coconut milk, were so dazzling we had it on each visit. With that said, the chicken version was better than the beef, which was a bit tough. One thing you should definitely order is the Coconut Rice (£3.20) which was simply addictive with its sweet and creamy aroma which almost tasted like rice pudding. If you're looking for something less heavy there is Nua Kratiem (£6.80) which is a marinated beef stir fry with garlic, ground pepper, honey and coriander paste. What disappointed was the Chicken Pad Thai (£5.70) whose noodles were overcooked and none of the vibrant toppings such as lashings of coriander and peanuts were in sight.
Don't order the decent but gentle Lamb Rogon Josh (£8.95) with any stronger curries because the taste gets completely lost in the process. My favourite, Chicken Tikka Pathia (£9.50), didn't disappoint and the Brinjal Bhajee (£2.35) was excellent.
Lastly the Pandan Pancake and Banana Fritters were a plain affair. Not bad but no wow factor either.
Quick Overview
Food
7/10: Overall the quality is good.
Value
8/10: Decent portion sizes
Service
6/10: All went well until the very last minute when the staff decided to keep the change without asking even though a service charge has already been included.
Toilets
7/10: Clean and in working order.
Ambience
4/10: At first we thought there was some kind of event, such as a birthday party, in the front of the restaurant but it turned out to be just thumping, hip music for all of the customers to dance to…every weekend. Some see it as a selling point, others don't. Maybe they try to appeal to a younger market but surely the more mature population have more money?!?
Recommend
7/10: Good food, good setting but if you don't want to listen to monotonous modern music with brain dead lyrics, avoid The Royal Tiger like the plague on weekends.
Royal Tiger
Old Southend Rd
Rettendon Common
Essex
CM3 8EE

Website