What a novelty it was to visit the Marygreen Manor Hotel in Brentwood.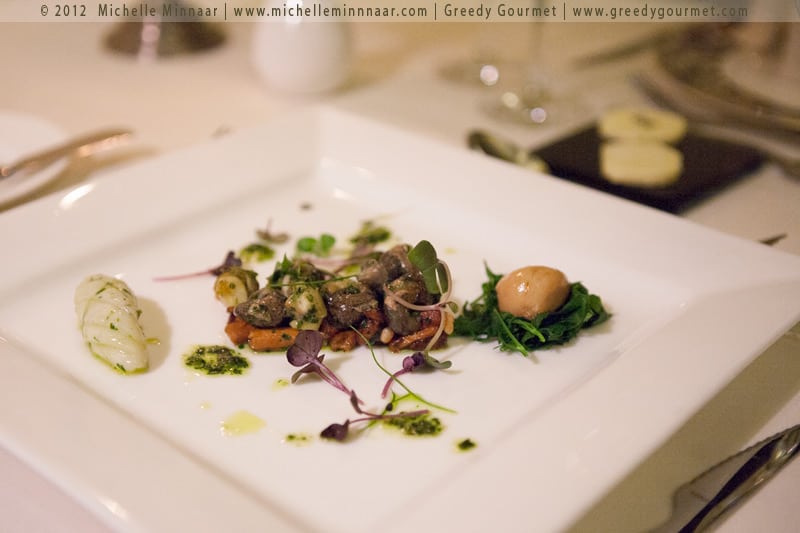 Staff were efficient and cordial, no tattooed lads were in sight nor any slappers radiating strange orange hues. Thankfully, none of The Only Way Is Essex cartoon characters were mucking about either. For one bizarre second I thought the establishment teleported itself to posher parts of the country such as Cambridgeshire. Was I actually in Essex?
Connoisseurs will find the ever changing menus exciting. Lobster, Beef Carpaccio & Thai Broth all on one plate, anyone?
You could taste that every ounce of flavour was sucked out of the lobster shells in the cooking of the piping hot lobster bisque which was served as an amuse bouche in small cups. No corners were cut or cheap tricks used, such as the overuse of tomato and cream, in the making of this exquisite soup.
Snails on a bed of crab and girolle mushrooms (£9.50), a play on sea and earth, were attractively presented. Who knew the carrot puree went so well with Squab pigeon (£9.90)?
In fact, everything placed in front of us were spectacular but if I had to nit-pick I would have to say I found the Roebuck and Beetroot (£25.50) dish an oddity. There is no arguing with the fact that venison and beetroot work well together and that the chef showed remarkable creativity presenting the vegetable in all shapes and sizes but the pickled beetroot lacked sweetness. The sorbet was also a curious addition to the plate which raised all kinds of questions, such as: Do I eat the sorbet with the meat? Do I eat the sorbet first or after I've finished? I tried everything and was still stumped for an answer.
Other than that the meal went smoothly. The Beef Fillet (£28.50) was perfectly cooked and all main dishes came with a very decent range of vegetables which included swede, mange tout, green beans, carrots and cauliflower. I don't think I've ever had such crispy Chips (£4.10) in my life. Literally, every patch of surface was super crunchy.
Dessert was a blast. For one moment my heart sunk when I saw my glass coming my way, thinking I haven't ordered any ice cream when it became apparent the white stuff was actually a ball of meringue! Below it was lemon sorbet, a biscuit, fresh mango and sauce. A Floating Island (£7.50) indeed. The Vanilla Pannacotta with Rhubarb (£7.50) done in three ways was superb too.
After such an enormous meal we sadly couldn't finish our food. Big thumbs up to the chef!
Quick Overview
Food
9/10: Imaginative menu, high quality dishes with lots of flair.
Value
6/10: Prices are steep.
Service
9/10: Charming and attentive.
Toilets
8/10: All good
Ambience
6/10: Bit stuffy - diners chat in hushed voices.
Recommend
8/10: One of the best restaurants in Essex. If you don't believe me, check out what other Essex restaurants are out there.
Marygreen Manor
London Road
Brentwoord
Essex
CM14 4NR

Website
P.S. I was a guest of Tudors Restaurant.