What could be better than enjoying fresh seafood with a stunning view? This is possible at La Masia del Mar.
La Masia del Mar is a large restaurant split into four sections, each with its own style and decor. There are live music most nights - Fridays a Canarian band and piano or sax on others.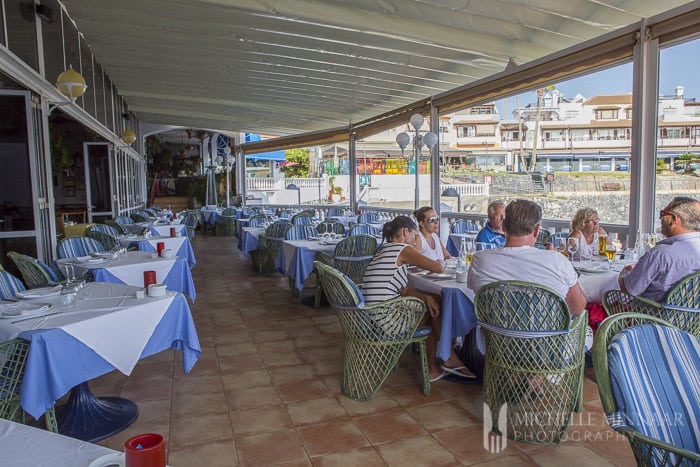 Any fish lover would be in his element when he walks in. There's a counter for shellfish and fish, respectively. There are more types of prawns that I knew existed and plenty of fish, some local and others with names I've never heard of. There are tanks with live creatures to gawk at containing various species of crabs and lobsters with names that the English language doesn't even cater for.
It wouldn't be surprising for a foreigner to be a bit dumbstruck. Cockles, cuttlefish, whitebait, prawns, whole fish cooked in salt. How do you choose? If time, money and stomach capacity allowed, ordering the whole menu would have been the sensible thing to do. But alas, it's unrealistic so it's a good idea to resort to asking for suggestions from staff.
Nothing is more Spanish than starting with a portion of Padrón Peppers (€7.70), which are deep fried and topped with sea salt. In this case all of them were mild and I didn't get one that bites back. The size of the half portion of Grilled Prawns (€5.60) might be small but they certainly packed a punch in the taste department. The half portion of Mussels in a Sailor's Fashion (€5.50) came in an onion, garlic and tomato base. They were big, fat and juicy and the sauce made a refreshing change to the French white wine or Thai curry flavours so common on restaurant menus these days.
Sama Roquera (€30). A fish local to Tenerife with no specific English name. There appears to be confusion, some calling it Red Sea Bream and others Pink Dentex. Who knows? What I can say is that it was divine. A bit finicky to eat with bones between the flaky white crispy fish but it was worth it. It was served with the famous Canarian dish, Papas Arrugadas.
After such a big meal only a light dessert will do. Tenerife enjoys a sub-tropical climate and has an endless supply of tropical fruit. The mango that arrived was sweet and ripe, just the way a mango should be. It put the mangoes in the UK to utter shame!
What do you call a meal with ample seafood while enjoying gorgeous views with a gentle sea breeze blowing? Perfection.
La Masia del Mar
Calle El Muelle, 3
38670
Adeje
Santa Cruz de Tenerife
Website
P.S. I was a guest of La Masia del Mar.