Namaaste Kitchen, based in Camden Town, puts a new spin on traditional Indian food.
There are plenty of reasons to get excited about this Indian restaurant. Chef-patron Sabbir Karim won The Best Chef Of The Year 2012 last year and Namaaste Kitchen has received an all round thumbs up from critics and customers alike. If you look at its menu you'll practically become giddy with excitement.
For starters we had:
Tandoori Portobello Mushroom (£4.75)
Coriander Lime Chicken Tikka (£4.50)
Spicy Soft Shell Crab (£5.95)
Tandoori Aatish-e-Jingha (£5.50)
Barwan Panir Shaslik (£4.50)
Salmon Tikka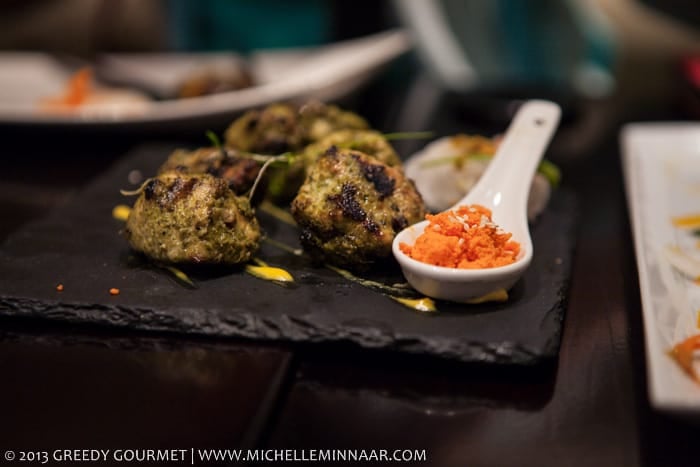 Even though it sounds like an odd combination the meaty mushrooms topped with figs, cashews, raisins and cheese deserved five stars for creativity. The other highlights for me were the semolina fried soft shell crab served with fig and prune sauce, and the elegantly presented jumbo king prawns with aubergine compote.
If that wasn't enough food, main courses were brought to us. We had the following:
Peshawari Lamb Chops (£10.95)
Goan Style Sea bass (£12.95)
Rajasthan Laal Maas (£12.95)
Murgh Makhanwala (£12.95)
Kadai Sabzi (£8.50)
Sesame Baby Aubergine with mustard and curry leaf sauce (£3.50)
Stir-fry Okra with raw mango (£3.50)
Dhall Panchratan (£3.50)
Naan (£1.95)
Dates and ginger naan (£2.20)
Lachcha Paratha (£1.95)
Where do I begin?!? Never in my life have I seen such big lamb chops that stretched across the plate. The meat was oh-so-tender and it was a massive portion for just £10.95. Last year, the Goan Style Sea Bass won the Curry Awards and I know why. Four pieces of fish are balanced on a brick of polenta and served with plenty of magical sauce, which is described on the menu as coconut, mustard seed and curry leaf but I'm sure they put a bit of crack in it too!
If you're an aubergine afficianado, you'll want to weep with joy once you've tasted the Sesame Baby Aubergines side dish. My lame attempt at feigning that it's horrible backfired when my dining companions quickly caught on I was after the last one and quickly snatched it before I could get to it.
After two failed attempts at making okra at home but only ending up with a slimy mess each time, I finally hit the jackpot when I tried okra for the first time in a restaurant. This is how it should be. Don't forget to order the Date & Ginger Naan!
Unfortunately, the desserts were rather lacklustre. With the exception of the coconut sorbet, its mango counterpart was on standard but canned pineapple is a big no-no.
Thus far I've reviewed five Indian restaurants in London. Here is my order of preference:
Namaaste Kitchen
Benares
The Cinnamon Club
Dishoom
Imli
Quick Overview
Food
8/10: The menu is a fun mix of modern and traditional.
Value
9/10: All the food above minus the dessert came in at a little over £100. Not bad!
Service
8/10: Attentive and friendly service.
Toilets
7/10: All good.
Ambience
8/10: Classy surroundings.
Recommend
9/10: What's not to love about Namaaste Kitchen? This is an upper market restaurant charging affordable prices for stellar quality food. Go go go!
Namaaste Kitchen
64 Parkway
Camden
London
NW17AH

Website
P.S. I was a guest of Namaaste Kitchen.