Onder de Linden is one of the few Michelin star restaurants in Groningen, the Netherlands. Being a restaurant to receive one of the Dutch Michelin stars, this restaurant is a must see whenever you pass through Groningen. From the exterior, the Herberg Onde de Linden restaurant looks like a grand house. The interior of the restaurant was very stylish and to my surprise, Onder de Linden had accommodating rooms upstairs too.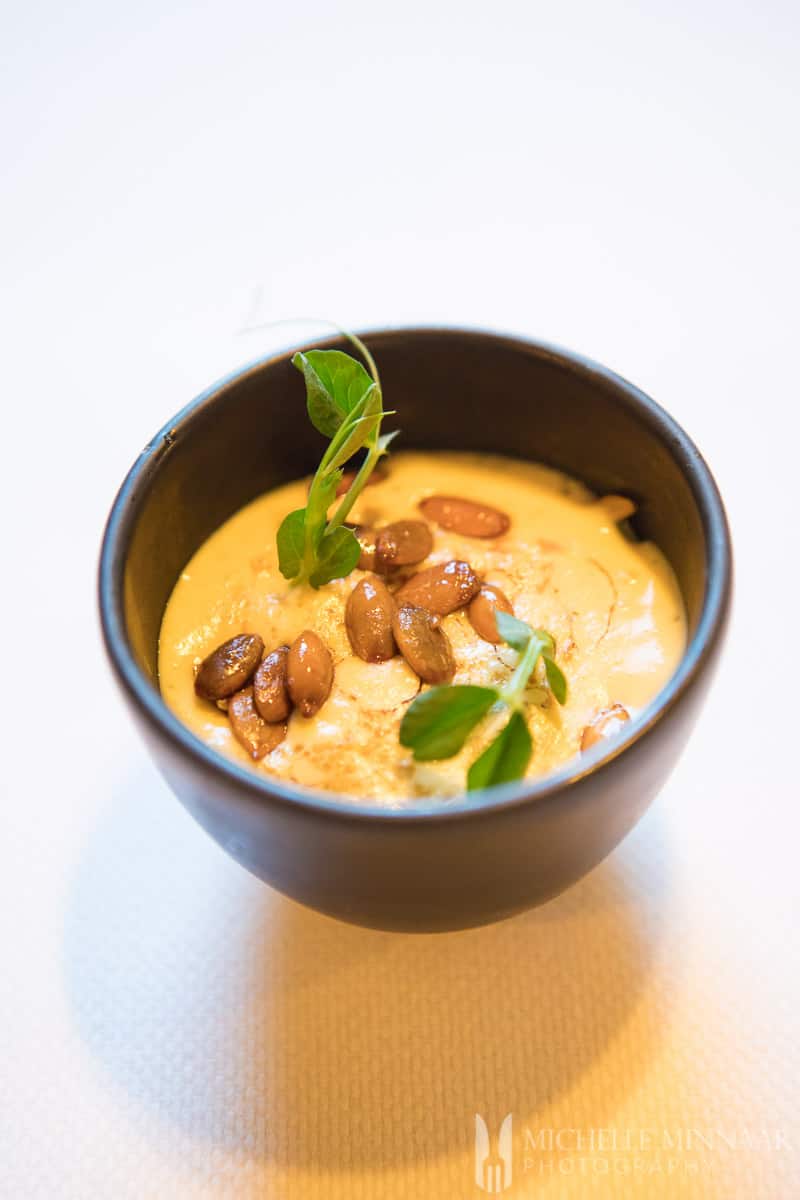 Herberg Onder de Linden
The interior was spectacular. Beautiful furniture accompanied by a charming and cozy light setting. The staff was friendly.
Onder de Linden snacks
It was fairly difficult for me to choose items from the snack menu, as there was a wide selection of vibrant dishes. Plus, everything sounded so appetizing. If I had it my way, I'd love to try everything! The selection of snacks included:
beetroot and chicken mouse, piccalilli
mushroom pizza
puff pastry, anchovies, apple syrup, mature cheeses,
cockles, pumpkin, buttermilk
chicken cake, green mango, carrot, green curry
smoked herring, watercress, mustard
pork belly, tomato, artichoke
lentil soup, yoghurt, z'atar
I think you can now get an understanding of my dilemma. Everything just sounds so spectacular! Which ones would you go for? I decided to go for the two below-mentioned dishes. They did not disappoint!
Cockles, pumpkin, buttermilk
This dish was the absolute highlight of the evening. Being a fantastic starter, this small bowl of pumpkin broth topped with roasted pumpkin seeds left me craving for more. I could easily see this item being served in a larger portion due to its deliciousness. The broth was airy, creamy and bursting with flavour.
Lentil soup, yoghurt z'atar
For those of you who don't know what yoguhrt z'atar is, it is a Middle Eastern spiced yoghurt. Z'atar or za'atar is a herb mix that enhances the acidity of the yoghurt and gives it a lovely taste. It paired well with the umami flavours of the lentil soup. The soup at first glance looked like a cappuccino, but instead of the cocoa topping, you'll see the z'atar spice sprinkled all over along with sesame seeds.
Onder de Linden main course menu
I ordered quite a lot off the main course menu. Since the snacks were so refined and tasty, I couldn't help but resist ordering slightly more. Besides, the portions are quite conservative, far from typical rustic dishes. The only dishes I had missed out on were:
tuna, antiboise, sauce hollandaise, parmesan cheese
white chocolate, yuzu, mandarin, puffed rice, matcha
raw mackerel, duck liver, daikon, avocado, Vietnamese broth
The Vietnamese broth was exceptional. A beautiful combination of traditional Asian ingredients and raw mackerel. This dish definitely makes your taste buds tingle.
smoked eel, Iberic ham, leeks, potato
A very refined dish. The sweetness of the leeks complemented the rich smoky flavours of the eel. The Iberic ham did not disappoint as it took the dish to the next level. A fantastic way to enjoy smoked eel.
MRIJ-beef, tartare on toast, shallots, spinach, black garlic
Undoubtedly, this premium beef was amazing. The fragrant shallots and the black garlic tied the dish together. Subtle earthy aromas from the spinach.
Onder de Linden desserts
One can choose from a range of three desserts. These included:
milkshake of dark rum, tarragon
caramelized pastry with three types of chocolate
macaroon, lemon, meringue, blue beery
Naturally, I went for the milkshake.
milkshake of dark rum, tarragon
Resembling an egg, the milkshake was a lovely finish to the evening. A definite palate cleanser with pungent aromas of the rum. You might not think it, but the tarragon paired well with the flavoured milkshake. My only comment on this dish would be that I wish they served it in a larger version with more textures, making it into a more complex and sophisticated dessert. At this point, it really was just a rum-based milkshake.
Onder de Linden review
Altogether, the food was beautiful and delicious. Dining at Onder de Linden definitely felt like a fine dining experience. Admittedly, I was a bit overwhelmed by the sheer number of plates, but the chef's skill is unquestionably stellar. I highly recommend anyone to try their menu.
how to get to Groningen
Travelling to Groningen from the UK is a piece of cake. There is no need to take the ferry and drive for hours. In fact, you can fly to Groningen daily from London Southend Airport with Flybe, operated by Stobart Air. One way tickets are available from only £39.99.
Onder de Linden location
Burg.van Barneveldweg 3 9831 RD Aduard
Tel. 050-2041235
info@herbergonderdelinden.com
P.S. I was a guest of Onder de Linden.