If you're looking for authentic Thai food in London, Nipa Thai is the place to visit.
In fact, the restaurant is so serious about quality that they fly the ingredients in from Thailand themselves. You may wonder how on earth is that possible? Thai Airways owns Nipa Thai, thus giving its restaurant access to impossible to buy ingredients in the UK.
Admittedly, I don't get excited about the standard selection of Thai starters (Ruam Mitr, £24). The impression I got in the past was that the items were dunked in hot oil straight from the freezer, and all quality and nutrition killed in the process. Not so with Nipa Thai's. You could actually see that each item on the plate was handmade made with care. Of course, the chicken and beef satay skewers laced with coconut cream was my favourite!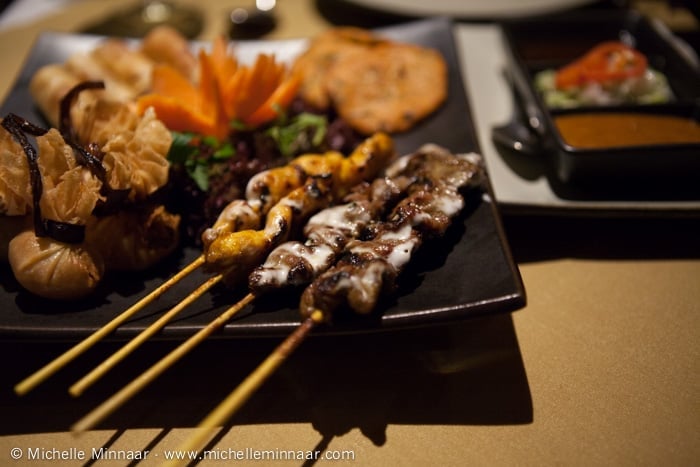 Another starter not to be missed is the Koong Phan Takrai (£14). The best way to describe it is it's like the equivalent of a Greek kefte. Instead of flavoured lamb, minced marinated prawns are used and instead of wood, a lemongrass stick is used as a skewer and then the concoction is deep fried. Seriously crunchy on the outside and the taste of the sea with a whiff of lemongrass on in the inside, it was simply fabulous.
An array of Thai dipping sauces were served with the starters; all homemade.
Kai Hor Bai Toey (£16) is one dish I've never seen on a Thai menu in the UK. It comprised aromatic chicken pieces that are fried, wrapped in pandan leaves and served with a sweet, dark soy sauce. Just perfect served with rice.
How often do you see asparagus as a side dish on UK menus? This unusual dish consisted of golden, fried bean curd and crunchy segments of asparagus in a light soy sauce.
Who can possibly resist this stunning showpiece? The Lobster Pad Thai (£28) reminded me of the Canton Style Lobster Noodles at Naga but the former was executed so much better.
Unfotunately, after having visited Buddha Bar in Knightsbridge (review coming up) a few weeks before, Nipa Thai's exotic fruit platter (£9) paled in comparison.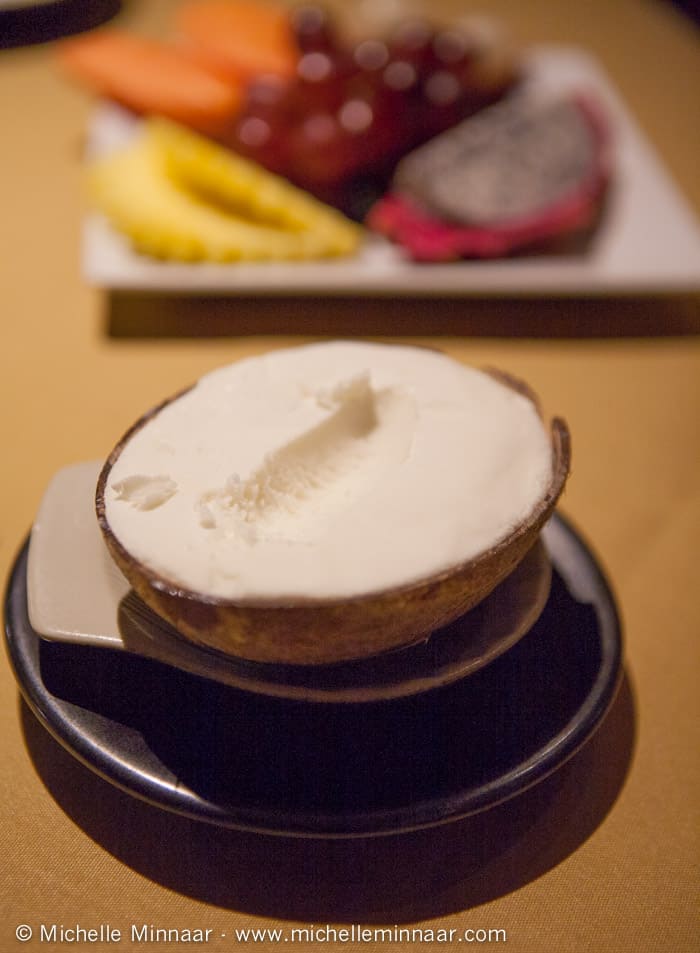 Don't let the rather bland presentation fool you, you'd be hard pushed to find a better coconut ice cream out there.
Check out London Unattached's review for another point of view.
Quick Overview
Food
8/10: The menu's focus is on traditional Thai food coming from the regional parts of central Thailand.
Value
7/10: Considering its location, quality and quantity of the food the prices are reasonable.
Service
8/10: Classic Thai service, i.e. staff are attentive and friendly.
Toilets
8/10: All good.
Ambience
8/10: Authentic Thai decor and surroundings. An upperclass feel without the stuffiness.
Recommend
9/10: Definitely one of the better Thai establishments out there. I'd jump at the opportunity to go again!
Nipa Thai Restaurant
1st Floor Lancaster London,
Lancaster Terrace,
London
W2 2TY

Website
P.S. I was a guest of Nipa Thai.