Prezzo is a family friendly, Italian restaurant which opened its first branch in London in 2000. The venture was so successful that after 14 years there are now over 150 branches dotted all across England.
Even though both Prezzo and Pizza Express serve pizza, the former offers classier surroundings that appeals more to the adult market. That said, the restaurant is kid friendly and upon arrival colouring and brain teaser activities along with crayons are immediately brought to the table. The kids' three course menu which includes a drink costs £6.50, which is excellent value and the portions are extremely generous. I like the fact that there were healthier alternatives offered such as chicken salad which my four year old loved.
And the pizza? My son literally inhaled it in 10 minutes flat and gave it two thumbs up.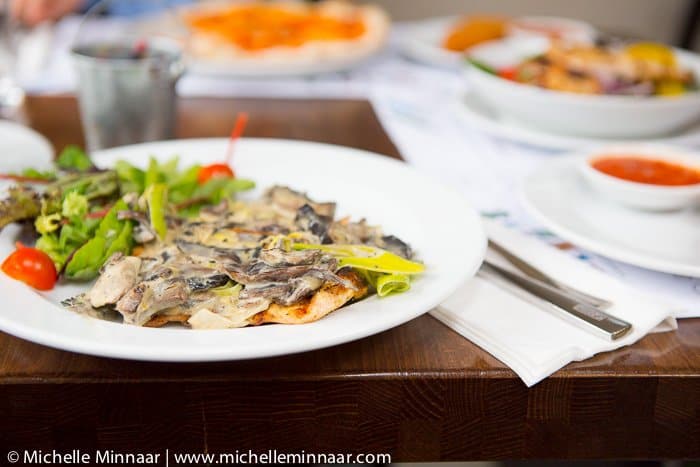 The lasagna's good too but if you prefer to live a gluten-free lifestyle Prezzo is more than flexible. Gluten-free pizza bases are available but if you're not really into bread there are meat and veg options to choose from such as the Salmon with New Potatoes, Green Beans and Broccoli and Saffron Sauce (£13.95). The Grilled Chicken Breast (£12.75) is completely flattened and comes with a choice of four toppings: Siciliana, Funghi, Calabrese and Gorgonzola. Everything was expertly cooked.
For dessert we had the Lemon Tart, Ice Cream & Profiteroles. I don't believe any of the dishes were made onsite. Although I couldn't fault anything, there was nothing special about them. That didn't stop the kids from gobbling theirs up in flash!
Quick Overview
Food
7/10: On the menu you will find everyone's Italian favourites. Diners on restricted diets will find something to eat.
Value
9/10: Portions are generous and the prices reasonable.
Service
7/10: Friendly and attentive.
Ambience
8/10: A laid back atmosphere with and upperclass feel.
Recommend
7/10: If you're thinking of meeting up with friends and fancy a decent pizza, Prezzo is the place to visit.
Prezzo
39-41 High Street
Rayleigh
SS6 7EW
Website
P.S. I was a guest of Prezzo.