The Milking Parlour is based in The Old Manor Hotel, in Trowbridge, just outside Bath.
Most Michelin-starred restaurants are based in cities due to higher demand and bigger wages. So it is quite a novelty to come across such a gem in the middle of the countryside.
Technically, the restaurant hasn't been awarded this accolade. Yet. Chef Matthew Briddon worked in top kitchens around the UK before he got lured by the charm of Old Manor Hotel. Here Tudor and Lucy Hopkins, the owners, gave him free reign where food is concerned and the menu changes daily according to what his wild imagination comes up with.
That's not all what makes The Milking Parlour unique. It has its very own kitchen garden that Matthew has made the most of. A wide variety of vegetables are grown and boasts vegetables such as six different varieties of beetroot, globe artichokes and sweetcorn. New fruit trees have just been planted, there's a mature walnut tree, bee hives and a stunning array of herbs that would leave any serious chef in ecstasy. There are plans under way to install a chicken coop and pigsty, in order to rear animals and slaughter them for restaurant consumption.
On the first night, after all the traveling we did we were exhausted and opted to have our meal in our room. A seasonal menu is available from which I picked the Duck Confit with Celeriac Puree and Green Beans. Every single square centimetre of the duck leg's skin was super crispy and its meat fell apart at the touch of a fork. The seasonal veg came straight from the garden, a variety of carrots, sauteed with butter, a touch of orange and herbs. See those mini carrots? They were so sweet you would have thought they were dipped in syrup!
I never order onion rings and if I were to have them, I simply knew this would be the best place to do so. Light and crispy these crunchy balls of delight came with three dips: aioli, cucumber relish and horseradish jam. Yes, you read correctly, horseradish jam – sweet with a little kick.
A children's menu is also available with kid-friendly items. My son, Gabriel, opted with the Chicken Goujons with Baked Beans and Triple Fried Potato Chips which came presented on a wooden board so posh that most adults would have been happy to eat the food.
For those who are after the standard Michelin experience, a five course tasting menu is available. Our first course was Chicken Scratchings with Pickle. We all know why KFC is so popular. People aren't particularly fussy about the meat, the skin is where the flavour's at and this first course was on steroids.
Pickled beetroot so tender it cut like butter with a knife, was served with whipped goat's cheese. Next up was smoked salmon with peashoots and micro basil. Chef Matthew smokes all his own salmon and bacon and its taste is truly remarkable.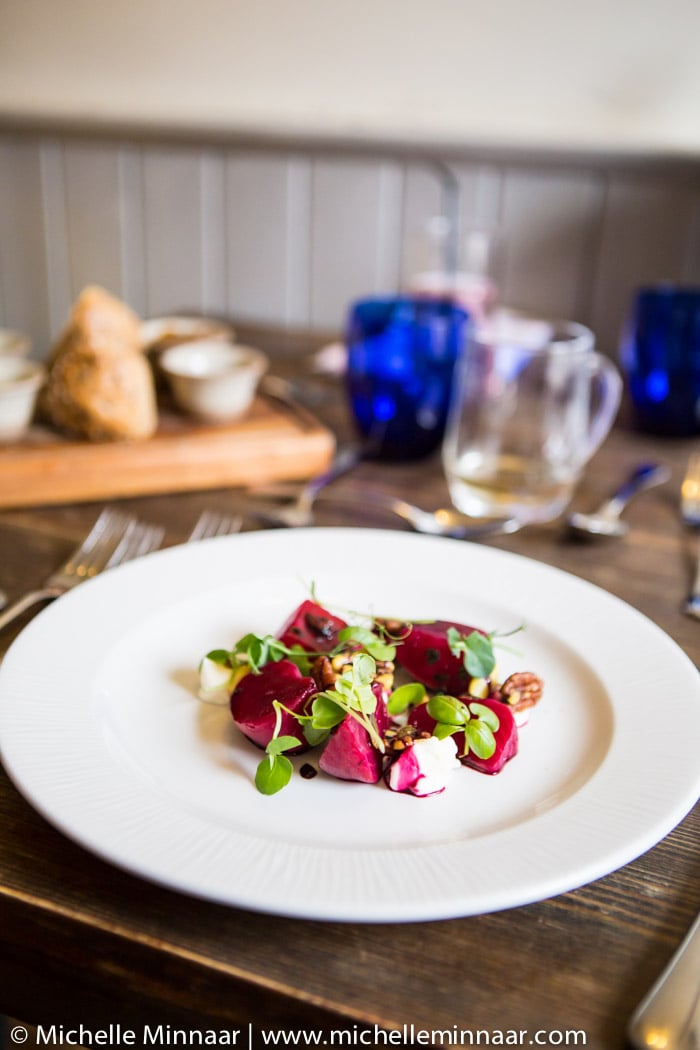 No knife was needed to eat the Beef Cheek that was served on Celeriac Puree with carrots from the garden.
A trio of dessert comprising Treacle Tart with Clotted Cream, homemade vanilla ice cream and Chocolate Brûlée, arrived at our table. All were excellent but the latter was my favourite.
The Milking Parlour is truly a haven for foodies and with Chef Matthew's quest for excellence it's only a matter of time when The Milking Parlour pops onto Michelin's map. Mark my words.
Quick Overview
Food
9/10: With food coming straight from the garden and an amazing chef no wonder the food is stellar.
Value
7/10: No one got up hungry.
Service
9/10: Attentive and best of all flexible.
Toilets
8/10: All good.
Ambience
8/10: The food might be fancy but the restaurant itself is homey and laid back.
Recommend
10/10: If you're a foodie and live or travel in the Bath area, you simply must visit.
The Milking Parlour
Old Manor Hotel
Trowle Common
Nr Bradford on Avon
Trowbridge
Wiltshire
BA14 9BL
Website